Greedy for resources and wasteful of them, the built environment might find a shift to the circular economy less radical than it looks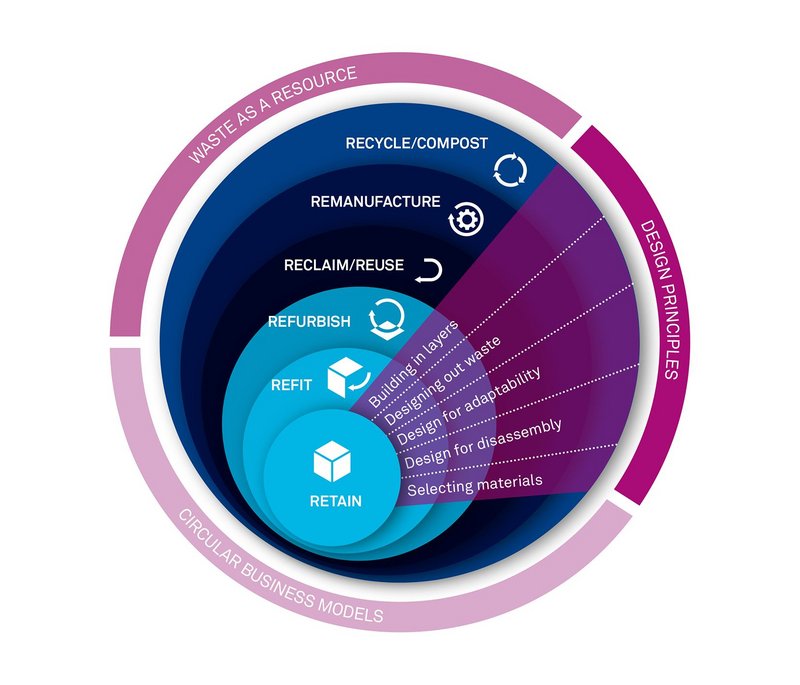 Are buildings in danger of becoming just another consumer good in our disposable society? There's certainly a trend for stripping out buildings every few years and tearing them down well short of their design life. New buildings are constructed from components made from hard-won virgin materials with virtually no reclamation and reuse. Given that the built environment demands around 40 percent of the world's extracted materials and demolition waste is the largest waste stream in many countries, this seems highly wasteful and with little thought for the future.
This linear economy model of take, make and dispose is rapidly depleting the world's precious resources and creating mountains of waste with little scope for reclamation. While the idea of a circular economy is not new, it is gaining traction as a way to keep resources in use and retain their value.
Yet there has been little focus on how the built environment can contribute to a circular economy. Designing and constructing buildings that can be adapted, reconstructed and deconstructed, and that are made from materials that can be reused or recycled, not only creates a more regenerative built environment but also leaves a positive legacy for future generations.
Circular economy principles specifically for buildings are set out in a new RIBA Publishing book, Building Revolutions, and summarised in the figure above. The inner three circles show that retaining existing buildings is the most resource-efficient option, followed by refits and refurbishments. The outer three circles apply to building elements, where the priority is to design components that can be reclaimed or remanufactured and only recycled or returned to the biosphere as a last resort. The five segments on the diagram demonstrate the design principles associated with a circular economy.
The first design principle is building in layers. Circular economy principles were traditionally developed for consumer goods. As buildings are made from thousands of components with varying lifespans, a different approach must be taken. The simple idea of building in layers can be applied. Each element is independent, allowing different layers such as the façade or the internal finishes to be peeled off or salvaged without damaging adjacent layers.
Designing out waste is the second design principle, which also includes designing out the concept of waste. This requires designers to think about the whole-life of a building, from the decision to build new or refurbish, to eventual demolition or deconstruction. In practical terms, this is about prioritising refit and refurbishment and using reclaimed materials and remanufactured products. It also refers to 'lean design', as well as modern construction techniques that can reduce waste on site.
To dodge the wrecking ball, buildings must be designed to be more adaptable, which is the third design principle highlighted in Figure 1. There are design lessons to be learned from buildings that have survived. These include simple, rectangular plan forms that allow for reconfiguration of internal spaces and extensions. Another is floor-to-ceiling heights that can accommodate different servicing options and building uses, as well as light and space. Perhaps most importantly, creating buildings that people love and value is a proven way to ensure longevity.
Perhaps most importantly, creating buildings that people love and value is a proven way to ensure longevity
Designing for disassembly – the fourth design principle – is an essential piece of the circular economy puzzle as it enables buildings to be deconstructed and their components and materials reclaimed intact during renovation or demolition. 'Building Revolutions' includes a case study of a building that has been disassembled and reconstructed for different uses on multiple sites and is now on its third life. These types of buildings become assets that retain their value for longer and are independent of the value of sites. Buildings can even become materials banks, with materials deposited and then withdrawn at a later date, while retaining their value.
The final design principle is selecting materials. Careful selection of building materials and products is the bedrock of circular economy thinking. Replacing technical materials that are difficult to reclaim or recycle with biological materials that can be returned to the biosphere can be beneficial. For example, plasterboard is highly recyclable but rarely reclaimed from demolition waste as it is contaminated. Alternative 'biocomposite' boards are being developed, which are fully compostable and hydroscopic. Hydroscopic products absorb and release moisture from the air, reducing mould growth and its associated health impacts.
Another principle is to move away from the linear economy model of purchasing products. Instead, consumers can become users, with ownership replaced by stewardship. Customers purchase performance instead of products, which encourages manufacturers to take a vested interest in designing products that can be maintained, upgraded or recycled. This approach also helps secure a future supply of components and materials.
Applying circular economy principles to buildings uses fewer resources, enables adaptation for different uses and can even provide healthier environments for people to live and work in. But they also create an opportunity to design buildings that are not simply consumable goods, leaving a positive legacy for future generations.
David Cheshire is a Regional Director in AECOM's sustainability team and the author of 'Building Revolutions', on how to apply the circular economy to the built environment, published by RIBA Publishing
---