Do architects want to be design team leaders? Lucy Homer, head of design at Lendlease, has her doubts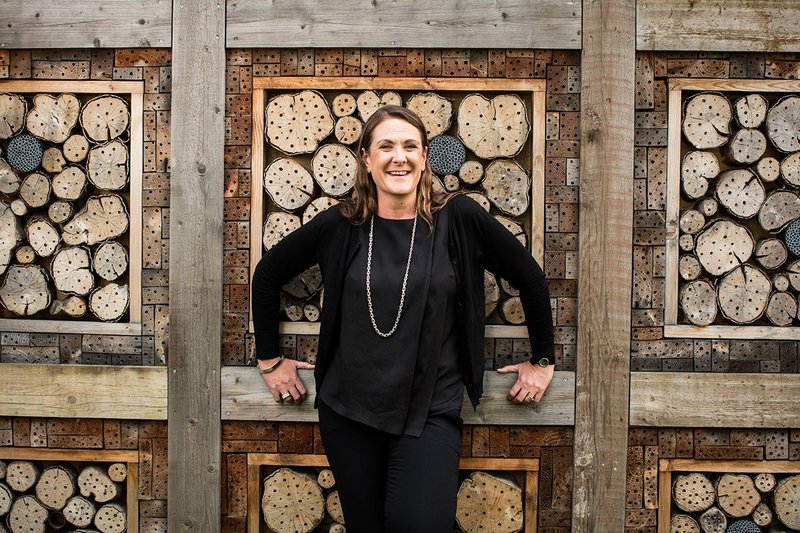 Lucy Homer

Credit: Aidan Monaghan
I met Lucy Homer just two hours ago, yet here am I reaching forward to embrace her goodbye, like a good friend. Perhaps this substantiates her throw-away claim that she is 'good with people'. And I am not going to try and disprove this by trawling through the veterans of the BBC's Portland Place project or the tens of design managers, architects and construction colleagues Homer works with every day as head of design at Lendlease. Nobody is good with people all the time, especially in a job like this. Yet on the sites we visit people go out of their way to greet her.
We meet in Lendlease's London head office, a Farrell building shared with Gazprom. Inside, Jamie Fobert and Woods Bagot have bestowed Corten couched in corporate luxury in public areas and a brighter, open atmosphere in the offices, where Homer tells me a direct chat is always the way. 'You just go and speak to people,' she says, emphasising the importance of being around and echoing the 80s' catchphrase 'management by wandering about'. It is not so simple when her team of nearly 30 design managers is spread over 20 sites including schools in Scotland and a prison in north Wales. The broader team of architects and consultants she works with is spread even more widely: a major project like the International Quarter, at Stratford in east London, has four architecture and interior practices working on it.
Homer wants to talk about the way Lendlease keeps architects on to see a job through. This worked for the company with AHMM and its Stirling Prize winning Burntwood School. Since Homer has been on board she has worked to encourage this approach, not an easy thing when the design and build nature of the majority of its jobs means it is inheriting practices, rather than selecting architects itself. 'As a construction business I am not sure we realise this is something to be proud of. But it is.'
Homer has been in the thick of this process herself. She spent 10 years working on the BBC's Portland Place, employed at first by MacCormac Jamieson Prichard. In the fallout over the job Homer was the single architect who transferred, along with the project, to Sheppard Robson to finish the West End landmark. Imbued with MacCormac's ideas for the design of a splayed building and a public space that completes the John Nash composition, she had a far clearer idea of what she should be fighting for in the build. Or rather not 'fighting' for. 'It was not about fighting. In this job you get the best out of people if you understand what makes them tick,' she says. She is proud of the scenic lifts; MacCormac had wanted that view and after 18 months, and at no extra cost, she managed to get the lifts glazed. 'It's architecture with a little "a".'
On the BBC she cut her teeth working with Lendlease, then as the direct client. Now as part of its construction arm she is charged with ensuring the designs go well. With the development arm she offers support and expertise that lead to better commissioning of practices and ways of working with them. 'I see design as being the link between our development and construction business,' she says. To make the leap between the two means understanding that nexus.
When Homer started off at Lendlease in September 2014 she went out of her way to be 'very nosy'. On projects where the contracting arm takes over projects from Lendlease's development team, she realised there needed to be connection at an earlier stage. 'We were waiting until novation to start reviewing the designs,' she explains. Setting up design reviews looking for efficient and technical designs, which are right for Lendlease, is at the heart of this. And sharing the lessons learnt is pretty important too, so she has been sitting in as many of them as possible.
'The journey starts with appointment of consultants, they have to know their responsibilities. Things are clearer if people know the fees, resources, standard templates and the design responsibility matrix,' she says. 'It's a partnership.' But she seems to have some doubts whether architects want to be design team leaders. Health and safety is a case in point. It is a core Lendlease value, and when the principal designer role was brought in Homer thought architects would take the lead, but practices were nearly all talking about employing subconsultants. Lacking control over the advice, this role was taken in house.
Are architects dodging responsibility? She stalls. 'It is a bit about insurers,' she hesitates, weighing up the politics. 'But then it's interesting in D&B when the liability ends up with the contractor. And we get excuses like "we didn't appoint the design team". But in my experience if you need information like that you just ask for it. In fact the key document is the design responsibility matrix and that is in everyone's appointment document. When I was at Sheppard Robson it was a well run company with a focus on the project management part of architecture as much as design… that is what I would have expected in all practices.' In private she doesn't pull her punches but she is kind enough not to name names. It is clear that some practices don't even deliver drawings as expected. And that architects speak a different language from the construction team – which is a real problem.
Is it about commercial versus design practices? 'You really can't do one without the other. However great the outcome, if the journey is painful you are not likely to do it again.' But Homer does want to keep architects delivering on the jobs they designed. It is not just for the design liability continuity, it is more that the architect knows the history and the most important things to the project. And those practices don't have to be big. Lynch Architects was a tiny practice when it designed Kings Gate at London Victoria for Land Securities and grew with the project. 'It was amazing working with them and the project was better for it.'
Though she might worry about the future of the architectural profession Homer has her own heroes, not just Mies van de Rohe, but also those who own and lead their projects today, as she has done herself with great intensity. Some of them work for her, having jumped ship from other consultant roles, in one case to follow their project from a Lendlease perspective. 'It seems people are more frustrated with the lack of power, normally less senior people. They want to feel ownership of a project. These are the people I am interested in. They are true project leaders.'
---