Glasgow is modernising its 15-station subway, and client Strathclyde Partnership for Transport is finding its knowledge is gathering pace along with the programme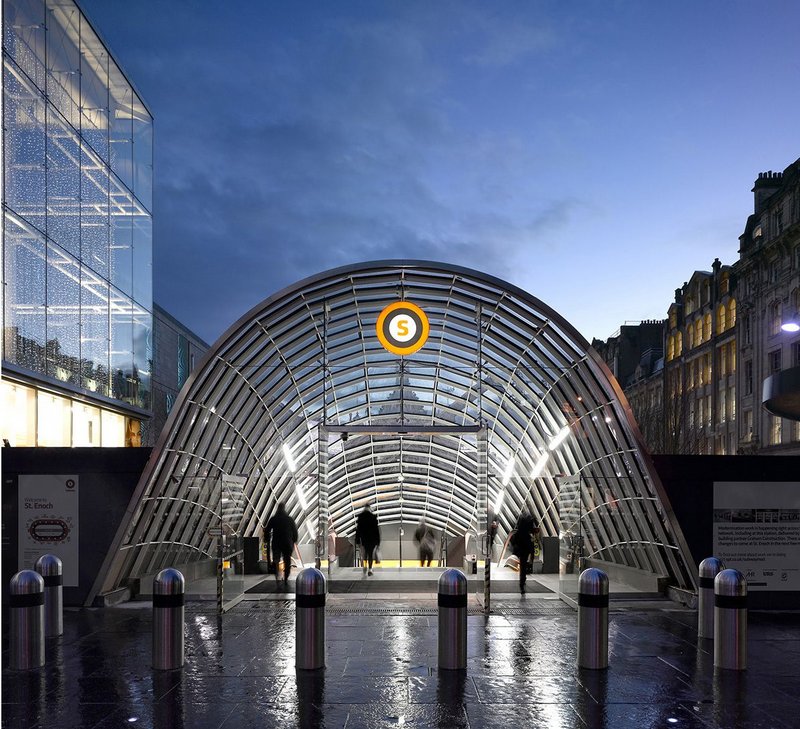 View of northern St Enoch Subway Station entrance canopy.

Credit: Daniel Hopkinson, AHR
Strathclyde Partnership for Transport (SPT) is in the middle of a £288m, 12-year modernisation project to upgrade the entire infrastructure and architecture of its 10km subway circuit in Glasgow – including everything from rolling stock to stations. This summer AHR (formerly part of Aedas) opened the doors of the project's flagship renovation scheme at St Enoch Square. Continuing the city's tradition of glass roofs, new glazed entrance parabolas have replaced two dark 1970s orange steel and brown brick flat-roofed structures into the subterranean station to bring in light, clear views around the square, and encourage accessibility and natural wayfinding. SPT's senior project manager David Gardner explains what SPT has learned, and what's next.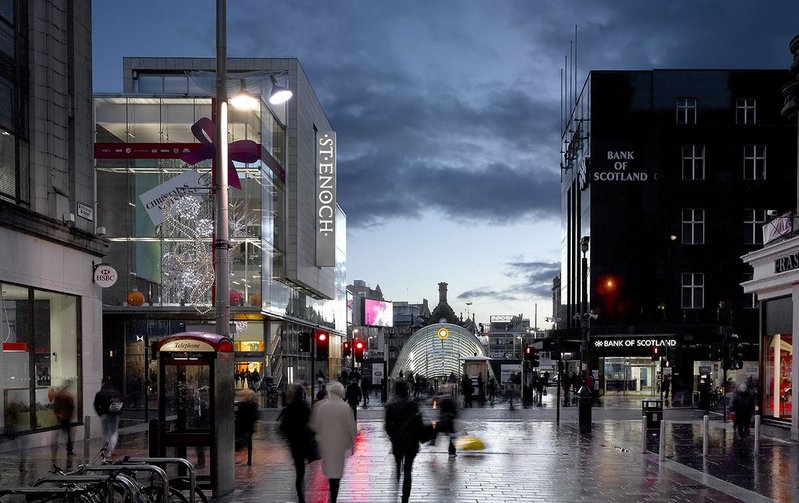 View of St Enoch Subway Station from Buchanan Street.

Credit: Daniel Hopkinson, AHR
Tell us about the St Enoch Square station project
This is SPT's most extensive renovation architecturally – its big splash. The station was built in 1896 and while the Victorian booking office remains on the site, it has not been used in this capacity since SPT's last modernisation in the 1970s. The new glazed entrances sit on the north and south sides of the former booking office. SPT felt the station needed a complete overhaul. The escalators needed to be replaced and the underground travel centre opened up. One of our objectives was to make wayfinding easier, particularly for people with disabilities. We wanted to create a system almost without signs, through lighting, patterns on the floor and opened-up plans. Another important objective was to create a consistent branding across all of the subway's 15 stations – each one had added so much over the years that the stations had become cluttered and confusing, with as many as six or seven different types in any one station.
Why and when was it decided that Glasgow's Subway network needed modernising?
We carried out a review of the system and found it dated, with a limited life expectancy. St Enoch's is the fifth refurbishment in the programme. We were awarded a funding package of £288m by the Scottish government in 2011 and started on the refurbishment of the first station soon after. EU legislative requirements for rolling stock by 2020 regarding accessibility, signalling and communications were a key driver of the timescales of the project. We expect all of stations to be complete by 2019, and the introduction of the new trains complete by 2023.
Where are you now with the programme?
Five station refurbishments are complete, two are under construction, four in design and four more to come.
How has SPT gone about recruiting architects?
Frameworks have been set up for all the technical support services, of which one is for architecture. These have been set out in three parts. AHR has been responsible for the first seven stations, Austin-Smith:Lord the next four and then we will go back to the framework to recruit the final block of four.
What are you looking for when you set up your framework?
We are looking for experience of transport projects and the ability to design a refurbishment for an operational environment – this applies to contractors too. We need to see examples of this as we had looked at the different ways to carry out the modernisation programme, such as closing the stations one by one, but couldn't make a business case to do it when accounting for fewer passenger numbers and the time it takes to increase usage again. In our future frameworks we are looking to follow the same pattern as before. As part of the first phase, AHR produced a design guide to the modernisation. It identified three types – pop-up, integrated into a building and standalone. The guide clarifies the different treatments by type. One of the most helpful things AHR has done was to provide a clear explanation about how to navigate a Subway journey and make that consistent with all the stations. So, for example, when we decided to implement tactile floor borders for staircases and platforms, as well as double-height handrails, we had to introduce them across all the stations at once.

Hillhead Subway Station includes an artwork by local artist Alistair Gray
Why was Austin-Smith:Lord selected for the second tender?
The framework has between six and seven listed practices on it. AHR did tender for the second part. It was a tight decision between Austin-Smith:Lord and AHR. In the end it came down to cost/quality and perhaps a keener offer. SPT also had experience of working with Austin-Smith:Lord so it was not out of the blue. The practice did SPT's offices and would have done the Glasgow airport rail link. We weren't looking for a change of concept or materials – just more of the same.
What has SPT learned along this commissioning journey?
Our focus has been to create something which will survive the 21st century. SPT had not had many opportunities to create architecture and certainly it was quite fearful of making changes. There was so much uncertainty – particularly regarding how to keep the stations operational. This has had a big impact on all the designs, and always led to many questions. The design process has therefore had to be very collaborative and involved. AHR did mock-ups to reassure SPT. But we are in a better position now to commission architecture. It is important to keep a momentum going as it is easy to get bogged down. Even personnel changes among stakeholders can affect the process. We find that the St Enoch Subway Station project is having a very positive effect on the city, drawing people down from the top end of main shopping area, Buchanan Street. It has also been an important opportunity to assess our position, offer and branding.