As wellbeing takes an increasingly important place on the education agenda, a new book shows how low-cost, low key initiatives can have an unexpectedly strong effect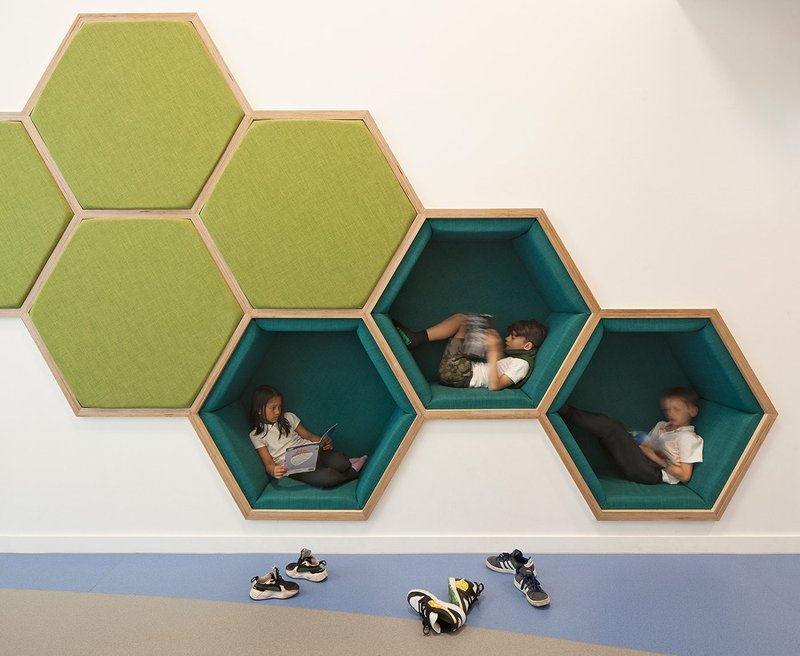 Milltimber School in Aberdeen, designed by Scott Brownrigg.

Credit: © David Barbour
It is a challenge for many architects and educationalists that current capital funding programmes in England leave us little opportunity to bring our creativity to the process.
Yet new issues, notably wellbeing, have moved up the education agenda since the pandemic and need our urgent attention. Our new book Community Schools: Designing for sustainability, wellbeing and inclusion showcases good practice from around the world and encourages bottom-up change – where schools and their design teams can think differently about what we should be delivering for the future.
Radical rethinking with the client
Education architects have always been brilliant at innovating – recently, for instance, responding creatively to reduced budgets, standardisation, sustainability and the drive for net zero. We need to bring that energy to the new challenges our schools are facing. One example of radical thinking is the Big Bocs Bwyd project in South Wales. Started in 2019 by Janet Hayward, executive headteacher of Cadoxton Primary School in Barry, it saw a converted shipping container installed on the school site to act as a 'pay as you feel' food shop for the community. The positive impact led to funding from the Welsh government so there are now 66 Big Bocs Bwyd centres across South Wales and an ambition to have 100 in place by 2026. The installation of a Big Bocs Bwyd in a school is a physical intervention in the school environment that is explicitly linked to the core purposes of the Curriculum for Wales and aims to improve the wellbeing of families, contribute to the reduction of food poverty/food insecurity, help improve nutritional intake, increase parental involvement and engagement, and help children become more confident and literate about the connections between food, nature and the economy.
The small amount of additional space that a re-purposed shipping container provides has given schools in South Wales huge opportunities to support their communities and educate their children in new ways. As a collaborative sector, architects need to bring our best ideas about what would make a real difference to our schools, find opportunities to partner with education leaders to prototype and gather the knowledge, and share what works as widely as possible.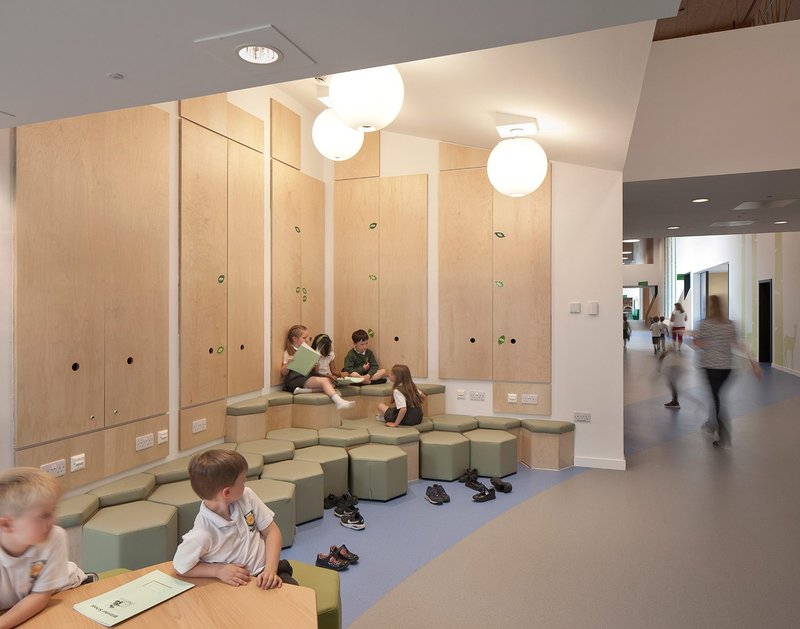 Milltimber School in Aberdeen, designed by Scott Brownrigg.

Credit: © David Barbour
Design process brings the community together
The design process also offers rich possibilities to support school communities. A report on wellbeing by The Children's Society found that 'While overall the majority of children agreed with positive statements about other features of school (including support, expectations, fairness, development of wider skills, and their access to extracurricular activities), almost one in five did not think they had a say in decisions that were important to them in school'. Finding opportunities to engage young people in designing their spaces not only builds their skills and showcases future career paths, it gives them a voice and allows them to have agency and choice in key decisions about their environment – and to transform their understanding of the impact they can have on the world around them.
Working collaboratively, schools and architects are a powerful force. At Milltimber School in Aberdeen, designed by Scott Brownrigg, the whole project was underpinned by engagement. The Council's forward-looking brief called for a modern, congenial, healthy learning and working environment for the primary and pre-school community, accessible for community use and enhancing a new neighbourhood square. Recently nominated for the 'Inspiring Spaces' Education Buildings Award, the school site and internal design applies placemaking principles. Four teaching pavilions are directly connected to the external learning landscape and are arranged along a wide linear internal street activated by social, assembly and supported learning spaces which encourage connectivity, permeability and discovery. Environmental themes create an organising concept. A 'river' motif floor finish connects a series of pausing points where learning, talking, meeting and fun can happen. Along this route a series of individual and shared learning spaces are formed using loose and bespoke furniture solutions, one-to-one meeting booths, reading nooks and layered, inhabitable surfaces. The colours, shapes and materials echo the natural forms of the landscape surrounding the school, further enhanced by the exposed cross-laminated timber structure and finishes. The 'river' also provides access to the classroom pavilions via 'mountain' breakout zones, to the 'ocean' library space, and to shared community and assembly facilities which include flexible dining and gym halls, changing facilities, sensory and nurture rooms. Developed in collaboration with the school, a series of colourful wayfinding and nature-themed supergraphics tie into the materials and finishes, defining character areas. This has created a series of heavily in demand spaces that the children want to learn in – so much so in fact, that teachers have found they need to loosely timetable access to these special spaces within their teaching day.
It can be the small touches that support our wellbeing the most – quiet space to read and recharge, comfortable seating that can be easily moved around to match learning or friendship group sizes, good lighting that can be controlled to match different moods and activities, and outside spaces that give us the choice to be active or still depending on how we're feeling that day – whatever our age.
We need to keep pushing for a school estate that meets the standards on condition but we also need to use our expertise and experience to demonstrate that, equally importantly, our schools should empower our learning communities, support their wellbeing and allow them to flourish.
Helen Taylor is director of practice at Scott Brownrigg and Sharon Wright is senior associate of the-learning-crowd.
Community Schools: Designing for sustainability, wellbeing and inclusion, by Helen Taylor and Sharon Wright, is published by RIBA Publishing, 2023. Use the code RIBAJCS on www.ribabooks.com before 31 December to get a 20% discount on Community Schools: Designing for sustainability, wellbeing and inclusion