Director Jay Gort reveals the importance of pears, designing Epic Iran and challenging detail as he shares some of his key collaborators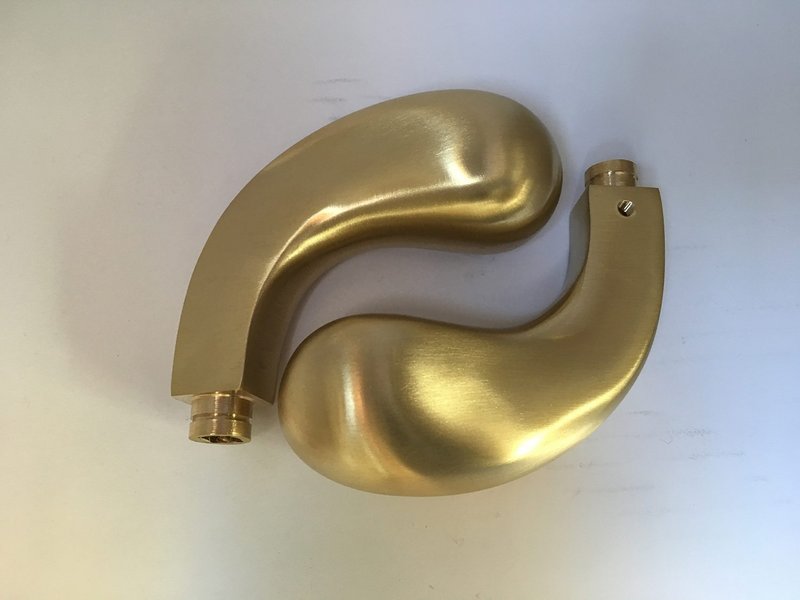 Gort Scott collaborated with Izé on bespoke door handles for The Rock, a private house overlooking a lake in Whistler, Canada.

Credit: Gort Scott
The Rock, a private house we completed in Whistler in Canada, was a real Gesamtkunstwerk – we designed everything right down to the door handles. We asked Izé, a London-based architectural hardware company, if it could do a custom design because we knew we couldn't get anyone over there to do it to the highly-crafted level of precision we were after.
It was a long process, taking perhaps 18 months from start to finish. There's a funny narrative to the design, which is based on a pear. We were at the point where we needed to come up with the design for the handles but it wasn't quite working out. As I was walking out the door, I picked up a pear from a fruit bowl and realised that this was just the shape we were after. Our associate and project architect Joe Mac Mahon made a plaster cast of it in the office and sent it to Izé, who adapted it and cast its own version using a rubber mould. We abstracted the design and worked with them back and forth on many iterations, commenting and drawing on the prototypes, before Izé cast a version in resin to send to the client in Hong Kong for its feedback. Izé then did a couple of bronze castings before we had the final design, which is something between a doorknob and a lever handle.
It was a real piece of craft and has turned out very well. There are 30 pairs of pears at The Rock – one for each internal door. The handles are really good quality with a lovely mechanism and are very tactile – it was designed to fit the client's hand perfectly and just feels lovely to hold.
We've never had a project in the UK that involved such a high level of bespoke craft, and it's something we'd certainly like to do more of. We enjoyed working with Izé and are waiting for the opportunity to work with it again.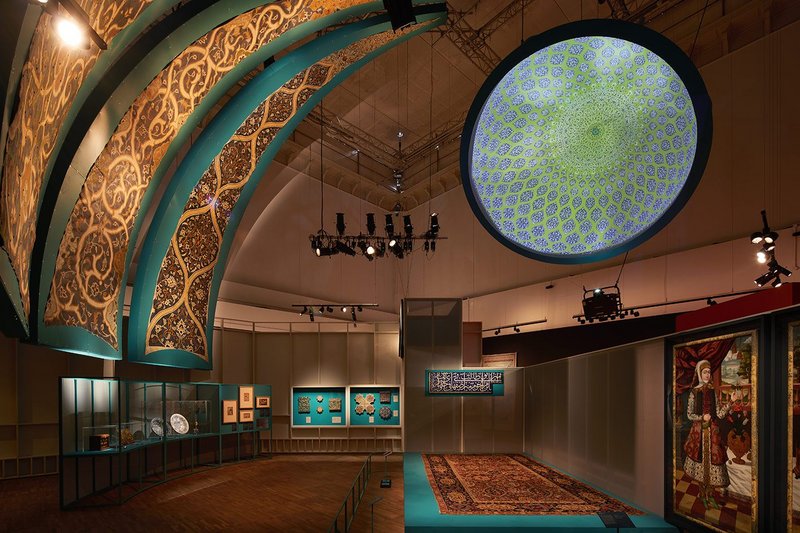 Gort Scott worked closely with contactor Factory Settings on the exhibition installation for Epic Iran at the Victoria & Albert Museum.

Credit: Ed Reeve
Factory Settings was the really brilliant contractor for Epic Iran, an exhibition we designed at the V&A in 2021. For some parts of the show we knew what we wanted to do but not how to make it happen, and that's why it was such a great collaboration – Factory Settings had a really can-do attitude and were able to take our design intent and make it work.
This was particularly the case when we were hanging the large and fragile 'gores' – thin painted strips that were 1:1 drawn copies of segments of domes in Isfahan. These were painted in situ by European travellers in the mid-19th century, then rolled up and transported back home. The exhibition was the first time they'd been unfurled for over 100 years and they needed careful restoration.
We had a fantastic collaboration with Factory Settings, together coming up with a way of using magnets to hold the gores on shaped segments of steel sheet supported by a lightweight timber frame to minimise the weight. Factory Settings then worked out the temporary works rigging to haul them high up into place, testing mock-ups and going beyond what a normal contractor would do. The gore segments were then brought to life in the exhibition using film projections by Luke Halls Studio, another part of the great team we had working with us, to recreate a complete hemisphere of the dome.
Factory Settings also helped us develop a way of stacking the sustainable hempcrete blocks in a manner that allowed for their re-use afterwards.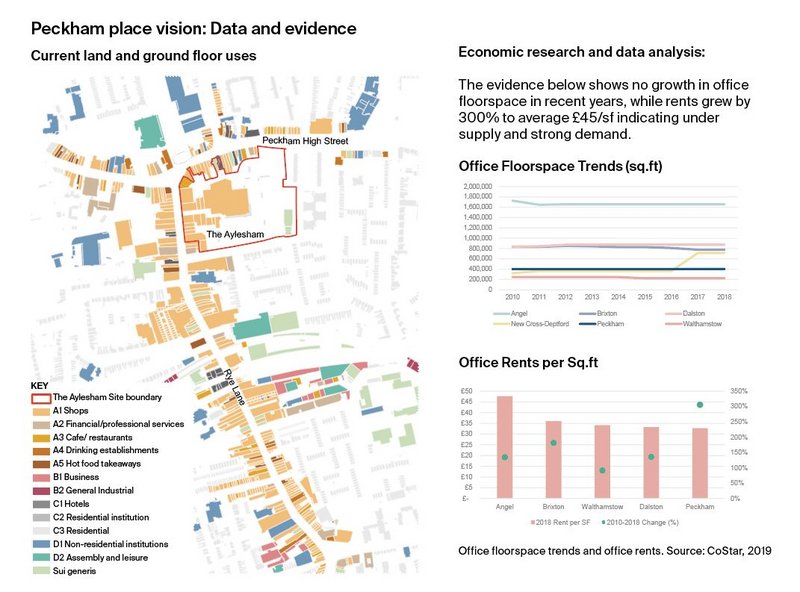 Gort Scott's place vision for Peckham was informed by the practice's collaboration with socio economic and development consultants PRD.

Credit: Gort Scott
For our masterplan and placemaking work, we need to understand areas in-depth and on a wider scale, not just spatially, but also the underlying socio-economic factors that are shaping the place and how this might change in the future. We find collaborating with socioeconomic and development consultant PRD invaluable in helping us to do this. We've worked with the firm on a number of projects, sometimes it is client appointed and we work alongside it, as we are doing for our project in Old Oak Common, or it is part of our sub-consultant team as it was for our Peckham place vision.
For our Rye Lane place vision project around Peckham High Street, south London, PRD helped us understand the socio-economics of the area, drawing out data on demographics, looking at how locals spend their money, identifying what they need but don't have, and analysing it in depth, comparing against other similar and nearby competitor high streets. Crucially, this identifies gaps in need, for example a provision of affordable workspace and incubator space. This baseline helped to shape the concept and 'offer' of Rye Lane, defining clear measures of social and economic success that can be monitored throughout delivery. This all feeds into the business case so that our clients can understand how the social, economic and commercial vision can practically be achieved. As with Peckham, these projects are often for multi-headed clients with intense involvement with the local community. We find that having a clear social and economic basis is essential to build support and buy-in for a shared vision.
There aren't many organisations like PRD who work in this sphere, and it does it very well.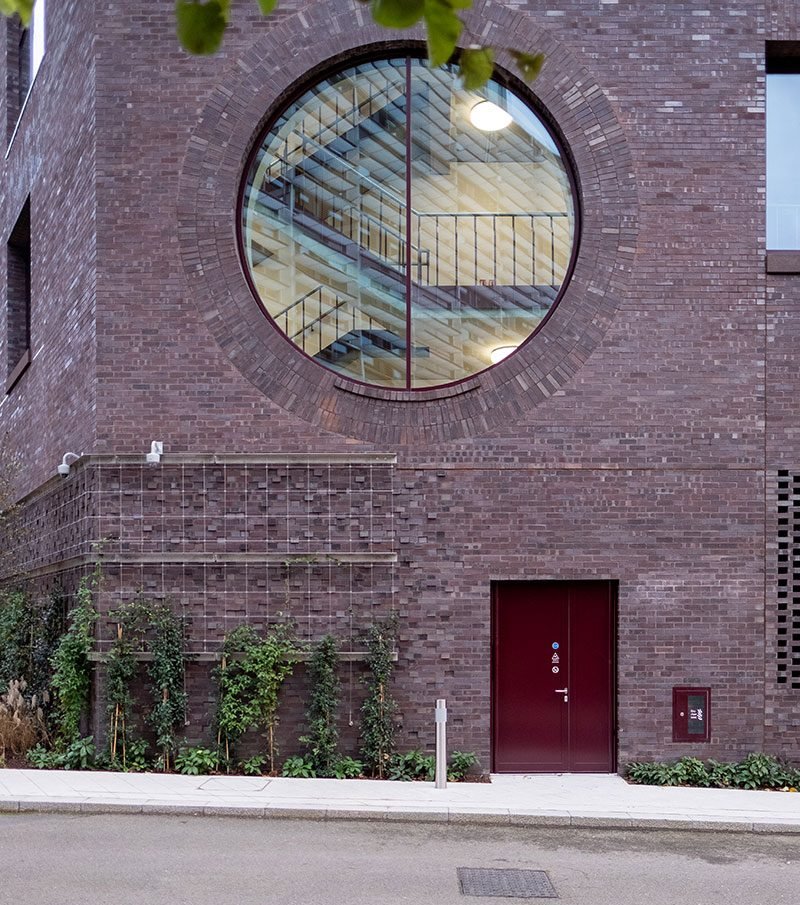 Gort Scott collaborated with Lyons & Annoot on the brickwork for Gateway West, an office development for Stanhope in White City.

Credit: Gort Scott
Gateway West is a new low-energy office building for Stanhope in London's White City, a characterful building that is a counterpoint to the glass and steel buildings in the area. The brickwork was such an important part of the design, and it was really fantastic to work on this with Lyons & Annoot, subcontractor of main contractor Sir Robert McAlpine, who took a real pride in doing all the many different things we asked it to do with the brickwork with real skill and care.
The design was conceived as a sculptural 'rock'. There were lots of special bricks involved and variations in brick bonds and the use of staggered projecting bricks that form a 3D textured brickwork pattern. In particular, a great deal of understanding was required to create the carefully crafted brick pattern and sill around the big circular window opening.
Although the team initially complained, in a half joking manner, about the variety of details, once on site they soon really got into it and started enjoying the challenges. For example, they took real pride in following, and then – as they said – improving on, the very detailed drawings project architect Dominic Dudley produced for the randomised pattern of the tall textured brickwork wall that frames one side of a new public garden. Enjoyably working with skilled trades is one of the pleasures of delivering projects. We, and the client, are all proud of the result.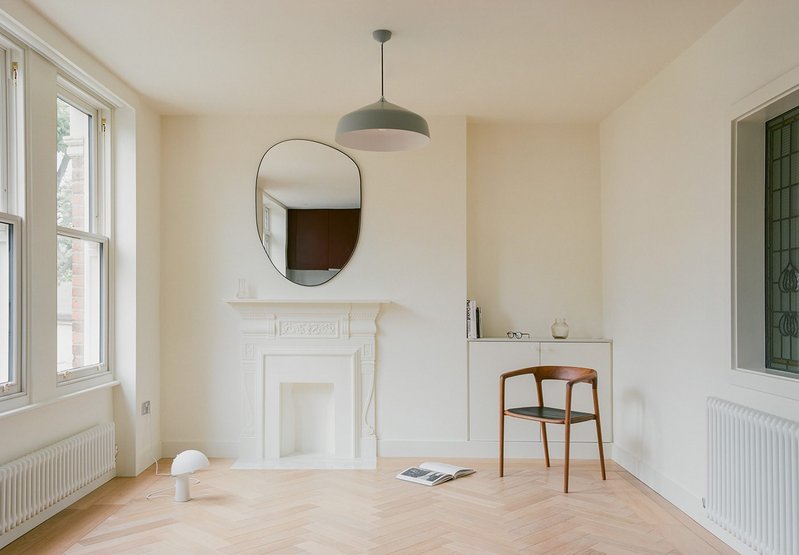 Refurbished apartment at Bridge Avenue Mansions. Gort Scott worked with building performance consultants ArchiMetrics on specification of the insulation and wall finishes.

Credit: Lorenzo Zandri
We have an environmental action group in the office directed by Jonathan Mann, and are always thinking very carefully about carbon, sustainability and ways to improve building performance. Improving fabric performance through insulating buildings is a key aspect of this for both new build and retrofit.
We've worked with building performance consultant ArchiMetrics on Bridge Avenue Mansions in Hammersmith for our client Dorrington. It is a refurbishment and remodelling of an existing building with the insertion of a new Passivhaus town-house.
There are considerable technical challenges in insulating an existing building. There is little literature and analysis; even that is often not directly applicable and there are a number of different approaches.
ArchiMetrics got into the nitty-gritty, putting probes into the wall to register the U-values of the existing structure. It then tested the performance of the wall with different insulation to see how it improved the U-values. Its analysis was instrumental in finding the right solution for each part of the building, ensuring the right depth and type of insulation and wall finishes could be selected. It then helped us with the specification – we used a Diathonite lime-based insulating plaster and Calsitherm insulating boards, both from Ecological Building Systems.
It was incredibly valuable working with ArchiMetrics, and we hope to work with the firm again.
Jay Gort co-founded architectural and urban design practice Gort Scott with Fiona Scott in 2007