Who does ACME like to work with? Founder Friedrich Ludewig opens his contacts book and explains the considerations behind some of their choices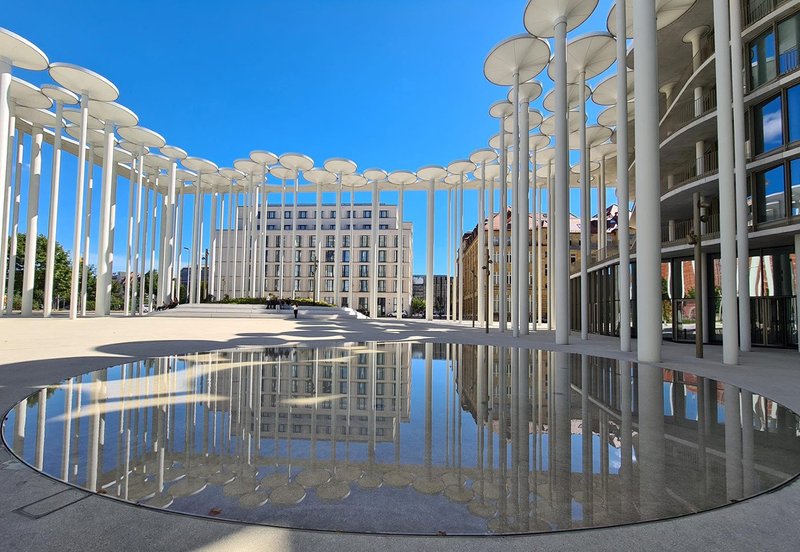 Columns are reflected in the pool at ACME's completed SAB Forum public space, inspired by an Alice in Wonderland forest.

Credit: ACME
In 2013, ACME won the competition for the headquarters of the Federal Saxony Bank (SAB) in Leipzig. The site was once an important part of Leipzig's pleasure and ornamental gardens designed by Johann Dauthes (1749-1816).
Our client, SAB Bank, wanted to gift something to Leipzig's citizens as part of its new headquarters development, but something that would be no trouble to maintain.
SAB Forum is an accessible urban realm for the people of Leipzig and their guests. The public space is delineated by a forest of columns grouped around a large central clearing, populated by landscaping, integrated seating and a mirror lake.
The design is inspired by an Alice in Wonderland forest, where things are out of scale and aren't what you'd expect. We suggested a forest with 21m-high columns supporting canopies. The scale is mesmerising and intriguing - as if you've had a little bit of Alice's potion!
We went on a Europe-wide search to find someone who could produce concrete columns – at the time carbon wasn't quite such a loud discussion. We found FUCHS Europoles, which creates poles for anyone who needs one. The quality is exceptional. The poles are spun and quite efficient because they are hollow, rather than a big lump of concrete.
It is a highly collaborative company that was happy to do all sorts of weird customisations. We needed 251 columns with different jobs. There is a grid of structural columns but I'd challenge anyone to spot which ones they are. We also have columns that are smoke extracts for the car park below, and poles that are geothermal columns; in Germany when you take ground-source cooling from the ground, you have to take heat out of it in winter to balance this. So in winter, the SAB forum is two degrees warmer than the rest of Leipzig.
Other columns have no technical job except providing shade, and doing the heavy lifting of making it a public space.
FUCHS Europoles cast the columns in white concrete, but would have been happy to do other pigments. They arrive on lorries and are easy to erect on pre-cast footings. One can have any head on the top – these were originally meant to be fibre-concrete but ended up textile.
The columns and the complexities of shadows they create means that you feel you're never the first one in the space – it always seems activated and works much better than if it's just an empty outside space, even though the bank hasn't opened its café to the public yet. It has made a corporate bank headquarters public, active and the backdrop for many Instagram posts.
We've learnt a lot about what columns can do for a public space, and it would be fun to use them more often in the future.
FUCHS Europoles is very collaborative and the columns themselves don't cost the earth – we're using a simple product to create something unique.
Staircase in-situ at SAB headquarters, Leipzig. ACME hopes the design will encourage more employees to take the stairs, and mingle.

Credit: Michael Moser
When we tried to find great concrete staircases, we realised that so many of the ones we liked had been made by R Bayer, such as the one at David Chipperfield's Neues Museum in Berlin, and the one at Sauerbruch Hutton's offices – a complex concrete piece that gently and elegantly curves backwards. That gave us the confidence that if we had R Bayer as our partner, we could actually design a staircase at the SAB Bank building in Leipzig that felt like a proper alternative to taking the lift.
We'd noticed that SAB has a diverse set of people who work in really different types of departments and rarely meet. We thought it would be useful to do a building where they met more often, not only in the open-plan office but also incidentally going up and down the five-storey staircase. We thought that if we positioned this directly opposite the lift and made it beautiful, with refined recessed concrete tactile handrails that are nice to touch, people would probably use it (and it seems to have worked).
We went out to detailed tender and R Bayer won the commission, because it has the most experience. We sent it a 3D digital file and it built the formwork and cast it in-situ working to a 2mm tolerance – its precision is amazing.
The doors to the stairs are invisible to invite use, and tucked away. The staircase has a haptic quality and feels more precious than concrete, maybe like terrazzo, as if we've spent lots of money on it. However we didn't – it was a state bank and it didn't want luxury. We consciously designed it in a very average looking aggregate mix.
The result is a beautiful, timeless, low-maintenance staircase that is an integral part of the building experience.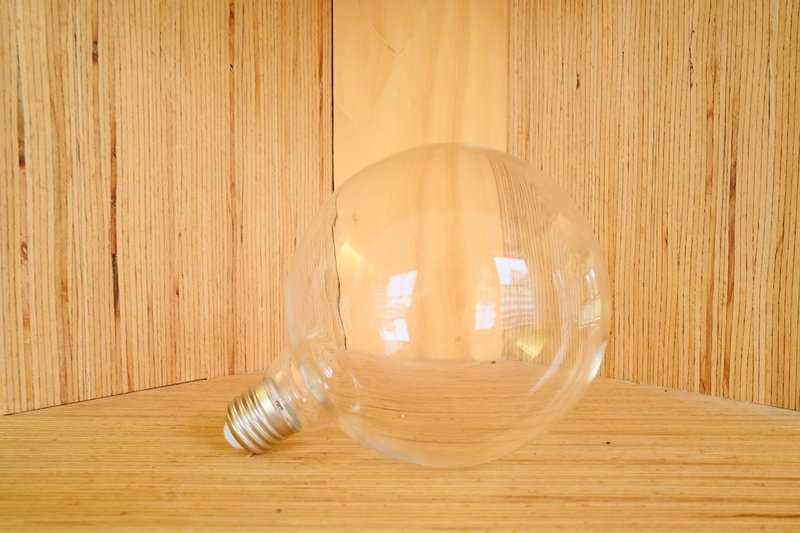 ACME light, designed by manufactured by ACME and manufactured by Chinese company Sehon.

Credit: ACME
Sehon is a Chinese company who has produced our ACME E27 light bulbs.
This collaboration came about from searching for a beautifully simple object. At the Milan Expo 2015. I went to the Bahrain pavilion designed by Dutch architect Anne Holtrop. There was a very simple light that looked like the absolute essence of a light – a bulb but no sign of a filament.
I tried to find out who had made it, and after two years, I discovered it was very expensive – about €1000. I wondered if I could make something that was as amazing, but that anyone could afford. I set out to make a cheap light with a big glass globe, G125 with the entire control mechanism built into the screw cap. And it had to be dimmable, which is more difficult.
It was a lockdown project. I paid five suppliers in China about £100 to produce samples. In some, the dimming didn't work as I wanted, and in some the build quality wasn't good. The most interesting partner was Sehon, who was able to do what I wanted for $1.70 per light plus shipping.
I ordered 1000, and the shipping worked out at $2 each – so we can basically beat UK supermarkets on both design and price. As a start we have installed them in our office toilet and have given one each to staff as a present – they can buy others at cost and can be purchased via ACME's shop on our website.
We used to be able to walk down the street and find craftsmanship within a few hundred metres, but we've lost that confidence to make things. There is a world out there where people aren't scared of making things. We shouldn't lose confidence to do this as an industry – it's not all that complicated and isn't beyond our reach.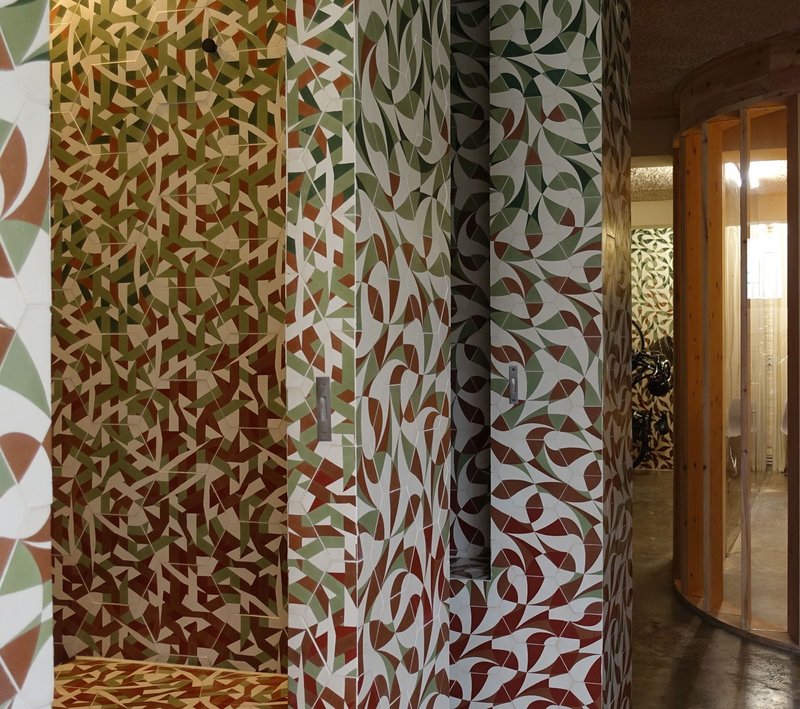 ACME tested different version of the patterned tiles in the basement of their London studio.

Credit: ACME
We were designing a low-carbon supermarket near Frankfurt on the old factory site of Dyckerhoff & Widmann. The firm started off doing ornamental concrete, so we were looking at covering the service areas of the supermarket in 3D ornamental concrete tiles in loving memory of Dyckerhoff & Widmann.
But we had a crisis in confidence about the carbon footprint, as we were building the most sustainable supermarket in Germany. Instead, we looked at doing something thinner with less concrete by using encaustic tiles.
You can get fancy Moroccan encaustic tiles over here for £200/m2, but I wondered how much of that goes to the maker. So we went direct instead and found a company via Facebook in Marrakesh who we could talk to.
It willl do anything, for £25/m2 and is very fast. We send it the design and within one day it will have made a mould using thin copper foil and sent back photos of it. After a few goes, its copper foil mould matched the design of our pattern for a hexagonal tile that could be laid in any way and still make a seamless pattern.
For our Frankfurt project we could not quite align building, warranties and procurement. The facade was done in patterned render instead.
We decided to test it on ourselves in our office basement, using two sizes of patterns, one for larger spaces and another for small areas such as the showers. For the larger pattern, we asked Morocco Tiles to cast the same mould six different times in variations of greens and red. These are laid randomly and your eye can't quite spot how the colours change from one colour to the other as they go down the wall.
The price that means the tiles are no longer a luxury item. They're also pretty much indestructible.
Friedrich Ludewig is founder of ACME, an international architectural and design practice based in London, Berlin and Madrid.
Friedrich Ludewig was talking to Pamela Buxton