It's great to work with people who really understand their industry, says David Kohn as he reveals five of his best craftsmen and collaborators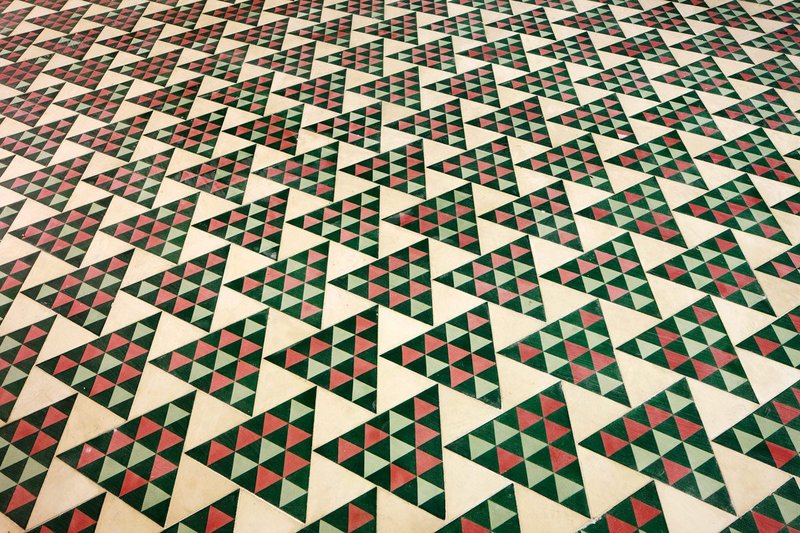 Detail of triangular-patterned floor tiling at the Carrer Avinyó apartment in Barcelona.

Credit: José Hevia.
Mosaics Martí is an encaustic tile manufacturer who made the flooring for our Carrer Avinyó project, the domestic interior refurbishment of an apartment in the Gothic Quarter of Barcelona.
The apartment was the pied-à-terre for two brothers, who wanted to put in more bedrooms so that both families could come and stay, and another bathroom. The 19th century apartment had substantial proportions with ceilings that were almost 6m high, but the rooms were quite small, and each had a different floor finish. The assumption was that it would be good to put in a mezzanine level. However we kept it as one space by taking away the subdividing partitions and introducing bedrooms as large pieces of furniture almost like buildings at either end.
One of the key moves was to lay an encaustic floor throughout that would unify the different spaces and respond to its situation wrapping round the corner of Plaça de George Orwell. All around you there is the constant sense of being in Catalunya. So we set ourselves the target of working with local manufacturers, and found Mosaics Martí, a family-run company who'd worked with Gaudí several generations before, through a recommendation from our executive architect Angel Martin Cojo Árquitecto.
We visited Mosaics Martí to find out how encaustic tile manufacturing worked. Essentially you pour pigmented concrete into a jig and then lift the jig up very quickly. The liquid seals, it air dries and then you stack it up. We saw that one of the Martí family sat in their factory pouring concrete from jugs, doing the same thing all day, every day.
However, the firm was up for working in different ways. So we came up with a design for a triangular tile that was subdivided into 25 smaller triangles, and gave the craftsman a spreadsheet to follow so that the right proportion of the cells were filled in the right colours. By following this rubric, the colours in the tiles changed from green through light green to light pink to dark red as the tiles moved through the apartment.
We later did another project with Mosaics Martí in Buckinghamshire, where we needed tessellating tiles for an oval room.
I was a bit shocked to understand that the business could survive with one or two people making every tile, day in day out. What was exciting was that after the project was published and won awards, Mosaics Martí found new contemporary design markets, and went from providing something very familiar and traditional to being innovators in the encaustic tile market.
Environmentally, encaustic tiles are incredibly low tech and relatively low embodied carbon, since they are air-dried in a slow process that's not accelerated through heating. There's something special about the product. Because of the way it's made, its colour runs through the whole tile, which means it's quite forgiving in how it wears. I think they were first presented in the UK at the Great Exhibition and were very popular during the Gothic Revival. The typical pattern is highly repetitive with two or three colours. The Barcelona apartment was a way of taking something very familiar and considered quite old school, and giving it a completely new life.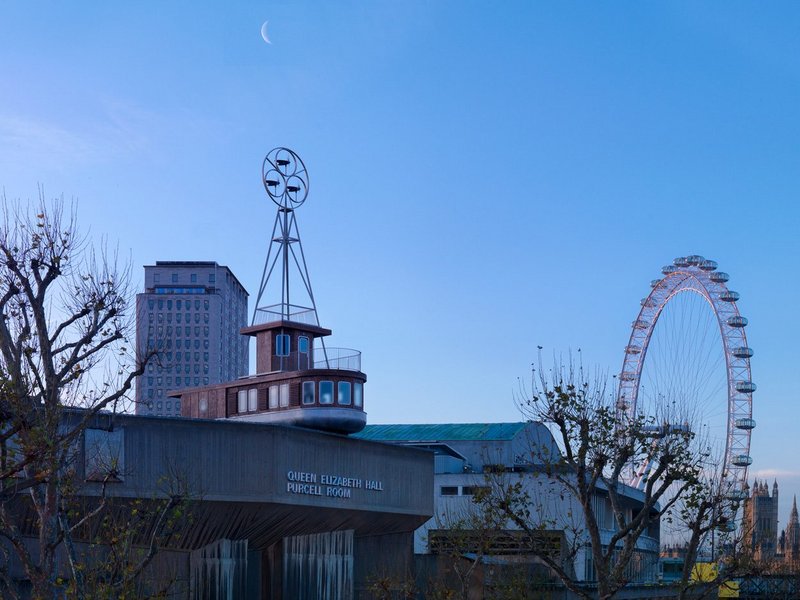 David Kohn Architects worked closely with design and fabrication company Millimetre to realise A Room for London on the roof of the Queen Elizabeth Hall on the Southbank. The project was a collaboration with artist Fiona Banner.

Credit: Charles Hosea.
We worked with Millimetre on A Room for London on the roof of the Southbank.
We were introduced to the company by Mark Robinson who, as producer first for the Serpentine pavilions and then for Living Architecture, was very knowledgeable about bespoke one-off productions.
As an architect, you're often steered towards resolving elements of construction in one material with a limited range of techniques so that things are procured in a straightforward way. Small scale construction that involves multiple skills is not that readily available. Because of the procurement process, architects are often kept at arm's length from the people who make things, and that's not really conducive to working with makers to understand what's possible.
I always felt Millimetre was a bit like The A-Team in that there are several craftsmen who each have a specialism in a different material or technology. So when you go to them, there's no contracting out. Instead, Millimetre really offers the sorts of conversations about material junctions that you'd associate with the late 19th/early 20th centuries, when there was a less atomised construction industry, and much more familiarity with mixed materials and collaboration between skills.
A Room for London evolved with Millimetre's collaborative input. It was involved very early on, and was very clear about the ways it could make things. In this way, the design developed through conversations with the craftsmen. The end result has the constructional qualities of a piece of furniture at the scale of the building, in which every part has a different material logic, but feels very sympathetic to the whole.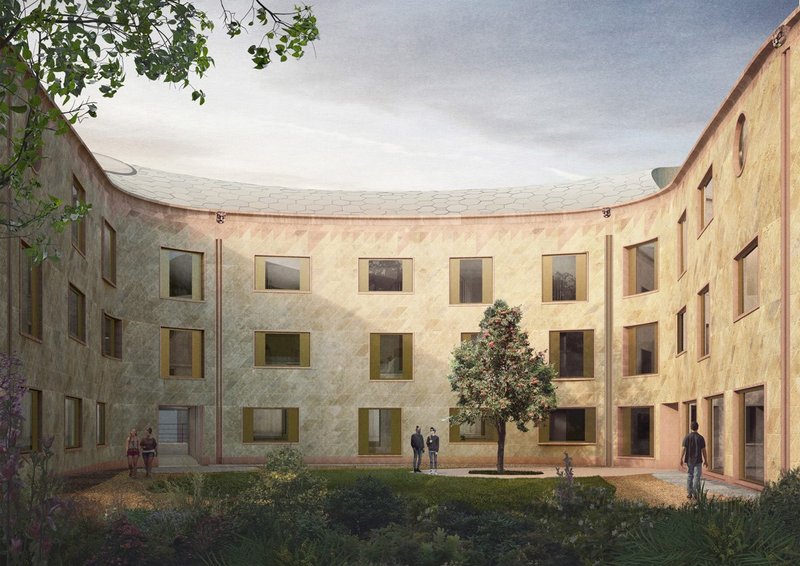 Visual showing a view into the West Quad at Gradel Quadrangles, New College, Oxford, designed by David Kohn Architects.

Credit: David Kohn Architects.
We met stone contractor Grants of Shoreditch through Sir Robert McAlpine, the main contractor for our project for New College in Oxford, the Gradel Quadrangles.
When we won the competition in 2015, our proposal was for a building with a complex curved plan that worked hard to complete various urban figures on a very tight site in the historic centre of Oxford. We suggested that the curved facade be made in stone.
Working with structural engineer Price & Myers, we looked at historic curved stone buildings for inspiration. We were particularly interested in lighthouses because of their interlocking stone facades, which were a response to the extreme weather conditions they faced. Our idea evolved into a load-bearing, diamond-shaped stone block, which would accentuate the curvature of the facades but probably be quite demanding technically.
While we were going through planning, there was the question of how we'd deliver the stone package, as we knew this would be critical to the success of the build. We'd been consulting with many different suppliers before McAlpine's took us to see the Bloomberg building at the tender stage. Grants of Shoreditch had carried out the stonework, and the New College client and design teams were very impressed by how they'd met the technical challenges there.
Working with them on the quad has been an absolute pleasure, and epitomises how we like to work. It feels like a very collaborative relationship, and McAlpine's have been very supportive of that. So often, architects and sub-contractors are kept away from each other. So it can be hard for architects to acquire a detailed understanding of how they work, and take that into account in the design, which is what we were able to do at New College with Grants.
We had multiple opportunities to see mock-ups of the quad stonework. We went to the quarry near Doncaster with Grants design director Glen Henson on several occasions, first to choose the stone blocks, then for cutting, stacking and selecting the right colour variation within the stones. We selected an Ancaster Weatherbed limestone, which is an oolitic limestone with areas of quite distinctive mottled blue and beige. Glenn explained that the blue lenses in the stone were left when water found its way through fissures and oxidised the iron in the stone, turning it beige. I'd actually used small quantities of Ancaster before when I was at Caruso St John working on the Museum of Childhood.
We get a monthly report from McAlpine's of Grants' progress producing the CNC-cut 15,020 blocks that make up the facade. Grants is also fabricating the stainless steel clamps that restrain the stone to the concrete frame as part of the package.
About half of the stones are now laid. I can't imagine a more challenging construction process because the joint widths are very narrow and there's so little tolerance – it's mind-boggling. But it's looking amazing.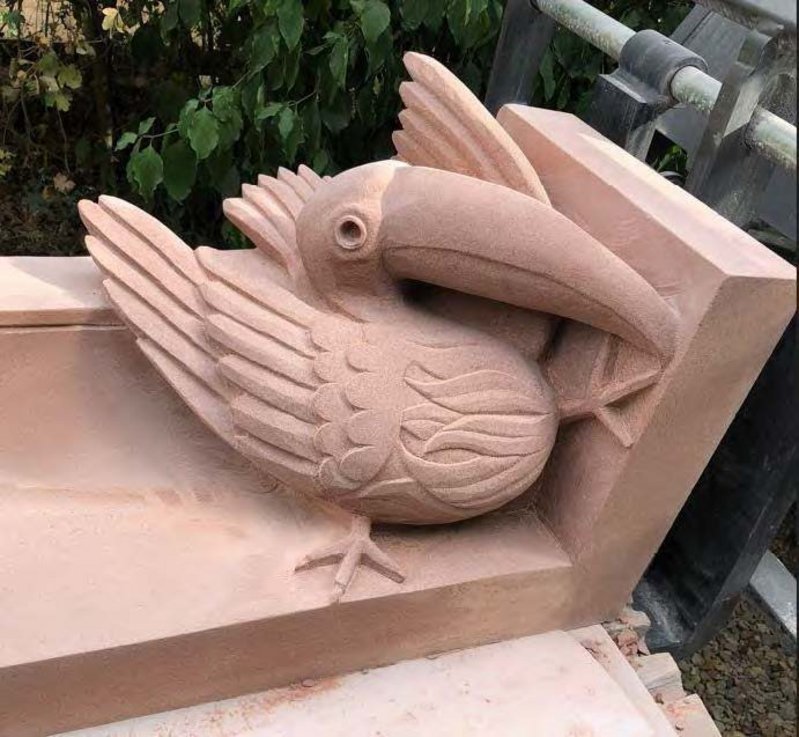 One of 24 gargoyles created for Gradel Quadrangles, New College, Oxford. The gargoyles are a collaboration between stone mason Fergus Wessel, artist Monster Chetwynd and David Kohn Architects.

Credit: Fergus Wessel
The original New College quad – the first ever to be purpose-built, in 1405 – has many gargoyles. The College is very proud of these and the donor asked if there was a way of including gargoyles in the new quad building.
This is certainly challenging, both technically and intellectually – how to make a gargoyle that is both meaningful today and within a tradition. The college suggested we work with Fergus, who is a stonemason with experience of repairing and making gargoyles. We proposed that we work collaboratively with him and the contemporary artist, Monster Chetwynd, who could help us bring the gargoyles into the 21st century. Our architecture practice grew out of working with artists and galleries, and now we're working on bigger projects, we're keen to continue to involve artists whenever appropriate.
I've been working with Fergus and Monster on the thematics – we're thinking about animals that are endangered due to habitat loss and the climate crisis. The last time there was a profusion of animals on buildings was in the 19th century, at a time of growth in natural sciences and European exploration of the natural world. Today, there is a pressing need to celebrate the natural world in a very different context, in which everyone must work much harder, and put more thought and care into how we preserve natural habitats.
The College's Professor of Evolutionary Biology, Ashleigh Griffin, has been suggesting appropriate animals, some of which are a bit unexpected, including a pangolin, a gecko and a moth.
Fergus has been working on this for over a year, and with Monster for the last three months or so, and I'm very happy with what they've done. The designs have come about through their unique collaboration. Monster's brought a real sensibility around the representation of animal forms, and that's very much part of her practice as an artist.
There will be 24 gargoyles along the cornice line. Half have already been carved by Fergus and there are only a few left to design. It's super exciting.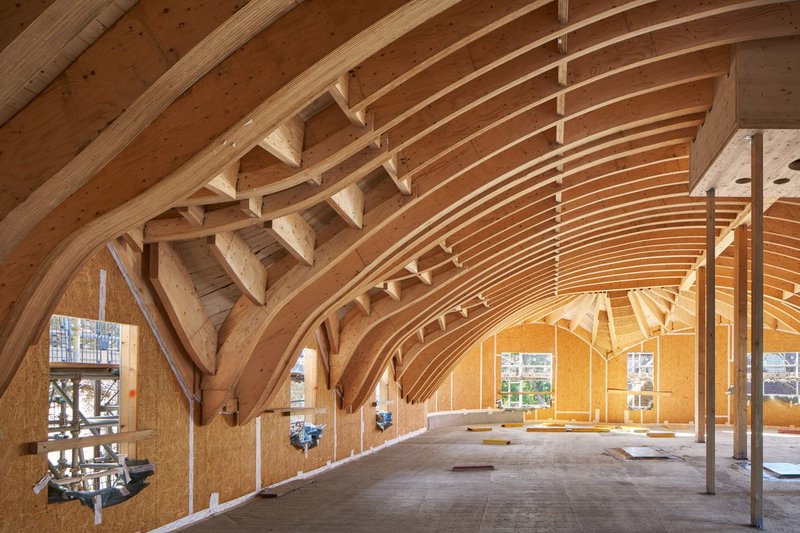 David Kohn Architects collaborated with Swiss timber specialist Blumer Lehmann on the roof of Gradel Quadrangles, New College, Oxford.

Credit: Will Pryce.
Blumer Lehmann is a Swiss timber specialist who we are working with at New College. Before we met them, we'd spent several years during the design stages discussing how to improve the environmental performance of the new building and reduce the embodied carbon, and thought we'd got as far as we could. But what was unexpected was that the procurement route would throw up new opportunities for this, driven more by supply chain risk reduction than a predominantly embodied carbon reduction agenda.
At the tender stage, the roof was a concrete shell. The main contractor, Sir Robert McAlpine, came to the conclusion that this would be very difficult to build, and that there were very few people in the market who could build it, which it judged was a major procurement risk to the project. Timber, however, had a better supply chain that reduced the risk, and from that flowed other environmental benefits. The project has subsequently won an Institution of Civil Engineers Carbon Champion award for reducing carbon through the construction process.
Sir Robert McAlpine proposed Blumer Lehmann, which had worked on the Cambridge Central Mosque. It turned out to be ideal as it specialises in prefabricated timber with complex forms, and had a sophisticated design department that could rationalise the geometry and resolve how the timber roof could meet the concrete structure. The clever move was creating the top floor in composite timber panels and spanning the roof from those.
I went with the client and project manager to see Blumer Lehmann's factory in Switzerland. We were shown the entire process from the arrival of the logs from local forests all the way to the use of algorithms to minimise the space the components took up in transit. They were then put together on site in a fraction of the time it would have taken to cast a complex roof, and without such extensive temporary works. It was really impressive. On the basis of that, I asked Blumer Lehmann to take part in a seminar series I teach at the Architectural Association called the Future of Collaboration. We went on site with our students and Blumer Lehmann talked them through the process of realising the roof and all the touch points with other disciplines.
Like many architects, I'd once assumed that the more control we had as designers, the better. Yet here we were in a two stage design and build process, delighted at our proposals being changed by a contractor, and meeting some brilliant new craftspeople in the process. It was really inspiring.
As with Mosaics Martí in Barcelona, it was great to find the right people to work with who really understand their industry. It's the best way to work, and the closer you can bring that to the front end of the design process, the better. One conclusion is to spend more time building the right networks ahead of projects and become as close to a community of suppliers as you more naturally are to your community of designers.
David Kohn is the founder of David Kohn Architects, which recently won RIBA House of the Year 2022 for Red House in Dorset
As told to Pamela Buxton