The architect talks about working with specialists in black steel, light fittings, travertine and stone flooring
I have always loved working in black steel. Its raw form is so elemental. The hot-rolled sheets have a blue and black pattern in their surface, like the patterns you see when rolling pastry.
In general, black steel is used with a painted or powder-coated finish, otherwise it will rust when exposed to weather. In our early experiments, we took unexposed sheets, worked with them, cleaned them and waxed them, and all the colours came to life. As well as being beautiful and durable, these raw sheets are also very cheap, and can be recycled. I used steel like this in my first office in 2000 to create a mezzanine and stair, and it has still retained its qualities in all that time.
We recently completed Pace Gallery in Hanover Square, London, where the most important architectural element is a large stair that links the curatorial office in the basement with the gallery above.
For the first time, we worked with the wonderfully named Cake Industries. You can tell quite quickly if you're going to have a good working relationship with someone. The first sign was when we saw how excited they were with the idea we were proposing. Taking the drawings we had developed with structural engineer Price & Myers, Cake Industries brought their knowledge, experience and techniques to improve it. They detailed and executed the stair and handrail to perfection and installed it beautifully.
The staircase starts out parallel, then cranks out to create large landings where people can stop and talk to each other. Architects tend to make stairs steep so that they take up less space. Instead, I'm obsessed with very gentle treads and risers so that the experience is comfortable and a pleasure. I think that generosity is really important.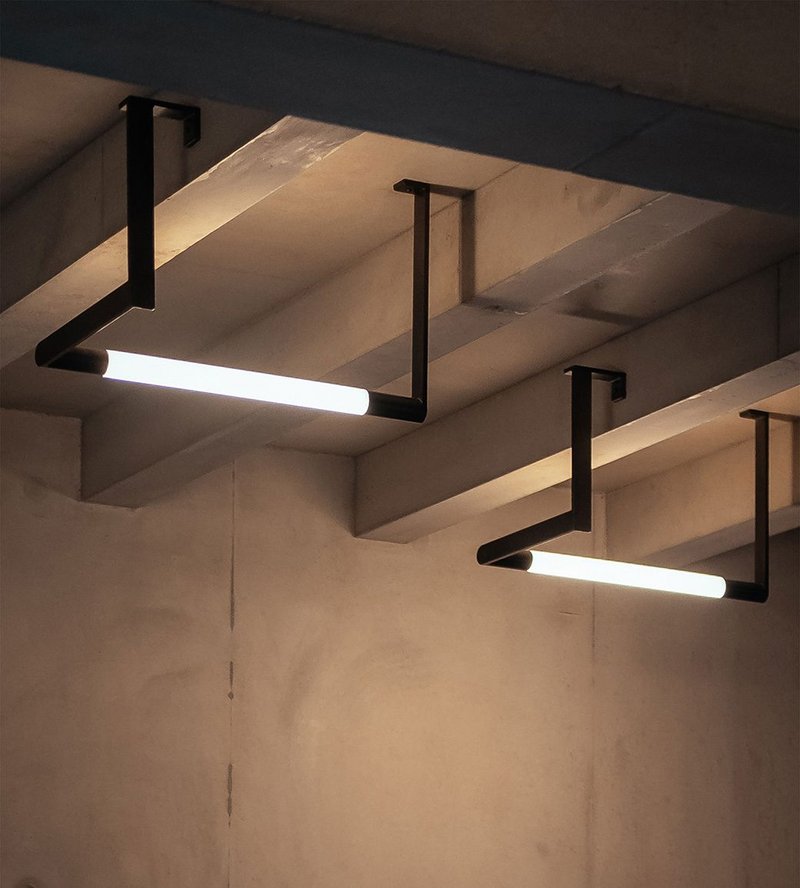 Completed light fixtures designed by Jamie Fobert Architects and fabricated by Opus Magnum for House in Primrose Hill.

Credit: Jim Stephenson
Opus Magnum are extraordinary makers of furniture and fixtures, working in multiple materials. We've worked with John Baulkwill, one of the founders, on many projects over the years, starting with furniture elements for a project at Selfridges in 2010. Our most recent collaboration was the refurbishment of a Victorian house in Primrose Hill. We came to John with an idea for a family of light fixtures to be used throughout the house, indebted to a set of lights designed by Gropius for the Bauhaus building in Dessau.
John is much more than a shopfitter; he's an inventor and a problem-solver. He had the specialist knowledge to take on our idea and turn it into a reality. John looked at off-the-shelf LED fixtures that could go into a tube and found a way to rout the edges to make a seamless connection between the tube and the bronze. He then worked out how to realise the classic Corbusian detail of a round tube meeting a square section in bronze, while also incorporating access for the wiring.
We worked very closely together with mock-ups and prototypes of a single lamp. Once we had shared our designs with the clients and knew they were enthusiastic, we made a whole suite of fixtures: beams of light that unify all the living spaces, from a straight run of lights over the kitchen workspace to a more complex installation over the dining table, which we resisted calling a chandelier.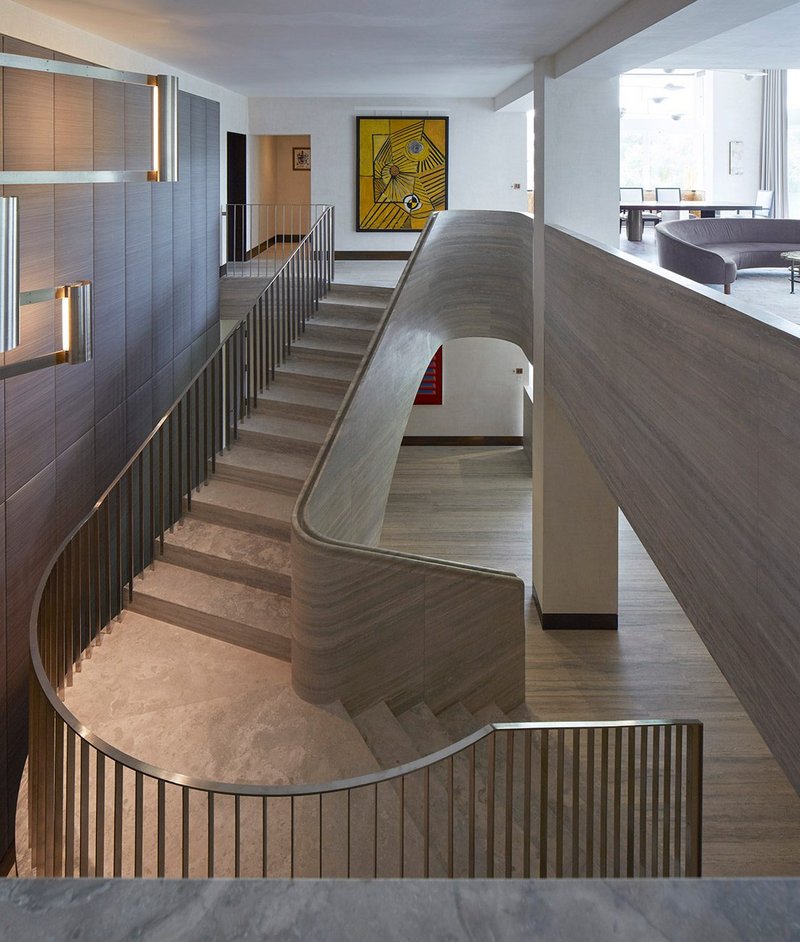 Completed travertine stair designed by Jamie Fobert Architects for a residence in central London.

Credit: Dennis Gilbert
When we designed a travertine stair for a listed building in central London, we relied on the expertise of a number of specialists working in sequence. The stair was a critical element of the project, which combined two flats in a Denys Lasdun-designed building, cutting out a section of the floor to connect the living and bedroom areas. Writing about the building, Lasdun had said English houses should be able to be adapted by different generations. And since we know that Lasdun loved travertine, our choice of material felt appropriate.
The stair creates a very clear spatial journey. Rather than moving orthogonally, you are taken up through the void in a loose, flowing path. I wanted the stair itself to reflect this dynamic journey. Since the void is much bigger than the staircase, you experience the stair as a sculptural object, as well as the double-height volume of the space around it. The client understood quite early on how important the stair would be to the feel of the house.
Achieving the travertine stair required a combination of skilled engineering and craftsmanship and sourcing the right material. Arup was the overall structural engineer but we worked with Steve Webb of Webb Yates on the staircase. A key idea was for each travertine block to form three steps and the handrail, to give the complete stair a monolithic and sculptural quality. I had sketched a design, and my team had made gesso-covered foam models of the cantilevered staircase. Steve's input enabled us to arrive at a shape we were happy with.
The French stonemason EDM London of Ateliers De France helped us to source the stone in Italy. Stone quarries are the most wonderful places in the world – I've never been to one without finding it totally fascinating. We looked at four different travertine quarries in Italy with the client and we found exactly what we hoped for in a quarry near Siena. It's an oceanic silver travertine, rather than a yellowy or dark brown colour. I love the elegance of its soft grey tones.
Ateliers Romeo, from Puglia, brought their knowledge and craftsmanship to bear when they cut the travertine into blocks and hand-carved the handrails, before it was transported on a truck to London, craned up the side of the building and into the apartment through a window.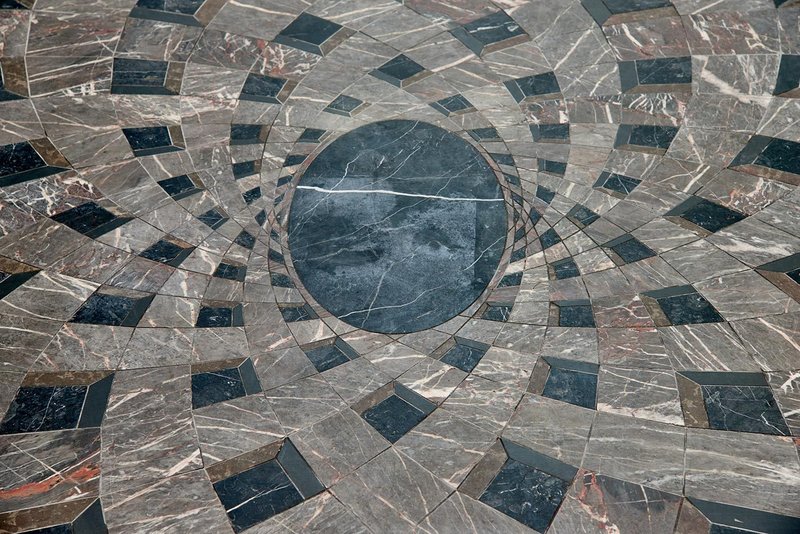 Detail of completed new floor at Burlington Arcade designed by Jamie Fobert Architects.
In 2015, we won a competition to create a new floor for the wonderful Burlington Arcade in London. We worked with stone supplier Britannicus, along with contractor Tudor Stonework, and Margraf, an amazing stone company in Italy.
The 179m-long arcade was designed by Samuel Ware and completed in 1819. The original Portland stone floor and vaults below had been badly damaged in the Second World War. The replacement floor was a pale yellow terrazzo, which reminded me of the boys toilets in my Canadian high school in the 1960s. It had long been covered with a carpet. Because of the way the vaults had been repaired, we were left with only a 20mm depth for the new floor, so a simple reconstruction of the original flagstones was impossible, and besides, we felt that something more striking could be very effective.
We looked carefully at the geometry of the historic building, which has a distinct rhythm of 17 bays, and a weaving circular motif in the arches. We also considered historical precedents, from Hawksmoor's fantastic three-dimensional design at Beverley Minster to Inigo Jones' spiral floor at the Queen's House in Greenwich, and we tested how these floor patterns might work in the arcade. After numerous studies, we came up with an elongated sine curve with nodes aligning with the bays, with a geometry that picks up on the interlocking curvilinear forms in the architecture. It's abstract enough that you can let it flow into the different doorways, which have lots of variation.
We realised that the original floor would have been built of British stone because of the Napoleonic War, and were fortunate to find Britannicus Stone, which only deals with British stones. It helped us choose four different stones including slate from the Burlington Slate Quarry, which had links with the Burlington family who built the arcade. The others are Moorcroft Somerset, Ashburton Devon and Mendip Marble Somerset.
Having successfully sourced British stone, it was disappointing that we couldn't find anyone in the UK who could take on the cutting and installation. The design has thousands of elements, some as small as a coin; it required highly specialist stone-cutters. For this, we worked with Margraf in Italy, who were brilliant. They numbered and waterjet-cut each piece of stone by computer, then dry laid them out in their factory, before coming over to London to help lay the floor on site. In collaboration with Tudor Stonework, this installation took four months.
On site, the stone masons worked at night, We made a decision that the first thing that must happen was for the central disc to be absolutely aligned in the middle of the arcade. From that point, two teams worked out towards each end. They would arrive at 8pm, uncover the part of the floor they were working on, work through the night for 6 hours, and then recover the floor with ply and a red carpet, ready for the next day's shoppers. Throughout the whole installation, the arcade did not close at all. But as a result of this method of installation, we did not ever see more than a few metres at a time of the floor until the day that they opened.
You can feel the pattern opening up and closing down as you walk through – it gives a rhythm to the arcade, and children immediately see it as a game, which I think is great. It felt utterly appropriate to do something this extraordinary in this location: its clearly a floor with historic references, but its creation relied on state-of-the-art technology.
Jamie Fobert was speaking to Pamela Buxton