Experts in rammed-earth structures, timber frames and marble and stone are among the specialists helping Jonathan Tuckey Design realise its latest projects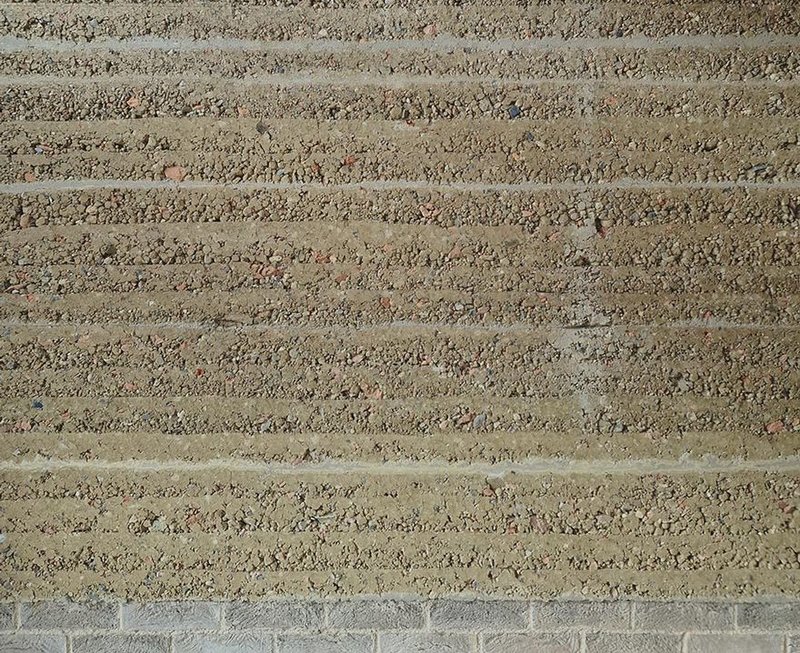 Detail of Jonathan Tuckey Design's Rammed Earth House on site in Wiltshire. The practice is collaborating with rammed earth construction expert Martin Rauch.

Credit: James Osborne & Emmeline Kos
Martin Rauch has spent his career innovating in the design and construction of rammed-earth buildings, initially in Austria and now across the globe.
We approached him to work with us on Rammed Earth House, on the site of a former brickworks in Wiltshire. During the site's formative years, the ground was stripped of good quality clay needed for brick making, leaving behind impure clay, which is precisely what you need for rammed-earth construction.
We specialise in celebrating existing materials and elements so it felt apt for the new house to be made out of the material beneath our feet and from the remains of existing structures on the site.
Martin has been our rammed-earth guide from the outset, giving us helpful parameters about thicknesses, angles and certain adjacencies. We first reached out to him to calculate whether the soil and aggregate would be suitable. His first observation was that it would be easier and cheaper to make a thick structure rather than a thin one, and this led to our approach for castle-like walls up to one metre thick.
Together with his team, he has guided us throughout the design process and produced specifications for testing. He has also been on site to support the contractors, who had never undertaken rammed earth construction before but were open to learning. Now they have added this discipline to their already substantial skillset.
Martin's expertise has been particularly invaluable in understanding how buildings like this weather. Many rammed-earth structures are stabilised with cement or lime. He's developed an alternative technique which introduces harder-wearing layers every 300 to 600mm. These are trass lime mortar erosion checks that act like speed bumps by slowing down run-off as a way of managing erosion, quadrupling at the corners with interlocking bands set in every layer.
We had a full-scale mock-up wall section made, and were able to plough it back into the site when we were finished with it. The house is currently under construction – the rammed earth has been finished and the project is due for completion by early next year.
We didn't need to bring materials for the walls to site. Instead, we turned the site into a quarry, digging, drying and sifting the clay. It's been really lovely to watch the building emerge from this ensemble of materials from directly around us. It's an amazing material – sometimes it looks a bit like travertine. There's a rich detail in its plainness.
Martin is very much the European champion of rammed earth, and he likes the idea of training us and the contractor to also become advocates.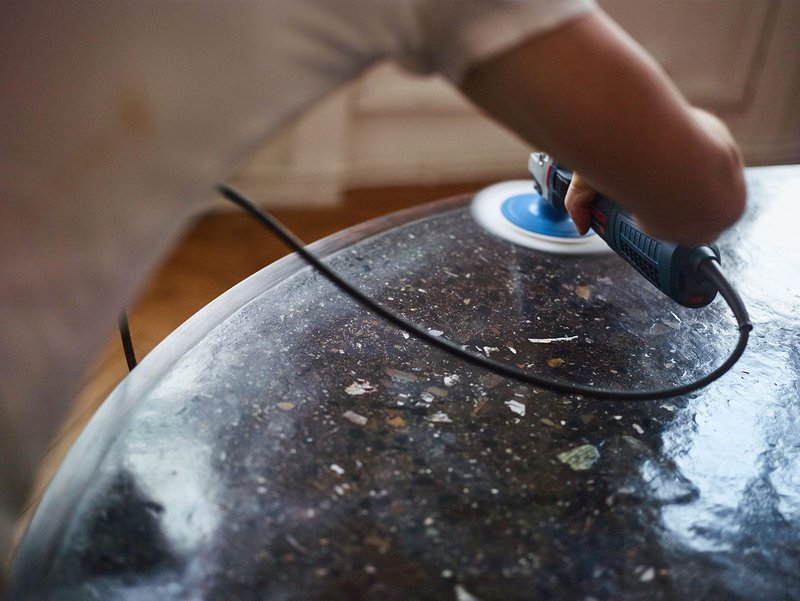 Hanno Burtscher creates rammed-earth furniture by using earth mixed with aggregate. This is then pressed, ground, polished and sealed.

Credit: Hanno Burtscher
Hanno is a disciple of Martin and has worked with us to create furniture and floors at Rammed Earth House, as well as guiding the team on site in the nuances of building with this material. For the long bench, he took earth from the site with aggregate from the demolished outbuildings, and pressed, ground, polished and sealed it to create the final piece. The result is something akin to a terrazzo with texture, which will form a beautiful patina over time.
As well as the bench, Hanno is making rammed earth floors in key rooms where the building steps down to give a sense of them having been excavated. Here, the floors will be a darker, richer and more polished version of the walls.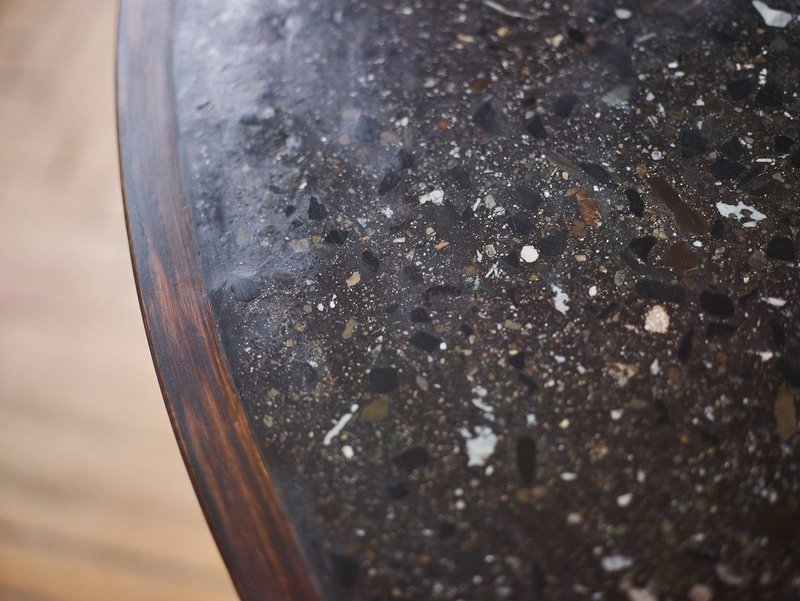 The finished surface has an appearance akin to terrazzo.

Credit: Hanno Burtscher
We hadn't initially intended to have rammed-earth furniture and flooring, but as we developed our knowledge of the material, we suddenly entered a new realm of possibilities. Fortunately, because of the way the house was procured, we were able to instigate these things along the way.
We're absolutely looking forward to working with rammed earth again.We're keen to use it as much as possible and really hope others do too. We're working with it on a proposal for a clinic in Eswatini near the South African border, and also exploring its potential for a tannery conversion in Belgium.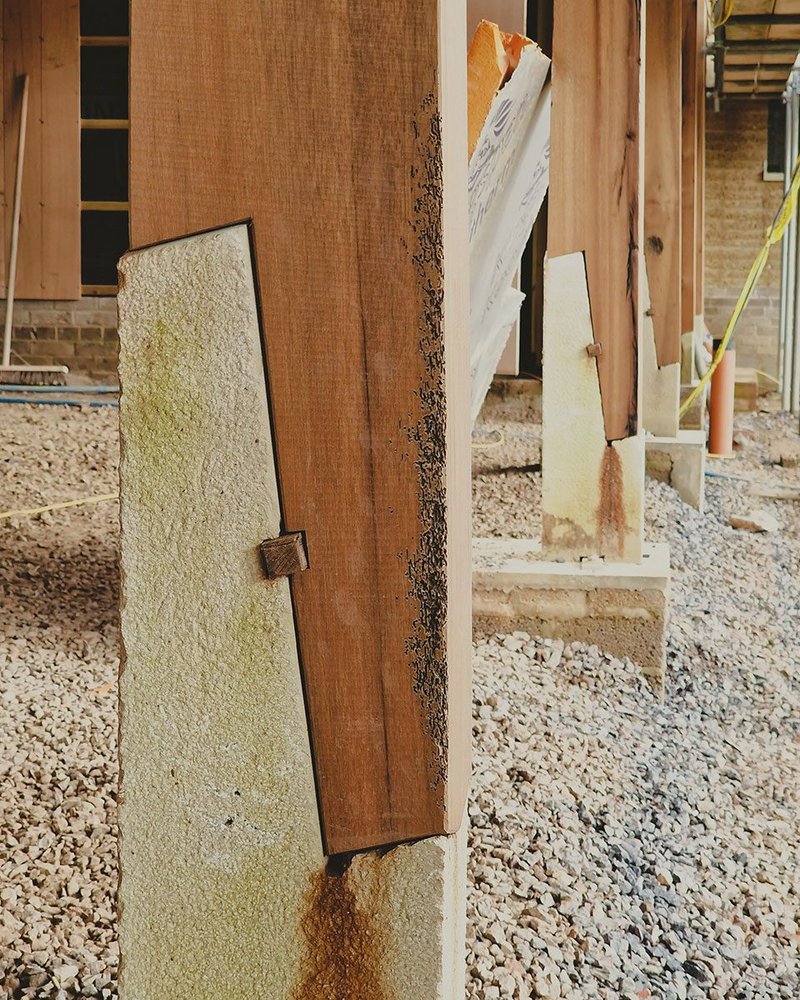 Oak is combined with stone at Rammed Earth House, where Jonathan Tuckey Design is working with specialist timber frame craftsman Jim Blackburn of the Timber Frame Company.

Credit: James Osborne & Emmeline Kos
Jim Blackburn, The Timber Frame Company
Jim's a completely brilliant adviser and specialist timber-frame craftsman. He is based only 20 minutes away from the site of our Rammed Earth House, but I'd use him even if he was 500 miles away.
Jim was introduced to us through our builders due to his vast knowledge of timber and shared dedication to craft and high-quality materials. He told us that he had recently sourced some reclaimed greenheart wood from a pier in Devon. If we can find a way to be circular, we do, so we were interested in using this wood for the frame of the Rammed Earth House.
At first floor level, the walls decrease in thickness and this is where the timber frame rests on the rammed-earth support. There is also a colonnade of structural timber at the entrance on bases of Chicksgrove limestone.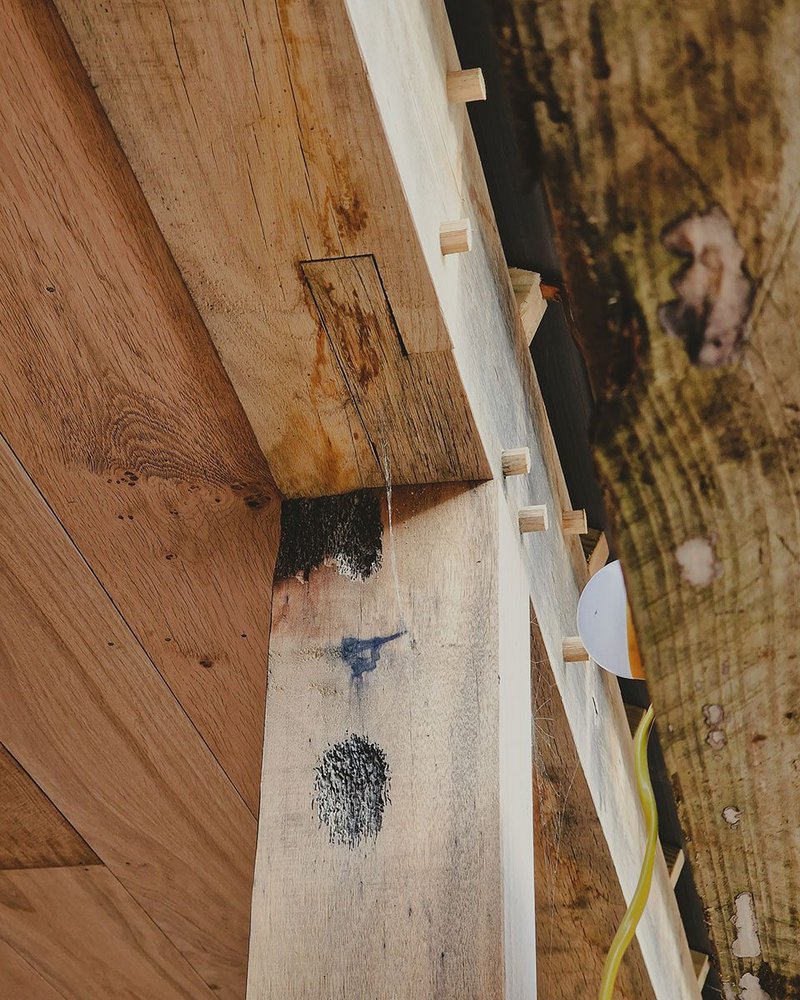 Joints are created with simple oak pegs by the Timber Frame Company at Rammed Earth House.

Credit: James Osborne & Emmeline Kos
We had an idea for how to bring these two components together, and Jim developed this to simplify and make it more buildable. The relationship between the timber and stone is inspired by Japanese junction joinery; there are no fixings other than a pair of oak wedges. A wedge is driven in on either side and locks the two materials in place. All other timber elements are bound together by simple oak pegs which are left proud. It's a delight that with just a few simple hits of the pegs, you could take it apart again.
Jim brought such a positive enthusiasm and energy to fulfilling our ambition in a way that goes much further than we'd have imagined.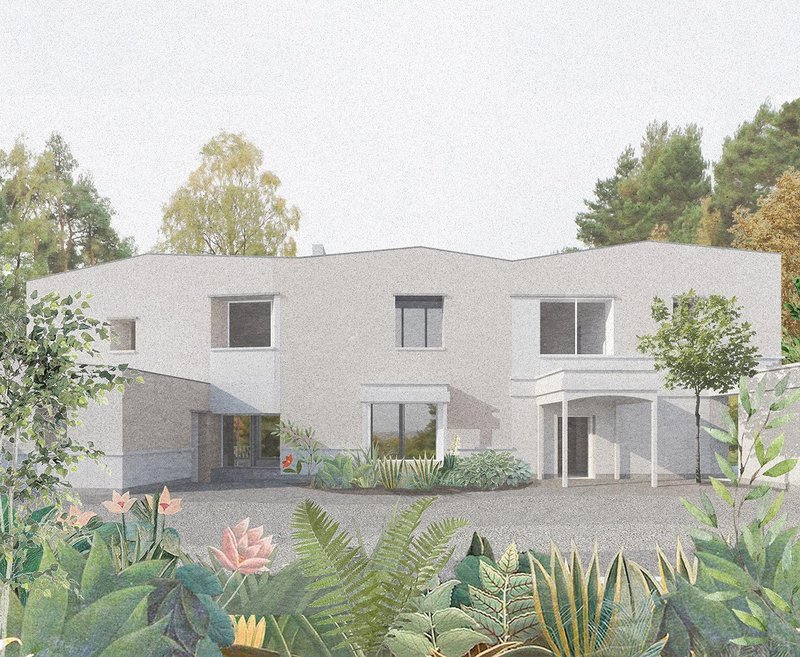 Jonathan Tuckey Design is working with lime-render expert Saxum Stonemasons on Chalk House, Surrey.

Credit: Jonathan Tuckey Design
Jamie Wallace, Saxum Stonemasons
Saxum Stonemasons is a lime-render expert that we've been collaborating with on Chalk House, a new homestead in Surrey.
The structure is composed of a timber frame infilled with hempcrete. In the UK, you can't have exposed hempcrete so we needed some sort of external finish. With Jamie, we've been developing a 150mm-thick cyclopean lime facade made out of stones we found at the edge of the site placed within lime mortar. It's a breathable structure that allows moisture to escape and provides an attractive tactility
Saxum has been working with us throughout the planning process and design development. It has been making one-to-one prototypes and tests to help us understand the nuances in the lime mix and how much of the stone we want to see.
We wanted to introduce something a bit finer around the windows, like a border with slates set inside it as adornments. Saxum has worked on it with a fine chisel to bring out the aggregate as a contrast to the smoothness of the fine trowel work around the windows. It's been really enjoyable to work with someone who appreciates the difference between the two surfaces and what we're trying to achieve – perfect imperfection.
We recently got planning for it and it should start on site later this year.
Jonathan Tuckey Design collaborated with marble and stone specialist Remuzzi Marmi on a residential project in Italy, using only off-cuts. Here, small blocks of marble pieces are used to form a pattern within a floor of mortar.

Credit: Simone Bossi
Remuzzi Marmi is a marble and stone specialist in Bergamo, to the north of Milan in Italy. We chose to work with the company because of a close relationship it has with one of our associates, and because it is located close to a recently completed project we have on the edge of Lake Como.
Formerly a concrete shell that long haunted the rolling hills, the structure has been re-energised into a bright contemporary villa that embraces its stunning scenery. A polished floor and existing rudimentary steel columns have been accented with marble elements. By aligning this very considered, fine material next to the existing concrete, its own material beauty and importance surfaces.
Rather than cut new stone, we worked with off-cuts, hunting around Remuzzi Marmi's workshop for what was available and making the best of these by using them strategically in the villa.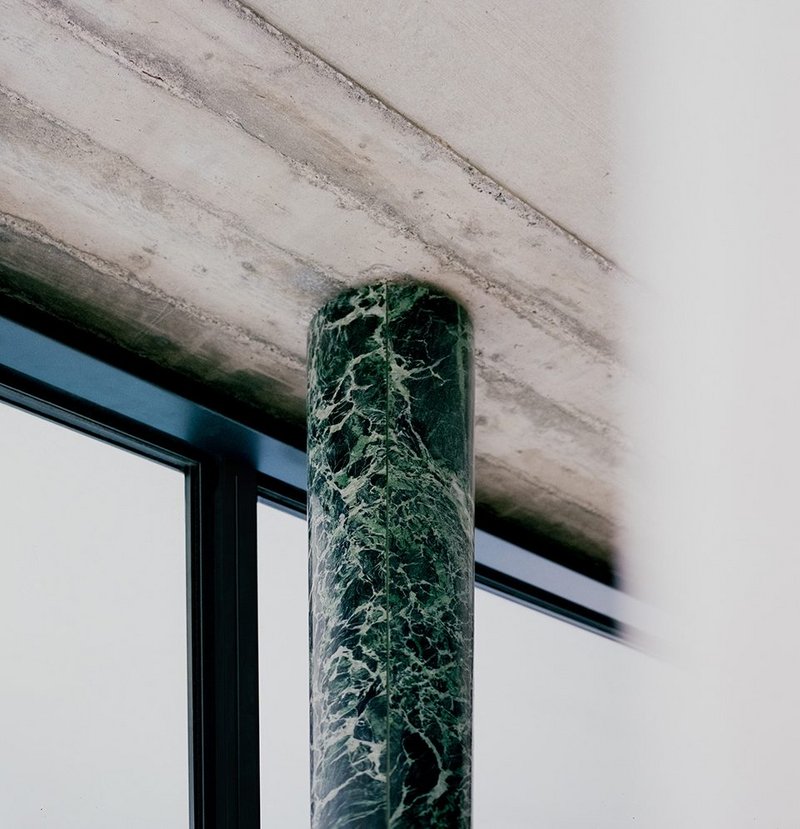 Marble off-cuts clad a steel column.

Credit: Simone Bossi
For the floor, rather than having one seamless slab of marble, we floated pieces in a sea of mortar so that the stone is framed. In the bathrooms, we used very small blocks in a matrix-like rug of tiling.
Working with Remuzzi Marmi was a joy and the craftsmanship on show at its workshop is nothing short of stunning. There is a reason it has been a leader in working with marble for four generations.
Jonathan Tuckey was talking to Pamela Buxton