Peckham practice's senior partner picks out four specialists that have made invaluable contributions to her work, from can-do contractors to hands-on makers
Our studio is known for its meticulous and elegant detailing, something that can only be achieved through close collaboration with contractors and makers. Philiam is a contractor we've worked with for over 12 years, delivering six projects in the process. In that time, we've developed a collaborative relationship centred on a shared commitment to realising beautifully crafted architecture.
We first worked with Philiam on Crowbrook, a timber-framed house in Hertfordshire for a client with mobility issues. The project hit trouble with the timber frame maker and could have been a very different outcome to the RIBA award winning house that was handed over to the client. That is thanks to the trust we developed with Philiam along the way, building a rapport during some very challenging times on site.
Since then, Philiam has worked with us on a variety of projects and through a variety of challenges. We recently completed a house with Philiam that could only be accessed across a weight-restricted bridge, which meant that all material had to be carried over to site by hand. No other contractor would touch it. But Philiam came to the rescue.
Building trust with a contractor has allowed us to try new ideas and bring R&D projects to site, developing modern and sustainable ways of building. On March House, Philiam's diligent and thoughtful site agent Danny worked closely with Fergus Knox from our studio and delivered a Manser Medal winner, in a house built using BlokBuild, a prototype building system.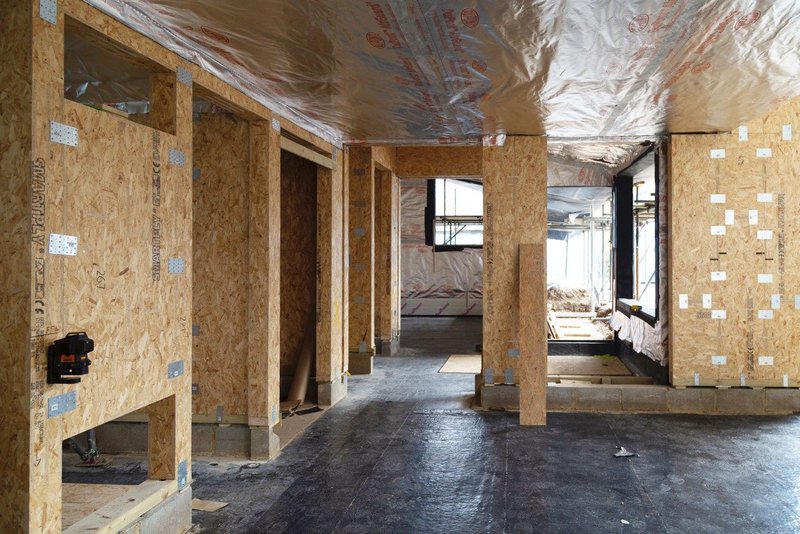 Scatterdells Lane under construction using shaped roof cassettes prefabricated by BlokBuild.

Credit: Knox Bhavan
BlokBuild produced the digitally manufactured timber cassettes for March House, its very first house project. It was a natural progression from the CNC work that they and Fergus developed in the design and construction of elements of our own studio, completed in 2016.
The cassettes are a form of Modern Methods of Construction that is low carbon and highly efficient, involving little or no steel and eliminating cold bridges. Waste is kept to an absolute minimum. In developing a relationship with BlokBuild and Philiam, we have been able to build in an increasingly sustainable way. That is a goal we all share.
We all learned a lot through March House and applied that learning to delivering Scatterdells Lane, a timber-clad house for a quadriplegic artist in Hertfordshire. Here, we're taking the timber cassettes to another level, creating shaped roof cassettes to achieve a fine and thin flying eaves detail.
There is an element of progression from project to project too. We find that rewarding. For example, lots of little lessons relating to the fixings and panel sizes have been learned, which lead to improvements in the speed and accuracy of construction. All building projects can and should be R&D projects. Working closely with contractors and suppliers that we trust, allows us to push that as far as possible.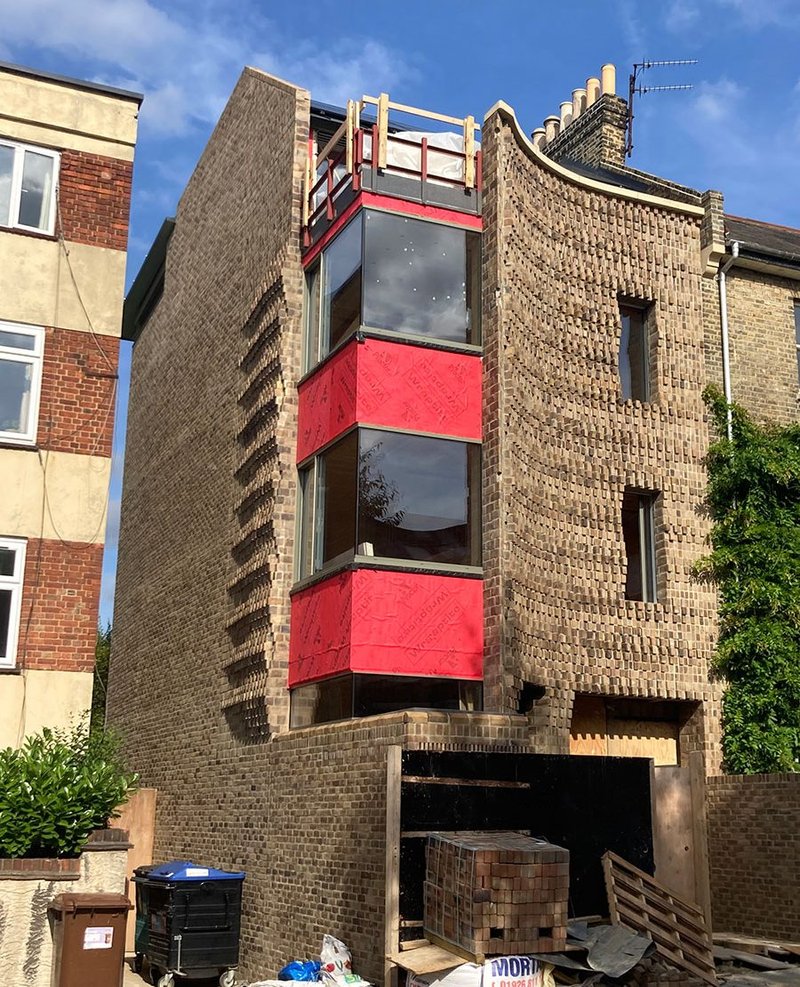 House in Peckham under construction using bricks modified by Everything Now Design.

Credit: Knox Bhavan
Our in-house R&D project KBe - a carbon tool designed to help us reduce embodied carbon in all our projects - encouraged us to look closely at the whole-life carbon of the materials on a new-build house in Peckham. This then directly informed the choice of brick on the corbelled brick facade.
This complex corbelled brickwork required bespoke specials; with such a crafted design, we didn't want to put in standard solutions. Our KBe research had taught us that reducing travel distances and working with local subcontractors could make a huge difference to the carbon footprint of the build, so we turned to Everything Now Design, a firm set up locally at Hotel Elephant in Elephant & Castle by two recent RCA graduates, Henry and Tom.
Henry and Tom are hands-on makers with a great interest in the intrinsic qualities and performance of materials. On our Peckham house project, they have been inventive and practical at finding ways to test and work with the chosen brick. They managed to take a conventional material, a standard brick, rework and adjust it to produce something unexpected. They did this by creating the unique specials required from standard bricks to facilitate the complex patterns and relief of our design. They pushed the boundaries of conventional brick profiles helping us to construct a wonderful undulating brick skin and frieze of ventilation bricks.
We're now collaborating with Everything Now Design on other projects. Whatever idea we have they're eager to help us realise it, working closely with materials in innovative ways.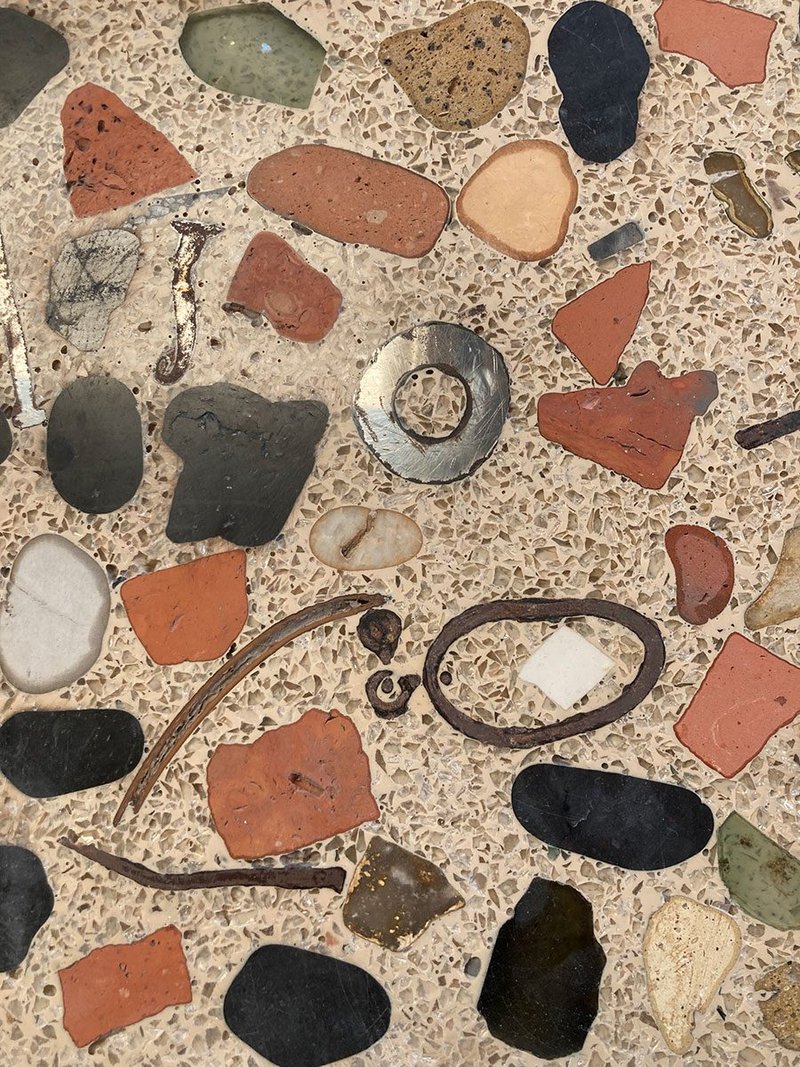 Examples of terrazzo made by Diespeker incorporating found objects such as nails and washers. Knox Bhavan hopes to use a similar idea at its House in Peckham.

Credit: Knox Bhavan
Similarly local to us, stone specialists Diespeker are nearby just off The Old Kent Road. We've built up a good relationship with them over the years, ever since we designed them some simple sheds when they needed more space about 15 years ago. They share our interest in using conventional materials in unconventional ways in the pursuit of more sustainable ways of making.
Diespeker is really keen to turn recycled materials such as crushed brick into terrazzo and do so to beautiful effect. We're working on a proposal for a community space in Southwark and like the idea of getting local people to bring things to put into the terrazzo to take part in the process. We're also hoping to use some of the brick wastage from the house in Peckham to create terrazzo for the garden.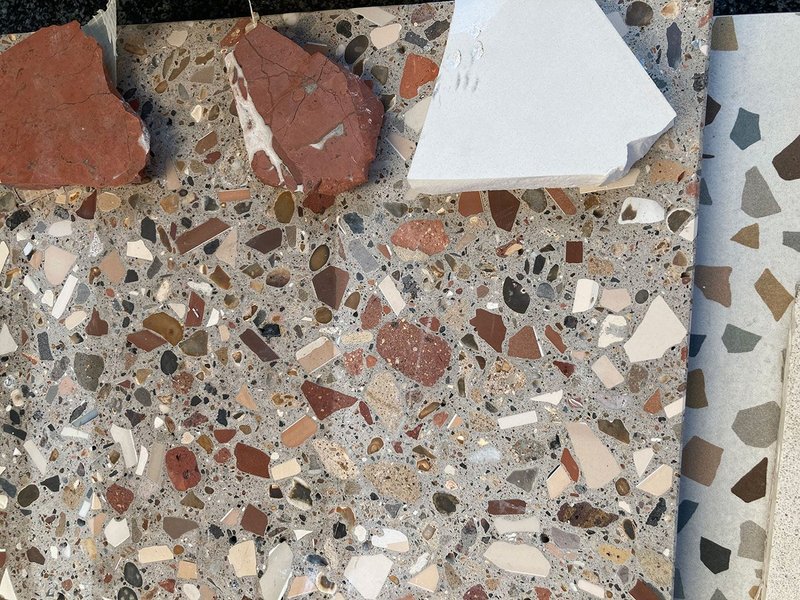 Terrazzo made by Diespeker.

Credit: Knox Bhavan
As material scarcity becomes an increasingly pressing challenge, approaches like those shown by Diespeker and Everything Now Design have become more and more valuable in achieving more sustainable ways of building. It's all about doing more with less and celebrating the materials we do have access to.
An architect is only as good as their contractor and a contractor only as good as their subbies. From Philiam to BlokBuild, Everything Now Design to Diespeker, the realisation of our buildings is owed to the trust we have built with these people. We look forward to continuing our practice of research with them, finding new ways to build more sustainably in the process.
Sasha Bhavan is senior partner at Peckham practice Knox Bhavan.
As told to Pamela Buxton.
---