Among the conservation specialist architect's go-to contacts are a weaving house and experts in conserving and restoring timberwork, mosaics and wallpaper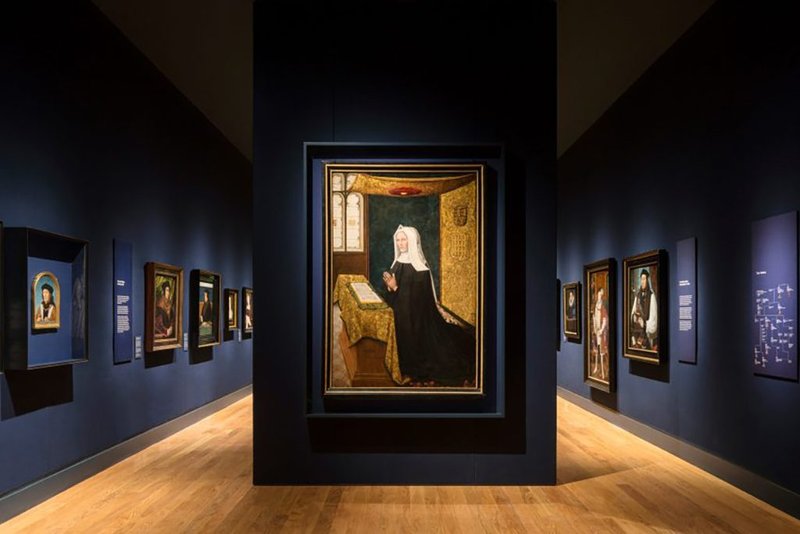 Tudor Gallery at the National Portrait Gallery, with fabric by Gainsborough on the walls.

Credit: Gareth Gardner
Historic buildings should continue to be the very best of the past. But we have a responsibility to deliver work that says something about who we are now as well. The National Portrait Gallery project was a collaboration between the artworks, the building and the design team's interventions, and required so many specialist skills. I want to talk about the weaving house Gainsborough, based in Suffolk, because the use of its fabrics was very exciting when we were rehanging the galleries with Jamie Fobert Architects and Nissen Richards Studio.
Reintroducing light by reopening the historic windows was a major design move of the project, to restore the original interior forms and to help address visitor gallery fatigue. The colours of the wall hangings were such an important part of that representation story.
The team used colour throughout our design to orientate visitors through the chronology and to highlight themes in the display, while celebrating the restored and relit interiors.
Gainsborough was established in 1903, and is one of the last remaining UK weaving houses. It brought all that expertise to help us consider what might have originally hung on the walls of the galleries, and then decide what colours would be appropriate for the architecture and what would work with the collection today. Some of the colours for the walls were from its very wide range, and others were bespoke.
Gainsborough were very helpful on the Tudor Galleries. There was a blue felt that had been selected as an appropriate colour for the Tudor portrait collection as part of the previous, Ondaatje scheme. But the felt manufacturer was no longer in business. So we made the decision to replace the felt but in a Gainsborough colour that was as close to the existing felt as possible. For one rich plum, we were inspired by a colour in the background colour of the William Shakespeare portrait, the first in the National Portrait Gallery's collection, which Gainsborough were also able to match.
Early in the design process Nissen Richards Studio, as interpretation designers, and Gainsborough began working with ideas of bolder pattern to the wall hangings, but that started to compete for visual primacy with the portrait collection. Maybe that's for another collaboration.
Gainsborough were really collaborative throughout, bringing hand samples and then stretches of cloth so that we could be fully confident about our choices. They then helped us do mock-ups of the gallery wall, which we tested with the proposed gallery lighting scheme on site.
They also contributed their understanding of how the wool hangings should be installed, fire safety requirements, ink stability and long-term maintenance. This is important, as the client doesn't want to have to keep refreshing fabrics because they've faded. Our new ones should last a generation at least.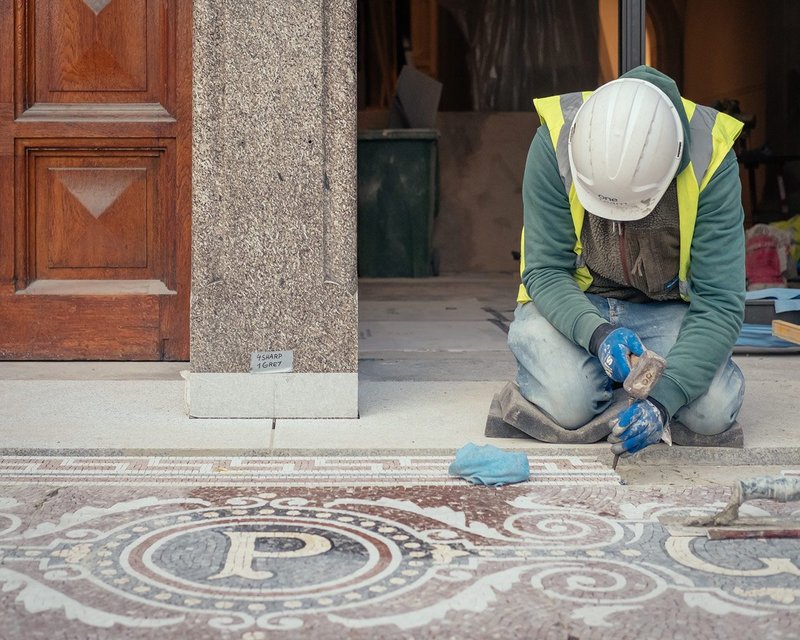 Restore London repairing the original mosaic floor at the National Portrait Gallery.

Credit: Jim Stephenson
Restore London is a specialist repair and restoration firm which undertook the excellent cleaning and repairing of the National Portrait Gallery's stonework facade and mosaic floors.
It undertook extensive trials based on our specification to sensitively clean the Portland stone staircase inside the original entrance, which had become very stained. It was important the stone would look similar to the new dados of Portland stone that Jamie Fobert Architects' scheme added in the new entrance hall - it needed to be perceived as a consistent material, used through the ages. Restore London helped us bring harmony, working with us to trial cleaning methods so that we could make sure we were doing the right thing for the material, gently reviving its appearance without removing the tooling of its original construction and patina of age.
The work it did on the mosaics was superb. The mosaics are such a distinctive aspect of Ewan Christian's design coding, with mosaics laid in European marble tesserae on the floor of circulation areas before visitors step onto the teak floors of the galleries.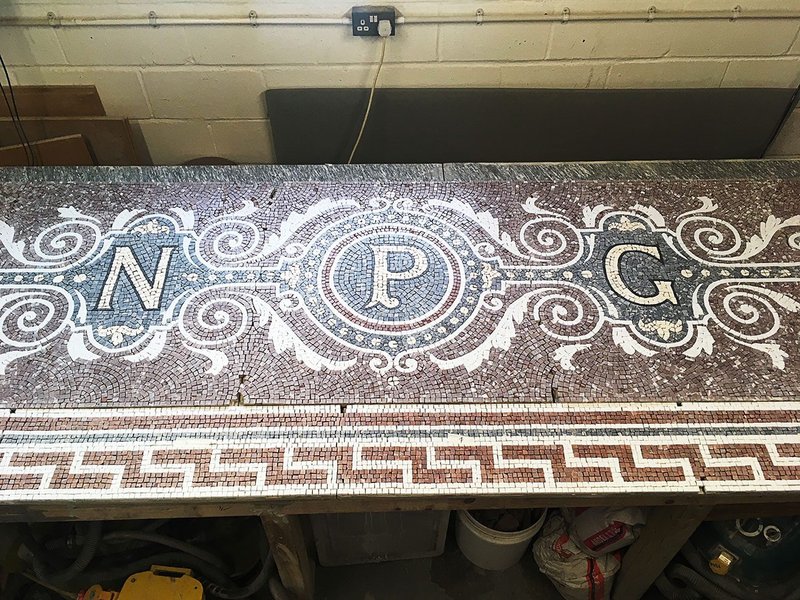 Mosaic from the entrance to the National Portrait Gallery prior to repair and reinstallation, part of the rejuvenation by Jamie Fobert Architects and Purcell.

Credit: Purcell
One of the most challenging pieces of work was at the historic entrance threshold, which needed to become an inclusive access ramp. Working to our designs, Restore London relaid the original mosaic back on the new incline by undercutting the pieces to suit the gradient. It was a careful and considered piece of work with the team working on their knees in-situ – there was the risk they'd undercut the mosaics too far, but they didn't.
We always knew we might make discoveries at the National Portrait Gallery, particularly in the Weston Wing, and one of the great finds was a wonderful original terrazzo floor beneath the suspended floor of the former shop. It had been cut through with cabling and other servicing but Restore London brought it back to life with the help of Diespeker's original floor specification. Using this, the team assisted us in sourcing replacements for individual stones that were either close matches or the same.
They made our specified repairs so that they are almost invisible when viewing the room as a whole, but are sufficiently different that an educated viewer could see where the mosaic had experienced areas of change when looking in detail. Perfect!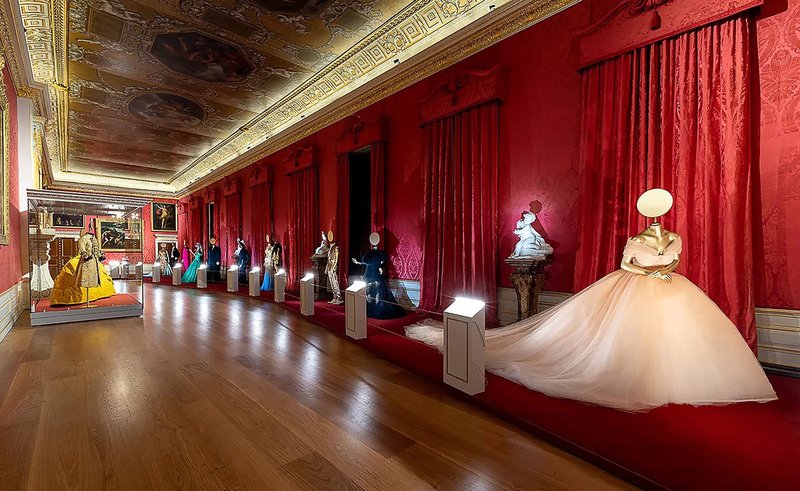 The restored King's State Apartments at Kensington Palace during the temporary exhibition From Crown to Couture.

Credit: Historic Royal Palaces
Vincent is a super chap and a true expert in the conservation of historic timberwork and joinery. I first met him at Kensington Palace in 2003 when we were doing a re-presentation of the King's State Apartments, and we have done a series of other projects together over the years.
For Kensington Palace, we'd done our research alongside Historic Royal Palaces' team of curators and were restoring the interiors back to the 1727 William Kent scheme. This involved replacing the 1950s floor in a traditional lay, with wide oak boards that diminished in width towards the perimeter of the rooms. But we couldn't find any joinery contractors who had the right expertise. Then we found Vincent, who at the time was a furniture conservator but was interested in scaling his work up to take on whole rooms.
We took a punt and it worked. We've since worked with him gaining advice at a range of historic buildings from the 18th century James Gibbs North Wing at St Bartholomew's Hospital to projects involving listed 20th century art deco interiors where he's advised on alternatives to tropical hardwoods.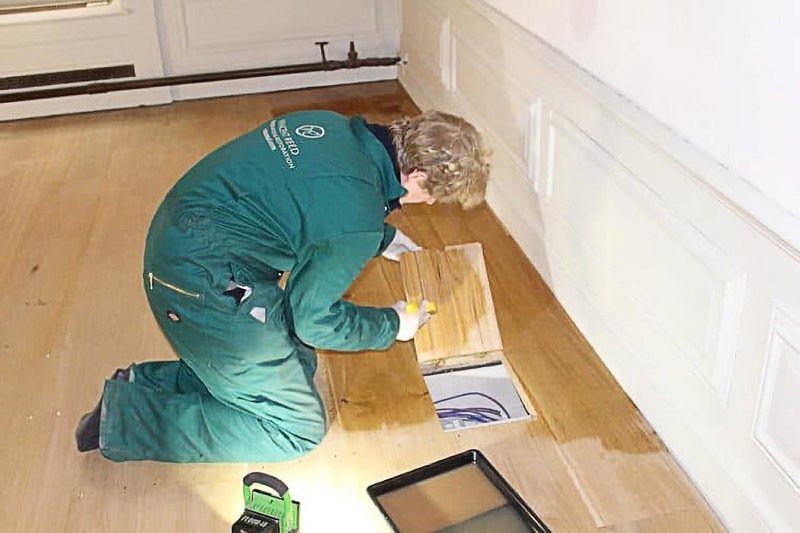 Timber restoration expert Vincent Reed restoring the oak floor of the King's State Apartments at Kensington Palace.

Credit: Vincent Reed
Vincent always gives really sound advice. He brings expertise on how to effect our schemes of repair, guiding how to only remove what absolutely needs to be removed and repaired, and knowing when we can do repairs in situ. He also helps us to know when something requires repair because of wear and tear, and when there may be an underlying problem that needs tackling. This takes judgement and craftsmanship in close collaboration with our conservation vision.
There's a real skills shortage for timber restoration. I'm currently working with Vincent on a documentary about the importance of keeping traditional building skills alive through training. Conservation is not just about conserving building fabric but about conserving building skills as well.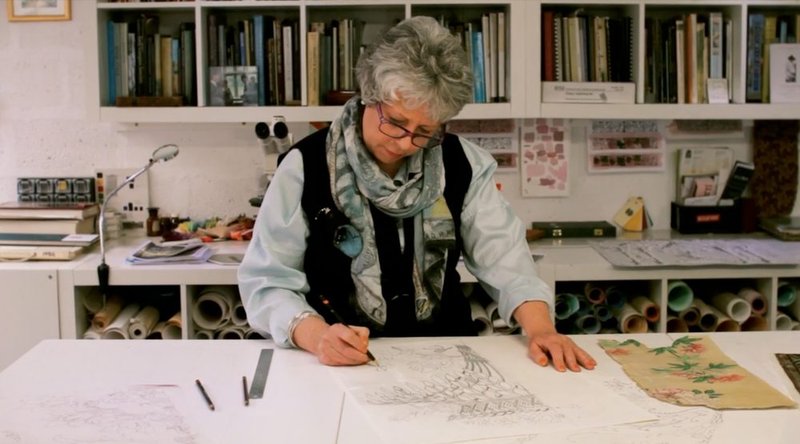 Historic wallpaper expert Allyson McDermott in her studio.

Credit: Allyson McDermott Studio
Whenever we find historic wallpaper, we always know that Allyson is the one to work with. She is an expert on conserving and recreating historic wallpapers and has access to an extensive archive of papers. We worked with her at Kew Palace and at Shaw House, an Elizabethan mansion in Newbury where she produced Chinoiserie paper. Most recently, she worked with us at Boston Manor, a Jacobean house in west London commissioned by an amazing female patron, Lady Mary Reade. This contains wonderful Jacobean plasterwork and wallpaper, which tells the rich story of the lives of those who built and lived within the house.
Allyson first helps us understand what we're looking at – she can tell what layer of alteration a paper has come from. Then she advises on whether it can be restored and how this could be done. Thirdly, she can help with how best to add a replica that speaks to the original.
It would be great to see more experts working in all these fields. We really enjoy building long-term relationships and seeing conservators flourish so that they can take on apprentices and pass on their skills. It's really important that conservation projects become a place to train. This inspired me to set up our in-house conservation school at Purcell in 2016.
Liz Smith is an architect, chairman and regional partner at Purcell
As told to Pamela Buxton