The founder of of Mole Architects talks about CLT, a woodchip version of terrazzo, reusing plastic and valued consultants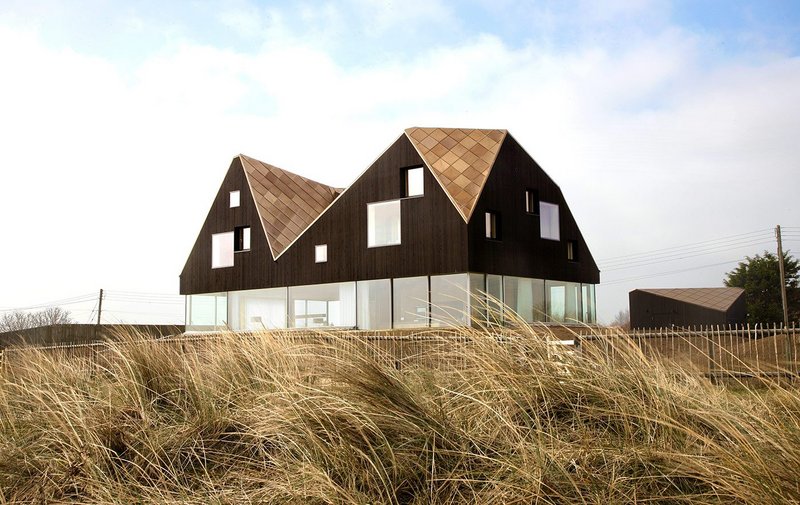 Dune House at Thorpeness, by Jarmund/Vigsnæs Architects and Mole Architects for Living Architecture.

Credit: Chris Wright
We like to work with timber and do a lot of projects with CLT as a sustainable structural solution. The delight of working with a prefabricated system is that all the problems are worked out before construction begins on site. We are massive advocates for it as a material and I don't doubt that it will overcome its recent technical and insurance difficulties over the next few years.
Its robustness is reassuring, and if you're able to leave an amount of timber exposed, the quality it has internally is just amazing. Architects love concrete, but people love timber.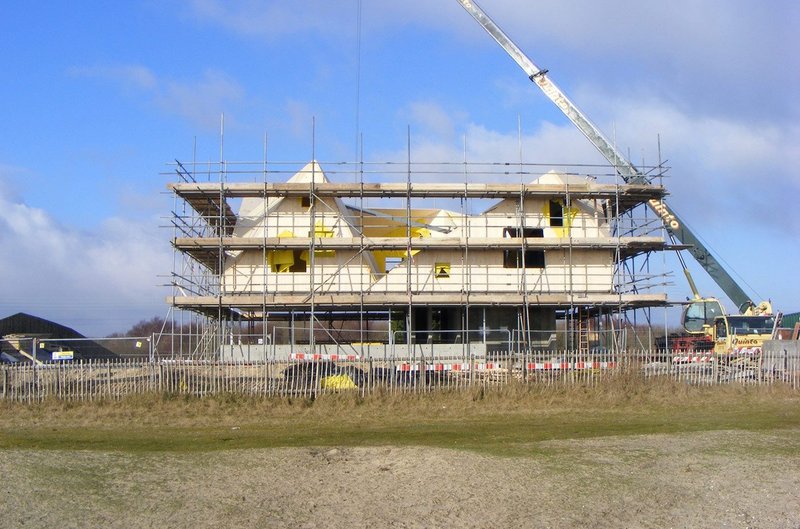 Dune house at Thorpeness under construction, showing the CLT roof by Eurban.

Credit: Mole Architects
We worked with Eurban on Dune House in Thorpeness, which had a complex roof geometry, and Marmalade Lane, our 42-home cohousing scheme in Cambridge, which also had its complications. We're also working with them on projects at The Phoenix, a new neighbourhood in Lewes for sustainable developer Human Nature. We like their understanding of the material, together with their well-ordered processes. These accommodate a proper dialogue with the architect so that we can input our own details into the design of the CLT system. It's pretty seamless and is always a really enjoyable process.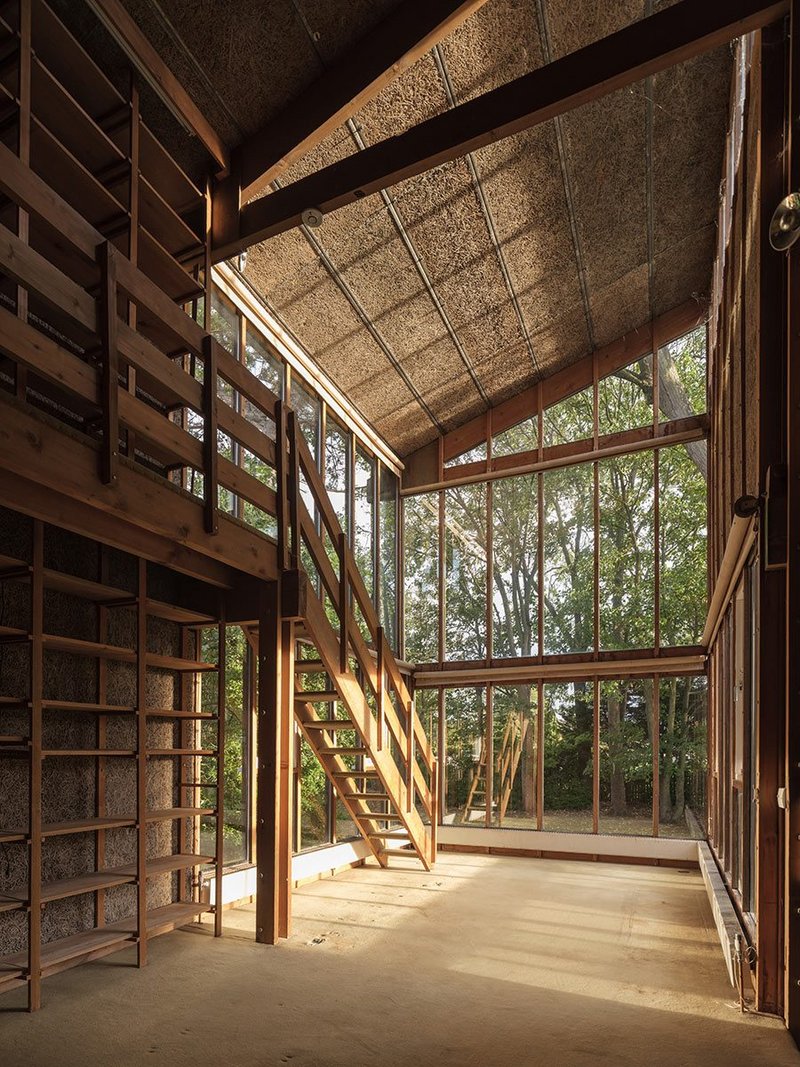 Living space at the Grade II listed Echenique House in Cambridge. Mole Architects worked with Andrew Fisher of QODA Consulting on the energy performance strategy of the refurbishment.

Credit: Matthew Smith
We are certified Passivhaus designers, which gets us a fair way down the line in terms of knowledge. But we don't do things like our own SAP calculations or dynamic thermal modelling. Instead, and for really detailed building services performance advice, we look to get in additional expertise, and find that energy consultants and M&E engineers are the most useful.
We've collaborated with energy consultant Andrew Fisher for a long time. When we first worked with him in 2009 he was working for a contractor. He later set up his own business, which is now part of QODA Consulting. Over time we've built up a productive dialogue. He's given CPD sessions to our office – the last one was on Approved Document O, covering overheating mitigation for residential buildings. He took a number of our recent projects and showed us what we'd have needed to do in order for them to comply with Document 0.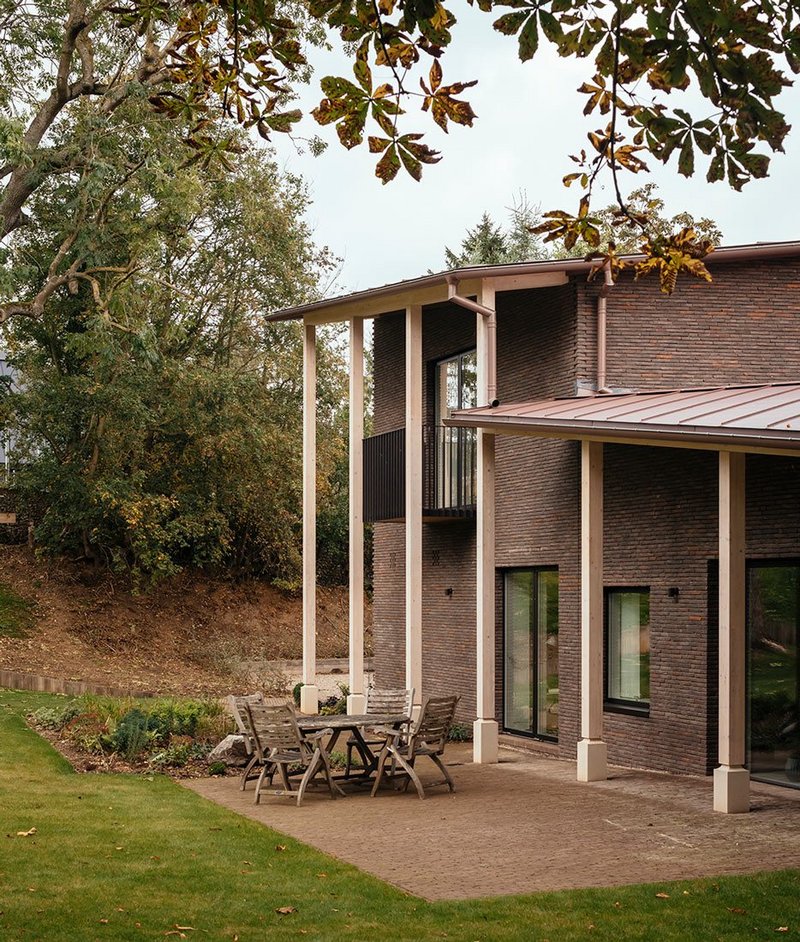 Mole Architects collaborated with Andrew Fisher of QODA Consulting on Riverview, a new-build low-energy home in Essex.

Credit: Jim Stephenson
QODA does far more than give us a set of calculations on a spreadsheet. They are really good to talk to and have educated us on aspects of building services. We've recently worked with them on two projects for Cambridge City Council's affordable housing programme and they also did the energy analysis on Riverview, a low-energy, high-performing home with lots of external walls.
We're working with them at the grade II-listed Echenique House at Chesterton Road in Cambridge, a lightweight structure designed by Marcial Echenique – who was later head of the department of architecture at Cambridge – for himself in 1971. Our challenge is to sympathetically refurbish and extend the house, bringing the insulation and glazing closer to modern standards.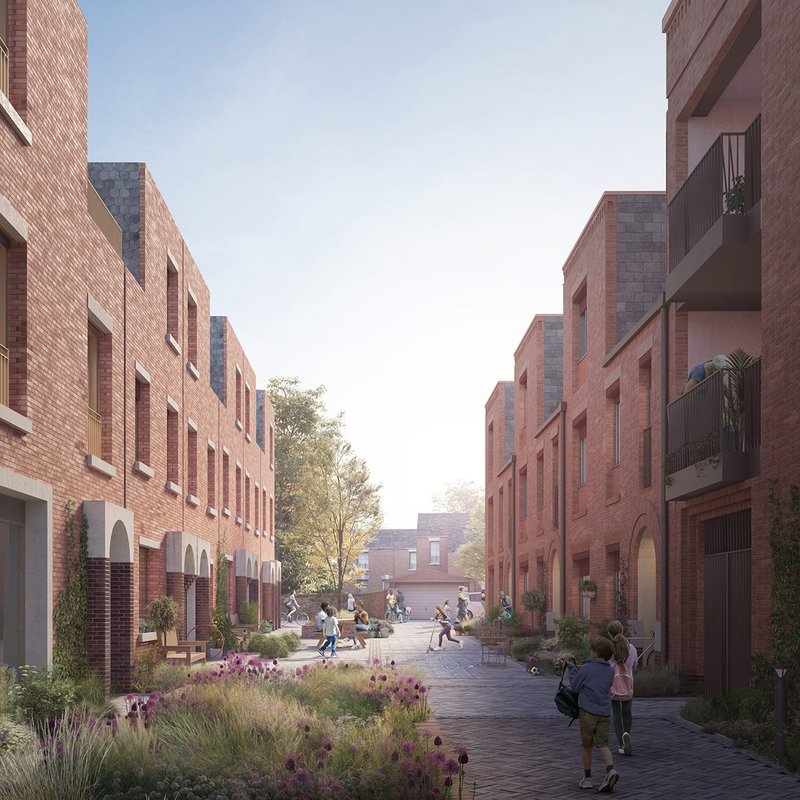 CGI of Wolverton, where Joel Gustafsson was instrumental in the inclusion of both external blinds and the development's own electrical micro-grid. The design team is led by Mikhail Riches and Mole Architects.

Credit: DarcStudio.
Joel Gustafsson used to be at Max Fordham and now has his own firm, Joel Gustafsson Consulting. He's a mechanical engineer, does all of our M&E designs and is massively well informed about the theory behind his calculations. He's advised the UK Green Building Council on zero carbon guidance and is hugely energetic, with the ability to bring technical data to life and make it understandable.
We're currently working with him – alongside architect Mikhail Riches – on Love Wolverton, a housing-led regeneration project near Milton Keynes, for the developer TOWN. Instigated by Joel, this will have its own electrical micro-grid, with PVs from 115 new homes and community facilities feeding into a central grid and storage.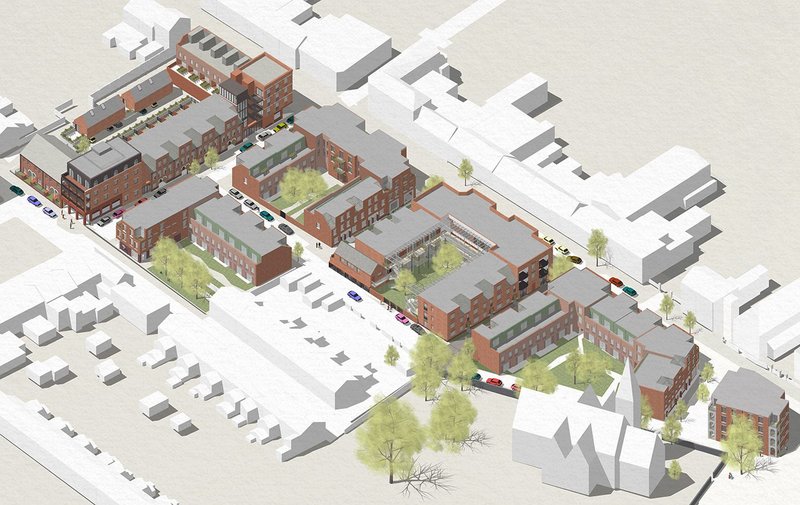 Mole Architects has worked extensively with mechanical engineer Joel Gustafsson on projects including the regeneration of Wolverton town centre, where the design team is led by Mikhail Riches and Mole Architects.

Credit: Mole Architects
I'm interested in the use of external blinds on windows to mitigate overheating, which is one of the biggest obstacles to reducing energy use, but is a high cost for developers to consider. Joel was instrumental in doing some very persuasive presentations to the client that led to it adopting external blinds for all the windows on the project that get full sun.
We're also working with him on two almshouse developments. One in Girton, near Cambridge, is nearly finished, and incorporates individual internal air-source heat pump units integrated with the hot water cylinder, rather than being on the outside. I expect that we'll be seeing a lot more of these in the future.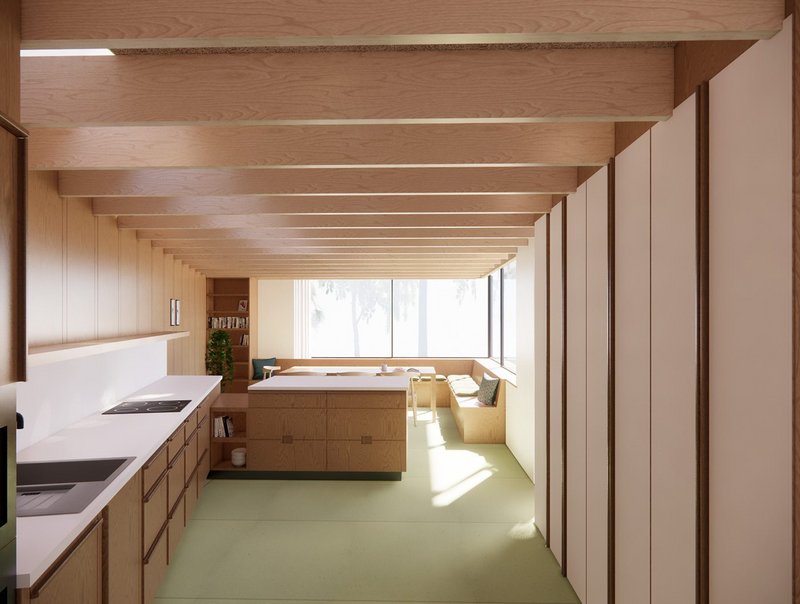 Visualisation of an extension to the Echenique House in Cambridge, for which Mole Architects proposes to use Foresso.

Credit: Mole Architects
I love the look of terrazzo. But unlike in medieval Italy, we don't have loads of marble chips lying around waiting to be reused in flooring. Foresso is a wonderful timber terrazzo product which gives the aesthetic qualities of terrazzo without needing to import the stone. Instead, it's made using waste wood sourced from trees felled in Britain and finished in Birmingham, where the company is based. The offcuts are combined with wood dust to give a speckled effect, and with a mineral mix for added durability. They are bound together using a non-toxic, formaldehyde-free binder glue.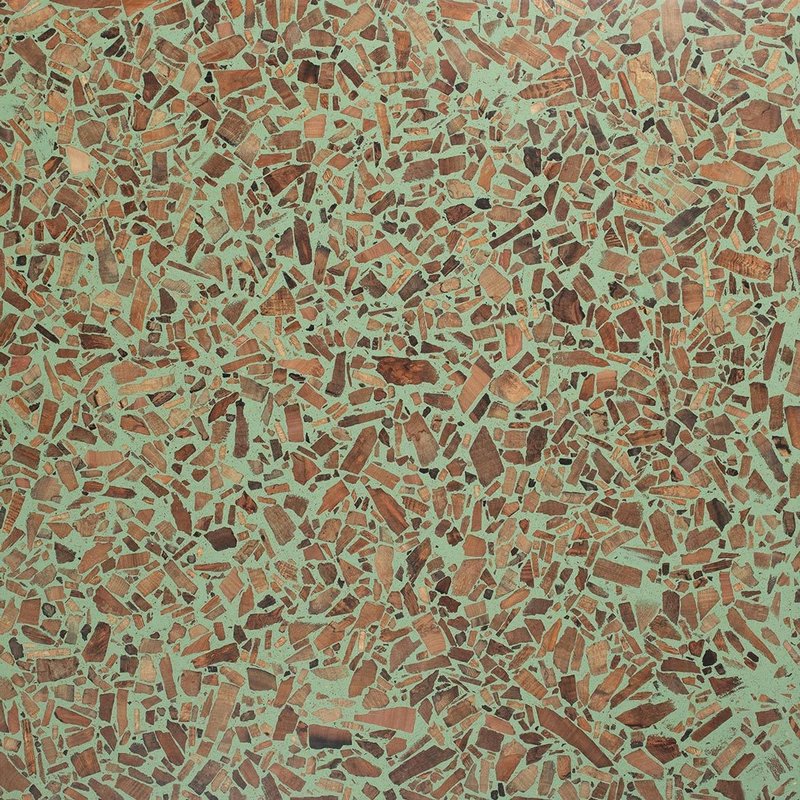 Foresso's Sage London Plane.

Credit: Foresso
It's very beautiful and is produced in boards that can be used for furniture or flooring. We're hoping to use it in the Echenique House in Cambridge. I found it by Googling, and like the strong sustainability ethos of the company as well as the product itself.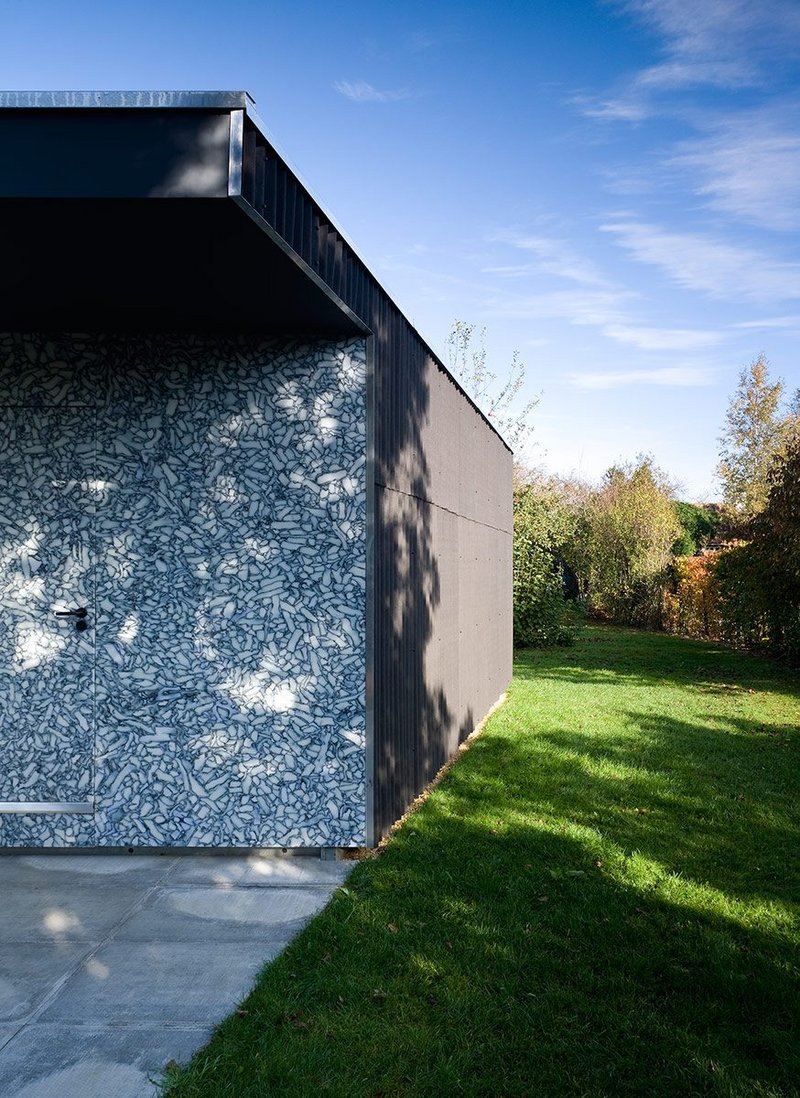 Smile Plastics were used to clad a studio for artist Elena Arevalo in Cambridge.

Credit: David Butler
This has been a favourite of mine since I first set up in practice – I can remember getting samples of their products last century, when I was still based in London.
Smile recycles plastics by chipping them, boiling them up and making them into sheets. I've used it in lots of ways, including as a kitchen splashback on our first realised building – The Black House in Prickwillow – and as external cladding on a studio building.
It's good to find a second life through recycling – I really like their new product, Heron, which is made out of recycled white goods. I also like the way they make products in lots of jazzy colours. Recycled doesn't have to be rough and hairy – both of these are very sophisticated products.
---
As told to Pamela Buxton