Mike Stiff, co-founder of Stiff + Trevillion, opens his contacts book to share some of the practice's most rewarding collaborators, from artists to ceramicists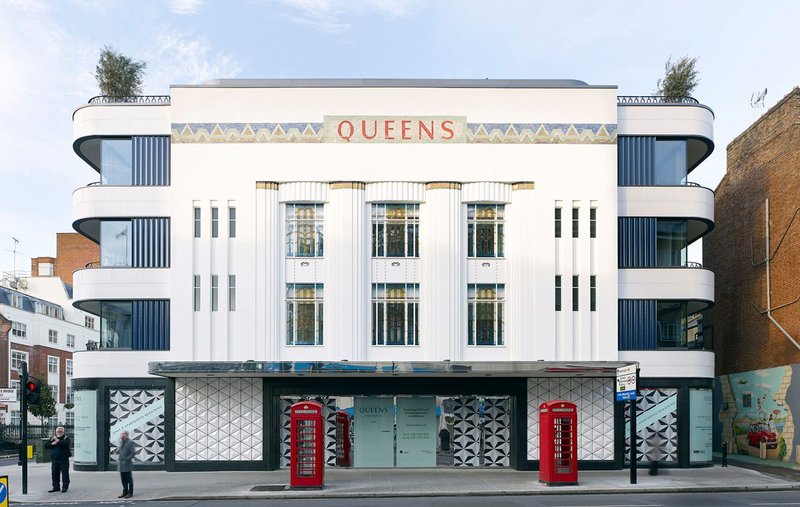 Queens, a residential reinvention of an Art Deco cinema in west London, features three different types of NBK tiles.

Credit: Kilian O'Sullivan
We were one of the first practices to use NBK terracotta in the UK, around 25 years ago when we built some extensions to a research campus in Romsey for Siemens. Since then, we've done several projects with them, notably Queens residential building in Bayswater for Derwent London and most recently The Fitzrovia, which is under construction, on Tottenham Court Road.
We have developed a good collaborative relationship with them on bespoke tiles – we've been working with their UK representative John Wimbush from the beginning. At the outset of a project, we will visit the firm's factory in Germany, which really helps us to understand what can be done within the limitations of production. It's not a luxury product, but it does look luxurious. They've recently changed their production techniques, using more efficient kilns and developing glazes that need firing only once rather than twice, making their products much more sustainable.
With The Fitzrovia, we didn't want a grey or a red building. Instead, we chose a pale green celadon colour for the principal, scalloped elevation, inspired by Korean porcelain. The colour is subtle, and the high-gloss glaze will reflect the light and change throughout the day and the seasons. I had some Chinese glazed bowls that were just the right colour and John took those back to the NBK factory in Germany. After lots of sampling, they developed a glaze that matched exactly what we were after. It feels crafted, like the pottery.
For Queens, we used three different types of NBK tiles. The building had been an Art Deco cinema, and we retained the principal elevation and built 16 residential units behind it. We wanted the new elevations to have a polychromatic façade. We were also looking for a material that was durable and low maintenance. NBK developed specials, making new dies and evolving their system to create completely bespoke, cast triangular tiles for the ground floor. We worked with them extensively to develop a flecked blue for the extruded tiles on the upper levels, but in the end we went with plain.
That was in 2014 and Queens still looks good today. The tiles will last forever, and could be taken off and re-used if required.
Grass Forms marks the entrance of Stiff + Trevillion's OneThreeSix office building in Marylebone, London.

Credit: Kilian O'Sullivan
Hugo is an artist who works across many media. We met him through Simon Silver, the former director of developer Derwent London, when we doing Portobello Dock and have enjoyed collaborating with him since 2010. I always think that relationships between architects and artists can be dangerous – they can go badly wrong. But we've really enjoyed collaborating with him; he just gets what we're after and always comes up with something that's complementary to our architecture.
At OneThreeSix, a mixed-use building for Native Land and The Portman Estate in Marylebone, a public artwork was a requirement of the planning consent. I didn't want something that appeared 'stuck on' but wanted it to be integral to the architecture. Hugo had never done a sculpture on that scale before. He went to Hyde Park and did some grass sketches which formed the basis of the design. This was turned into 6m-high panels of CNC-cut Italian stone by Szerelmey
We're now working with him on a remodelling of 50 Stratton Street in Mayfair. Here, we saw a good opportunity for an artwork on the cornice line. Inspired by trees in the gardens of one of the grand houses on Piccadilly, Hugo has developed a design for a sculptural cornice in a different colour stone that will potentially have gold or aluminium leaf to give it a bit of sparkle.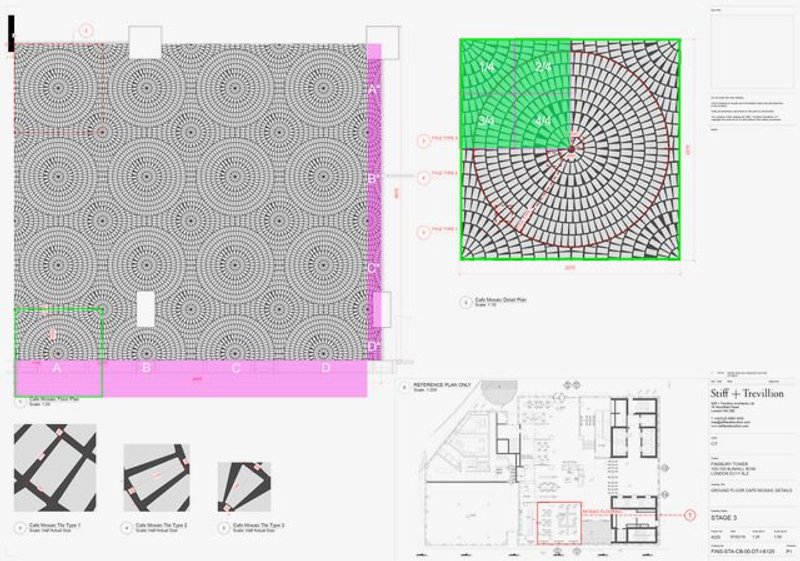 Design for the patterned floor at HYLO, realized in collaboration with Sam Frith of Solus Ceramics.

Credit: Jack Hobhouse. Design: Stiff + Trevillion.
Sam is an old friend of the practice who trained at art school but moved into ceramics. When we first met him he was a representative who came in with samples, but he was clearly much more than a sales person, and was someone who was really interested in the properties of tiles and what you can do with them. He worked in Japan for eight years and I think that has a lot to do with his sensibility. He's now creative director at Solus Ceramics and is looking at innovative ways of reducing the carbon impact of the ceramics industry.
We've collaborated on some ceramic specials with him. At 1 Lyric Square, he developed a floor tile that was inspired by a Carlo Scarpa project which had just the right feel for the 1970s Seifert building we refurbished. At HYLO at London's Bunhill Row, we designed the common parts of a retrofit of a 1960s office building by HCL Architects. Our flooring tile pattern of concentric circles was quite bold for an office reception and was extremely complicated, but Sam really enjoys a challenge. The porcelain tiles were water cut and arrived on a backing like a mosaic.
Our practice has always had an interest in ceramics. It is such a durable, stable, and in the right hands, beautiful material, and Sam has taught us a lot about its possibilities and limitations.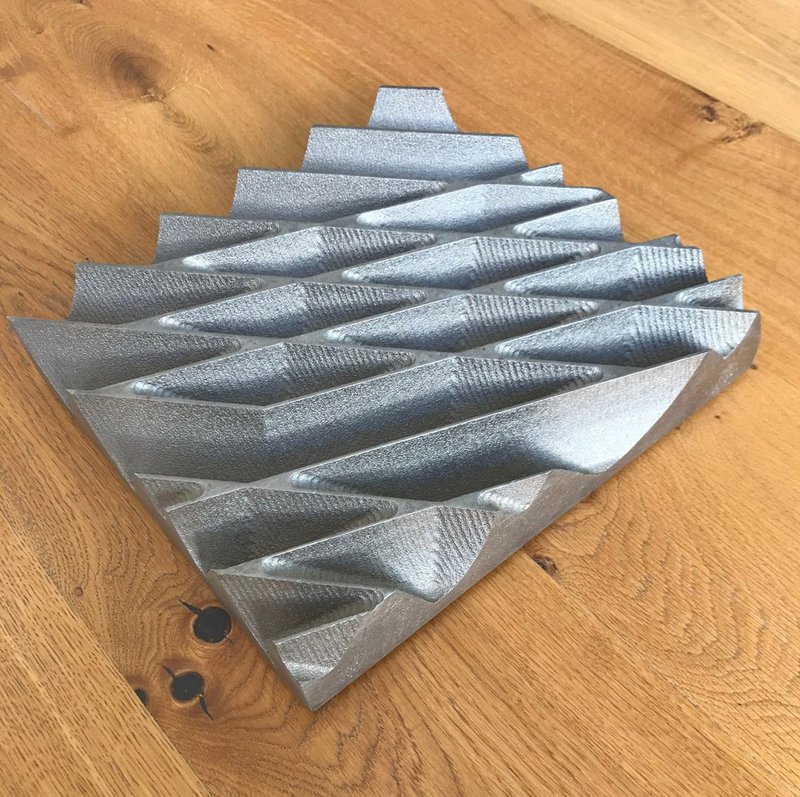 Stiff + Trevillion worked with NES to create the aluminium metalwork for Lee Simmons' integral artwork at 40 Beak Street.

Credit: Nicholas Worley
NES produces really high quality, interesting metalwork. We were introduced to them by a main contractor, and although they appear at first to be sign makers, their depth of knowledge around decorative metalwork goes far beyond that.
At 40 Beak Street, we needed to work with an artist on the facade as part of the planning condition, and collaborated with sculptor Lee Simmons. He developed a pattern based on the crystalline structure of aluminium and we worked with NES to realise it. They were very patient and helpful, making various mock-ups, and finally created panels in 40mm-thick cast aluminium for the cornice and corner window surrounds.
We also worked with them on The Office Group's Borough High Street workplace. For this extension and refurbishment, we made a mansard in Corten that formed a perforated balcony at the top for the roof terrace. It was quite a complicated, three-dimensional challenge, especially forming the dormers in the sheet material.
We've worked with them on internal finishes too, for example the blackened steel wall panelling for Derwent London at 90 Whitfield Street in Fitzrovia.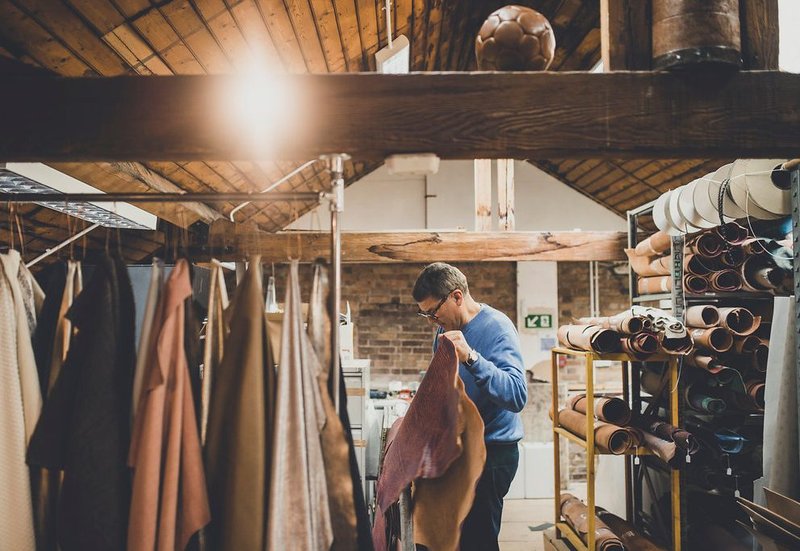 Leatherwork master craftsman Bill Amberg in his workshop.

Credit: Amy Shore
We've known Bill for years – he is a west Londoner like us and used to be based near our studio. He's a leatherworker who really knows everything there is to know about leather.
He's a very nice guy, and so enthusiastic. We like to send our interior people up to his studio for an afternoon so that they can get to understand the material in its raw state. This is so important with any material. Until you touch it, pick it up or try to bend it, you can't understand how best to use it.
We use him where we can, although it doesn't always come off because he is at the luxury end of the market. We like to work with him on the things that you touch – handrails in lifts, a door handle, the top of a desk or a seat. At KXU gym, he created a hand-stitched bench; we designed the shape, form and materiality and he did the rest. It was immaculate. The bench seats at 10/4 Pentonville Road are a good example of his studio's work, they sit snugly within the recessed Petersen brick walls and provide a contrasting softness and texture to the reception.
As told to Pamela Buxton