As an architect and theatre and exhibition designer, Pippa Nissen works with film makers alongside other valued collaborators in lighting, paint making and building prototyping
Studio ZNA lighting designer, London
I met ZNA director Zerlina Hughes when I was working in theatre many years ago. She has a really amazing way of thinking about lighting for exhibitions. She thinks not so much about the lighting, but about surface and conjuring an atmosphere. Because of that, we have all these amazing conversations – she really likes to find solutions together, through prototyping.
This was particularly the case when we collaborated at the Sir Joseph Hotung Gallery of China and South Asia at the British Museum. This is a really long, grand gallery, and we wanted to break it up by creating more intimate rooms off a central space, with pendant lights to bring down the space. We wanted these to have the memory of something historical, but done in a contemporary way. We worked with Zerlina to prototype it using patinated brass, the same material that is used in the interpretation, and a thin alabaster layer, which looks a bit like veined marble when it glows. We drew it all together and looked at size and materials before she took it on to find the kits of parts that would fit.
We worked through many prototypes – at one point we had a circular version – before arriving at the final pendant. It was very difficult to avoid a shadow where the edges of the alabaster met – the chamfer had to be just right, and it is.
We made around 32 of them for the gallery bays, and Zerlina also worked with us to prototype gauze blinds for the windows that also provide solar shading for the objects, and on back-lit label holders, which feel like they're glowing.
She thinks very poetically, and after all these years, we can speak a sort of shorthand to each other, which is very helpful. She's very up for the idea of prototyping to get the right result, and that's really joyful.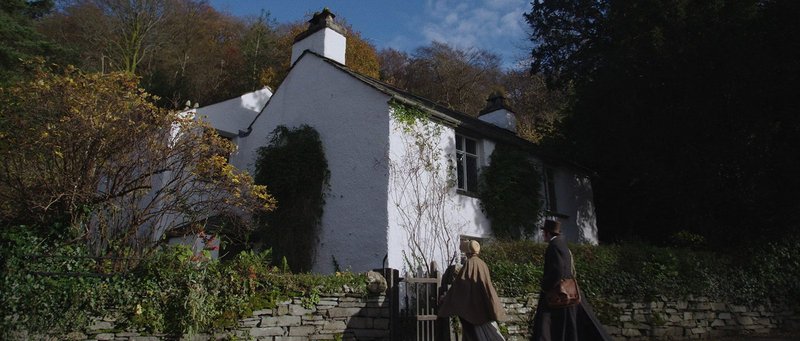 Still from a film created by Nick Street of Street Films for Nissen Richards Studio's Wordsworth Grasmere attraction.

Credit: Street Films
Nick Street, director of Street Films, Bristol
Nick's a filmmaker. We've worked with him on many projects where we need a poetic film that tells a story. We love working with him because he's so committed, always going above and beyond. This was the case at the Wordsworth Grasemere project, where he camped out overnight to get the exact drone footage he wanted at night to evoke Wordsworth's poetry.
He's so engaged. We talked to him a lot about the visitor journey through the site and the three films we wanted. The planning went on for so long, with lots of workshops where we tried to identify the right direction. The resulting films are so seamless with our design for the whole visitor experience through the site, and the way we use materials.
You see the first film before you go into Dove Cottage, where Wordsworth lived. This had to be something theatrical that really told the story of the place. We'd talked with Nick a lot about how we wanted an impressionistic approach and he made a really beautiful and eloquent film with actors and props. These just show fragments of moments – we fill in the rest in our imaginations as we continue through the experience, and it shaped how we treated the interiors of the cottage.
The second film is a visual poetry that accompanies Wordsworth's words, and is shown in the museum – this was when he camped out to get the right atmosphere for the poetry, which was a huge commitment. Nick's very clever and articulate. Whatever he does, he does to the nth degree. We just clicked.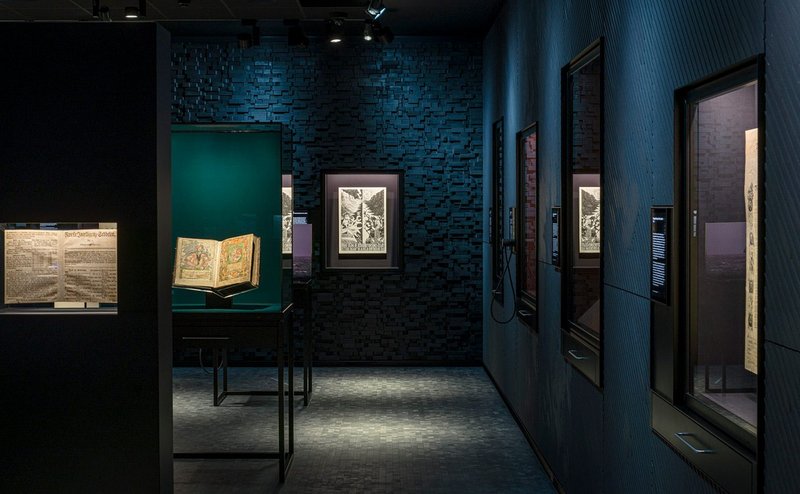 Opplyst, a permanent exhibition at The National Library of Norway, designed by Nissen Richards Studio. The back wall of etched timber blocks was made by contractor Factory Settings.

Credit: Gareth Gardner
Factory Settings, theatre and exhibitions contractor, London
Factory Settings is a contractor who we do a lot of prototyping with. Our work with the firm on Opplyst, a new permanent exhibition at The National Library of Norway, required real commitment. We were inspired by the library's mountainside archive, which houses items inside an array of drawers with a completely automated retrieval system. We wanted to create a bespoke back wall in the gallery inspired by these drawers, and two side walls that evoke the feeling of coming into a forest.
We went through a lot of prototyping with Factory Settings to get it right. We have hundreds of prototypes – there was a lot of cycling around to see them in east London, trying a few more things, and then going back again and changing it to try something else. We produce drawings that they etched onto timber blocks in varying depths, which are designed to fit together like a giant jigsaw puzzle on site, where they are tied back to a sub-wall. They tried out different designs, depths, corners, sandblasting and sawing, using different tools in countless iterations, and experimented with different apertures for the exhibition cabinets.
It really requires commitment to create something that bespoke, and the result is flawless and better than our expectations. The lighting in the gallery is on a slow timer so that it grazes over the gallery walls imperceptibly slowly, picking up the texture on all three walls as it goes.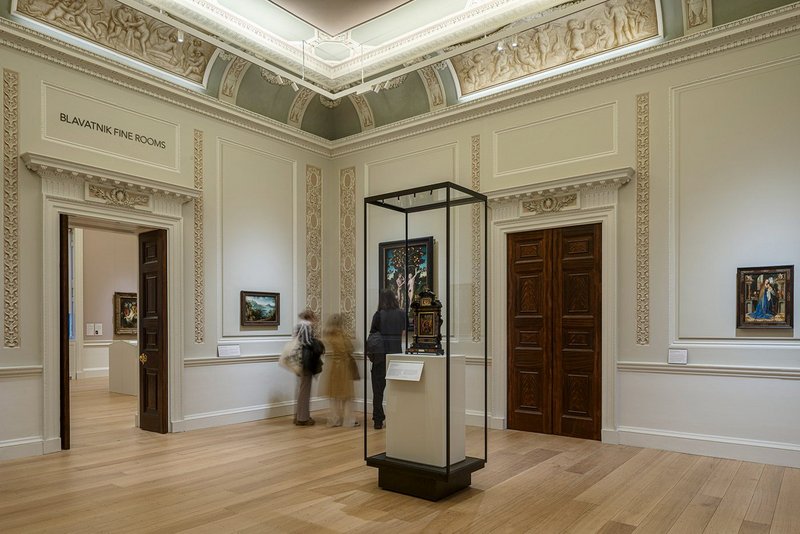 Nissen Richards Studio worked with eco-paint company Little Greene to develop bespoke paints for a new paintwork colour scheme at the Courtauld Gallery in London.

Credit: Gareth Gardner
Little Greene, paint manufacturer, Bethesda, North Wales
We created a new paintwork colour scheme for the Courtauld Gallery in London as part of our interpretation of the visitor experience for the refurbished space. For this, we collaborated with the eco-paint company Little Greene to create special colours, working with its historic colour specialist.
It's quite unusual to be able to develop bespoke paints, and it was amazing to have the opportunity on a really high profile project with an extraordinary collection that is all about light and colour.
Little Greene was very helpful and willing – it was a lovely process of testing and collaboration. Everything has to be tested in-situ to get it just right, and we did lots and lots of testing. We painted big squares of paint on site, then long strips down the whole wall to see how the colours responded to the dimensions and character of each room – sometimes you're working with quite busy ceilings – and the light conditions. Then we experimented with 1:1 replicas of the artwork on canvases.
Together, we came up with a small selection of bespoke paints that were close to existing paint colours, but they were willing to tweak them to be able to get the tones just right to respond to the architecture and paintings. These paints sat next to other Little Greene paints from their existing range. One in particular was a blue, where the resonance of the existing paint colour (Juniper Ash) didn't quite work with the dark and rich colours of the paintings. So they created a mid-tone alternative that felt a little deeper and more appropriate. It was used alongside a light-tone version of China Clay for the first north-facing gallery, which worked better with the change in natural light tones.
Since the Courtauld has opened lots of people have mentioned the colours, so it feels good to have been able to have done all that rigorous testing to get it to feel right.
As told to Pamela Buxton