Coffey Architects' founder on working with companies and craftspeople who embrace experimentation and problem-solving, including the specialist fabricator for the practice's Reuben Library at the British Film Institute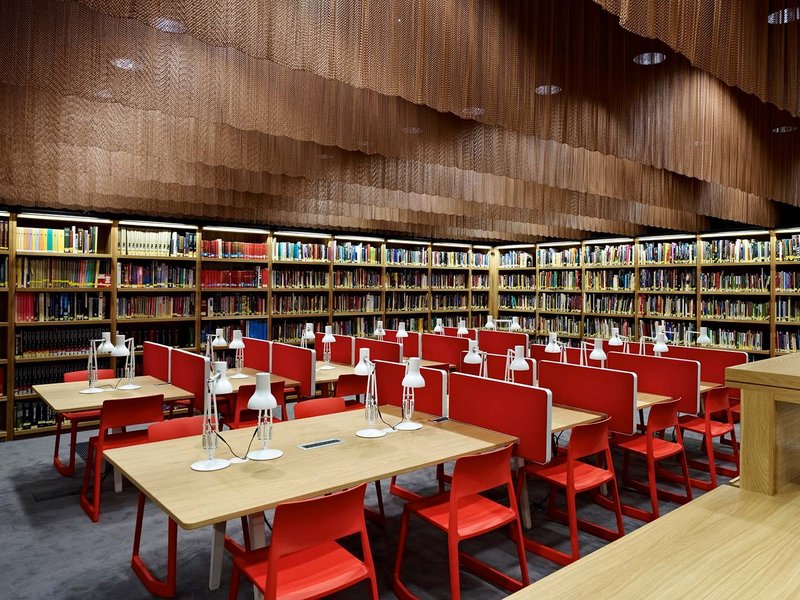 The bronze curtains in-situ at the British Film Institute's Reuben Library. Coffey Architects initially considered using fabric before working with architectural mesh specialist Locker Group.

Credit: Coffey Architects
Adrian Billingsley, Locker Group, Warrington
Adrian's a curious guy who likes to solve problems. He is hugely knowledgeable on mesh and I like how he takes considered risks where other people won't.
You really learn from him. I first worked with him a long time ago to create the external mesh cladding at Plymouth Theatre Royal when I was at Ian Ritchie Architects. He was the only subcontractor who was prepared to work through all the issues rather than just giving a blanket 'no'.
Coffey Architects later collaborated with him on internal wire mesh at the British Film Institute's Reuben Library on the South Bank. Here we were trying to create a soft space out of a quite harsh former gallery, and to solve the technical issue of controlling the acoustics between some of the more casual areas of the library and some of the more serious academic study areas.
We first proposed using fabric curtains. But when we were looking at how to get the scallops at the bottom to give us the delicacy we wanted, we decided to switch to woven bronze mesh, which was actually a very cost-effective way to tackle the acoustics. It was my homage to Alvar Aalto's Viipuri Library.
I got a sample from Adrian and he advised us what would be most suitable to achieve the scalloped edge we wanted. The bronze colour was important. When I think of libraries, I think of oak and bronze. We wanted to reflect this in the colour so that there's a familiarity, but also subvert it by using a mesh curtain as a contemporary twist. It's also a reference to old film curtains.
We're now looking at using it in our own office as floor-to-ceiling room dividers.
Millimetre, Portslade, East Sussex
We collaborated with maker and designer Millimetre to create a aluminium feature screen at the Science Museum Research Centre, a refurbishment of the Dana Centre, in London. We wanted to create a long reading room that dealt with the glare from the east-facing double-height glazing, and had a sense of movement. Previously the windows had been covered up with vinyl.
Inspired by the perforated cards that controlled the Jacquard looms, we had the idea of a double-layered perforated screen that reduced the glare, and produced the dappled light you get under a tree canopy.
We went to Millimetre with the idea of using two or three layers and LED lights. They've made a business out of being artisans, and they brought all of their skills to the design and construction, responding in a delightful way to bring an active motion into the space. They made three or four prototypes out of CNC-cut aluminium, each with permeations of different-sized squares to test the size of the apertures and proximity to each other.
Collaborating with subcontractors is a way of mitigating risk. The prototypes gave us the confidence that the idea would work, which was especially important as we were using materials in a way that they wouldn't normally be used. This process helped us to convince the client that we had the right thickness of aluminium and the right number of holes to get the effect we wanted.
We ended up with 32 perforated window panels of 2mm folded aluminium, using panels with larger holes for the more public area near the reception.
The prototypes will be on display in our new King's Cross office at 22 Handyside Street (see below), where we're opening a public coffee shop with our furniture on show.
Fleetwood Architectural Aluminium, Slough
For our office building at 22 Handyside Street in King's Cross, we worked with Fleetwood to create the CNC-cut anodised aluminium façade panels. These create a filigree façade with an ephemeral quality, while introducing naturally dappled light to enhance the experience for those working within. There's a wit to it – it's not just a normal facade. It asks you to look at it.
For the panels, we chose anodised aluminium for its sheen and ease of maintenance, collaborating with Fleetwood on the design. We produced a lot of models to explore the design and Fleetwood then made half a dozen CNC-cut prototype panels so that we could explore the effect of different perforation sizes and backing. The panels were sandwiched with either a solid, transparent or translucent skin, casting shadows variously on the floor, ceiling or glass.
Fleetwood also played a key role in ensuring that we were able to use the edging to the roof cladding that we wanted. This was going to be in anodised aluminium in line with our concept of the roof and facade all being one carapace. Fleetwood made a full-size facade prototype at a typical roof valley junction with the main facade, including a section of perforated cladding in order to agree visual benchmarks of material finish appearance and to identify potential design risks prior to manufacture.
This was invaluable when the prospect came up of the aluminium being switched to PPC instead. I was filled with dread because the PPC would create a 'cap' to the roof edge and give a completely different effect to the original aluminium. I spent the weekend down there with a cherry picker and the prototypes of PPC and aluminium, taking photos at different times of day. In that way, we were able to convince the client that we needed to use the aluminium detailing to meet the initial expectations of the design.
Just Facades, West Horsley, Surrey
We have collaborated with Just Facades on a number of projects using different materials, making the most of the firm's breadth of experience and knowledge and direct relationships with a wide range of manufacturers. We worked closely with the company at the Digi-Tech Factory for Norwich City College.
Creating an 'artisanal' building on this large scale was a challenge. We wanted to achieve a layering of the threshold between public and private space, designing a perforated envelope to create an ambiguity of form, with subtle changes at different times of day and night.
It was very important to get the size of the punched perforations right on the bespoke aluminium screen. We worked with Just Facades and manufacturer IMAR on prototypes with different sizes and arrangements, and tested the panels when viewed from various distances. The joints between the panels and fixings back to the primary structural frame became very important. We wanted to express the construction of the facade in an elegant manner and minimise the number of connections back to the primary frame to emphasise its lightness.
We had several workshops with Just Facades and IMAR to develop the panels that folded outwards at the sides, in a series of ribs rather than inwards. This move improved panel rigidity, allowing us to minimise the number of connections, simplify fixings and make them visible in the spirit of industrial design.
The overall visual effect of the facade adds a subtle articulation that completely changes how the building is read. We explored different options of panel thickness and rib depth and felt the elevation was made more delicate by creating more edges as well as helping the fixings. I find the result intriguing and joyful.
As told to Pamela Buxton