Piercy & Company director Stuart Piercy explains how the process of working together with other experts produced some exciting, complicated and satisfying designs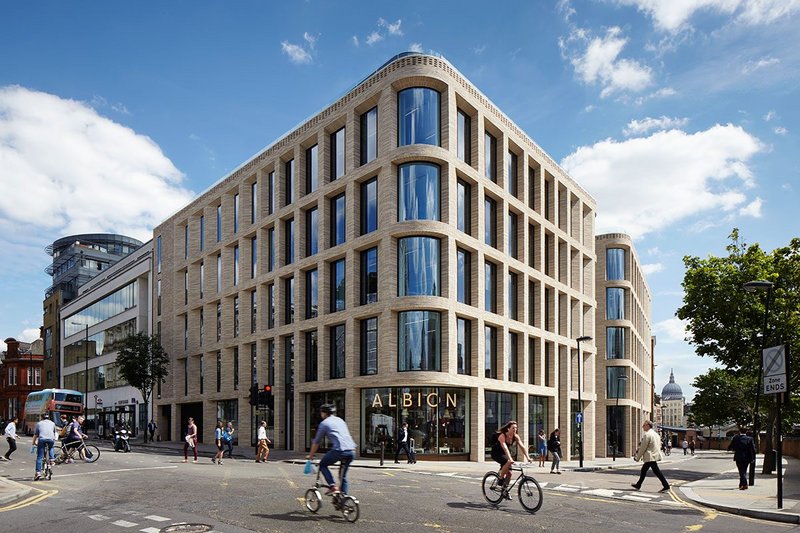 Turnmill, Clerkenwell, designed by Piercy & Co.

Credit: Hufton & Crow
As our Turnmill office building needed a special facade that would speak to the heritage of Clerkenwell, we chose handmade brick and wanted to avoid exposed cut bricks: when you see a cut face it's obvious and looks awful. In the first of several collaborations with family-run Danish brickmaker Petersen Tegl, we selected its handmade Kolumba brick – a favourite of our client, Derwent London – and created 27 specials, for every sill, soffit, curve, and reveal. The concrete-framed building has a single skin of hand-set brickwork, with flush-filled vertical joints and raked horizontal joints to accentuate the sense of movement around the curved forms.
It was our first experience of making brick specials, and several visits to the factory taught us a lot about shrinkage and colour variation through firing; bricks from different firings were pre-mixed before delivery to avoid the patchy look that sometimes occurs in brickwork. Important lessons concerned factors that affect the appearance of brick. Mortar accounts for something like 25% of the surface area of Kolumba brickwork, so its colour affects the overall appearance quite dramatically. And light has a significant impact. We had four mock-ups made in Denmark, but when we brought them to London the daylight was so different that we didn't like the effect, and changed the spec several times. Prototyping is important: if you want to get brickwork right, you don't want the first time you see it to be when you build it.
Inspired by the anticlastic, double-curved form of kale leaves, the structurally complex rooftop meeting room we recently added to a London office building required the input of several specialists. It continues an ongoing relationship with Material Architecture Lab (MAL) based at the Bartlett, with whom we generated the geometry, testing options for the folding and bending of material through computational modelling. Format Engineers developed the structural design, a stressed skin of marine plywood and raw aluminium.
Unlike experimental summer pavilions that just have to sit there looking pretty, this structure has to be watertight, functional and long-lasting, so details and construction had to be rigorously controlled. Cake Industries – a very interesting fabricator that is comfortable working in digital environments – was appointed after an extensive search for someone willing to take on a challenging, bespoke project with a tight budget. MAL produced a parametric model, scripted in Grasshopper. Using digital fabrication techniques we made physical prototypes to develop the design, exploring difficult junctions and geometries before pressing 'go' on the final cut.
Chay Wheeler, Bespoke Architectural Engineering
Derwent London challenged us to design 'the best staircase in the city' for its headquarters on Savile Row, where space is so valuable that circulation needs to be efficient while still playing an essential role in daily interactions. Working with engineer David Akera, we developed the idea for a structurally and visually lightweight two-storey stair that is suspended from the slab above.
Architectural metalworker Chay Wheeler came on board early to develop the concept. He specialises in working with bright steel which has greater straightness and a cleaner surface than mild steel. Working exclusively in shared 3d models allowed close cooperation and accuracy in setting out.
We wanted the staircase to look like it was folded from a single sheet of steel, like origami, and Chay showed us how to get a super-crisp look with invisible welds done off- and on-site. To avoid a visible stringer, he worked with David to devise a way of stiffening the steel plate with a 40mm-deep edge to the treads that folds its way up the flights. Fixings for the steel bars from which the stairs hang are also concealed in the thickness of the oak treads. The stair is incredibly thin and very light – just 0.4m3 of steel overall – but pretty solid; it doesn't wobble.
Architects are often restricted by what they instinctively feel is possible, but you only discover what can be done by working with a fabricator who really understands a material, and we've subsequently collaborated with Chay on projects including a headquarters for Chanel.
Proprietary desking systems tend to be inflexible and are not made from the most beautiful materials. With one workspace commission, the studio's Interiors team took the opportunity to develop our own design for a solid wood desk with more warmth and character, which could be dismantled rapidly to allow spaces to be used for events. That didn't come to fruition, but we returned to the idea in a later project, for which we needed a large dining and touch-down work table.
We developed the concept with Peter Lowe, senior designer at Benchmark Furniture, with whom we've collaborated for 15 years on projects ranging from bespoke furniture to research into CNC-milled timber. The aim was to make economical use of material, using standard plank dimensions to minimise wastage, and minimal junctions without loss of stability. A-frame legs inspired by carpenters' trestles are topped by three solid planks of FSC-certified ash. Wingnuts are used for hidden fixings.
The design developed iteratively through digital and physical models and one-to-one prototyping, and drew on a shared understanding of anthropometrics – fine-tuning the height and leg placement to suit a variety of uses – as well as the behaviour of natural timber, which can twist and cup over time. Peter's deep knowledge of the material and machining allowed us to make a table that is sustainable, simple in appearance and should wear well, and we hope that it will become a product that we might manufacture and sell through Benchmark.