Contractors Declare spreads construction's battle against global warming. Multiplex is leading the charge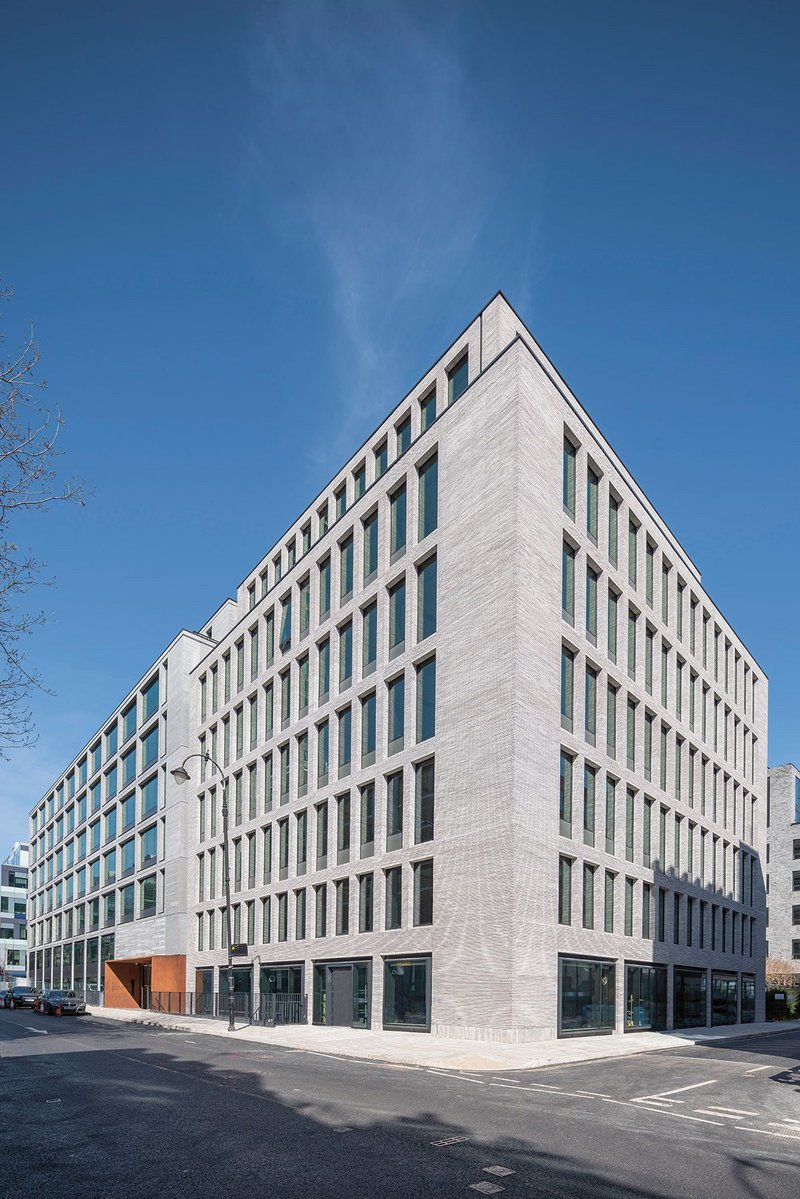 On Make Architects' recently completed 80 Charlotte Street, London, for Derwent London, Multiplex used green tariffs during construction to save 450 tonnes of CO2.

Credit: Derwent London
Architects Declare has become an international brand. Architects have signed up across 23 countries from the Czech Republic to Australia, each branch set up by those on the ground. The UK has also has a growing number of other professions creating their own declarations. And at the end of June, as lockdown eased ever-so-slightly, with pubs given permission to open, eight major contractors launched Contractors Declare. The founders, brought together by Multiplex, represent a major slice of the UK construction industry: BAM Construct UK, BAM Nuttall, Canary Wharf Contractors, Morgan Sindall, Sir Robert McAlpine, Skanska UK and Willmott Dixon. They are part of the missing link between architects and subcontractors and, of course, they are architects' clients too.
Starting points
The driving force behind this was Eva Gkenakou, sustainability director at Multi­plex Europe, with the backing of the chief executive officer Callum Tuckett and, ultimately, the board. The process of bringing together the contractors was eased by most already being members of the contractors forum at the UK Green Building Council, some with targets set, though for many net zero looks 'ambiguous' Gkenakou explains. She saw it as a chance to bring as many organisations on board as possible and start sharing knowledge. Contractors Declare has also added in net zero and the UN Sustainable Development Goals to the commitments brought across from Architects Declare.
But the first step was building consensus in Multiplex. The contractor has 15 live UK projects including a tower at Nine Elms, Chelsea Barracks and £300 million worth of campus development at Glasgow University, working with practices like Foster and Partners and KPF. Gkenakou runs a team of sustainability experts who are assigned to each of Multiplex' projects – tasked with ensuring BREEAM and other sustainability criteria are hit. Over the last 12 years she has also tried to establish a culture of sustainability among the teams on site and in the office, and to get backing at high level. Sustainability has been on the corporate risk register – a risk to be managed and a risk for Multiplex to stay ahead of – since 2018. That is when the report from the International Panel on Climate Change issued its report detailing how far off track we are in the goal of keeping rising temperatures to below 1.5º to avoid climate breakdown. A board briefing by Chapter Zero, which specialises in empowering directors to ask the right questions on climate change and corporate governance, led to board requests for a more detailed briefing on climate change. Multiplex started investing in offsetting as it decarbonised, and may continue when it meets zero carbon to become carbon positive.
'We are not in on the concept stage but we can influence equipment selection, types of products and materials,' explains Tuckett. He points out that it is seen as important to cut air travel which makes up 2% of global emissions, while constructing and operating buildings is estimated at 40%. 'Simple stats tell us we can contribute,' he say. He has concrete in particular in his sights.
Two years ago Multiplex was the first contractor in the world to sign up to to Science Based Targets, a scheme backed by the UN Global Compact and World Wildlife Fund, which aligns company targets to avoid a 1.5º rise in temperature. The firm banned plastic from canteens and offices and switched to green tariffs for sites, powering everything from tower cranes and lift hoists to other energy intensive equipment. This reduced operational carbon emissions by up to 70%. Tuckett is proud he had the confidence in Multiplex to sign up to these targets, though he admits it doesn't fire up everyone: 'It can get lost in statistics and become a box ticking exercise.' Contractors Declare gives something to rally around, to promote discussions and for the leadership to talk about. He goes back to the core of the business: 'We are a people business. We are selling a service, selling skills. If we are not genuinely addressing what matters to people we won't attract the best people and retain them.' This may be less of a driver as the economy shrinks; Multiplex itself has just made 120 redundancies.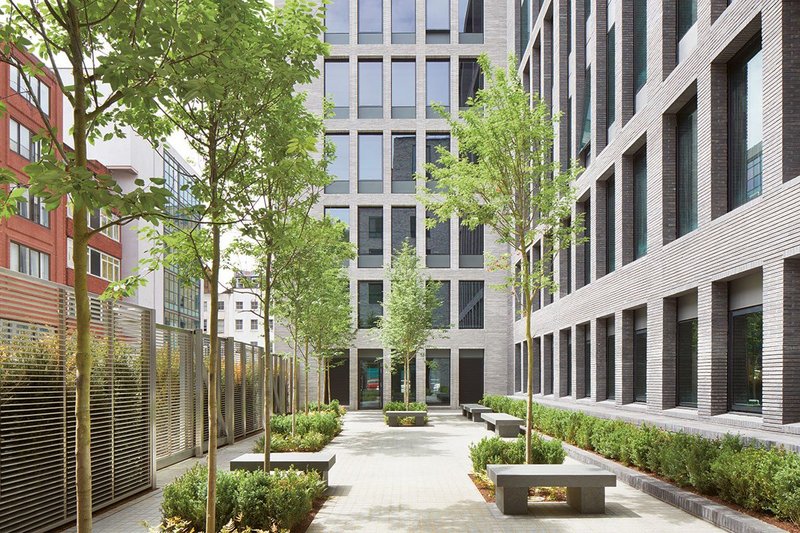 Contractor, architect and client working together secured BREEAM Excellent at design stage for 80 Charlotte Street. Targeting LEED Gold and EPC B, it was designed to achieve 28% lower embodied carbon intensity than the RICS benchmark, and has solar thermal and air source heat pumps.

Credit: Derwent London
Business imperative
The need to understand what fires up staff seems supported by IPSOS Mori's research that shows 71% of people globally believe climate change is a crisis as significant as coronavirus. When Gkenakou started talking to subcontractors and suppliers – on steel, concrete, plasterboard and more – about sustainability she got widespread agreement on the importance of change but the cost of investing in greener construction and materials was just too high for those she talked to. 'They needed a stronger business driver,' she says, 'to know there was a market.' That's why it is important to make the commitment of more contractors public with Contractors Declare. But launching it during the Covid-19 crisis? 'I think people are more motivated now,' she says. 'We see the value in caring for the long term and for health.' She is also an optimist and sees a future where the concrete and steel industries' investment in green energy pays off, to leave them at zero carbon.
For many architects, design and build has been a bête noir, or at best a necessary evil, as the tables are reversed and contractors take over the reins. Tuckett – who left university in the mid 90s as D&B was just starting to be used on complex projects – is aware of this tension. And he recognises the limits of influence for a contractor coming into a project halfway through: 'complex things like the orientation of a building are baked in'. Contractors Declare could align architects and the client contractors they are novated to more closely on sustainability. Over 55% of Architects Declare members reported that persuading clients about implementing change was where they encountered the most challenges. In the meantime Gkenakou has a plea for architects, to include the sustainability performance of materials they specify – grey timber door with 25% recycled content and FSC certification is better than straight grey timber door. 'These things are hard to rewrite when there are thousands of pages of architects specifications,' she says.
Only two of the top 10 contractors by revenue have signed up to Contractors Declare but more – smaller firms – have joined since launch, taking numbers to 28 as we go to press. We know from architects who have signed up to Declare that keeping to commitment is hard; only 13% surveyed said their practice had not broken any. But it is a commitment to a direction of travel. Until we have legislation that is as much as we can hope for.
In 2021 Multiplex launched its One Decade to Act: Pathway to Net Zero Carbon
---