As COVID-19 puts a lid on movement and office work, what can you learn from practices already well set up to send their staff home without any pause in business momentum?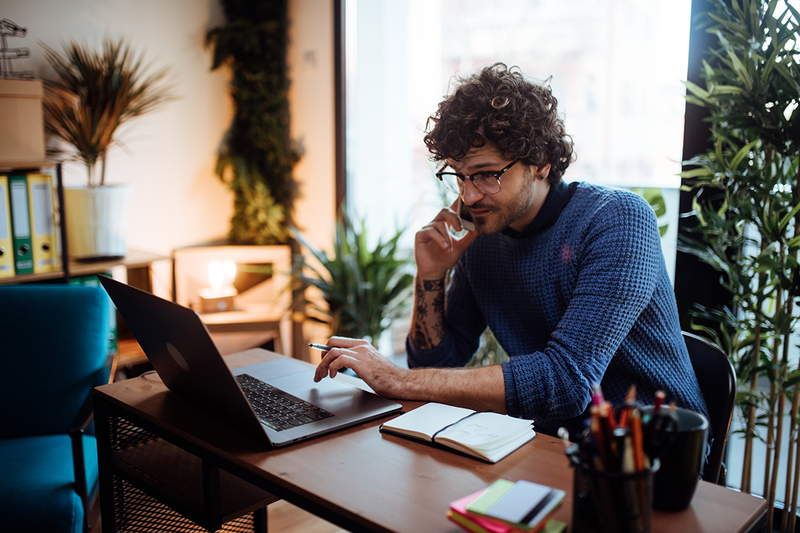 When Stride Treglown decided last year to invest in technology to enable all staff to work from home, the move was driven not by premonitions of a pandemic but by a desire to embrace flexible working. It's now reaping what managing director Darren Wilkins calls the 'coincidental benefit'. For as the profession scrambles to prepare for the imminent prospect of en masse home-working in response to COVID-19, Stride Treglown is enviably well-placed – kit sorted, passwords tested, comms set up.
'The reality is that during the last 12 months we made a massive investment in home-working to encourage flexible working, so everything is in place for all our 300 plus employees,' says Wilkins, adding that staff can now access all the systems they need through a cloud-based VPN, so that they can mirror their work screens at home.
It isn't the only practice to be well prepared. Similarly Foster and Partners has been trialling home-working for some time and has everything ready should it need to be implemented. Indeed its offices in Asia have been home-working for a while in response to the virus.
Make Architects too feels well placed for home-working with the help of its in-house tech team. Some staff already work at home to a degree, and the practice has been 'stress-testing' its system to ensure that everyone can log on to the VPN at home, setting up communication strategies and buying extra lap tops as necessary.
Not that home-working is so unusual for architects these days. While just 7% of architects work full time from home, according to Architects Employment and Earnings Survey 2019 research by The Fees Bureau for the RIBA, 21% do so regularly, of which 80% are sole principals. Even so, moving the entire profession to remote working is quite a shift. Certainly not all practices are in such a good position. Many are left scrambling to get set up.
Perhaps it's hardest for the practices in the middle, those who are office-based but without substantial, if any, in-house tech team resources, and perhaps not as accustomed to flexible/home-working as many micro practices already are.
While just 7% of architects work full time from home, 21% do so regularly, of which 80% are sole principals
Shepheard Epstein Hunter, a London based practice with a design team of 21, has been working hard to enable home-working if necessary and is consulting with an out-of-house IT support company on the best ways to do so. It's already encountered several challenges. An audit of all employees' home computer resources to assess suitability to access the practice server by VPN revealed that surprisingly few had up-to-date Windows systems. Transmission of computer viruses is therefore an issue to consider, along with whether the practice should invest in a number of new laptops for home-working.
'There's a lot to think about,' says Maggie Bray, finance director and IT first line of support.
'There are huge risks that we end up causing damage to our system and our data if we don't do this properly,' she says. 'We're trying to take a measured approach.'
Mae Architects has also been preparing for home-working with the help of IT consultants. This has involved reviewing its IT to ensure staff can access the shared server remotely, setting up facilities for conference calling and reviewing the status of all projects. It has also been looking at how various tasks could be achieved if not everyone did have full IT capacity.
'The key thing is to maintain communication,' says founding director Alex Ely, adding that some in the practice have already been home-working at times.
Eight-strong London practice alma-nac has been assessing the practicalities of operating from home, testing access to its remote server, checking software licenses and dongles, and assessing home computer capabilities. While the three directors have laptops, some of other staff may need to relocate office desktop computers to their homes, or the practice may buy another laptop, says director Tristan Wigfall.
To aid communication, it plans to have a designated 'check-in' each day so that everyone can discuss what they're working on in the advent of home-working, as well as making use of screen-sharing software, Skype and its usual live-chat via Gmail.
'Long term we don't want to work remotely – we enjoy our studio environment. But we'll just have to do what we have to do for the time being,' says Wigfall.
Preparations for home working are certainly easier for those smaller practices that are already partially working in this way. This includes Featherstone Young, whose half a dozen-strong team is, says director Sarah Featherstone, already well set up for this with a VPN and experience of FaceTime meetings with clients in often far-flung locations.
'Maybe as a small practice, we're a bit more light-footed and versatile. When you're working with a team of people who you know really well, and for a long time, remote working can work quite well and we all feel it can be quite productive,' she says.
Similarly John Puttick of John Puttick Associates feels that homeworking won't be a huge issue for his small practice, whose members are already fairly used to it in terms of both server access and team interaction.
'The communications side works well for us; the key is that we're used to working together already. It's not ideal for months and months, but for a small time it's fine.'
He's more concerned with the potential impact of the coronavirus on workload than with home-working. 'Does the client say 'let's just stop for a few months' and then we don't get paid? The bigger issue isn't the practical side of how you function as an architect, but what happens if you don't get paid,' he says.
When we're through this crisis, it will be interesting to see whether practices will ever return fully to their previous office-based modes of working after experiencing the home-working alternative. Featherstone expects that 'we'll probably find some of these work patterns will be better for us'. And at Stride Treglown, Darren Wilkins says 'I genuinely hope this has a longer-term impact'.
See the RIBA's articles on the technology of home working, and mental health. And a note on the Self Employed Income Support Scheme from the government.
---
HOME WORKING AS NORMAL
The prospect of home-working currently facing the profession holds no fears for Clare Nash Architects, which has been operating in this way from its inception. Clare Nash started her practice from home in 2011 and as she took on staff over the years, continued to do it on a home-working basis. She now has a team of six to four employees and two freelancers – all working from different locations.
'We all work from home as standard. The main thing is that instead of an office, we have an office meeting, meeting up in Oxford once a week for about two hours. Most of the time we're talking to each other on Slack,' she says.
'As a business model, you can retain highly qualified staff and aren't restricted to any particular locations. Everyone has a lot of freedom in the hours they work and where.'
The tech side is straightforward – Google Drive for sharing files, Hotspot Shield as a VPN, Trello for project management system, Zoom for meetings and email for clients.
She personally finds she works better in her own space where she can have uninterrupted time without the distraction of a shared office. While she is mindful of the need to avoid getting distracted by household tasks, these can have their uses.
'I often chop carrots if I need to think about something as I find it quite meditative,' she says, adding that she gives her days structure by making sure she prioritises the three most important things she needs to do each day. It's also important, she says, to create a separation from work, such as going for a walk for example, before switching to a non-work mode.
While her remote-working practice has, she said, had nothing but positive responses, she is often asked by other employers about trust.
'There is a lot of presenteeism in the working world. I don't agree with this; we all trained very hard to do something we are passionate about (if you have not got that passion you would not have lasted seven years!). I think the more trust and autonomy you give people, the more you get back.'
She thinks that the coronavirus may result in more flexible working long term.
'It's an old fashioned viewpoint that you need a swanky office to show off to your clients. Your website is your office now and that's how you'll entice them,' she says.