Caroline Rye considers concerns raised in her report for the Sustainable Traditional Buildings Alliance about the Green Deal's provision for retrofits to the existing stock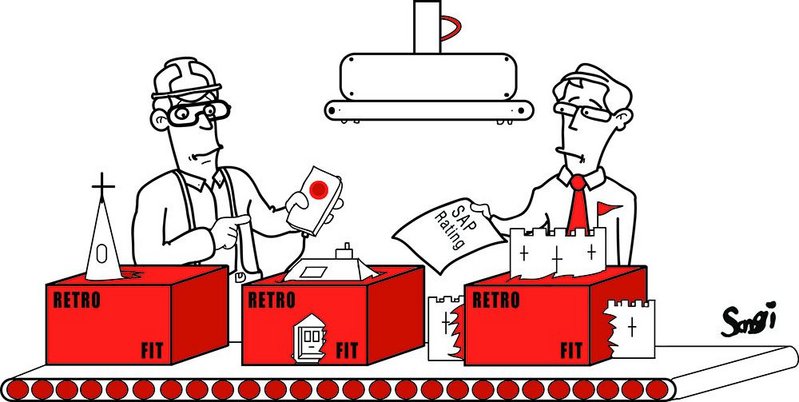 Hot on the heels of the Green Deal comes a strong note of caution in the form of the Responsible Retrofit of Traditional Buildings report from the Sustainable Traditional Buildings Alliance (STBA) on behalf of the Department of Energy and Climate Change (DECC).

The report that I authored with Neil May highlights both the lack of an existing evidence base for decision-making on retrofit of traditional buildings (pre-1919); and risks surrounding roll out of the Green Deal and other retrofit packages if applied generically to traditional building stock. It emphasises that traditional buildings perform differently to modern buildings, both pre or post retrofit, and should not be treated with a one-size-fits-all approach. The report included recommendations for successful retrofits to traditional buildings.

The report identifies 'a lack of understanding of traditional building performance in industry and policy, and a lack of connection between good research, standards, certification, guidance and practice'. This gap is used to explain retrofit risks in the context of the Green Deal to occupants, those undertaking the work, particularly with regard to liability; and risks to the buildings themselves.

Raising concerns

This report arose from a concern within the conservation and sustainable building sectors that the needs of traditionally constructed buildings might be overlooked within the Green Deal. The Department of Climate Change responded positively to our findings and continues to work with the Sustainable Traditional Buildings Alliance to resolve some of the more pressing issues we raised, including a review of the heat and moisture assessment conventions critiqued in the report. We have also recommended the development of a guidance tool to help consider retrofitting measures and their effects from a systemic, whole-building, point of view.

In particular the report considers modelling and monitoring, financial and energy payback, and building performance. It says energy modelling software does not accurately convey building performance or predict the impact of retrofit measures, as standardised modelling techniques disregard the localised nature and variation of traditional buildings. It recommends not using BR 443 and RdSAP in their current form to estimate U-values of traditional buildings for policy decisions or payback calculations in the Green Deal.

The report also questions the reliability of financial and energy payback assumptions made using standardised energy performance modelling techniques for traditional buildings, which it says means 'the likely payback from some retrofit measures, such as solid wall insulation, may be less than assumed'.

It identifies a lack of reliable research and evidence on performance of traditional buildings regarding heat loss and fabric performance, moisture and ventilation, overheating and user impact. It finds significant divergence between performance of traditional buildings and most modern buildings – for example, in how they deal with moisture and types of ventilation. Traditional buildings 'breathe', allowing for moisture absorption, movement and evaporation in combination with controlled and uncontrolled ventilation, while modern buildings are usually sealed, using moisture barriers and ventilation systems. The report highlights risks to the building fabric and the health of occupants, should such differences in building performance not be adequately recognised in guidance.

Action points

The report makes several recommendations.
> A different approach to retrofit required for traditional buildings. Energy performance, risks to fabric and human health, and heritage and cultural issues, mean that traditional and modern buildings behave differently, so need different retrofit assessment procedures, different skills (and sometimes materials) in contracting, and ultimately a different approach.
> Opportunity to broaden scope of measures included in the Green Deal. Good maintenance, repair and improvement work which increase energy efficiency of buildings should be seen as a valid retrofit measure supported by funding schemes such as the Green Deal.
> Importance of systemic approach to retrofit. A systemic approach that takes into account interaction of building elements and users is emphasised as a priority. The report warns of the consequences of retrofit measures taken in isolation. For example, work to improve airtightness may negatively affect fabric moisture loads. These effects must be acknowledged in terms of liability.
> Improving evidence and skills base for informing retrofit of traditional buildings. A national strategy is required, to build up a research base and ensure that best practice, evidence, methodology and tools are correctly incorporated into standards, guidance and practice. This would be supported by a training and skills programmes to inform all parts of the supply chain, as well as users, owners and managers, to bridge the gap between conservation and mainstream practice.
---
Caroline Rye, co-author of the report, will speak to RIBA nations and regions in England and Wales in 2013 as part of the RIBA Core CPD Programme, on Understanding historic buildings – refurbishment and building performance. The programme covers all 10 Core Curriculum topics in a series of seminars, delivered by industry experts at 13 locations in England and Wales. Further details are at: www.architecture.com/cpd2013 or email cpdclub@riba.org. The full report, Responsible Retrofit of Traditional Buildings, is at: www.stbauk.org/