What are producers doing to decarbonise concrete – and can alternative concrete mixes and new binders dent global emissions enough to make a difference? Stephen Cousins reports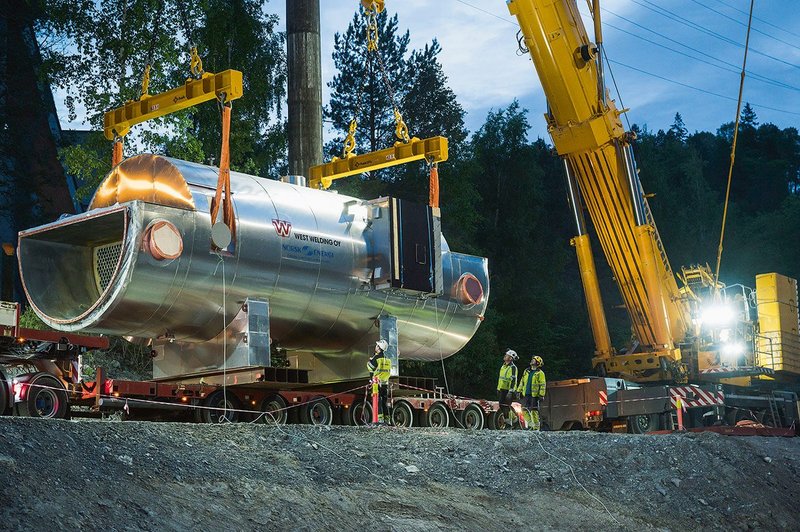 Norcem Brevik's cement carbon capture facility is due to open in 2024.
Concrete is the second most abundantly used material in the world after water. We use roughly 11.7 million tonnes of it a year in the UK, equivalent to the weight of more than 100 aircraft carriers.
The material's low cost, high strength and ease of production have made it a symbol and literal foundation for modern life, but that privileged status has come at a high environmental cost.
Research by think tank Chatham House gives the concrete and cement sector responsibility for 8% of global carbon dioxide emissions, more than any individual country outside China and the US, and more than the aviation industry, which generates about 2.5%.
Beyond the atmospheric impacts, diminishing supplies of usable sand have seen unregulated sand mining rise in the developing world, wreaking devastation on rivers and coastlines.
Architects and engineers could cut reliance on concrete by selecting lower carbon materials, like engineered timber, or optimising structural designs to require less material.
However, concrete's ubiquity looks set to sustain its dominance for some time to come, increasing pressure to either decarbonise its production, or switch to lower carbon concrete mixes or alternative binders.
Cutting the carbon of regular concrete is difficult. Ordinary Portland Cement (OPC), the key binder, is fired in giant rotating kilns heated to 1,400-1,500°C, typically using fossil fuels like coal or natural gas. Efforts to electrify kilns have failed to get close to these temperatures and widespread hydrogen power remains a distant prospect.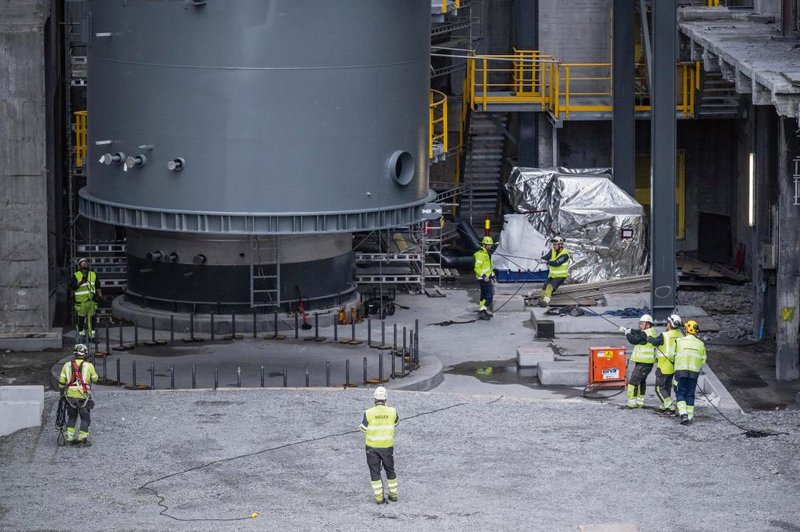 The world's first cement carbon capture and storage facility, under construction at Norcem Brevik in Norway.
Over 50% of emissions come from the chemical process of calcination, as the raw materials limestone and clay are transformed, under heat, into cement, releasing CO2 as a by product.
'Even putting the heat to one side, just the process of making this reactive binder releases CO2 – you can never get away from that,' explains David Watson, technical director at structural engineering consultancy AKT II. 'There's not massive scope for reducing overall emissions in OPC, maybe 10% to 15% from where we are today, but it's going to hit a floor pretty quickly.'
UK concrete makers do have a roadmap in place to become net carbon negative by 2050, and efforts to deal with emissions from production focus heavily on the use of Carbon Capture, Use or Storage (CCUS), which they say would take out 61% emissions per tonne of cementitious material.
The technology involves sucking CO2 from factory flues to store or use for other purposes, although it remains unproven at a commercial scale. The government is pumping £1 billion of investment into CCUS R&D through four industrial clusters. One of these is the the HyNet North West consortium, involving Hanson Cement, which aims to pipe CO2 to permanent storage in depleted gas reservoirs in Liverpool Bay. A further £20 billion package of longer term government funding is also lined up.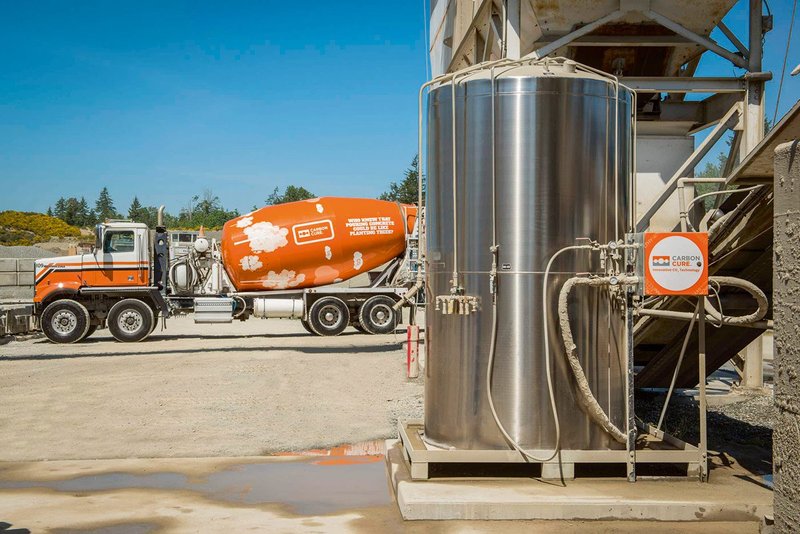 CarbonCure technologies enable concrete producers to add captured carbon dioxide to the production process, converting it into to a mineral and reducing the carbon footprint.
Is there enough time for CCUS implementation before 2050? An MPA spokesperson said: 'It is important that this early momentum is maintained if the UK is to remain at the forefront of CCUS deployment and achieve its 2050 targets.' He added: 'Support from the government will be required to ensure competitiveness is maintained during the transition to net zero cement production. This includes support towards project development costs to undertake required feasibility and engineering design work and then both capital and operational cost increases.'
Looking beyond improvements to production, another key vector for decarbonising concrete is replacing Portland cement clinker with supplementary cementitious materials, for instance industry waste byproducts like ground granulated blast furnace slag (GGBS), from iron and steel making, or pulverised fly ash (PFA) from coal.
GGBS is the 'go-to' method to cut embodied carbon as it can be swapped for cement at rates of 70-75% without affecting quality or strength – although the latest cross-industry research casts doubt on its cumulative climate benefits.
The draft paper, developed by experts from IStructE, the Institution of Civil Engineers, Climate Group and MPA The Concrete Centre, which was due to officially launch in September, found that worldwide GGBS resources are almost fully utilised with no significant unused stockpiles.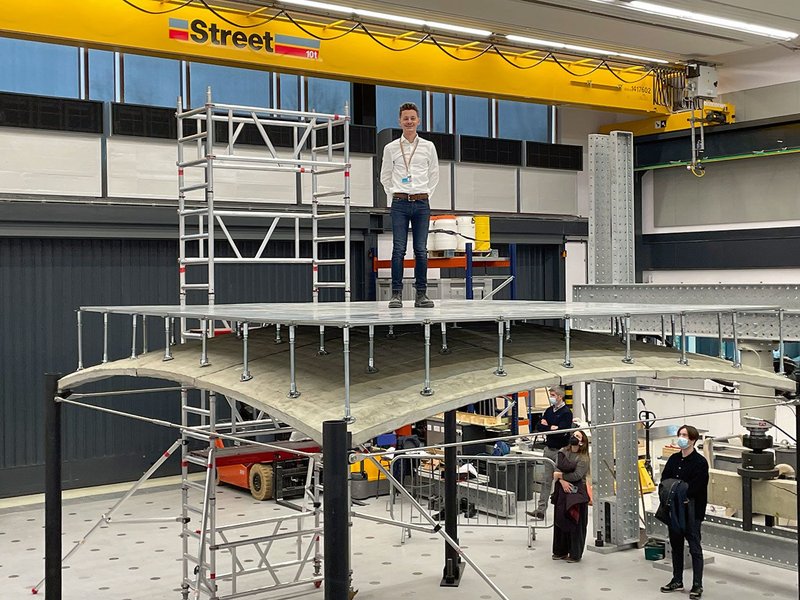 A prototype 'thin shell' vaulted floor slab, developed by an interdisciplinary team from the Universities of Bath, Cambridge and Dundee, generates 60% less embodied carbon than the equivalent flat slab.

Credit: University of Bath
Replacing clinker with GGBS at one location is therefore highly likely to reduce its use elsewhere, balancing each other out overall and making no further impact on current global emissions.
Will Arnold, head of climate action at IStructE, says: 'Every tonne of GGBS is already used in the concrete industry and there's no massive increase predicted anytime soon ... so don't go asking for more of it in the hope that it will reduce global emissions. It won't.'
With waste substitutes unable to have a big enough impact on emissions at scale, attention must shift towards the use of alternative binders to OPC that are less polluting, yet deliver on aspects of performance and scalability.
Hopes are high for future binders based on calcined clay, also known as metakaolin, created by heating kaolinite to between 650°C and 750°C and added to cement in place of clinker. Kaolinite exists in abundant natural deposits worldwide and in waste by-products.
A custom cement blend known as LC3, developed by Karen Scrivener, a materials chemist and head of the construction materials laboratory at Switzerland's Ecole Polytechnique Fédérale de Lausanne, combines calcined clay with unburnt limestone to create a product with up to 40% less embodied carbon than regular OPC. Critically, performance is comparable to regular cement and production can exploit the same machinery, generating interest from cement companies. LC3 is already produced in several plants in the world, but Scrivener wants a global roll out to make a big impact on emissions.
Arnold comments: 'We can expect to see this on UK projects within a year or two. The Mineral Products Association is running trials to get it codified.'
Looking further ahead, 70% to 75% reductions may be possible if calcined clays are combined with alkali activators – also known as geopolymers – to replace OPC in concrete, although 'alkali activators have reasonably high embodied carbon and have challenges in how they're handled and managed,' says Watson. 'Work needs to be done by the industry to gear towards them.'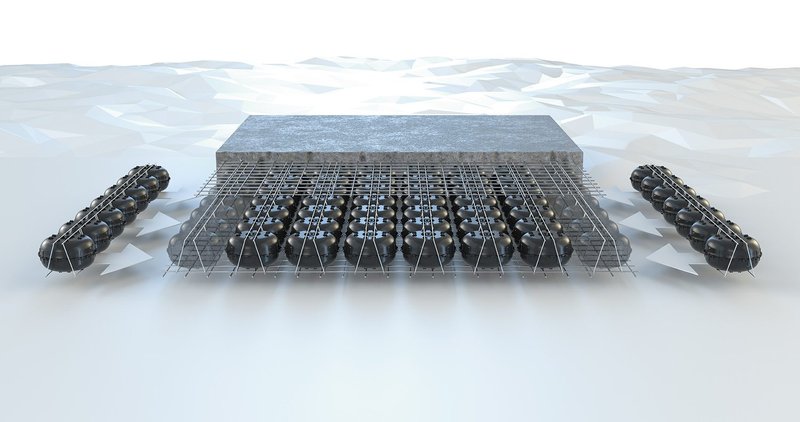 The Cobiax system is used to build flat slabs of reinforced concrete with voids formed using bubble-shaped plastic.
Alkali-activated concretes already in production, such as Earth Friendly Concrete, rely on industrial waste rather than calcined clay, but are paving the way for this scaled up approach, he adds.
Other less conventional approaches to cement also show promise. The firms Seratech and CarbonCure use versions of carbon capture to suck CO2 from industry and process it to create low carbon concrete. Seratech captures emissions to produce silica as a cement replacement material. OPC is still part of the mix, but the carbon capture associated with producing the silica results in a zero carbon concrete.
'Seratech is interesting. We're looking at probably 5-10 years for that to be used at scale, but we should be considering it now as we wind up,' says Watson.
Decarbonising concrete mixes and binders will pull down emissions, but architects and engineers have a key upfront role in minimising demand for concrete in the first place, as the concrete shell project by engineers at Bath and Cambridge University shows. When concrete is the only viable option on a project, the focus must be on reusing the existing structure and optimising its massing and use of components.
'Ideally, you would have a building that's not really tall, which wastes material to help it stand up, and not too short – a single storey building requires lots of concrete in the ground slab and the roof, but you get just one floor out of it,' says Hawkins, who adds that the optimal building stands between four and eight storeys, features regular short spans between columns to reduce the amount of concrete needed in floors, and has no basement, which typically needs a lot more material than superstructure. Products like Cobiax, or Bubble Deck, incorporate voids in slabs to cut the concrete requirement.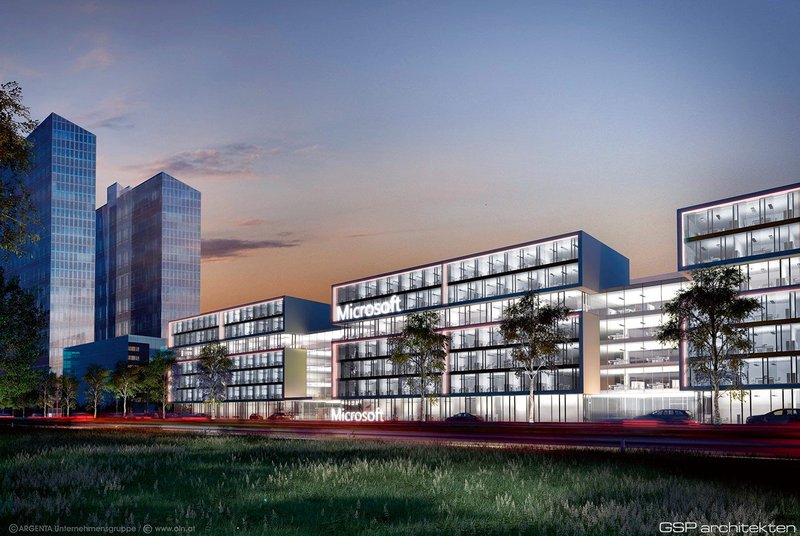 The Cobiax SL voided floor slab product was used to cut embodied carbon on Microsoft's Munich headquarters.
Other initiatives aiming to tackle the concrete problem include a revision to the British Standard for concrete BS 8500:2015+A2:2019, due at the end of this year, which will allow projects to specify three materials in cement, rather than the current two. This means waste materials like GGBS and PFA can be combined together with clinker, helping reduce overall embodied carbon.
Arnold says projects should consider setting a maximum limit on the amount of clinker included in a concrete mix, not just the traditional minimum limit. 'People regularly put in 10 or 20% more in than they need because they want to err on the side of caution,' he says. 'Setting a maximum of just 5% above would make a big difference and only involve slightly tighter quality control.'
Figures from the United Nations Environment Programme show that concrete production is set to increase by 25% by 2050, fuelled largely by the rapid expansion of developing countries. A range of ambitious decarbonisation efforts will be needed if the world is to avert the bleakest of climate scenarios.