Working as an architect developer gives you a wider, and more rewarding, view
In 2001, a group of artist friends and I pooled our resources to convert two run down warehouses into four artists' studios, an architect's office and a large apartment, on Micawber Street in Hackney. I became the developer and architect for the project. It was challenging, but ultimately creatively and financially rewarding for us all.
Nearly 10 years later, my latest project continued this theme. I had been looking for a new site when I saw Whitmore Road in 2010. Close to Regent's Canal and abutting Orsman Road in East London, it is an area of brick warehouses, artists' studios and municipal housing.
Before approaching other colleagues to join the venture I designed and discussed (pre-app) a scheme with the planners. The massing and volume of the building resulted directly from a rights of light envelope, aligning the roof level with adjoining properties, and means of escape regulations for single stair buildings. This in turn dictated the size and number of floors and apartments. The site area was 5080ft2 (472m2) and our final design gross external area was 16,500ft2 (1534m2).
Dividing the costs was straightforward – the base cost including site fees, Section 106 payments and construction cost were split equally by square footage then each individual fit out was costed separately. We had to finance the project ourselves, as bank finance was extremely scarce at the time.
After buying the site, a former 1950s petrol station, I teamed up with three colleagues looking for space to make a studio and homes.
The project is a self funded, owner/occupier, mixed use building, housing ground and first floor studios and offices with six two bedroom apartments on the three floors above for artists, architects and designers.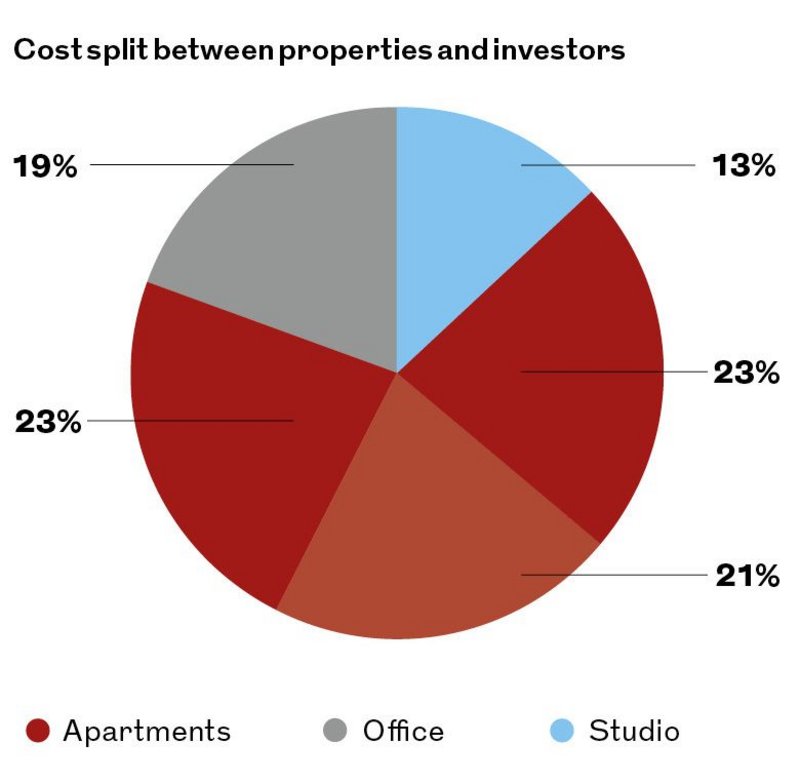 Establishing an SPV company created a clear separation between client and contract administrator
An SPV company, Orsman Whitmore Ltd, was established to manage the project under the directorship of Bharat Amin, an entrepreneur and ex banker. This creates a clear separation between client and contract administrator. Working to a limited budget, we prioritised a quality brick exterior, and concentrated on creating as much interior volume as possible, with tall floor to ceiling heights and generously sized apartments.
A large 5m ceiling height was required for the ground floor studio, with no columns interrupting the space. The apartment floors were designed to the desires of the end users. Sustainability is embedded: good orientation, high levels of insulation, good natural light and cross ventilation, robust buildable details and solid high quality construction.
The design picks up on the local context of brick warehouses. The Orsman Road massing of the building aligns with its neighbour, stepping up to mark the junction and cantilevering for the corner oversail (a cut-out for traffic visibility, and a covered entrance to the studios). On Whitmore Road, the massing steps down to meet a three-storey building.
An in-situ concrete Cobiax structure provides lightweight slabs spanning 8.5m to fulfill the requirement for a columnless ground floor studio. The absence of internal columns allows greater flexibility in the layout of the studios and apartments above.
We used handmade grey Nevado clay facing brick, metal handrails and bespoke ­aluminium full-height windows with recessed aluminium ventilation panels, for the external elevation. This facade, a straightforward grid of piers and spandrels, allowed for variability, such as eroding (to accommodate terraces); infilling (windows or brick panels); leaving open (recessed balconies), and cutting away (corner cantilever). Deep pier reveals and brick soffits express the solidity and permanence of the material.
Internally we balanced exposed concrete finishes (all ceilings and core walls) with natural materials, including 6in white oak ­engineered flooring for the apartments, ­basalt stone floors in the communal areas and full height panel doors.
Risks associated with the project included the costs of removing the three petrol tanks and mitigation of contaminated land, which could not be accessed before we began construction. Rights of light of neighbouring buildings on all sides could not be finalised until after the site was bought. The corner oversail over the public footpath was also an issue that took time to agree with the council.
A distinctly 21st century design, the Whitmore building and its uses are an integral part of the fabric of the city. It has created a sense of community both in the day-to-day life of the building and in how it fits in to and enhances the local area.
---
Trevor Horne is founder of Trevor Horne Architects
---