Sustainable design must be measurable if it is to truly combat climate change. But there are plenty of ways to do this which, vigorously applied, will make a real difference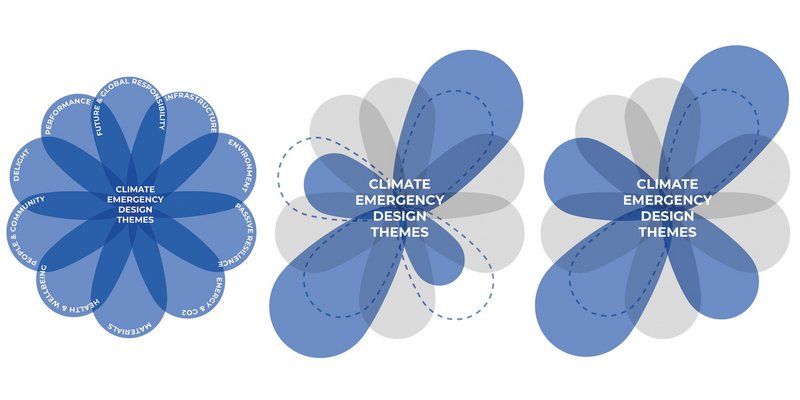 To achieve holistic sustainable architecture, certain sustainability aspects cannot be prioritised at the expense of reduced standards elsewhere (middle diagram). Instead, all aspects must meet high standards, even when some themes are prioritised (diagram to the right).
A transformation of unprecedented urgency and scale is needed to get us through this climate emergency. Global temperatures are already 1.1°C above the pre-industrial baseline, and we're trying to limit that to 1.5°C. Every rise risks unhinging ecosystems further, leading to more extreme events, more loss of lives, livelihoods, homes and cities, and devastation of the natural world.
Carbon neutrality can only be achieved if we stop using fossil fuels for the construction and operation of the buildings we design, and start using our available resources responsibly across the world. And it is not just CO2 that matters: every minute, we extract resources that exploit people and nature and can never be replenished.
Although we all know this, almost every architecture project continues to contribute to the climate crisis, and so to injustices and ecological breakdowns worldwide. We need drastically different architectural responses. Every single project needs not only to minimise but to reverse these damaging processes immediately and create a positive and restorative impact. This is essential to a climate emergency design approach.
At the core of such an approach are 10 themes. Energy and CO2 is one, but we believe we need to go beyond this, ensuring that projects consistently integrate high values in all areas of sustainable architecture (see diagram).
Designing sustainable architecture and zero-carbon buildings also means little if it is only achieved on paper and the standards are not met in reality, once these spaces are handed over to the users. 'Performance' means not just an energy and CO2 audit related to building and systems performance, but also to users' wellbeing and satisfaction and its spatial and material performance. That is, does the design work as intended?
Our design decisions should be based on knowledge and the best available evidence, but we cannot claim our proposed designs are sustainable without evaluating them. While we cannot know for certain whether our designs work until they are built and used, we can do our best to validate them at design stage, testing and checking to see if our project meets the sustainability goals we set in earlier design processes. This needs to happen at different stages of the design to gain feedback on early decisions, helping to reflect, refine and improve it through iterations, as well as gaining useful feedback from others. It is not something to be done at the end of the design process, but as part of it.
Validation can be done through sketches, drawings, physical or digital models, simple rules of thumb and environmental software.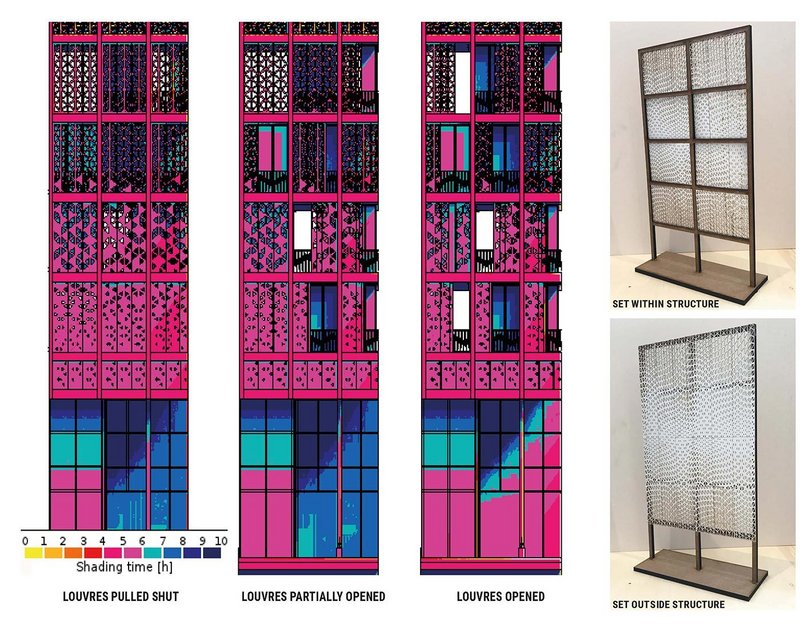 Jaimie Claydon used both digital and physical models to test the effectiveness of shading.

Credit: Sheffield University
Rules of thumb, guides and checklists
In our book, Designing for the Climate Emergency, are key recommendation checklists to consider at different stages of the design process; these and other checklists can be used to validate your decision-making. Other rules of thumb and design guidance will help you develop your design (or that of others, or an existing case study) as well as evaluate it against these key criteria at different stages. You can use them to compare different design approaches and options to help you in decision-making. You can also use national building regulations and different sustainable architecture approaches (for example Passivhaus and nZEB, as well as sustainable design standards such as BREEAM, LEED, DGNB, the Living Building Challenge and the WELL Building Standard). They will help you to identify any neglected aspects and improve in these areas.
Some online tools can help you to undertake a life-cycle assessment (such as the Construction Material Pyramid, One Click LCA) or embodied carbon (for example FCBS CARBON or H\B:ERT).

Zhangxiufu Wu used digital renders to iteratively test the daylight qualities as the design evolved, and to test and communicate the daylight qualities in the design.

Credit: Sheffield University
Energy models
Several programs exist to validate your design with advanced daylight studies, solar analysis, wind-flow analysis, predicted energy use, potential energy production from renewables etc. Some tools enable you to check the robustness of your design in future climates. Quick environmental software simulations include SketchUp, Revit or Rhino; SketchUp plugin designPH gives an initial prediction for building energy use.
More advanced environmental software simulations are used at later stages, as they enable more detailed design inputs. Typically these tools require advanced building modelling skills and building physics understanding. In addition to energy modelling, they usually also include validation of climate, daylight and artificial light, solar shading, comfort, airflow, heating, cooling, ventilation systems, renewable energy and life-cycle modelling. More accurate predictions are possible, if inputs are based on the proposed specification and use of the building, rather than uninformed design assumptions. Examples are DesignBuilder, Sefaira and IES and are Revit plugins for environmental and energy performance simulation. Rhino plugins allow the validation of daylight, glare, artificial light, thermal bridging (with Honeybee); solar radiation, shadow, renewables (with Ladybug); heat island studies (with Dragonfly) and advanced energy modelling, airflow, and indoor and outdoor comfort (with EnergyPlus). IESVE, which is LEED, BIM compatible and a plugin for Revit, is employed for detailed energy simulation – often used for regulatory compliance.
We can do our best to validate our designs, testing and checking to see if our project meets the sustainability goals we set earlier

Holly Wilkinson combined an interior render with an illuminance study to test daylight qualities.

Credit: Sheffield University
Environmental software simulations
Many energy models also enable the modelling of daylight, sunlight and shadows, solar radiation, wind flow and soundscapes (acoustics). These help you understand the existing site conditions as well as the impact of your proposed design intervention, and the advantages and disadvantages of different options. Simulation of the sun's path around a site and the corresponding shadows is one of the most simple yet important validation tools you should use, as it is fundamental to many design decisions, and can be done in most 3D modelling software.
Equally, how much energy from the sun is incident on different parts of both site and building is useful to understand if outdoor areas are overshadowed, to test whether glazing is receiving high levels of solar energy and how effective shading is, and to see which parts of the building are best suited to solar panels.
Daylight is important in occupant health and wellbeing, and something your design can have a big influence on. It is relatively easy and accurate to validate using digital models, though be careful when using digital renders. Free daylight tools include the VELUX Daylight Visualizer, but simple daylight factor rules of thumb can also be applied.
Remember that these rules of thumb and simulations mean little unless you critically reflect on what the results mean – that is, how they should inform your decision-making and next design iterations. More accurate validation of sustainability intentions early on helps to reduce the performance gap once projects are built and occupied. The next steps would be to follow through projects to see if they work in reality (and fix those that don't).
Sofie Pelsmakers, Elizabeth Donovan, Aidan Hoggard, Urszula Kozminska have just published Designing for the Climate Emergency focusing on sustainability and design for students