De-risking a project with digital design made it safer and more viable to get on site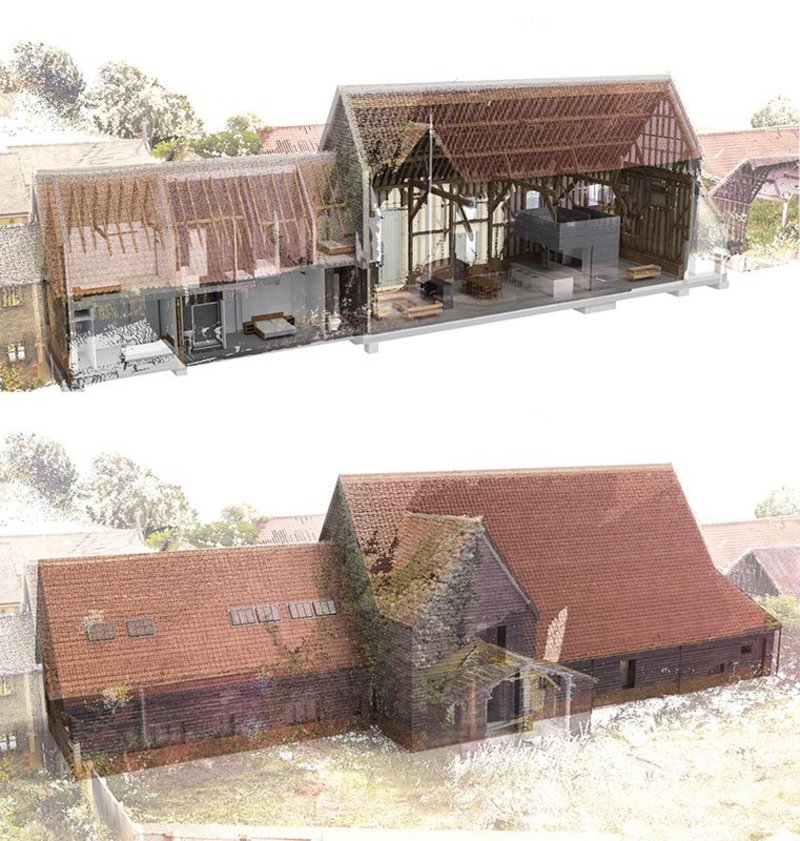 This point cloud survey of the existing building was developed using laser scans (above) is set against proposals.
When David Miller Architects took on Anstey Hall Barns in Trumpington, Cambridge, it was an ambitious undertaking. The dilapidated structures, dated back to the 17th and 18th centuries, with grade II listings on some of the timber framing. This, together with the planning constraints of working in a conservation area, meant the project was looked on as high-risk and the site had sat empty for many years – even though it had planning permission.
The team's collaborative approach, using innovation and advanced digital design and construction, brought significant benefits in design, programme and budget de-risking the project and making it more viable. With a build cost of £7.6 million, sales of eight luxury converted homes and four new ones will bring in around £20 million revenue.
By using digital techniques to conserve the barns, we have retained more original features than would have otherwise been possible. Point cloud scanning allowed us to model the complex structures accurately in 3D and so not over-simplify solutions. The site team recorded the condition and repairs to the historic buildings photographically through the cloud based Common Data Environment 360 Field, and tagged these to the 360 Glue models. This captured vital data for ongoing conservation, maintenance and future adaptation ensuring historic sustainability as well as enabling the speedy resolution of complex conservation issues and allowing timely approvals by the conservation officer.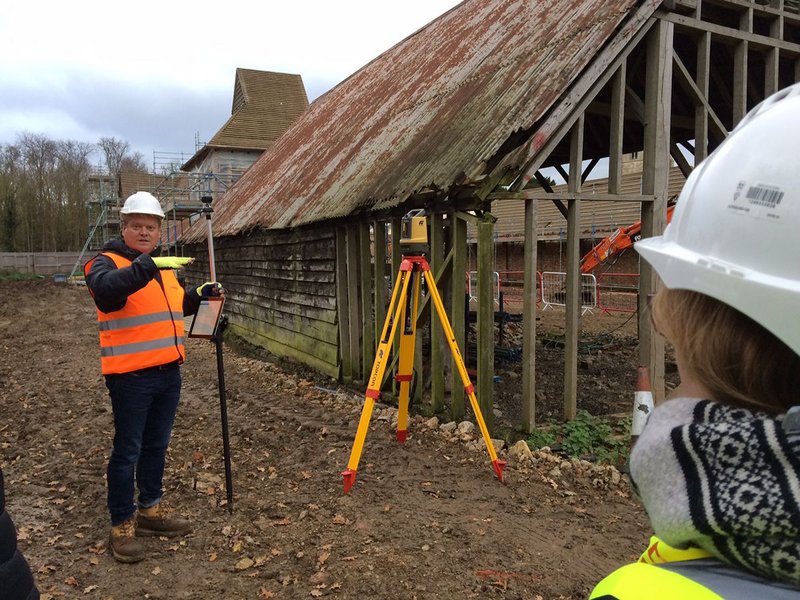 Setting out for the point cloud survey.
The model-based approach ensured good communication and collaboration between the design team, client/contractor, supply chain, planners, conservation officers, neighbours and end users. This was essential in getting to grips quickly with a project that was already under way due to the planning permission.
Communicating the scheme to potential residents was also much easier with the early use of 3D models. The client, Hill Residential, was able to better test furniture layouts and produce marketing material, which saw many homes sold off-plan.
Combining BIM Level 2 protocols with new technologies such as point cloud surveying, Autodesk BIM360 Field, Glue, Docs and Point Layout software, all design elements were digitally tagged. This allowed the contractor to take accurate subcontract and materials procurement directly from the model, cutting waste, costs and time.
Completed on time and on budget, the project not only transformed derelict agricultural buildings into high quality housing, but also demonstrates that digital design and construction are as applicable to complex conservation projects as to large new buildings.
From the client's early and very clear employers' information requirements, we were able to establish a BIM execution plan that could achieve the client's ambitious goals. One of the most important of these was the quantification of materials and construction elements. This was to minimise cost and waste in materials procurement and to avoid the costs associated with 'lump sum' subcontracts where quantities risk is transferred to the supply chain for a premium.
Techniques
We used seven effective techniques to improve the project design, delivery and operation.
The first of these was extensive point cloud surveys. The architects used raw laser scans to develop 'as existing' models as a starting point for the project, permitting the forensic architectural and engineering design approach that the eight unique existing buildings demanded.
For subcontract procurement we used the common data environment 360 Docs from Autodesk to manage costs. This was the first project in Europe to use 360 Docs and the team's feedback has been incorporated into the product. The software speeded the procurement process and saved time with better communication, co-ordination and scheduling
The contractor/client undertook quantity take-offs directly from the federated design model. This required the components within the model to be named and numbered in a structured way that was agreed in advance so bills of quantities could be generated quickly. This meant the team could firm up construction budgets more accurately and earlier, and then de-risk subcontract procurement by avoiding inefficient 'lump sum' sub contracts.
All quantifiable elements were parted and converted to enable quantification by the site manager using Navisworks. This saved time and money by speeding up material requisitioning, especially as it meant no separate quantity surveyor was needed.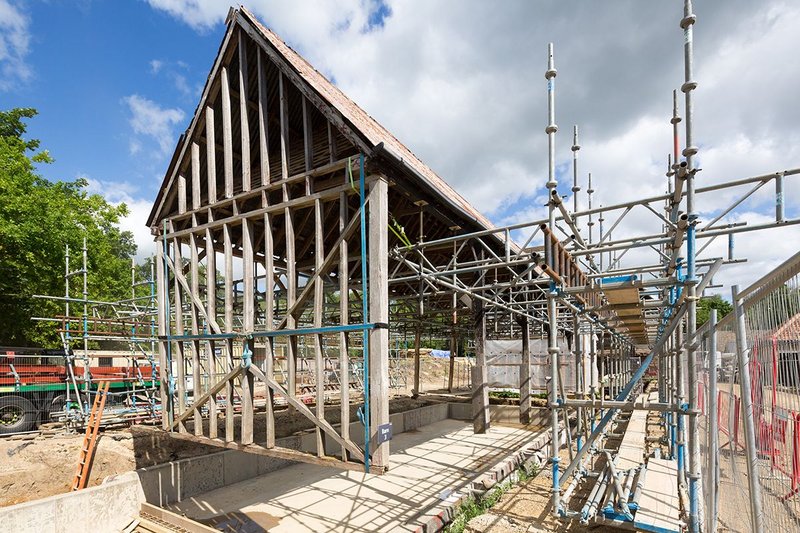 On site with the structure of one of the barns almost suspended.
Supply chain members were brought in early to share and review models and discuss the elements they would be involved with. This informed the design significantly. In several cases, we were able to use suppliers' BIM components such as sanitaryware, lighting, kitchens, door components and windows, driving efficiencies and adding data to the model.
BIM made it easy to extract work-in-progress information that was used to get early stage costing and specialist input into details such as the external windows, curtain walling and doors. This enabled better, more co-ordinated, design, reducing the likelihood of value engineering later.
We also shared models on Glue with joiners Carpenter Oak and Woodland who used the models to tag and track their work on existing timber using 'before and after' photographs attached to the Glue model. These were, in turn, shared with the conservation officer as evidence in discharging the listed building and planning conditions.
We also believe there was less waste as the need for extra material to compensate for the inaccuracy of traditional material take-offs was unnecessary.
Mike Beckett, director of developer Hill Bespoke, said: 'Procurement to all the sub-contractors would typically take around six months, but we will have managed to halve this time. Since Hill is taking the risk on the quantity information, we are finding that more sub-contractors are coming back with prices, and they are taking less time to do so.'
As well as the usual co-ordination of the architecture, mechanical, electrical and plumbing, and structure, this project presented the challenge to co-ordinate with complicated existing structures. The existing historic timber frames had moved and bowed considerably, but the model-based approach de-risked the insertion of new structure and fabric, avoiding clashes. Also, superior visualisation meant we could clearly communicate to all stakeholders using the WIP (work in progress) model in Navisworks or over the cloud with 360 Glue, which encouraged confident and timely decision-making. The model was also processed and used for marketing purposes.
Construction setting out and verification was enabled through Autodesk Point Layout. Digital setting-out points were embedded in the design model and shared over the cloud through the CDE. This drove the equipment on site that was used to set out the location of new buildings and elements within the existing structures, again speeding the process and improving accuracy. The system was also used in reverse to verify locations in the field and push them back into the design model.
BIM 360 Field software was used to manage and track all actions and deliverables for both the design and construction teams, as well as contractor procurement. It was then used to manage the quality control checklist for trades on site ensuring standards of quality and giving a clear audit trail.
Finally, new homeowners are receiving iPads preloaded with the model of their home, allowing them to log faults and provide post occupancy feedback.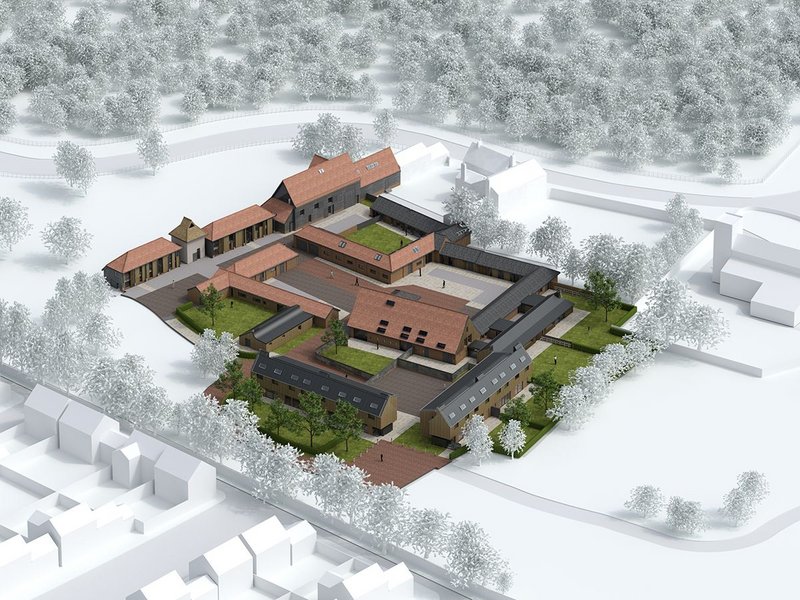 Anstey Hall Barns near Cambridge in their Trumpington context.
Stakeholder benefits
Hill benefitted from being able to control material ordering and avoided premiums associated with estimating and ordering along the supply chain. As well as the usual benefits to design, programme and cost, best practice modelling processes and techniques have been established for use on future projects and there have been benefits in marketing and customer engagement.
Timely approvals by the conservation officer were made simple with new technology. The site team recorded the condition and repairs to the historic buildings photographically through 360 Field, and tagged these to the 360 Glue models. This generated a comprehensive report on the works undertaken and, without the need for site visits, concerns were addressed and the programme protected.
Receiving an iPad with an 'as-built' model of the property, homeowners have full information about their property allowing them to flag queries and feedback to Customer Care. The model will be used for efficient future operation and maintenance of the buildings and has full conservation information embedded in it.
For the architect, the processes developed on Anstey Hall Barns have been integrated into its ISO accredited Best Practice Management System for use on future projects.
Along with Hill, we are applying these techniques on larger scale new build housing projects. It's particularly pleasing to see 130 affordable new homes for Clarion Housing (being built off site volumetrically) benefiting directly from the techniques pioneered on a bespoke luxury project.
---
David Miller is director and principal architect at David Miller Architects