Turner and Hoskins Architects' new website by Magnify Creative draws the eye and is fully responsive, with impressive results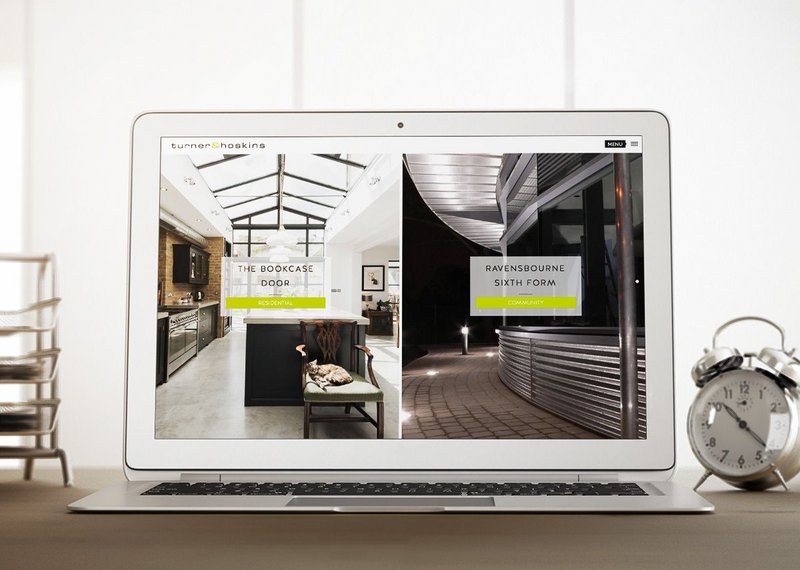 With an estimated 55% of web users spending less than 15 seconds on a website, it's crucial that a website is designed to capture the target audience and make a positive first impression. Many architectural practices' websites don't generate leads that turn into paying clients. Full of beautiful project images, architecture firm websites can look impressive to other architects, yet fail to make an impression on potential clients as they may not fully understand the architects' role.
Turner and Hoskins Architects is a small design-led architectural practice based in Kent with over 40 years' industry experience in residential and community projects. But their website was dated, difficult to navigate and update, and didn't effectively showcase their projects.
The practice's new website, designed by Magnify Creative, aims to create a unique and interesting experience for the user. A split-scrolling homepage presents the two focuses of the business side by side. The site then showcases projects with large, beautiful image galleries. These are combined with clear, jargon free project descriptions which help to inform and educate potential clients.
A unique aspect was the use of project elevation drawings combined to form a 'street' appearing at the bottom of each project description. Users can scroll through to view other interesting projects. Prominent testimonials throughout the portfolio present positive client responses. The Process page is now a feature, developing a popular section of Turner and Hoskins' old website, to educate and inform clients about the entire architecture process.
After just an hour's training, the client has full website control, able to add projects quickly using pre-built templates. Easily updateable, the site is more likely to be regularly populated keeping it current and increasing traffic. Vicki Turner explains: 'The new website graphically interprets what we'd struggled to portray.'
The website also demonstrates a prerequisite of every Magnify Creative site, it is mobile-responsive so that the content re-orders itself to fit the screen it's being viewed on. Currently, 1 in 2 people are viewing websites on mobile devices. You could be losing 50% of your potential clients unless mobile-responsive.
As Tim Hoskins explains: 'You can carry your portfolio in your pocket.'
Since launching the website, Turner and Hoskins Architects has had more direct contact via the website and has seen overall increased traffic. New clients directly refer to portfolio cases as they discuss their requirements.
'Magnify Creative gave a personal service, meeting with us, thrashing out ideas, helping us think through what we wanted and why. It helped in re-evaluating our entire business. They spent time understanding what we liked visually and interpreting this online,' explained Tim Hoskins.
'We have so much positive feedback, how clean and clear the site is, such good graphic presentation. It has given us an incredible confidence boost. Quite a few people comment that the site reflects our style. Other businesses having seen our new website, are eager to enlist the services of Magnify Creative to bring their work alive online.'
For more information visit: www.magnifycreative.co.uk
Contact:
01342 776556
info@magnifycreative.co.uk
---