A new book argues that disabled people are the experts on built space, so using their perspective as a starting point can provide a vital insight into architectural design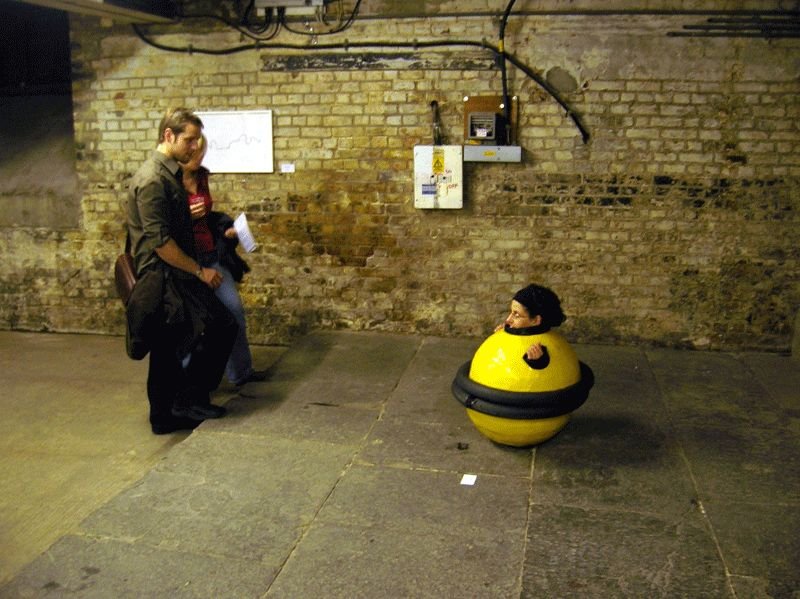 Artist Noemi Lakmaier's literally loses control over her body.

Credit: http://www.noemilakmaier.co.uk/
When I tell architect friends that I have developed an interest in disability and inclusive design I tend to hear a stifled, involuntary groan. This is not because they think accessibility is a bad thing, only that it can feel like yet another demand on design, an important but inherently dry subject. In fact, the projects that I have been working on – along with a group of disabled artists called Architecture-InsideOut (AIO) – are precisely about this problem. Rather than centring on design guidance or compliance we were interested in asking how starting from disability might generate alternative, even avant-garde, architectural practices.
My recently published book Doing Disability Differently: an alternative handbook on architecture, dis/ability, and designing for everyday life (Routledge 2014) explores some of directions offered by such a proposition. I argue that starting from the point of view of disability – and ability – is important to architectural design because it can help us better understand the intersections between diverse bodies and material spaces. This is because disabled people are the experts on built space. Unlike the abled who, as academic Tanya Titchkosky memorably tells us, 'can just jump into the shower or run to the store' as if their bodies do not exist, most disabled people are taking close notice of, and creatively negotiating with, the material world on an everyday basis.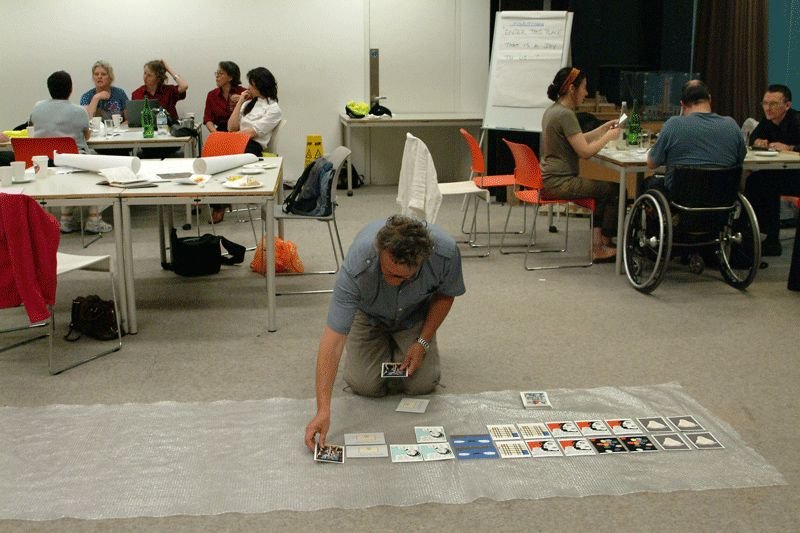 Work in progress as part of Architecture InsideOut (AIO) event at Tate Modern.

Credit: Jos Boys
Just as crucially, engaging with disabled people's diverse perspectives and experiences makes visible the work involved for everyone in performing, perpetuating and contesting our 'normal' daily routines. These come in two interconnected modes, beginning with the ordinary (but also multiple and different) processes of getting about – getting dressed, going out, finding our way. As designers, we can only pay proper attention to these by not assuming that space is mainly occupied by 'normal' bodies, to which the disabled can just added afterwards. It means connecting with – and even enjoying – the complexities and realities of many different kinds of body (which introduces often ignored concepts such as frailty, care and interdependence). The book contains many examples of disabled artists working at just such an interface between ability and disability, normality and abnormality.
Unlike the abled, most disabled people are taking close notice of, and creatively negotiating with, the material world on an everyday basis.
Then there are what are often called everyday social and spatial practices. These are the common-sense routines through which certain ways of being are more sayable and doable than others. They include the unthought about (thoughtless) actions that make it normal to assume that a person in a wheelchair is stupid, but also have myriad effects on all of us in different situations. I suggest that architecture could really benefit from a better understanding of how these differential patternings are activated through built space. In the book I recommend learning from disability studies, which together with other contemporary cultural theories, can offer architects, educators and students some valuable ways into these issues. I also offer some alternative forms of practice, such as the AIO design workshops, where architects and disabled artists have come together to co-design alternative examples of dis/ability inflected architecture.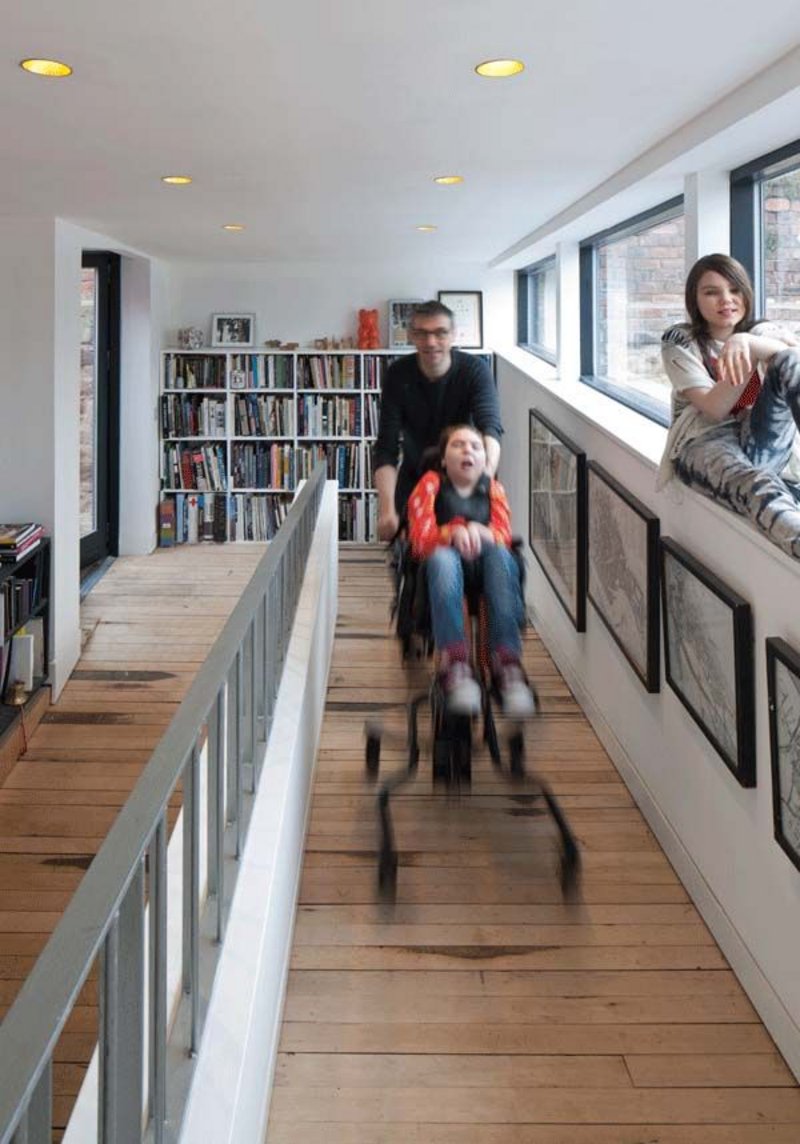 Interior view, Ramp House, by Chambers McMillan Architects.

Credit: David Barbour
This, though, is not all that starting from disability brings to the built environment disciplines. Current architectural theory, for example, is very interested in embodiment. Many writers and practitioners, in challenging some of the more mechanical aspects of architectural modernism (its fetishisation of function in particular) have been rethinking ideas about the body in space. This is across the events-based work of Koolhaas or Tschumi, the more experiential and sensuous work of Zumthor and others, and the cyborg hybridity of bodies explored in relationship to architecture and biotechnologies. But if rethinking the body has become central to such architectural discourses, disabled people's bodies continue to disappear down the gaps. So this is my third point: it is not merely to note that a particular architect's work may or may not be accessible; it is to critically and creatively investigate how current architectural ideas are articulating humans and their relationships to the designed world in particular ways rather than others; it is to reveal invisibilities, assumptions and inconsistencies; and it is to see how can this help us to develop better ways of articulating diverse occupation that can inform architectural design.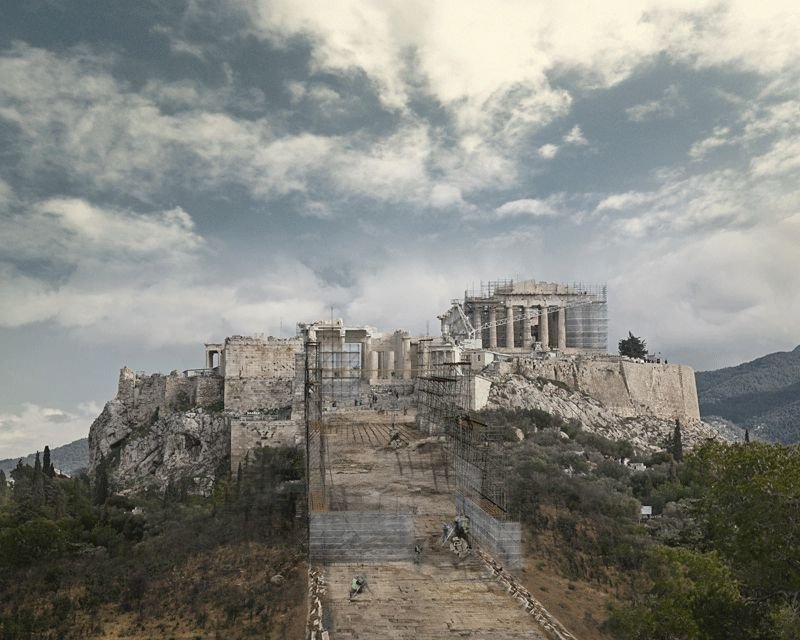 Proposed Reconstruction of the Acropolis Ramp, 2013, by David Gissen.

Credit: Rendering by Victor Hadjikyriacou
Unlike much inclusive design debate, this book does not argue that designing for the disabled will somehow make an architecture that is better for everyone. Rather, by insisting on making dis/ability ambiguous, complex and dynamic, it puts disability back where it belongs, not as a matter that can be dealt with through regulatory guidance and compliance, but as a difficult design variable that is at the heart of creative practice; that must – like every other aspect of designing – be negotiated within and across a whole mass of messy parameters; and that can never result in a correct solution for everyone, but that can only aim in that direction.
Doing Disability Differently therefore includes lots of propositional examples exploring what thinking and doing disability this way might produce. These examples are not just about designing especially for disabled people (although some of them are). They are also about design as a form of commentary that starts from disability to reveal some of the gaps and limitations in architectural theory and history; or about how to work in different ways with disabled and ageing people, not as passive recipients of services but as active and creative agents in their own lives. Finally, what I have found amazing over the last five years as I wrote this book is just how much is already happening in this area. I am therefore adding new examples all the time to a Doing Disability Differently blog. It makes me optimistic that starting from dis/ability might just become a new, cool, and alternative practice.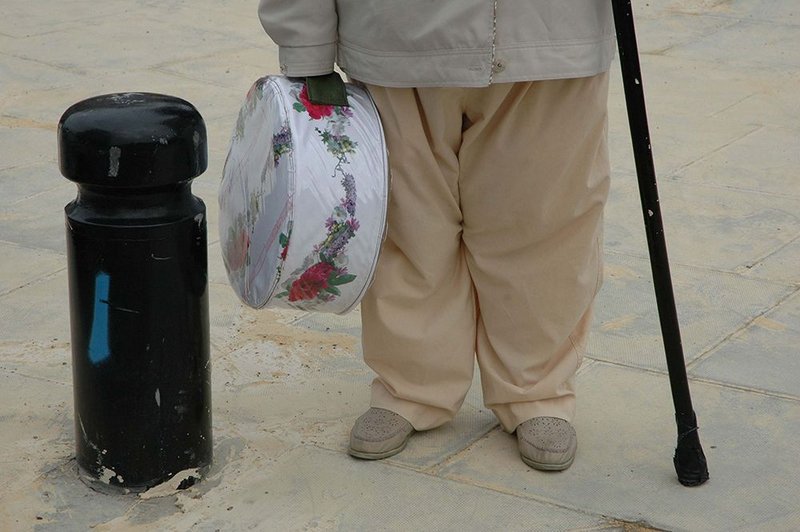 'Portable Cushion', Ageing Facilities Resistant Seating Project.

Credit: Verity-Jane Keefe