At the latest meeting of the RIBA economics panel the impacts of Brexit, Carillion, Grenfell and offsite construction were seen as creating a turning point for architects and the wider industry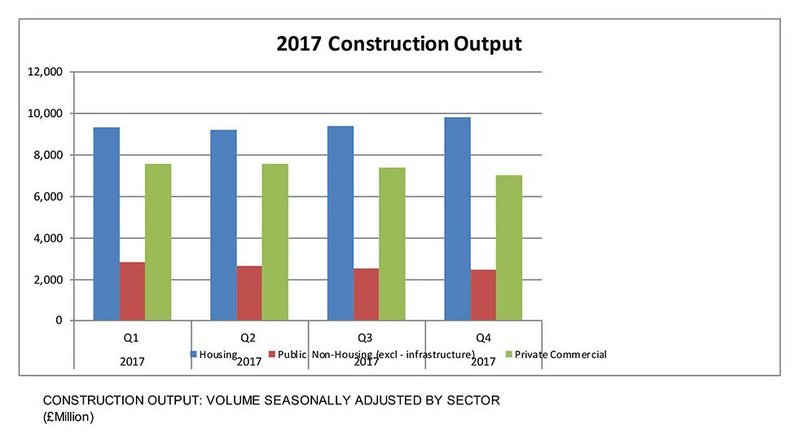 Another significant shift in the ground upon which the UK construction industry is built seems to be facing the architectural community. There have been a few such moments in recent years: the 2008/2009 crash, the Brexit decision, and the government's BIM mandate.
The RIBA economics panel met at Portland Place in late February, with a feeling that the profession's parameters are on the move again.
The Brexit negotiations are under way and the panel pulled no punches. The trajectory of the negotiations is unclear, and we're in danger of sleep walking into a position that's deeply damaging to us. We have around six months to get a deal before we move to implementation and transition.
Like many industries, construction is undergoing, and leading, a process of digital transformation. Of course, there is BIM, but alongside that we are also seeing offsite modular construction pointing to a different, more standardised and replicable way of creating buildings.
Carillion has ceased to be. In the process, the non-functioning business model of at least one Tier 1 contractor was exposed.
Post Grenfell, Dame Judith Hackitt's interim report 'Building a Safer Future' patiently describes an industry that failed to provide safety, and points towards a better way. This will have radical implications for all involved.
At the meeting the panel examined these themes and described the thread that ran through them; the need for transparency, to create better design and an improved construction industry.
We face real and significant challenges. However, panel members were quick to point out, as they have before, that in times of change there are significant opportunities for those who can spot and act on them early.
Let us look at each of these themes in more detail, and what they might mean.
In times of change there are significant opportunities for those who can spot and act on them early
Impact of Brexit
The issues presented to us by our exit from the EU are well rehearsed: labour and skills shortages, increased cost for construction products, and a weakening of capital investment due to increased uncertainty. There is also a threat to the UK as a global hub for architecture, as architects from the EU, who play such a significant role, are unable or unwilling to come to live and work in the UK.
Time is increasingly against us. With a lack of clarity on the outcome, or even the government's desired outcome, businesses will have to take irrevocable decisions now about what they will do after the Brexit date, Friday, 29 March 2019. Already we are seeing some firms make decisions on whether to relocate or move production outside the UK.
The latest RIBA Global by Design survey shows what this means for the profession. There has been a significant drop in architects' confidence since our first survey in late 2016. Architects report that a lack of clarity from the government over the shape of Britain's post-Brexit relationship with the EU is hindering their ability to prepare for the future and incorporate the UK's exit into their business plans. More concrete information from the government on what businesses can expect from the new environment – especially on the terms on which they can trade with the rest of Europe, their ongoing ability to access the best skilled talent from around the world and specific priorities like the mutual recognition of architects' professional qualifications with the EU – is vital, and the RIBA has been working to make this case to the government.
Architects are not alone here. There is a sense that as the market remains relatively robust, people are so busy in the day to day delivery of projects that there's little time to make this important longer term assessment. This is as true for clients and contractors as it is for the design professions. It is difficult to model the future when it's so uncertain, but without a satisfactory transition deal, we may quickly find ourselves in a very different trading environment.
Is one answer to the challenges of Brexit technological? We've seen it suggested that the Northern Ireland border problem may be overcome by smart tech. Could this be true for the construction industry?
Modular construction
Offsite modular construction offers a potential solution to the difficulties of poor productivity and low labour supply. It is not about moving the existing construction process indoors and then shipping output to site for final assembly. Rather, it is about transforming the process so that it becomes data and technology led, more standardised, more efficient, and faster.
There are difficulties here, not least ensuring the steady demand that investment in plant would require. The construction industry is markedly cyclical and the government, as the largest client, can play a steadying role.
A significant part of architectural market is not suitable for off-site manufacture; high-end residential, much office work, universities, or historic conservation or refurbishment, for example. But much is. Buildings like schools, hospitals and prisons would seem good candidates for an offsite approach, although offsite construction has yet to clearly demonstrate increased profitability.
Does offsite, modular construction mean that architects will have a lesser role, and less work? The panel thought this possibility should not be discounted.
Is one answer to the challenges of Brexit technological? We've seen it suggested that the Northern Ireland border problem may be overcome by smart tech. Could this be true for the construction industry?
Offsite construction will be disruptive. If it is about repeating often what has been designed once (with some configuration for each instance) then there are fewer times where design value can be added and fees charged. But other industries offer a clue. For now, architects charge a fee for each instance, for each building; in other industries, design charges are made for each type of thing (a car model, an engine or an aircraft, for example). The design work for each type is much more extensive and so there is more design work to be paid for (how much more would a car or bicycle cost if the design was just for your own car, or your own bike?).
For architects open to adapting there may be new opportunities in offsite, modular, manufacture. Indeed, it may be a natural progression for those who, through BIM, are already producing data rich designs.
Carillion and Grenfell: areas for reform
The demise of Carillion emphasises the need for change, particularly in the business models of Tier 1 contractors. In the financial year 2016/2017 the average margin of a major contractor was -0.5%. In the last four to five years there has been no significant increase in construction productivity but costs have risen; clients are paying more for the same stuff.
Carillion's demise was due to a combination of general problems for Tier 1 contractors and problems specific to the company (some big projects with large delays, overruns and cost miscalculation). But Carillion points to a broken business model that everybody's tied up in.
Contractors may have failed to get designs to the right level, with insufficient specialist design work at an early enough stage leading to late changes. Are designers empowered by the large contractors to design to right level and detail, and are the designs then properly co-ordinated? Has margin been considered too often in design decisions and product choices made late in the process, or even on site?
Remember that contracts are there for when things go wrong. Ask yourself: What am I signing up to, how will I get paid and what is my liability?
What lessons are to be learnt? The panel noted that some firms reduced their exposure to Carillion from early last year, as the warning signs grew. The least likely to reduce their exposure were smaller contractors or designers.
There's a lesson here; remember that contracts are there for when things go wrong. Understand the terms of your appointment and make sure there are no 'skull and cross-bone' clauses that pass risk and liability to you, beyond the limitations of your indemnity insurance. Ask yourself 'what am I signing up to, how will I get paid and what is my liability?' It is worth taking professional advice.
The panel felt the importance of this will come home as the aftermath of Grenfell unfolds. There will be significant legal proceedings.
But, as Dame Hackitt suggests, there is an opportunity for reform. Accountability will increase. All players in the construction industry, including architects, will need to demonstrate that they have done a job of sufficient quality; designers will need to provide evidence of this through well-developed and accurate designs, specifications and Building Information Models. Designs may need to be validated against agreed Levels of Detail and Levels of Information at each stage. Further, there is likely to be a need for traceability of design and construction decisions throughout the building lifecycle.
Given the themes discussed, the panel suggested this was a time of disruption. Brexit, new construction methods, Carillion, and Grenfell together indicate that change is going to come for architects.
There is a different way, the panel suggested, and it will increasingly be about transparency:
Transparency for the client on what will be delivered
Transparency of information about what will be built, and what has been built
Transparency of goals (including where the profits lie) among collaborating parties
Transparency of, and adherence to, payment terms, so cash flow doesn't bring down businesses
Transparency of contractual terms, so risk is clearly described and allocated
And hopefully, soon, transparency from the government on future trading relationships, so we can better prepare for Brexit.
PANEL MEMBERS
Simon Rawlinson, head of strategic research and insight, Arcadis
Sue Foxley, research director at Bidwells and ThinkBarn
Sarah Davidson, head of research and development at Gleeds
Noble Francis, economics director, Construction Products Association
Lucy Carmichael, director of practice RIBA
Adrian Malleson, head of research, NBS