In a troubled financial climate, how can you strengthen your business? Our economics panel looks ahead to 2024 and picks out some key challenges – and active responses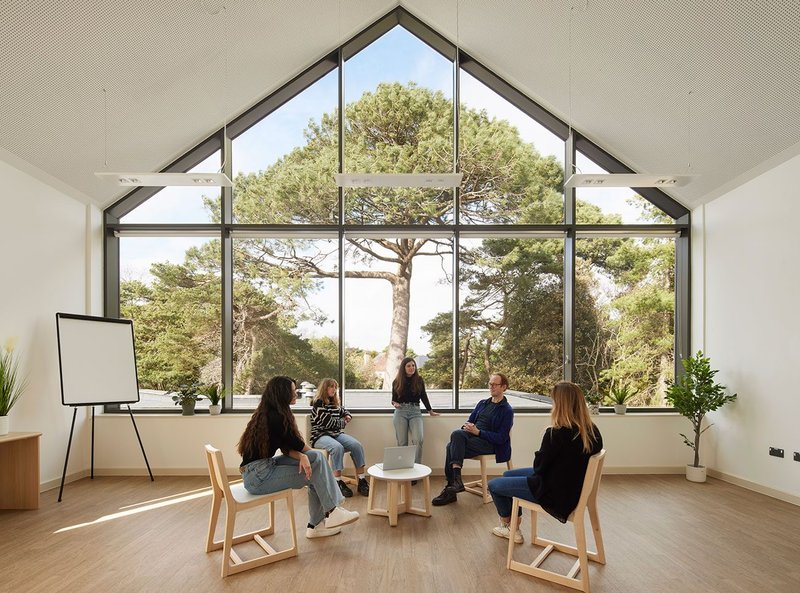 Kimmeridge Court in Dorset by Medical Architecture is a specialist eating disorders unit. Other health projects have abruptly stopped though.

Credit: Richard Chivers
What does 2024 hold for the business of architecture? At the RIBA Economics Panel webinar, ideas were discussed by Lai Wah Co, deputy agent of the Bank of England, Adrian Malleson, RIBA head of economics research and analysis, and a panel featuring Lianne Knotts, director, Medical Architecture, Robert Prewett, director, Prewett Bizley Architects, and Tom Foggin, director of RH Partnership Architects, all ably chaired by RIBA director of publishing and learning content, Helen Castle.
'We are in a strange environment where activity is sluggish and inflation high,' said Lai. Inflation may decrease to 5% by the end of 2023, but growth is weak, exacerbated by high wages and low productivity gains. Annual growth of just 0.5% is predicted for the next two years.
This background is certainly grim for our industry, agreed Malleson, basing his reflections on the Construction Products Association (CPA) and Glenigan forecasts alongside the RIBA's own latest Business Benchmarking and Future Trends reports. Both Glenigan (which works on the value of project starts) and the CPA (focusing on construction outputs) map 'a gradual slide into contraction in 2023, with a forecast for very modest growth in 2024' – insufficient to recoup this year's lost ground.
Naturally, the picture varies by sub-sector. Private housing is worst hit (Glenigan cites a 33% reduction in value), drastically affected by homeowners' reduced spending power. Small-scale private residential projects form 69% of small practice work; the Future Trends survey reports a pessimistic stance from this group despite a forecast increase of 7% in value for this sector in 2024.
Homes and offices
'Since the interest rate rise enquiries from private homeowners have fallen,' confirms Prewett. 'But we've heard from other types of client with longer term visions, such as private landlords and public bodies looking to develop strategies for their building stock.' An optimistic change in emphasis. Foggin has similar experience: 'Not a downturn in clients willing to commission work but a change in type... more sector-based clients with funding already in place.'
The commercial sector, particularly new offices in London, has cooled post-pandemic (-11% forecast in 2023) too. But a shift towards office improvements, to attract home-workers back and to meet required energy standards, may prompt an increase next year of up to 19%.
Retail is struggling long term due to online shopping but will improve in 2024 (perhaps to as high as +42%) thanks to out-of-town budget supermarkets. Moreover, around £5 billion, due from the government's Levelling Up fund to reinvigorate towns and cities in the north, offers a glimmer of hope.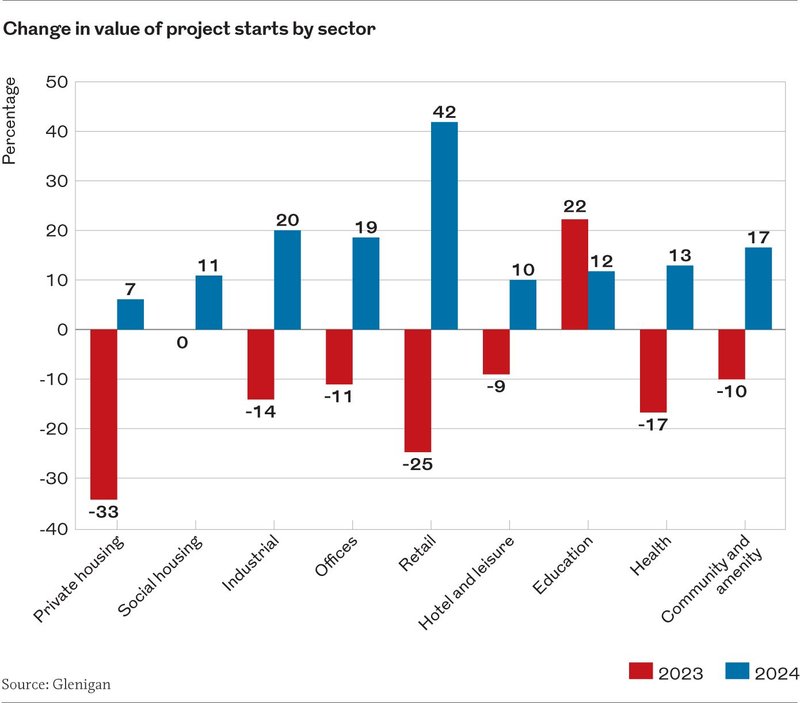 Education and hospitals
Education and hospitals are constrained by government policy and the allocation of funding on 3-5 year plans, which have been severely eroded by inflation. Healthcare is forecast to reduce significantly (-17% in 2023) but it and education are predicted to reach +13% and +12% respectively next year.
'The government's new hospitals programme is failing to deliver anything like what was promised,' says Knotts, 'and that has had a massive impact on our pipeline, with projects abruptly stopped and no indication of when they may pick up. We are seeing NHS clients having to divert budgets. We don't really anticipate change until the next general election.'
Conversely, her practice is seeing 'a new kind of work in refurbishment rather than newbuild', and this is true across many other sectors where, according to surveys from Glenigan, the CPA and RIBA – work is picking up around retrofit, insulation, energy performance, solar panel installation, replacement of gas boilers with heat pumps and even area-wide networks. Prewett agrees: 'Government funding of £800 million is due to go into social housing retrofit' and there is 'increasing interest from certain homeowners and corporations who want to decarbonise'.
This could be an opportunity to build resilience: 'Traditionally architects have thought about building fabric and whole building systems, so they're well placed to pick up some of this new sort of work – especially if they can combine architectural skills with energy literacy,' he argues. However, other professions are competing in the space (RICS has just published the Residential Retrofit Standard, for instance): 'Environmental engineers are increasingly sought by clients but others are vying for the retrofit market. Architects must position themselves with the right skillset and to think more widely about co-benefits, such as comfort and health, which are synonymous with low energy building.'
Foggin also emphasises the value of quality building and sustainability accreditation to win work. 'There is a quality assurance about a building that has been built to a certified standard,' he says. 'That really shines through when pitching for work.' Moreover, those who invest in the relevant qualifications can couch client conversations to 'bid for work in a more cohesive way instead of simply presenting oneself as a specialist'.
Diversification or specialisation
One point of divergence in the architectural market is based on practice size. While the Future Trends survey saw a dispirited response from small practices, this wasn't shared by medium to large practices whose diversified portfolios mitigate the private residential slump. 'There are always two competing considerations for architects,' explains Malleson. 'Do you try to cover as many sectors as you can, or do you choose one sector and strongly specialise?'
Diversity is more achievable for a larger practice, but specialising can bring success. Knotts has found it easier to divert staff from one project onto another since they all share the specialism. Within this niche the practice explores 'fringe' activities such as evidence-based research, devising NHS design guidelines and overseas work where it partners with other practices. Furthermore, 'what differentiates us is that we start our projects with a level of strategic planning', Knotts explains. 'That is even more important at the moment. We work with clients very early to work out where to get most value from their finances' – ensuring projects are viable from the outset.
The future is not all bleak. 'There is a lot of information sharing through regional RIBA branches,' says Foggin, who is also RIBA VP for membership. 'Many members are thriving and there are plenty of good news stories. Invest in the right people and keep those teams satisfied with the work being done; that leads to better retention,' he advises. The RIBA helps its members build resilience, including though Guerrilla Tactics (next date: 7 November), and the Business and Career Resilience Hub. Next year will be challenging, but survivable. As Malleson says: 'We need more and better buildings and that need isn't going to go away'.
Lessons for planning a better business
Diversify
If you have the capacity, explore what new sectors have to offer; if you operate in a niche, explore fringe offerings such as research, planning or other related areas. This affords more variety, spreads risk and improves your offering to clients.
Develop energy literacy
Not just within the realm of low carbon, but holistically, encompassing comfort and wellbeing; other professions are competing to position themselves as specialists within the sustainability consultancy space – take steps to get ahead.
Hold robust client conversations
Working with clients early to establish strategy and scrutinise viability helps derive best financial value from projects, crucial in these straitened times.
Cement your skillset
Pursuing qualifications and accreditations establishes your proficiency, which will in turn win the credibility of clients, versus those who make vague claims to expertise
Nurture your teams
Keeping a happy, well-informed team that is satisfied with the types of work coming through the business is essential for a supportive, resilient working environment.
The speakers
Lianne Knotts, director, Medical Architecture
Lai Wah Co, deputy agent of the Bank of England
Robert Prewett, director, Prewett Bizley Architects
Tom Foggin, RIBA VP of Membership and Director of RH Partnership Architects
Adrian Malleson, RIBA head of economics research and analysis
The panel was chaired by Helen Castle, RIBA director of publishing and learning content at RIBA.
This RIBAJ event was sponsored by Milient