Architect Steve Wolstenholme's experience of designing health buildings has led him to take a closer look at how guidance and aspirations can be adapted to reduced budgets
Following a brief period of apparent national affluence, ready availability of private finance, and high - sometimes over-reaching - political aspirations for the creation of new health buildings, the NHS is once again faced with stringent capital constraints.
Much of the NHS built estate remains as it ever was; an accumulation of over a century's-worth of disparate buildings, needing to be adjusted, adapted and modestly extended, with the most limited capital resources, to try to accommodate the shifts of evolving health policies, technologies and medical practice.
My proposed research aims to demonstrate, through real examples taken from experience in practice, how appropriate and necessary economies can be achieved.
It takes examples of various categories of health buildings from the past experience of my practice Stanhope Wilkinson Associates (SWA), and others drawn more widely, and analyses them spatially and graphically.
My intention is to illustrate comparative layouts, circulation, clinical equipment and, above all, space standards and accommodation schedules; in order directly to compare real-world examples of cost-effective and space-efficient design solutions, against the more abstract, idealised and costly standards promoted through Health Building Notes and other design guidance. I plan to publish practical and relevant design guidance on this basis.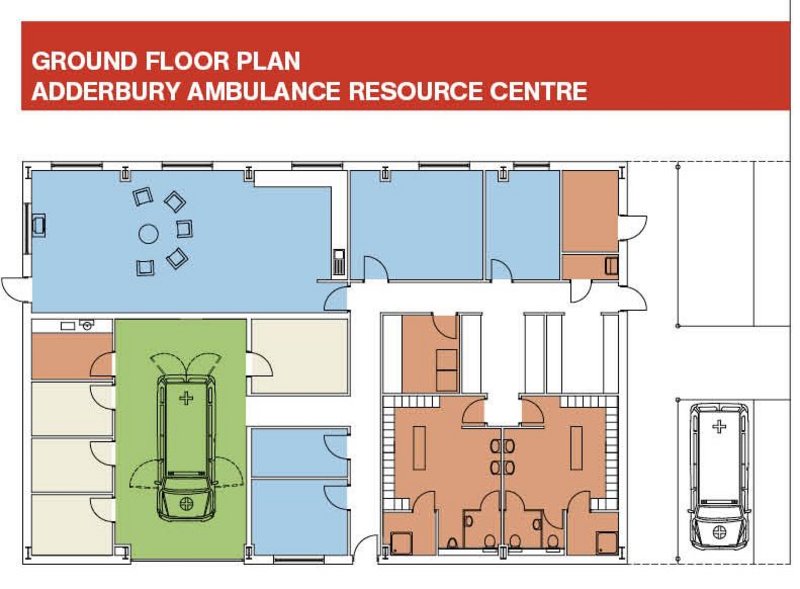 Policy and estates context
The primary pressure driving this local Ambulance Trust's new Estates Policy was the requirement for prompt responses to 'blue light' emergency calls.
The existing estates context made it difficult to meet these targets. The inherited provision of ambulance stations typically comprised smaller stations, close to town centres. Urban expansion and increased road congestion meant they had become increasingly poorly-located for emergency responses; with the fixed locations giving little flexibility to adapt to changing patterns of demand.
Instead the Ambulance Trust is now adopting a 'hub and spoke' distribution with emergency ambulances responding from flexibly-located standby points, supported by 'hub' facilities at the fewer, but better equipped, ambulance resource centres. When not on standby, ambulances are based and serviced at the resource centre and emergency crews check into and out of the centres at the start and finish of each shift.
A key aspect of design was to develop a detailed understanding of the workings of the ambulance service and to translate this into a clear operational policy document for the new resource centres, supported by 'ideal' site and building plans and by detailed schedules of accommodation.
Traditionally, cleaning and re-stocking was the responsibility of the ambulance crews and time spent on this ruled out availability for further emergency responses. Under the new policies, separate dedicated staff clinically clean and restock ambulances, and wash the vehicles externally. The design of the ambulance restock bay developed as a well-serviced internal space, with sluice rooms, secure drugs storage, gas bottle stores and other supporting spaces.
The development of the resource centres was planned around the sale of redundant ambulance stations. Values were maximised by advance planning approvals, secured by SWA, mostly for housing, typically with around 10 units per site. Some seven redundant stations were closed and sold, which was crucial to funding the new capital investment.
Before resource centre sites had been identified and budgets fixed, we developed a series of generic building and site configurations, exploring overall site sizes and shapes, as a guide to selecting potential sites.
Site and construction procurement
To create the new resource centres, the Trust explored various options of adapting and extending existing ambulance stations; leasing or purchasing a pre-built generic industrial unit for adaptation; or procuring purpose-built all-new accommodation.
For the North Resource Centre at Adderbury, the preferred approach was to work with a developer planning the expansion of an existing business park; its location – out of town, with good road links close to the M40 motorway and on a greenfield site without residential neighbours – meshed well with the access requirements of the centre.
SWA adapted the 'ideal' plan to the particular site and explored layout options, both single and double-storey, for the potential development of alternative sites within the larger business park. Concurrently, cost options were negotiated with the developer for both for the site and construction value.
Value for money was critical to the Ambulance Trust and necessitated a minimal land take as well as a compact, efficient building layout and cost-effective construction.
Efficiencies of design and layout
A particular design breakthrough, radically reducing both land take and construction costs, and moving significantly away from the previous NHS design standards, was to adapt an open canopy shelter for ambulances,
rather than the fully enclosed and heated garage space advocated in Health Building Note (HBN) 44.
The compact rectangular site layout houses staff parking along two boundaries while the double-banked open canopy allows in/out circulation and parking for the ambulances. Compared with earlier site plans, land take was some 40% lower, with site acquisition costs reduced pro-rata. By accessing the canopy from either open side, highly compact sheltered double-tier parking is achieved, without the additional internal circulation space that would be needed in a conventional garage.
In the design change from enclosed garage to simple canopy, not only were general construction costs stripped-out, but so were the purchase and maintenance costs of significantly expensive traditional elements, including powered roller shutter doors, as well as M&E plant and ongoing energy costs. Crew access to vehicles is unheated but sheltered.
The table of accommodation schedules shows the economies achieved in space and construction, when comparing the new resource centre against the recommendations of HBN 44, for the same number of ambulance vehicles. Thanks to the radical approach to accommodating vehicles, overall space savings of nearly 20% were achieved, while creating additional and improved crew amenities (shown in red). And due to the simple canopy construction, overall capital cost savings of the order of 30% were achieved.
SWA's project at Chippenham Ambulance Resource Centre further develops these planning principles; for a larger centre with additional facilities, including vehicle servicing and central stores.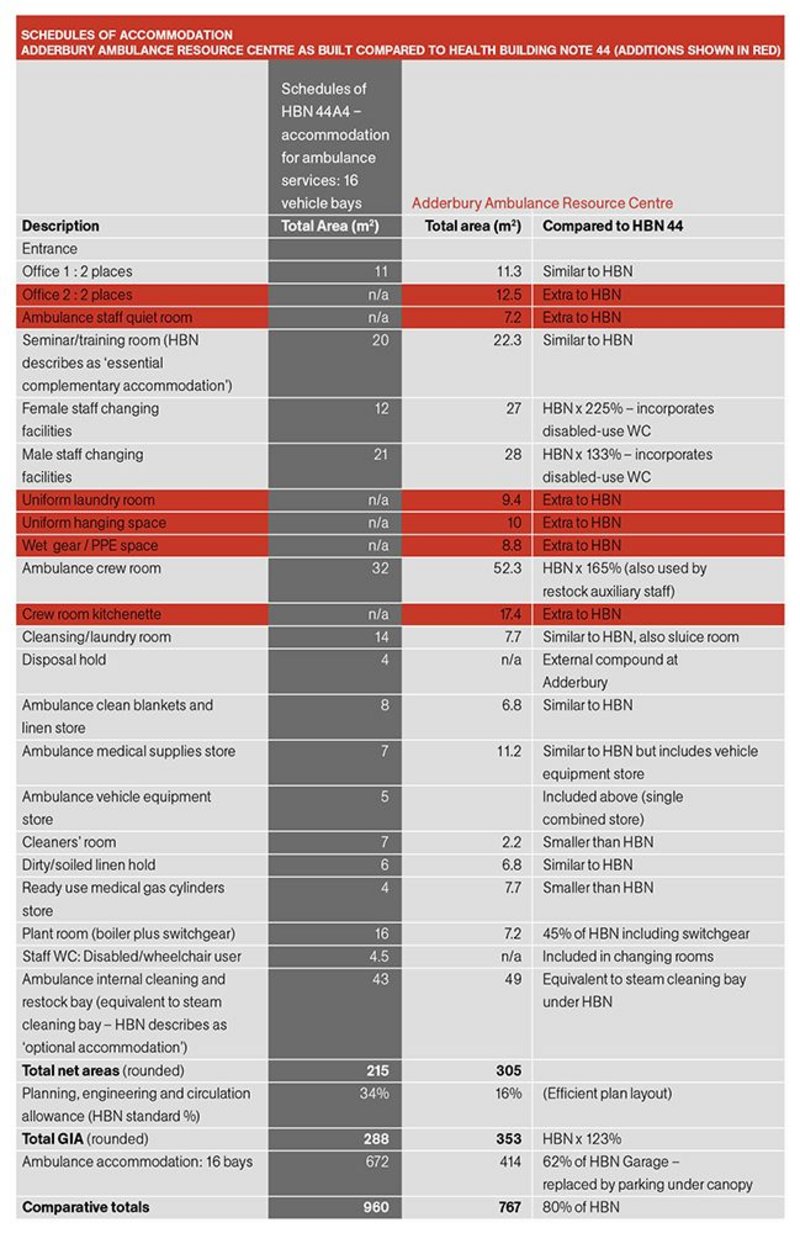 ---
Steve Wolstenholme of Stanhope Wilkinson Associates is a recipient of a RIBA Research Trust Award 2012