Best practice procurement offers better prospects for everyone – and more opportunities for architects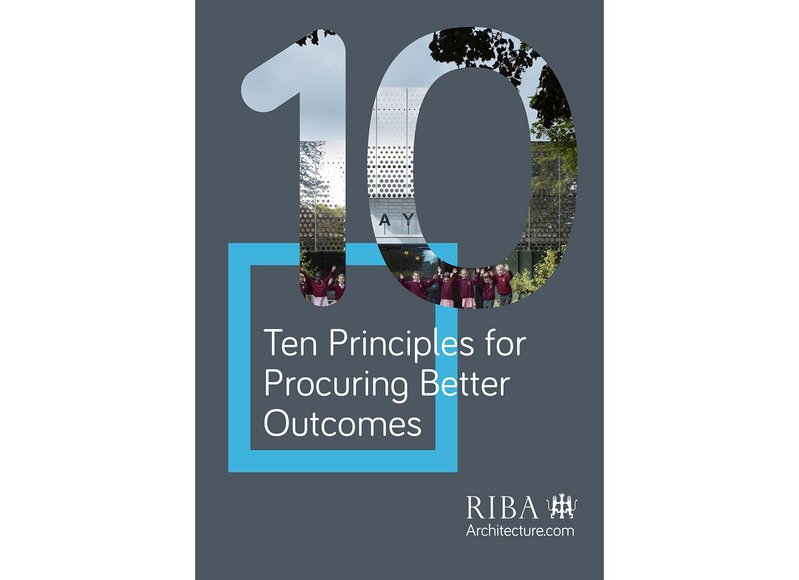 Public procurement practice has sometimes been a source of inequity and frustration for the architectural profession in the UK. Often inefficient and costly for both clients and consultants, it has acted as a barrier to many highly capable and innovative architects. But the UK regulatory context has been changing to support better outcomes and improve access for small businesses. Red tape is no longer a reason or excuse for bad practice – in part thanks to past efforts of the RIBA.
The RIBA has developed 'Ten Principles for Procuring Better Outcomes' to help decision-makers get the best possible results within the Public Contracts Regulations that came into force at the end of February. The guidance restates the case that best practice procurement is better value in the long term for clients, communities and the economy. It should also boost opportunities for architects.
Focus on outcomes...
The myopic focus on managing cost and risk in the procurement process itself – a common trap for professionals on complex procedures – is shifted to an outcomes-based approach. This means front-loading time and skills to develop a well-informed business case – ideally with the help of a client adviser or architect – and keeping sight of client objectives defined at the start in every decision through to in-use stages. Clients can now develop as much knowledge as possible about the design and construction markets through the new regulations' 'Preliminary Market Engagement' before starting their procurement.
The choice of procedure to select a design team is still critical to long-term quality, sustainability and cost of projects. 'One size fits all' systems required by local authority standing orders can add complexity, risk generic approaches and create arbitrary bundling together of contracts. If clients go down the framework route, a clear and considered strategy for breaking contracts into lots, according to what they want to achieve, helps open up opportunities to practices with the right expertise, delivering better quality end results.
Instead of defaulting to a framework or standard restricted procedure, it makes sense for clients to question where they are in the process and what they need before selecting the right procurement approach.
The choice of procedure to select a design team is still critical to long-term quality, sustainability and cost of projects
All best practice procedures assess design quality to shortlist or award contracts. This can mean anything from selecting the right design solution in an anony­mously judged design contest – a process used extensively and successfully in many EU countries – to qualitative expressions of interest to assess a consultant's design approach, or demonstrating track record using examples of previous work as shortlisting criterion. The Regulations enable clients to judge tender submissions on qualitative aspects as well as price or cost, using a cost-effectiveness approach such as life-cycle costing.
By highlighting positive regulatory changes and busting some myths, the Ten Principles tackle many of the profession's significant frustrations – fee undercutting, death by PQQ, exclusion through unfeasibly high PII and turnover requirements, and unrealistic track record expectations.
... and quality
Selecting on fee bids can be avoided altogether by fixing price or cost and awarding contracts on the basis of quality. Teams can also be shortlisted based on quality or design concepts before financial criteria and price are considered at awards stage. The development team at Hackney Council finds this two-stage process a successful way to call consultants off a framework. Popular with architects, it has also reduced the likelihood of being held hostage by under resourced bids; a client must now ask why a tender appears too low for the level of service needed.
Nothing in the Regulations requires long and complicated PQQ documents with extensive written questions. Beyond ensuring bidders meet statutory requirements, a PQQ is simply a tool to enable design teams to demonstrate their ability to do the job and clients to make an informed decision on who to shortlist. Professional accreditation systems such as the RIBA Chartered Practice scheme can be used as evidence of meeting many core pre-qualification criteria. Minimum annual turnover is not a mandatory requirement and should not exceed twice the overall value of the architectural services (not overall contract value). Asking for evidence of turnover or PII cover can be deferred until any stage up to awarding the contract.
Procuring architectural services is not like buying paper clips. Decisions can be based on long-lasting evidence of a design team's ability to deliver the quality clients want. Visiting previous projects of a similar complexity and talking to the client and building users is a better way to assess the capability of a design team than asking for evidence of extensive recent experience of an identical building type. But be warned: clients can now officially consider whether a design team has failed to deliver or perform for them on a previous project when shortlisting or calling off a framework.
---
Lucy Carmichael is head of professional communities at the RIBA and editor of Ten Principles for Procuring Better (Building Project) Outcomes