Schindel Studio, purpose-built for landscape artist Amelia Humber, uses the latest sustainable materials and technologies. Practice co-founder Sarah Braun explains its Alpine influence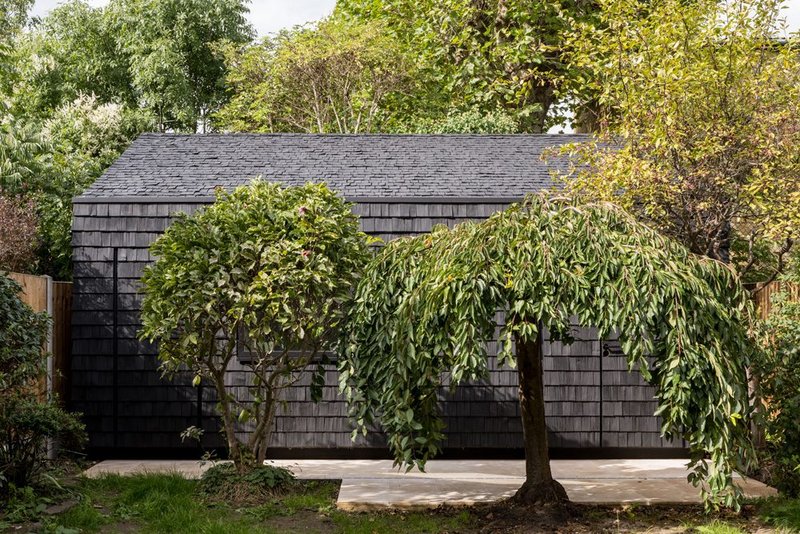 Schindel Studio is positioned at the end of a garden.

Credit: FRENCH+TYE
Schindel Studio is a purpose-built sustainable artist's studio in Leytonstone, east London, for the landscape painter Amelia Humber. The building is designed as a simple box with a pitched roof that spans the width of the site. It was designed by my practice Archer + Braun and influenced by my exposure to the architectural vernacular and roofing shingles of rural villages in the Alps.
The building's form and articulation are designed in response to its function. The roof is pitched to allow for north light, and the wall space is maximised for artworks. The interior is envisaged as a 'white box', providing robust and durable working surfaces that are easily repainted. There is a single window over the butler sink, where artwork could not be hung.
Our ambition was to both construct and run the studio building using the latest sustainable materials and technologies, with the aim of using the project to test these on a small scale before applying them to larger projects.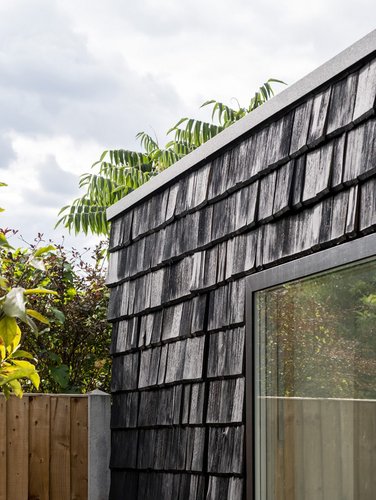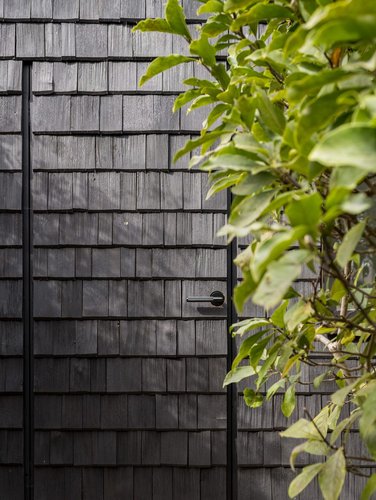 What and why
Typically, this kind of studio would be built using a concrete raft foundation, especially as the site is close to well-established trees. We worked closely with Simple Works, a structural engineering practice that specialises in timber and low embodied carbon construction. The structure comprises a timber frame with a screw pile foundation.
The other goal was to create a fully breathable studio without using concrete or plastic (including PIR insulation). We worked with Unity Lime products to specify a full build-up for the timber stud walls and roof rafters. This included 80mm Pavatherm – a rigid high performing, vapour-permeable, pressure-resistant insulation board made from wood fibres – and 200mm Pavatextil, which is a cotton-fibre-based thermo-acoustic insulation made primarily from recycled textiles (mainly denim). OSB was used rather than plywood sheathing for breathability, as well as Fermacell boarding, which is a breathable fibre gypsum board made from recycled products.
The other area of experimentation was the exterior timber shingle cladding. We have extensive experience specifying timber cladding, particularly through having previously worked at Waugh Thistleton, but had never previously specified shingles. We worked closely with WL West & Sons which imports shingles from artisan producer Harald Rapold in Bavaria. We wanted them to find a shingle, itself a low-carbon product, that would be textured and non-uniform to give a more rustic appearance. This was achieved by specifying hand-split shingles from older European larch trees, creating a finish that exposes the grain and is rich in variety and texture. The team experimented with different finishes, eventually choosing a black matt finish, which emphasises the variation in the surface of each shingle and gives a contemporary and unifying quality.
Elsewhere, all the glazing is triple-glazed to optimise performance.
Lessons learned
We learned a lot from our experiences designing Schindel Studio. The benefit (other than no concrete) of using the screw pile system is that it is low tech. Even though the contractor had never used it before, they quickly got to grips with the installation method. The piles were incredibly quick to install and were all in the ground within a morning's work. This is in marked contrast to a concrete foundation which, especially if reinforced, takes several days. The other benefit is cost. Even allowing for on-site guidance and equipment hire, the overall cost was the same or slightly less than a concrete equivalent. As the contractor had never used the screw piles before, the manufacturer was required to give the contractor some quick tuition on how to install them.
The other thing to note is that the piles need to be monitored live as they are being installed to ensure that they are reaching the correct torque rating. This is then relayed back to the structural engineer to ensure it is compliant with the loads they are designed to achieve. Luckily, at Schindel Studio no additional piles were required. However, it is often the case that additional piles and/or length of piles are required, meaning the overall cost can creep up from what was anticipated.
All the existing mature trees in the garden were, however, retained. This partially conceals the overall form of the studio, with the black finish of the shingles providing a backdrop to the changing daylight and passing seasons.
The contractor also enjoyed using the eco-insulation systems, in particular the Pavatherm product as it has a tongue-and-groove system which allows for quick installation without using lots of fixings and can be easily cut on site as required. It is made from natural materials, and the contractor found it pleasant to handle (especially compared to mineral wool).
The Fermacell boards, on the other hand, were more challenging to work with than plasterboard due to their brittle consistency. But the biggest downside to using eco-insulation products over off-the-shelf PIR products is their substantially higher costs. Nevertheless, the insulation specified outperforms current Building Regulations requirements with only one small electric radiator (powered by solar panels on the roof of the main house) required for heating purposes.
The final area of experimentation was the exterior timber shingle cladding. We are always trying to find new ways to work with wood because of its sustainable credentials. The disadvantage of shingles was their supply cost and the amount of labour needed to install and coat them. As these shingles are split radially, each shingle required pre-drilling as they cannot be nailed in without splitting completely.