A 1960s modernist house had not been touched for 40 years before RDA Architects reconfigured it and brought it up to the EnerPHit standards – the Passivhaus criteria for retrofits. Practice director Richard Didzucki explains the process
RDA Architects has breathed new life into an original 1960s modernist house in south-west London, designed by Michael Blackstock but not touched for 40 years. Implementing Passivhaus standards has reduced heating bills while pioneering a retrofit approach that will help bring the housing sector towards zero carbon emissions by 2050.
To achieve Passivhaus standards, RDA introduced highly efficient insulation and fitted new windows and doors to improve air tightness, reducing heat loss and so providing a high level of comfort throughout the house.
The three-storey property has the feel of the 1960s Eric Lyon's Span housing. It was designed in the 'upside-down' style popular in the 1960s, with an open-plan living space and terrace sitting above first-floor bedrooms while the ground floor contained a garage and utility area.
RDA replaced this parking area with a large welcoming lobby leading to a private study and a bedroom with ensuite. Also on this level are utility and plant room. Outside is a small Japanese-inspired garden. Master bedroom and two further bedrooms are on the first floor, with the living space remaining on the third floor.
Although the house needed extensive repair works (including to the building fabric itself, addressing air leakages and damp) the client wanted to retain many of the features intrinsic to the modern 50s/60s aesthetic. However, its reinforced-concrete structure presented difficulties since, until the building work was underway, it was hard to know where the pre-stressed areas would be and where to create or leave existing openings.
A number of changes were necessary for the building to meet Passivhaus standards. RDA installed high-performance doors and windows with minimum thermal bridge values, applied internal thermal insulation and fitted an air-source heat pump as a renewable heating source, using a Mixergy water cylinder for an efficient domestic hot water system. The practice also added photovoltaic panels, using high-performance Tesla batteries for storage. An MVHR system and new services benefit the existing building and provide high-quality air and ventilation. RDA is monitoring all these additions through mobile applications to measure and optimise the overall performance of the house.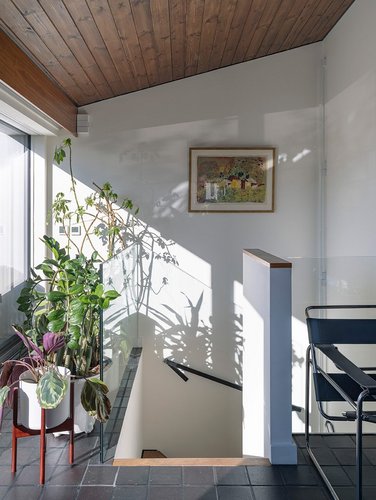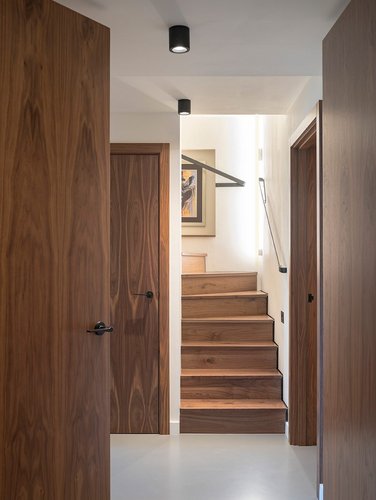 Environmental and Passivhaus information
The house's EnerPHit value (the Passivhaus certificate for retrofits) corresponds to UN Sustainable development goals number 7 (affordable and clean energy),11 (sustainable cities and communities) and 13 (climate action). It is a good example to its neighbourhood – and within the larger context of the UK – for more sustainable and energy-efficient buildings.
Passivhaus standard comes with challenges, such as different envelope performance planning according to the orientation of the facades. However, we introduced an airtight layer to the existing building fabric without affecting the overall appearance of the existing house. We have used different wall build-ups (EcoCork lime plaster, ThermaLine render or wood-based Steico insulation) in accordance with the orientation of the building.
In a later construction phase, the client requested high-capacity electrical storage, using a Tesla battery, which had to be integrated into the photovoltaic system. Extensive research took place to ensure the correct size, capacity and integration strategy. We decided to use a heat pump and photovoltaic panel systems, providing a good example of using both at the same time as part of successful energy management.
Energy measurements and savings
The average annual energy consumption for UK homes is 214 kWh/m²; the energy consumption for this house is 25 kWh/m². This means it needs 88 per cent less energy than an average UK home. The photovoltaic panel system generates 7.8kW accounting for 77 per cent of the home's total energy needs. According to British Gas data, the average annual energy bill of a typical UK home typical is £2,499.87. The annual energy bill for this house is expected to be as low as £177 annually.
Richard Dudzicki is founder and director of RDA Architecture & Interiors and a certified Passivhaus designer