The practice has transformed a building originally used as a stable for a horse and hansom cab to create a lighter house with energy use reduced by 82 per cent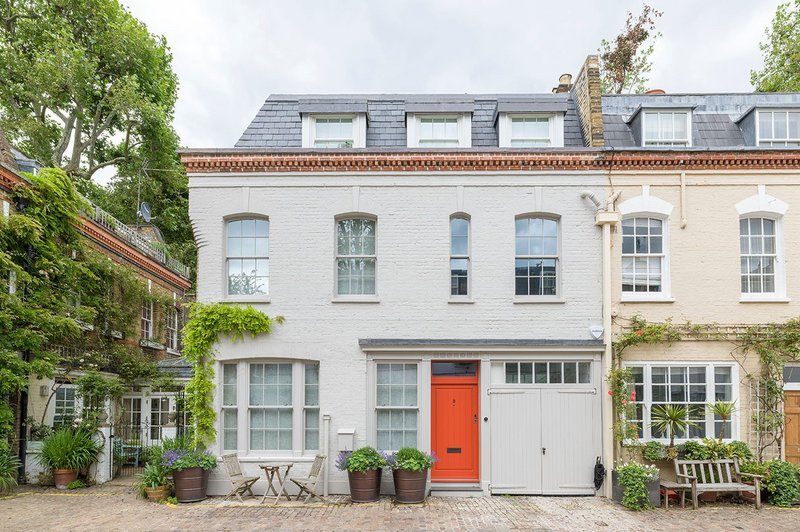 Prewett Bizley Architects, mews house deep retrofit, front elevation.

Credit: Andrew Meredith
This is a deep low-energy retrofit of a mews house set within a conservation area in west London.
Our client wanted to transform the quality of the interior spaces, but in as sustainable a way as possible.
The house had an unusually generous 8m x 8m ground-floor plan, owing to its original use as a stable for both horse and hansom cab, (hayloft and groomsman above). However, its earlier piecemeal evolution to residential use had resulted in poorly laid-out rooms, a number of which suffered from limited daylight. While the boiler consumed very large amounts of fossil fuel, many rooms failed to reach 20°C during cold weather.
The key architectural intervention was to position a new stairwell in the darkest corner of the house introducing top light from a new opening in the roof. The new timber stair and associated screens, designed in collaboration with joiner Tom Graham, have been designed to invoke a feeling of the artisanal that the original stable might have had.
The project used three innovative items:
Insulating plaster made with lime, cork and loam, which controls moisture within the wall.
Sash windows with evacuated glass, which convincingly reproduce a multi-pane window while approaching the performance of triple glazing.
An air-source heat pump that drives both underfloor heating and fan coil unit (FCU) cooling.
The scheme was delivered within budget, although three months late, mainly due to supply chain problems associated with the first wave of Covid. The building has been monitored for two years and the data has been analysed within the three charts included here.
We expect to publish a paper in due course. Based on this data we can state:
The heating demand has been slashed by a staggering 95 per cent and overall energy consumption is down by by 82 per cent.
The energy demand (51 kWhr/m2yr) meets the recently published and ambitious targets set by LETI, and is also better than RIBA Climate Challenge targets for new build in 2025. If it had been possible to obtain planning permission for photovoltaics on the roof, the operational energy would beat even the 2030 target.
In terms of lifetime carbon, the project is projected to yield a 90 per cent improvement. After only two more years, the saving in operational carbon will have paid for the full embodied carbon associated with delivery.