Museum's exhibition explores Eric Gill's abuse in relation to his artistic achievements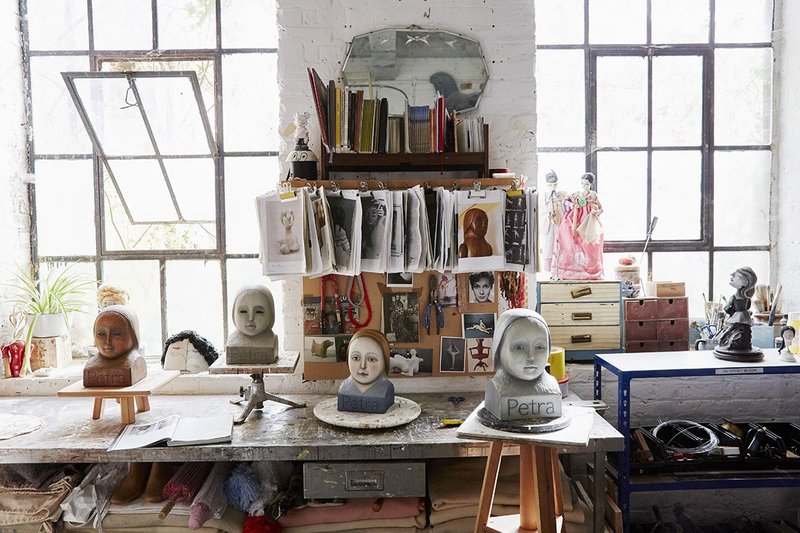 Cathie Pilkington RA's studio. Busts modelled on the doll for Petra confront the viewer with a forthright stare, from the shelves of Ditchling's 'Wunderkammer'.

Credit: Alun Callender
Ditchling Museum of Art + Craft is navigating difficult territory with its latest exhibition 'Eric Gill, The Body'. As custodian of Eric Gill's archive, the museum has a responsibility to educate the public about this unquestionably talented and influential artist. However, like many museums displaying Gill's work, Ditchling has until now been housing an elephant in one of its award-winning rooms: that of Eric Gill's disturbing behaviour.
A zealous convert to Roman Catholicism in adulthood, Eric Gill formed a lay order – The Guild of St Joseph and St Dominic – at Ditchling in 1913. This community of artists and apprentices was as devoted to exceptional craftsmanship as it was to God. Yet – perversely – Gill's extreme religiosity was accompanied by equally extreme, aberrant, sexual practices. As Fiona MacCarthy's 1989 biography revealed, Gill had numerous extra-marital affairs, committed incest with his sister, abused his teenage daughters, and even experimented with his dog.
Miraculously, despite liturgical and other distractions, Gill still found time for work. Initially training as an architect's draughtsman, Gill became a prolific artist, printmaker, letter carver and designer of typefaces, capable of working in an impressive variety of media, at minute and monumental scales. The human form was of central importance in his work, as can be seen in many architectural contexts including Broadcasting House in London and the League of Nations building at Geneva. Often wearing nothing but a hessian cassock and hat, he undoubtedly raised eyebrows when working at height.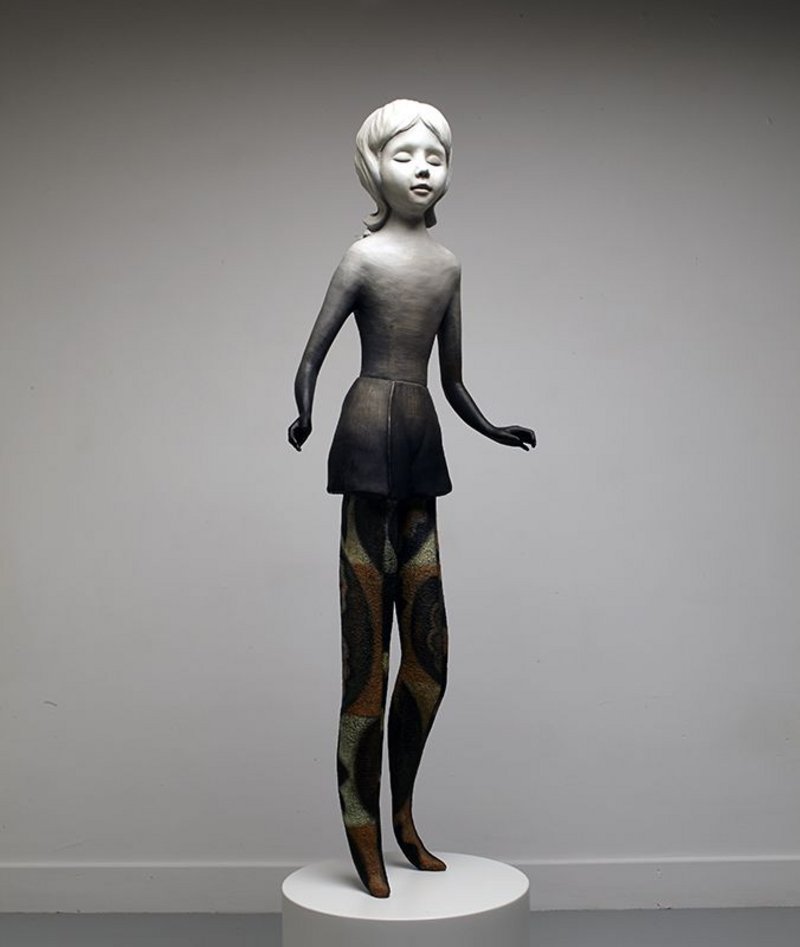 Cathie Pilkington, Twinkle, 2014. Oil paint on bronze.

Credit: Cathie Pilkington
Inevitably, the scandal of Gill's private life often overshadows his work. There are some who object to Gill's art being shown at all, calling for his high profile pieces – including Westminster Cathedral's Stations of the Cross – to be removed. But whether one is more morally outraged either by an artwork or by the censorship of that same artwork, largely depends on one's approach to artistic criticism: namely whether an artist's intentions or personality should be considered a relevant, legitimate, interpretative factor.
Many institutions, including the Tate and V&A, do not overtly draw attention to Gill's background: the public takes the work at face value (and the museum keeps below the parapet). But Ditchling Museum has now taken the daring step of addressing Gill's sexual misconduct openly; according to director Nathaniel Hepburn, it is time to stop being 'disingenuous' and 'brushing things under the carpet'. With artist Cathie Pilkington RA, it presents more than 80 examples of Gill's figurative work – including sketches, engravings, printed illustrations and sculpture – with the aim of 'asking if Gill's disturbing biography affects our enjoyment of his depiction of the human figure'. This is accompanied by a specially commissioned installation by Pilkington, 'Doll for Petra', inspired by Gill's mistreatment of his daughters.
Unlike the V&A, where visitors are greeted by 'Mankind' (a headless, armless, more than life-size torso), the first exhibit at Ditchling is a small wooden doll that Gill made for his daughter aged 4. While both items scream 'objectification', the emphasis at Ditchling is on how to redress this. Poised ballerina-like near the window is 'Twinkle', Pilkington's ephemeral-looking bronze sculpture of a young girl. She faces an assemblage in the museum's distinctive 'Wunderkammer' (a floor-to-ceiling display case) containing a series of carved busts modelled on Gill's doll. These heads are variously decorated (including one by the artist's 11 year old daughter) and confront the viewer with a straightforward and unwavering gaze. Pilkington's aim is to take back from Gill the way that young girls are depicted.
The next room – the refurbished former school – houses Ditchling's permanent collection, with work from David Jones, Hilary Pepler, Ethel Mairet, Edward Johnston and others. Here are several of Gill's life-drawings ­ all of his friends, mistresses or relations. He eschewed the use of outside models, arguing: 'What's wrong with your friends and relations? Perhaps they haven't specially perfect figures but that is not the point: for in any case it is what is in your own head that matters most'. And this sense of cloistered over-familiarity increases throughout the exhibition, in large part due to the vernacular architecture and its domestic scale.
Beyond a room divider is the main exhibition, an almost ecclesiastical setting – carved-stone sculptures of the nude female form are positioned and lit such that they resemble sacred icons, and on the walls is the large collection of smaller two-dimensional works. The quiet chapel-like space emphasises the intimacy of the scenes: girls in the bath, combing their hair, dressing and undressing… nearly always looking downwards or away.
Gill's versatility with materials and his mastery of expression with the simplest linear strokes is undeniable. Yet the careful positioning of 'emotional bombshells' – personal mementos, such as an envelope recording Gill's daughters' measurements alongside his own – constantly remind us of his inappropriate conduct. In Ways of Seeing, John Berger wrote that 'the relation between what we see and what we know is never settled'. And indeed, faced with such reminders, I started noticing details – well-observed anatomical features rendered by Gill with deceptively simple, almost architectural precision – which left me feeling voyeuristic, uneasy, and enclosed. Comparatively his carvings exuded more vitality: perhaps there was something consoling, in that context, about the impersonality and imperviousness of stone?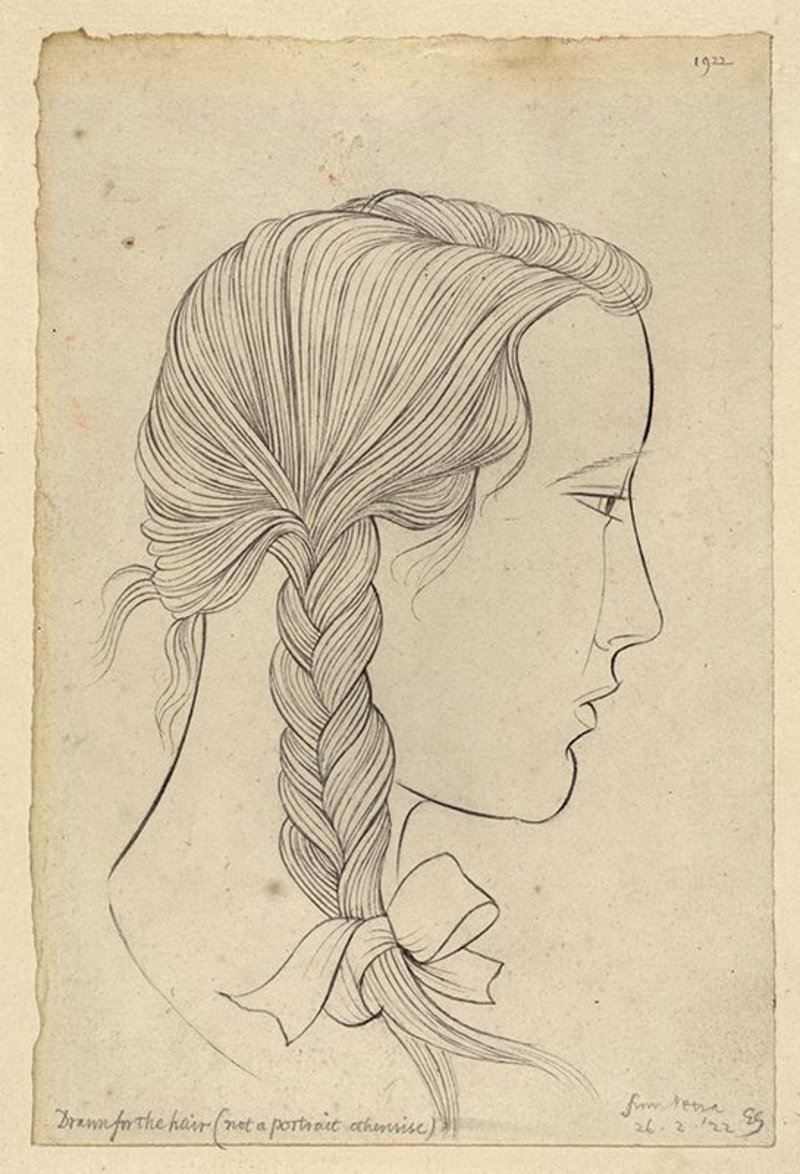 Eric Gill, The Plait, 1922. Pencil on Paper; Ditchling Museum of Art + Craft. A portrait of the young Petra, as an exercise in drawing hair.
Where ordinarily one might expect a formal discussion of other artistic traditions and their influence on Gill (such as medieval church art, Indian temple sculpture, or the contemporary scene of 'Sussex modernism' for example), it is not so here. Throughout, the accompanying notes focus on Gill's beliefs and background, and – importantly – do not shy away from describing his actions as 'abuse'; the museum has worked with several charities to ensure these communications are appropriate. Although abuse is surely the right word – in the past, many publications have hidden behind euphemism to avoid reproaching Gill so candidly.
A further layer of complexity surrounds Gill's daughters themselves. Would the late Petra Tegetmeier – weaver, wife of engraver Denis and mother of four, apparently a happy and well-balanced woman – want her experiences to be explored? Petra donated her father's smock to Ditchling museum, the implication being that she wanted him to be remembered foremost as an artist. And according to various obituaries, when Gill's behaviour was exposed, the 90-year-old Petra insisted that she was never made to feel shame. How right is it then, to retell other people's histories for art? Curiously, this isn't the first artistic appearance of Petra's doll. David Jones, her first fiancé, painted it discarded in a lane while he and Petra kiss among the geese in 'The Garden Enclosed' (1924). Petra was evidently an enigmatic and interesting character; to fully shake off her father's portrayal, she merits celebration as an individual in her own right.
'Eric Gill, The Body' is a small-scale exhibition with a large variety of work, that packs a strong emotional punch. It is relevant and challenging, and certainly compels the visitor to see art differently. Eric Gill had a complex, self-contradictory view of the world and his place within it. When he and his cohort moved to Ditchling, they sought, paradoxically, 'to make a cell of good living in the chaos of the world'. I believe that Ditchling Museum is trying to do the same: first to make sense of Gill and his sins, and then to make good.
Eric Gill The Body, to 3 September, Ditchling Museum of Art and Craft Lodge Hill Lane, Ditchling, East Sussex, BN6 8SP
---