The Review has been published, but the minister is cautious. How much change can we really expect?
At the launch last month of his Farrell Review, Sir Terry Farrell said that when he had been asking for advice on how to make a review stick he was advised that he would have to turn himself into a 'raving nutter'. His government-commissioned report calls for a clutch of fundamental changes: revolutionary change in the culture of planning, education for a more representative profession, the appointment of a chief architect to connect disparate departments, policies and industry itself, the launch of 'urban rooms' to help understand the environment (past, present and future) and a more wide ranging role for design reviews. The report suggested they might be renamed PLACE reviews and look at the whole gamut of Planning, Landscape, Architecture, Conservation and Engineering. As a final cherry on top the review suggested an annual international exhibition of architecture to celebrate the UK's architecture as an economic and cultural success.

Farrell is ready to take a breather; but is also, he says, committed to being that nutter and working through the recommendations, one chunk at a time. The RIBA welcomed the review and called for the government to take a role in implementing it.'We hope the government will map out in detail how it will take the Review's recommendations forward,' said RIBA president Stephen Hodder.
Vaizey distanced himself from action or funding commitments: 'I am lending my support. I hope the professions embrace it to the full'
The government is still in budget-cuts mode and culture minister Ed Vaizey was generous with his time but not his promises. He distanced himself from action or funding commitments: 'I am lending my support. I hope the professions embrace it to the full.'

Speaking to the RIBA Journal, Vaizey praised the report's wide ranging nature. 'I've known Farrell for many years and particularly admire his work in planning,' said Vaizey. 'He could have kept it is a simple report on professional education. But he chose to make it more wide ranging.' The minister conceded that the proposal for a chief architect would 'bear examination' but was wary of how it might fit with others, perhaps most obviously within the Construction Leadership Group.

On the back of extensive cuts to Cabe and architecture centre funding, the suggestion that cities should each have an 'urban room', seemed to contradict the current direction of travel. Vaizey was cautious. 'How realistic is this?' he asked. However, he said a pilot and local authority and industry funding would make a stronger case for government ­support – with a glance towards Bristol mayor and former RIBA president George Ferguson, who was in the room. What Vaizey has more influence over is heritage, and since the review was commissioned English Heritage has seen major structural changes. Whether single co-ordinated responses from PLACE review panels and EH are possible remains to be seen.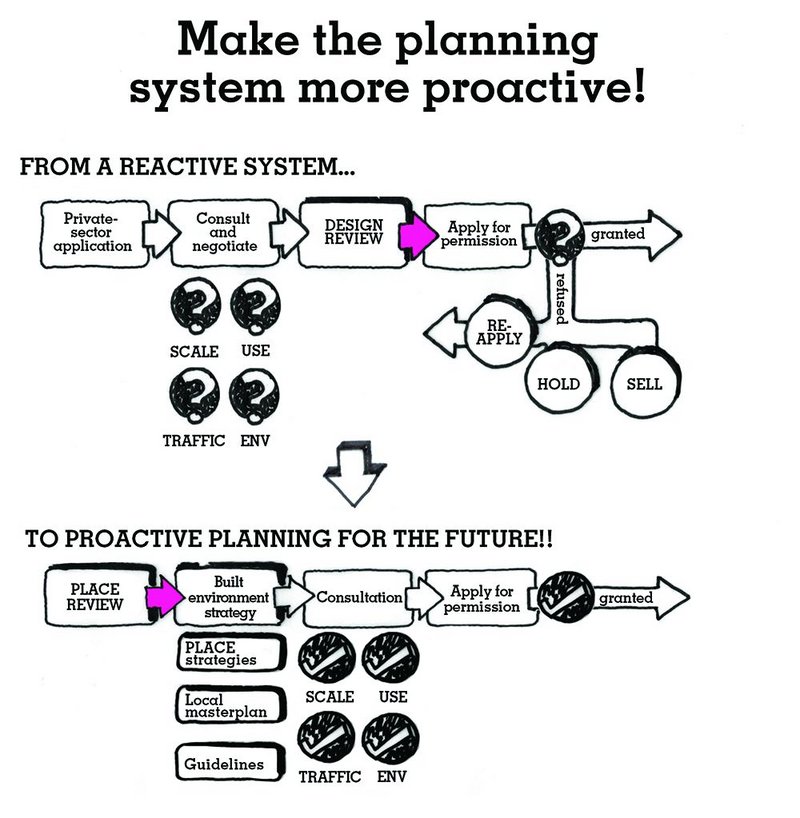 Farrell's passion is clearly planning, hence the call for a proactive system. At the launch he insisted that in no other country do plans come to the table with so many issues undecided. This, he says, makes for a hugely labour intensive system and one where the design and layout barely get a glance. He­ believes the problems lie in the culture of planning, rather than its instruments. But the ­review's specific recommendations tinker at the edges of the system with no mention of increased planning resources. This probably makes strategic sense given the upheaval the planning system has gone through with the National Planning Policy Framework.

What it addresses in less depth are some of the very live issues around value – of good design and the work of the architect. The review called for a combined industry effort to encapsulate such values in a new method of valuing property, as last year's RIBA120 Series on value called for (RIBAJ, November 2013), and a change to the Treasury Green Book to embed it in government thinking.

There is nothing very radical in this review, nor will it greatly change how the government treats architecture or resources the system. But the process of putting it together and distilling many informed views does provide an opportunity for an agreed approach to improving the way our places come into being. Over the next few months RIBAJ will look at some of the themes in more detail.