Brabazon and Concorde once flew here... now it is to provide a new centre for this fractured edge of Bristol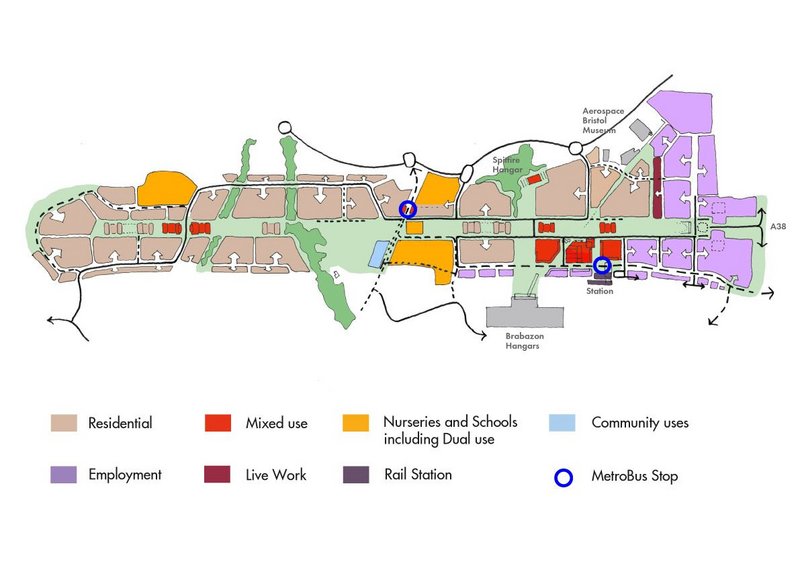 A thread of connectivity follows the runway through the site with a park, paths and roads. From the top right (east): The employment area is most excitingly pitched as innovation hub but its mix inevitably depends on discussions with tenants – so far only some small studies have been done. A town centre is planned between the Brabazon hangars and the Spitfire hangar, with a rail station and MetroBus stop, shops and higher density homes – all joined by a landscape designed by Grant Associates. They spread out into houses on what Mac Ruairí is imagining as 'quiet streets'. At the easterly end of the site the feel is more village-like.
We never drive at more than 20mph but still it feels like a test track scene from Top Gear. With weeds. Wide open expanses of concrete, with rubble from trial pits forming cairns here and there. This is Filton Airfield in South Gloucestershire, where Concorde and countless other airplanes were developed, including the Bristol Brabazon which had its maiden flight here in 1949, a record breaking aeroplane in its time. Lying on the north west edge of Bristol, the 142ha site spans from the Airbus and Rolls Royce complexes in the east to the M5 and hills along the Severn Estuary to the west. A total of 2,675 homes are to be built here.
Barra Mac Ruairí drives between fences and up to and around the listed Spitfire hangar before nipping into the engine testing section. We have already come through what will be the first phase housing and an innovation area for aerospace businesses. 'It is a lot to run at,' says Mac Ruairí. He is chief operating officer or YTL Land and Property, the Malaysian-owned company that bought this site from BAE in 2015. In Malaysia YTL is a developer and contractor, among other things. In the UK it owns utility Wessex Water and a number of high end hotels. Mac Ruairí wants to use YTL's breadth of experience to develop and – uniquely in a construction environment of endless chains of subcontracting – build out the site. The plan is for YTL to be its own contractor. 'I don't want a separation between the development and the construction process,' he says. Borrowing staff and experience from Wessex Water means the infrastructure here will have plenty of visible water and much care taken over sustainable urban drainage.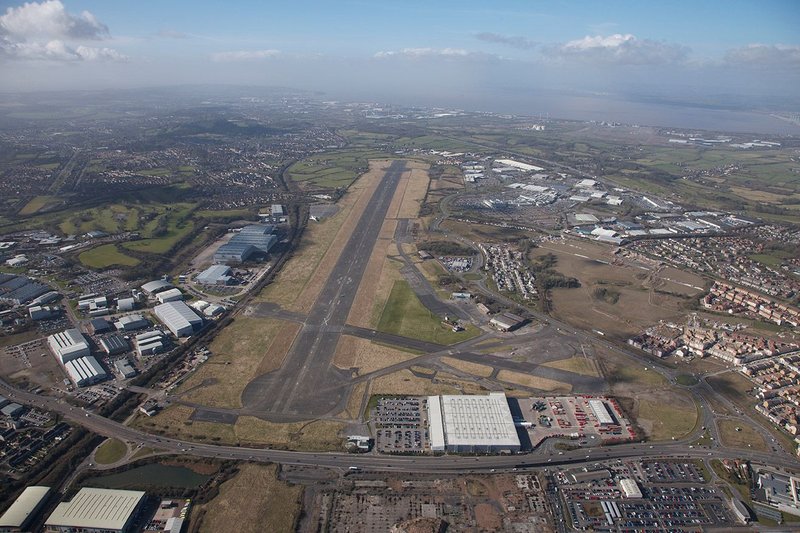 The airfield from above, Brabazon hangars to left (south). They sit near the peak of the slope which falls away 27m to the west and 15m to the east.

Credit: YTL
Mac Ruairí's credentials for making exciting things happen are good. At the now-defunct Yorkshire Forward regional development agency he was head of Renaissance Towns and Cities, which had Will Alsop draw up some apparently crazy ideas such as a lake in the centre of Bradford. Mac Ruairí made this idea reality with the brilliant Centenary Square which changed the city centre very successfully, despite coinciding with the run on Northern Rock and the beginning of the recession. In Bristol he spent three years pushing forward the new Arena and Temple Quarter as strategic ­director of place appointed by architect-mayor George Ferguson. Trained as an architect and a planner, and growing up in Urban Splash, Mac Ruairí considers himself an urbanist. 'I want to bring city skills to this very large project,' he says.
'Place' and 'city' are something the town of Filton feels badly in need of. Cut up by arterial routes and bounded by motorways, its houses cower defensively from the traffic, some of it generated by the sprawling out of town shopping centre at Cribbs Causeway which borders the site. YTL's office is a large undistinguished building on a business park next to the shopping centre. As I arrive the word 'roundabouts' is audible in the half empty office. Like many hard to unlock regeneration sites, the infrastructure embedded in the site has cut it off from its surroundings for a long time; you can't have side roads criss-crossing an airfield. But the masterplan tries to open it up, so schools and a series of parks will be accessible to people in the local area. The intention is not to just add to suburbia but to have the density and excitement of a piece of urban planning and create a new local centre. It will also be a place of pilgrimage for those who grew up with images of Concorde on their bedroom wall, like Mac Ruairí.
YTL inherited outline planning consent from BAE. When Mac Ruairí came on board earlier this year it had gone a step beyond that to a new outline drawn up by Allies and Morrison. The practice understood that the site's stretching emptiness was part of its character and, trying to draw on its history, has traced the shape of the runway as a spine of green spaces and routes through the old airfield. An anchor point is the three huge Brabazon hangars with their 23m high folding doors. The largest is 125m wide, dimensions that trick the eye so that scale is almost impossible read – 'Really? That tiny thing is a door?' Gantries designed by aircraft engineers snake over huge moveable cranes. At over 3km long, the site takes you from Bristol's Templemeads Station to the harbourside. 'The challenge is to make it seem habitable,' says Allies and Morrison partner Simon Gathercole. It follows that the phased build out, still to be confirmed, is likely to start at the edges and work in.
So what makes it possible for this piece of South Gloucestershire to become a new centre? Yes, there is ambition, but a lot of that is driven by the site's connectivity. It already has a railway line running through it and is to get a new station connecting to Bristol Templemeads. The city's expanding MetroBus service will also call here. It is close to the M5 and M4 and to fast train connections to London, the Midlands and Wales via Bristol Parkway Station, and will connect to larger cycle networks. Preparing for the more distant future – and building a bit of excitement as it goes – YTL has been encouraging driverless car trials here. And, right on the doorstep, is the legacy of the airfield – a high level engineering and aerospace industry. All that is before you mention the shopping centre and the ever expanding University of the West of England. Add in a distillation of the alternative culture of Bristol that Gathercole knows well from growing up there, of food growing, homeworking and of making, and it is a rich mix.
This is a 20-year project but there is a still a sense of urgency. 'Residential construction starts in 61 weeks,' declares a prominent sign in YTL's office. Next to it a large 1:25 model of a house. Mac Ruairí, working with Allies and Morrison and Studio Hive (which has experience drawn from Urban Splash and Skanska's high quality but shortlived housing arm), has made housing design a priority. He sees a bit of Koolhaas' SMLXL here in the ascending scales from room to site: 'Quality lies in space in the first instance, you have to have rooms that work, space not just for a double bed but also your clothes, space to put your bin. Then you have to build it so you don't hear your neighbour upstairs and so your utility bills are low and beyond architecture to the space and how the community works.'
For Allies and Morrison accommodating one to two cars per household while avoiding an urban fabric dominated by them is one of the big challenges. 'It is a condition that more and more people are having to design for,' says Gathercole. And this of course feeds into the relationship between house and street and how house types relate. This first phase of 200 homes is a test bed for the rest of the development, a chance to see what people will like and buy. It will be influenced by the international knowledge of both YTL and Allies and Morrison. 'It won't be radically different, but certainly from what is built in Britain to the extent something like [Stirling-winning] Accordia in Cambridge was radical,' says Gathercole. But YTL is concentrating on what it will achieve rather than a critique of the housing market. It doesn't need to expand its brief any further: getting Filton Airfield off the ground is a big enough job already.
---
Hear more about Filton Airfield at the RIBA Smart Practice Conference 2017: New Opportunities. Simon Gathercole will present the scheme and discuss it with the developer Jason Collard, managing director, Studio HIVE.