Construction sites are by nature vulnerable to fire, and repair costs can be astronomical. Do we need more from regulation?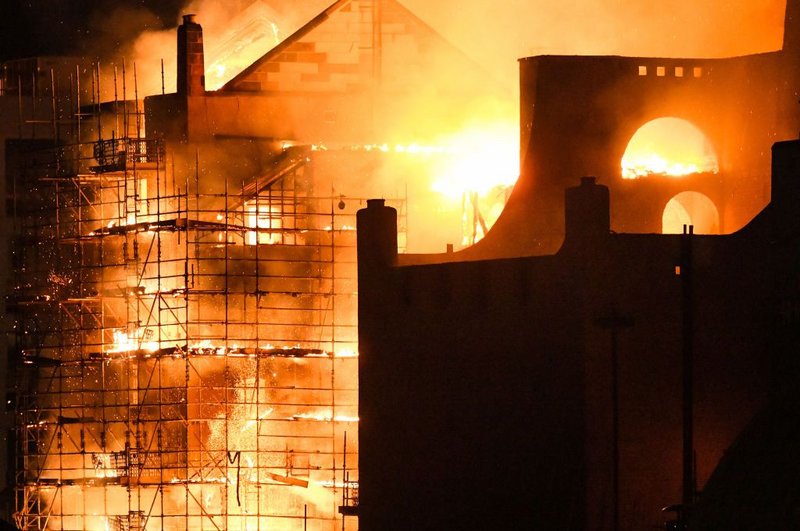 16 June 2018. Four years after the 2014 fire, the Glasgow School of Art construction site was devastated again.

Credit: Jeff Mitchell / Getty Images
Construction site fires, it seems, are alarmingly common. Just nine days before the terrible blaze that swept through the whole of Charles Rennie Mackintosh's Glasgow School of Art site – only four years after the west wing was gutted in a previous one – the luxury Mandarin Oriental Hotel site in London's fashionable Knightsbridge was severely damaged weeks away from the completion of 'the most extensive restoration in its 115-year history.' A Category A early modern masterpiece and
£60 million Edwardian refurbishment, both up in smoke, with the only comfort to be drawn from either that no lives were lost in the fires.
But if alarm bells weren't ringing then, they probably are now for those involved on the restorations, with the likely cost for restoring the Mackintosh reportedly rising to as much as £100 million and still no conclusions drawn from either fire as to how they started. The two events have put construction site fire safety, liability and premiums into sharp focus – for insurers and clients as well as contractors.
The Regulatory Reform (Fire Safety) Order 2005 (FSO) applying in England and Wales (similar legislation in Scotland and N Ireland is slightly different but has the same intent) sets out the law on general fire safety, including for construction and refurbishment sites. This requires a Responsible Person to carry out and keep up to date a fire risk assessment on construction sites. 'In general, that's the employer (the contractor),' explains Howard Passey, principal consultant at the Fire Protection Association. 'But under CDM Regulations 2015, the designer and the client will also carry a degree of responsibility.' That means everything from an understanding of material selection and installation methods to having a 'duty to warn' contractors if they become aware of unsafe practices on site. 'These could be hot works being done without a permit, surreptitious smoking or combustible materials being left carelessly on site,' explains Passey. His advice seems to be that site monitoring is an important aspect of general fire safety; and that a client might be able to contract out the task – but not the liability.
Legality and best practice
Passey advises that architects wishing to gen up on the issue should look beyond Approved Document B and CDM 2015 to HSG168 (Fire Safety in Construction) and the FPA's 'Fire Prevention on Construction Sites' (2015). These outline more onerous conditions that could be read as best practice rather than a legal requirement. Passey points out that, as recent events have shown, a construction site is far more vulnerable than a finished building, adding: 'On site the situation changes from day-to-day; compartmentation may be compromised by works or escape routes needing to be changed; during construction the site is in constant flux.' With no ongoing approval process either, Passey says it's crucial for contractors to police themselves to maintain a 'suitable and sufficient' Fire Risk Assessment. Does that generally happen? Despite possible visits by Health & Safety or fire safety enforcement officers, he seems less sure. 'My experience suggests there's a will not to cut corners but given the need to meet programme and cost targets, it seems that in reality not everything's done the way it should be.'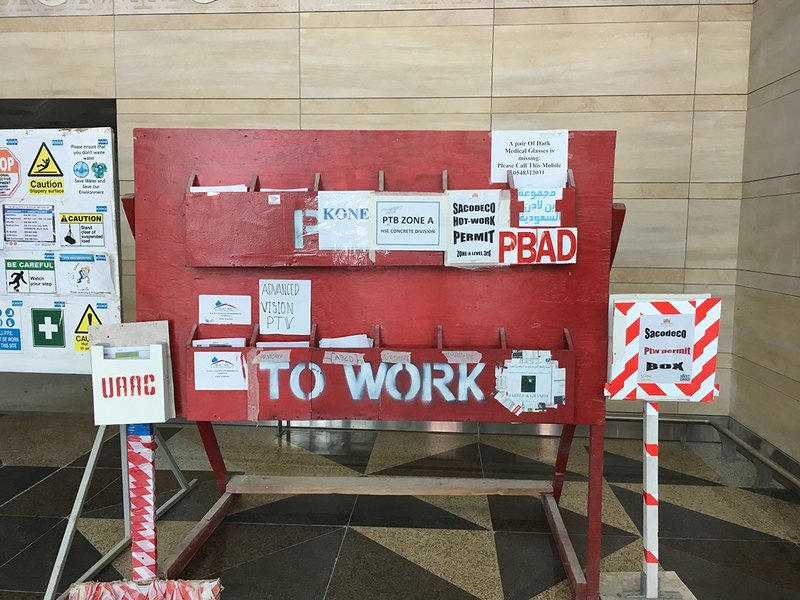 Robust measures to ensure accurate monitoring of site works - particulary hot works permits - should be standard on sites

Credit: Stewart Kidd
Stewart Kidd, managing director of the Loss Prevention Consultancy, who has worked with construction insurers on the Shard and at Heathrow Terminal 2, and gave evidence to the inquiry after the Windsor Castle fire, is less guarded in his views, ­especially on the Mackintosh. 'It's a complex legal question; the reality is that the contractors would have addressed only the basic legal requirements if it met the CDM 2015 regulations and followed general guidance in HSG168, which relate to means of escape rather than asset safety.' But for the man who authored Historic Environment Scotland's 'Guide for Practitioners No 7 Fire Safety Management in Traditional Buildings', this doesn't go far enough. In England, 'Approved Document B is a code of practice, not a legal requirement,' he explains. 'In the reconstruction of heritage buildings where a fire suppression system is planned, I'd insist on the early installation of this and would have thought it was an obvious measure here.' Part of that is informed by the likely limited efficacy of smoke detection systems on site. 'If a building is not yet sealed, then dust and wind effects render them virtually useless.'
Safeguards in the contract
The Mack's claim is still in its infancy but Kidd would be surprised if the construction's insurers did not insist on the FPA's Joint Code of Practice for Fire Prevention on Construction Sites being enshrined in the construction contract as a warranty. Developed in conjunction with the Association of British Insurers for projects of more than £2.5 million, it by default contains far more onerous asset safety provisions on the part of the contractor. 'Section 9.1 of the Code demands that fire safety measures be brought forward as soon as viable on sites – and that would include sprinklers,' he says. If not, Kidd says, insurers are left to foot all the rebuilding costs unless they can prove the contractors failed to meet the 'standard endorsements' for fire safety on site. This, he elucidates, 'is a minimum requirement for: a fire safety plan, training of staff, safe storage of flammables, wet risers, hose reels, early installation of fire compartments, regular removal of waste and the control of hot works – which would necessitate permits and supervisory visits of hot works areas an hour after they have completed.' But the Joint Code of Practice, it seems, does have teeth and is a form of health and safety enforcement order by stealth. Insurers might not have the HSE's legal clout, notes the FPA's Passey, 'but if they have concerns over a site being managed safely with respect to fire issues they have the right to withdraw cover. That has big implications for contractors as work stops which could put them into delay.'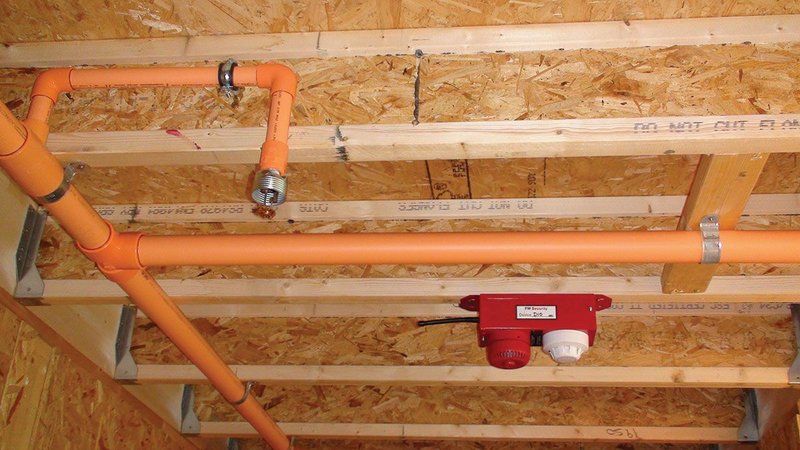 Temporary sprinkler system and smoke alarm in an all-timber multi-storey construction.

Credit: Stewart Kidd
Sprinklers by storey
'It's obvious that you can dry things out far better than you can bring them back from the ashes,' says Business Sprinkler Alliance chairman Iain Cox; a claim that the insurance industry, according to Kidd, would readily agree with. Cox explains that temporary sprinkler systems are generally installed in multi-storey all-timber buildings because until they are suitably clad they're vulnerable to fire, the system moving up with the floors as they are constructed. But Cox still thinks there's a lot of disinformation in the industry regarding sprinklers' vulnerability on sites, that might make contractors baulk at the idea. 'Fire attacks at the weakest point – usually when compartmentation is compromised on site; but apart from knocking a sprinkler head directly off with site works, there's a sixteen million to one chance of a temporary one failing,' Cox assures. He certainly has a vested interest, but the view is that sprinklers should form part of the construction rather than the final installation. It's a view borne out by both past and current examples: Cox recounts the story of Nottingham University's £20 million 'carbon neutral' Laboratory for Sustainable Chemistry site, which burned down in 2014 as it neared completion. 'They rebuilt it to the same design and then it won a sustainability award. But tell me, what's sustainable about having to build the same building twice?'