Colour is one of the most uncomplicated elements of architecture but its use and meaning are changing. The co-editor of a new book on the subject shares five of the newest colour trends influencing design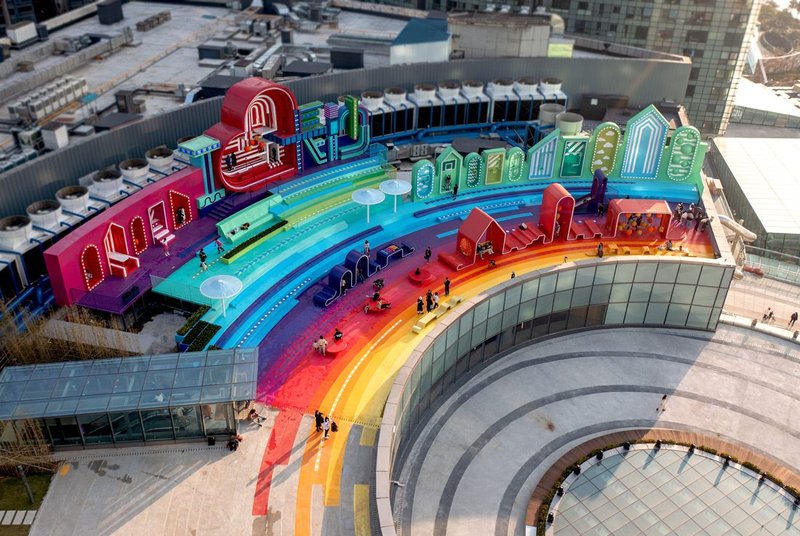 Over the Rainbow, Changsha, China, by 100 Architects.

Credit: Rex Zou
Colour seems self-evident and uncomplicated, it is one of the most accessible elements of any visual language. But its use and meanings change alongside culture and technology, reflecting back to us the current zeitgeist. No more is this true today than in contemporary architecture. The newly published book Full Spectrum: Colour in Contemporary Architecture, which I co-edited with Jasmine Benyamin, brought these newest colour trends to the fore. Here we share five of those most influencing architecture and design.
1 Colour is emissive
Traditional colour, often composed of physical pigments and material, is reflective. Increasingly, however, designers are working with digital colours. These are not determined by the presence of specific minerals or compounds but instead are a product of technology's ability to emit specific light wavelengths.
Today we produce and consume designs through a manifold of digital interfaces. The average American spends seven hours and four minutes a day staring at screens. A consequence of this transition from reflective to emissive spectra has been a silent revolution, as our screens have become the spaces of our addiction and imagination. They have become working canvases for our digital experiences, shaping our perception and understanding of architectural design and production.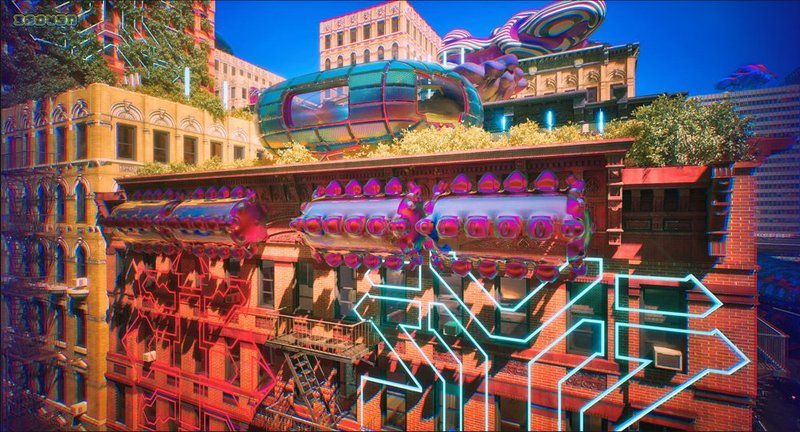 Damjan Jovanovic and Lidija Kljakovic's Discovery: A Story about Rooftops, Airships, Robots, and Inflatables. SCI-Arc gallery, Los Angeles 2022.

Credit: Damjan Jovanovic
The vibrancy of emissive light contributes to the visual allure that draws us into our display-driven lifestyles. Damjan Jovanovic and Lidija Kljakovic's recent exhibition, Discovery: A Story about Rooftops, Airships, Robots, and Inflatables, was a deep dive into a new digital world inhabited by hacker communities invested in the promise of reimagining environmental futures. Neon Light and bright shades illuminate a vibrant copy of the real world, where everything is perfectly pristine.
Today the digital spectrum has quickly replaced analogue colour wheels, as it offers designers a broader palette to work with and fosters a demand for its unrealistic brilliance.
2 Colour is viral
In our age of ever-shortening texts and image trafficking, colour-saturated architectural renderings have invaded our viral feeds asking for a 'like'.
The widespread appeal of chromatic spaces emitted from screens has sparked a yearning for real-world encounters with these vibrant spaces. We are now starting to see glimmers of a new kind of colour gamut entering the built environment – one that artfully layers vibrant digital behaviours and emergent internet aesthetics into a new genre of surface finishes that put a different spin on architectural designs.
One example of digital colour's transformation of urban spaces through selfies and shares is the richly pigmented installations designed by 100architects, a Shanghai practice that creates photogenic backdrops able to leverage the power of social media. Their creative output flourishes on viral 'likes' and spontaneous responses of residents and tourists. This dynamic mass audience has an insatiable appetite that demands photogenic settings.
3 Colour is expressive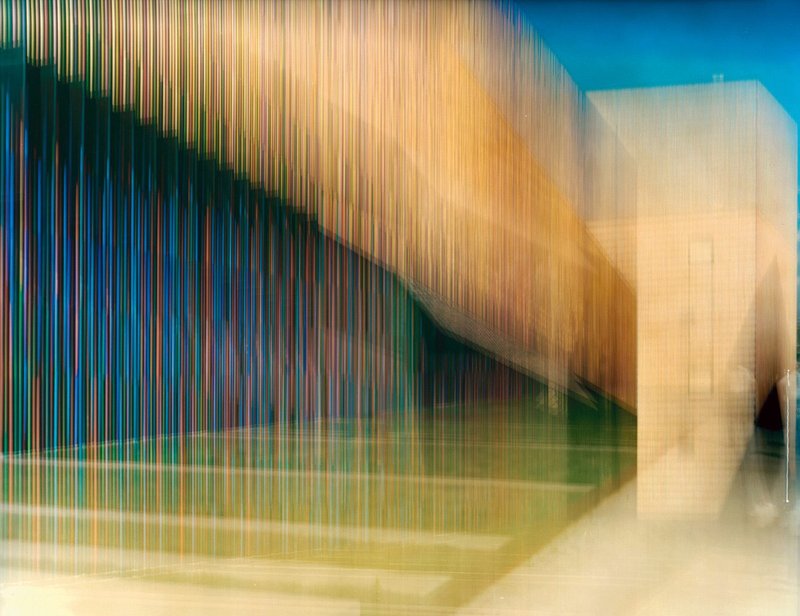 Brandhorst Museum, Munich, Germany, by Sauerbruch Hutton, 2009.

Credit: © Ola Kolehmainen / Galerie Nikolaus
The sky is not blue. What we think of as colour is our brain's response to different wavelengths of light. In fact, blue is in the eye of the beholder, and most scientists believe that nothing is really coloured at all.
Incorporating colour into the conception and design of buildings requires a deep understanding of the nuanced ways in which it interacts with others in the spectrum. Sauerbruch Hutton's tectonically extroverted structures illustrate a mastery of the ways in which materials and structural dynamism run the gamut of digital-into-physical interpretations
Colours are vehicles for emotional impact and their interpretation is highly subjective. People bring their memories and reactions to their perception of color. This subjectivity encourages engagement and personal connection with architectural spaces. By embracing the complexity of colour, architects can create novel aesthetics that are open to interpretation, fostering a deeper engagement between people and their built environment.
4 Colour is engaged
Today colour is not only a cultural provocation; it is a political proposition. White, black, brown, yellow, red, pink, blue, green have evolved beyond mere aesthetic considerations to take on profound urgencies, which reflect the diversity of societies and embrace broader cultural and social dimensions.
The deliberate and self-reflexive deployment of colour among architects and designers challenges prevalent values and norms and expounds narratives around social justice, equality, and human rights.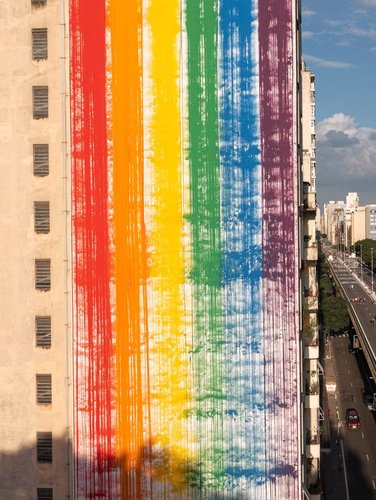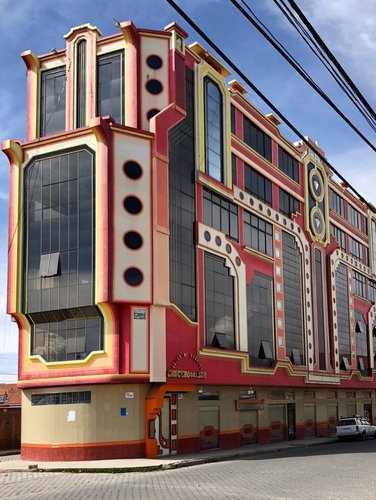 Many of Brazilian architect Guto Requena's projects strive to highlight and uplift the LGBTQIA+ community. His is one of numerous practices that are increasingly recognising their responsibility to create spaces that resonate with the diversity of the communities they serve. And colour has become the most powerful tool for that.
Colour has become a vehicle to express cultural identity, heritage and history. Architects are increasingly incorporating colours that are emblematic of specific communities, contributing to a more inclusive and expansive architectural landscape.
In an essay for our book, author Courtney Coffman explores the ways in which colour is used as a cultural index of regional identity in the work of Bolivian architect Freddy Mamani. Mamani's use of colourful decorative elements and surfaces represents the rich palates evocative of Andean cultures.
5 Colour is ecological
Green has become a buzzword in architecture but it is employed more for its rhetorical value rather than a sincere commitment to sustainable design principles. The term 'greenwashing' is used to describe instances where organisations or individuals perpetuate misleading impressions of environmental stewardship in the name of 'sustainability' while not making a meaningful impact on their carbon footprints.
In her essay for our book, author Paulette Singley asks more of architects, writing: 'If green architecture has become a false signifier of resilience, a kind of McGuffin for capitalism, then perhaps we are better off aspiring to the colour of desert tan instead of watering plants growing from where they don't belong?'
Nonetheless, colour can improve the energy efficiency of buildings. The choice of shade for exteriors and interiors for example can impact heat absorption and energy consumption.
The use of grey or light-coloured surfaces in urban areas is a practical example of solar albedo modification, changing the reflectivity of a surface. Los Angeles Street Services has implemented a strategy to reduce the average temperature in the city. It achieved this by applying a light grey, reflective material called CoolSeal to asphalt roads. This increases the reflectivity of roads and pavements to reduce heat absorption, subsequent radiation and thus reduce the urban heat island effect.
The essays in Full Spectrum: Colour in Contemporary Architecture embrace change and acknowledge that words, like colours, are subjective. Yet, the hope is for this book to encourage an ongoing dialogue and the inclusion of diverse perspectives in what we call architectural discourse.
Elena Manferdini is the principal and owner of Atelier Manferdini in Los Angeles and graduate programs chair at Southern California Institute of Architecture (SCI-Arc)
Full Spectrum: Colour in Contemporary Architecture, edited by Elena Manferdini and Jasmine Benyamin, is published by RIBA Publishing, 2023