Landscaping can enhance buildings, so why do architects seem so reluctant to include it?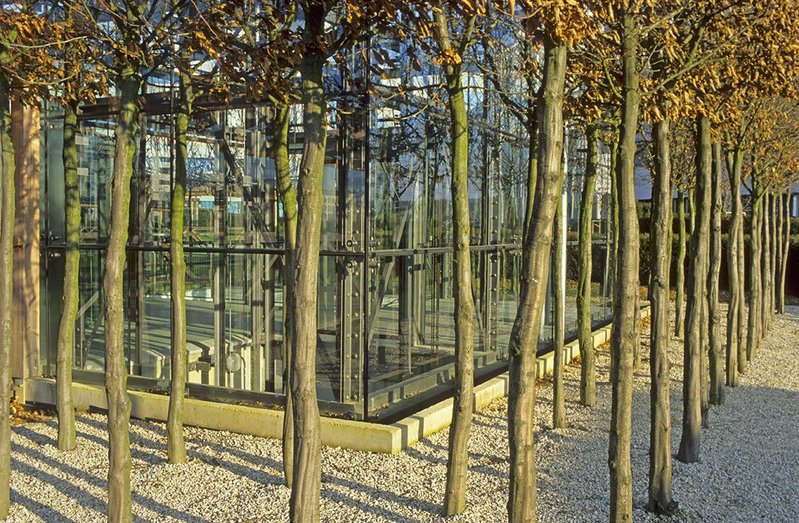 A fear of trees?

Credit: Marianne Majerus Garden Images
Is there an inherent reluctance on the part of architects to welcome landscaping near their buildings – one we might even call a fear of trees? While substantive landscaping is accepted or expected in domestic settings, many public and commercial buildings offer token landscaping, perhaps small strips of planting at an entrance, or in specific areas such as courtyards or terraces.
We can quickly provide explanations as to why substantive landscaping isn't more common. Available land is often limited and development favours maximization of built space for public use and private profit ­– a position exacerbated with buildings located more centrally in cities. Construction budgets get cut or run out and as landscaping is one of the final phases of most developments it tends to get hit hardest when funds tighten.
But even when budgets are not tightened and good space is made available, landscaping of excellent buildings can often be better conceived and executed at one site against another, even at buildings by the same architect. Look at Rogers Stirk Harbour + Partners' 88 Wood Street with its north facing deep borders of shade loving plants blending appropriately into proportionate planting within the entrance lobby. What a contrast to its later Leadenhall Building with its stark south facing piazza and awkward wilting Magnolia grandiflora – a tree to fear indeed.
Exaggerated threats
Local authorities are often said to be concerned about possible claims following injury to persons that can result from inadequate maintenance of landscaped space after reductions in funding. Appropriate maintenance of landscaping, as with that of buildings themselves, should minimize potential injury.
For older properties, where foundations are not as substantial as those of modern buildings, heave and subsidence from trees was a reasonable concern. But the extent of tree root systems varies with each species and trees should be chosen to suit the particular site and building they accompany.
Most sites offer an opportunity to create a journey towards a building, heightening a sense of anticipation ahead of the internal architectural experience
However, the principal concern of architects on most projects when considering landscaping however remains maximization of light within buildings, with trees quickly regarded as a major potential threat. Given the different densities of tree canopies and careful positioning, they need not have a negative impact on light to buildings and need not be banished to the margins.
Landscaping's enhancement of architecture
Good landscaping can contribute greatly when we are place making. Proportionate landscaping will help anchor or frame buildings and present architecture more persuasively than leaving it sitting in empty space. Most sites offer an opportunity to create a journey towards a building, heightening a sense of anticipation ahead of the internal architectural experience. Building entrances offer a neat solution to one of landscaping's major tricks, compression and release: planting intervention around entrances simply needs to work well.
Successful planting can introduce movement and seasonality to a site, adding an additional layer of variation and interest to the architecture it accompanies. The use of planting to complement or contrast building materials should not be missed. If carefully executed with individuality and perhaps elements of surprise, landscaping can also help identify architecture and create that sense of place we all strive to achieve.
Integrating landscaping into early massing exercises
As with all elements of built environment design, a collaborative approach from an early stage increases the likelihood of success. Landscape cannot be an afterthought and will succeed only when inherent and integral through the design process. Most landscape design teams focus on massing at the outset of their work and this should really be part-established by instructing architects themselves. We would argue that landscaped elements should be properly contemplated during the massing exercises undertaken by architectural teams.
As with fortune, great landscaping favours the brave. We need to move away from the automatic default of silver birch trees, they have their place and can be effective when used en masse as at Tate Modern, but we need to specify site appropriate trees and planting from the wide range of possibilities available, perhaps one day even risking towering Cedrus deodara as used by landscaper Olin at The Barnes Foundation in Philadelphia.
Landscaping for the sake of it
None of this is to advocate landscaping at all costs. Confident architecture on a tight site is probably better on its own rather than trying to incorporate awkward or unnecessary landscaping.
But whatever you do, determination to landscape vertical sections of your building should be avoided. Not one, but two pre-eminent living wall experts were, in turn, called to landscape the walls of the Athenaeum hotel on Piccadilly, attesting to how tricky it is to establish and maintain what arguably remains simply messy planting down the sides of a building on a prominent site.
Graham Lloyd-Brunt practices at Lloyd Brunt Outdoor Design
---