Last month's Guerrilla Tactics conference showed young practitioners how to use planning, procurement and property constraints to foster architectural creativity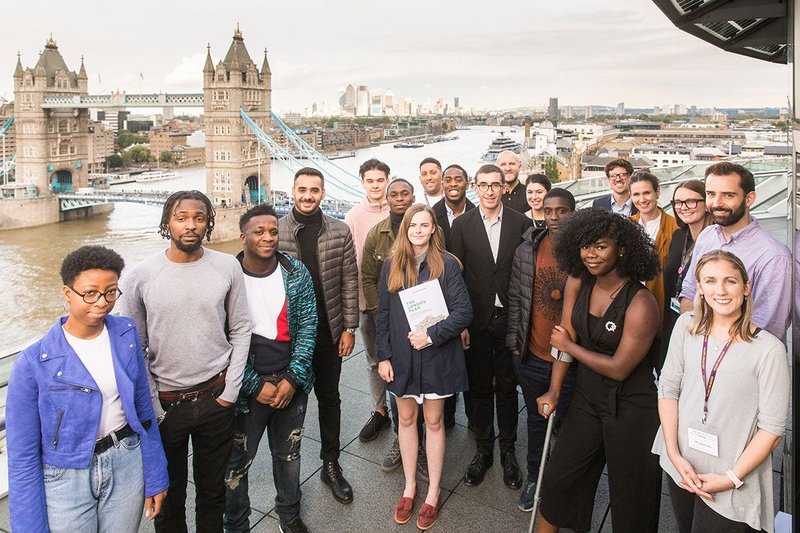 Mae architects, alongside the Stephen Lawrence Charitable Trust and the GLA, hosted the Futures London Workshop at City Hall.

Credit: Mickey Lee from Media Mixer
For many young practices starting out, the complexities of our planning, procurement and economic viability frameworks can be a challenge. According to Finn Williams and Pooja Agrawal of the Public Practice initiative, architects spend only 20 per cent of their time designing. The other 80 per cent is spent grappling with bureaucracy, prompting some to question the feasibility of setting up their own practice.
Last month's Guerrilla Tactics 2018 conference at RIBA's 66 Portland Place offices served as the perfect platform for airing these concerns and demystifying the processes that govern our built environment. The two-day event featured an insightful mix of speakers and live re-enactments of otherwise hidden processes aimed at shedding light on the inner workings of government, in particular local authorities.
One of the major challenges facing young practitioners starting out is bidding to procure work. According to Tina Jadav and Rae Whittow-Williams of the Greater London Authority, a winning bid can take on a number of guises, but will ultimately stand out for its understanding of the brief, its display of relevant experience, awareness of the project programme and for having a clear strategy on achieving social value. This last criterion is particularly important as it constitutes a recent addition to public procurement requirements. It is something that young practices can utilise to set their submissions apart from the competition.
Whittow-Williams noted Mae architects' ongoing work with Building Futures and the Stephen Lawrence Charitable Trust as an example of how practices can use their extra curricular initiatives to satisfy this social value requirement. Not only does this demonstrate community interest, but it also helps to de-risk your practice in the eyes of the local authority, making it look more favourably on your submission. It may even help you get on a framework.
Other practical advice includes thinking about the client and how your proposal fits their profile and expectations. Referencing appropriate projects in terms of scale and budget is key here. Similarly, when highlighting staff experience make sure it is relevant and tailored to the project at hand. If invited for interview, use this as an opportunity to address clarifications. Avoid technical jargon as it can alienate your audience. A clear and focused presentation will go a long way.
Perhaps more elusive than our procurement structure is the economic backdrop that shapes our projects. The complex cycle of development, appraisal and marketing can be perceived as a closed bubble, one which young practitioners find difficult to penetrate, let alone have a positive impact on. Tony Travers of the London School of Economics began by illustrating the complex relationship between developers and government. He argued that while development is often perceived negatively by the public, the benefits it brings in terms of tax contribution far outweigh its negative perception. However, this interdependency goes both ways. For development to occur the public must buy into it. It is at this confluence that architects find themselves uniquely placed, representing local stakeholder interest and acting as mediators between both parties. 'Of all consultants, architects are perceived as trusted agents with artistic and curatorial abilities, at least in the eyes of the general public,' said Travers. 'They are also the most accessible to local communities as people understand what they do, which is a good starting point for selling ideas.'
The bottom line is that developers need architects to put forward good design and achieve planning. Young practitioners should avail themselves of this by becoming better negotiators in the early planning stage and advocating a better outcome for their local communities.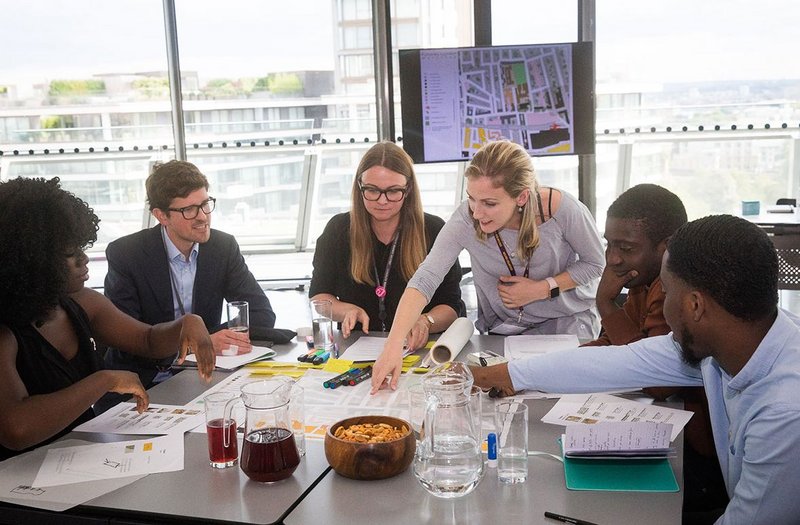 The views and feedback from young people growing up and living in London today will inform the emerging housing design supplementary planning guidance. This kind of activity can help demonstrate community interest, which public sector clients are keen to support.

Credit: Mickey Lee from Media Mixer
In her segment, Michelle Hannah of the Cast real estate and construction agency urged smaller practices to examine the question of viability in their proposals. This refers to the added value and long-term benefits a proposal has to offer that makes it worthwhile to invest in. Similarly, an understanding of how money drives the behaviour of clients can help you identify where design value is added and where efficiencies will need to be made. 'It allows architects to reposition themselves suitably within a client's framework,' said John Nordon of ROME.
As the day progressed, collaboration and communication began to emerge as strong themes. The importance of this was highlighted in the session on planning, where Akil Scafe-Smith of Public Practice stressed the importance of continuous engagement. He advised young practices to engage the council before pre-application, even if it is a simple expression of interest via a phone call to the local authority.
The identification and engagement of stakeholders is key. As Scafe-Smith pointed out, a council will look more favourably at a proposal that shows clear signs of community interest and engagement than one that is completely self-absorbed, even if the latter ticks all the regulatory boxes. In other words, the further your proposal goes in terms of adding value to its context, be it in the way it interacts with the presence of children in the local area at street level or providing some type of additional use that benefits the community, the higher its chance of success.
Demonstrating engagement can be perceived as a challenge. However, simple ways of achieving this include using technologies such as Future Cities Catapult Toolkits. These facilitate the communication of proposals to local communities before the planning stage in order to gauge their interest. Another option is to document face-to-face conversations with local residents.
As to the planning process itself, Rachel Hearn of Public Practice offered some clear tips. The most important thing is to always submit a pre-application. Not only is this a requirement under the National Planning Policy Framework, it is also a good opportunity to test the local authority's reaction to your proposal. Some basic advice is to ensure that documents are collated in a neat and organised manner, with clear 3D diagrams illustrating site constraints and the complexity of the issues at hand.
While awaiting a response post-application, remember to continue demonstrating how collaborative your practice is by staying in touch with case officers and their managers. Jennifer Gutteridge of Public Practice advises young practitioners to touch base at key strategic points in the process. She encourages using the phone as a method of keeping communication lines open as local authorities are often intimidated by the committed nature of the written word.
If facing local opposition, councillor Mark Brunt of Reigate and Banstead Borough Council advises soliciting residents on what changes can make the application more palatable and trying to accommodate these. As the live panel re-enactment highlighted, councillors will want to know how your proposal impacts and addresses the concerns of the local community. The voice of local residents is powerful and architects would do well to gain their alliance.
If there is anything to take away from the three key sessions, it is that clarity of communication and a collaborative approach will go a long way. Whether it's in the submission of a bid or an application for planning or even an early discussion on the viability of a proposal, as small practices we have the scale and flexibility to engage with local communities to form a bridge between them and government bodies. If utilised correctly, these can be used to expand our agency and gain prominence on a larger platform.
Marwa El Mubark graduated from University College Dublin in 2015 with a Masters in Architecture. She is working as a Part II architectural assistant in a central London practice and is a member of New Architecture Writers.