Impressive productivity gains are offset by rising payroll costs in the RIBA Business Benchmarking Survey this year
Ironically, practices earned more from working in the EU in 2018 than they did in any of the previous years since this survey began.
The business of architecture is growing. Year on year, the profession's financial performance improves. Collectively, turnover from RIBA chartered practices was £3.2 billion in 2018. That is 21% higher since 2015 and 6% higher than in the previous year. Staff numbers are growing, too – practices continue to actively recruit every year. It is a positive picture, and when looking right into the detail, the figures show that there is growth in all parts of this diverse profession.
The distribution of the share of the work by sector is unchanged since last year, but some of this year's growth has come from more international work. Ironically, practices earned more from working in the EU in 2018 than they did in any of the previous years since this survey began.
Because it's a diverse profession, and benchmarks vary hugely between practices of different sizes, the data is split into eight size groups. These figures come from the latest RIBA Chartered Practices Benchmarking Survey – the biggest survey of its kind, attracting thousands of practices to participate each year. Significantly this year, the average revenue per practice in every one of those eight practice size groups is higher than last year's average.
Rising productivity
But here's the thing – practice revenues overall are rising at twice the rate of the rise in staff numbers. Contrast the 21% increase in practice revenues since 2015 with the 9% growth in the total number of staff employed in chartered practices over the same period.
This year's figures suggest that staff are working harder, or more efficiently – or both.
Comparing the large rise in revenue with a smaller rise in staff implies significant productivity gains – as revenue per head has increased. Not only is total revenue higher in each practice size group, so too is average practice revenue per head for all but one of the eight size groups. Significantly, it is the small and medium practices which are seeing the highest growth rates; practices with 100+ staff have not, on average, increased their revenue per head figures at all.
Looking at productivity as a whole, the apparent rise in the profession's productivity is particularly significant when compared with what is happening in the wider economy. The UK overall is experiencing near zero productivity growth. The country has an historically low unemployment rate, there is a potential revolution from artificial intelligence, yet productivity growth is virtually zero. Before the financial crisis s in 2008 UK productivity had been growing at around 2.3% per year. Since 2008, it has been running at 0.4% per year. The benchmarking figures suggest productivity gains in the architectural profession are around 3% per year; a far higher rate than the economy overall.
Fee levels factor
There's another strand to rising revenue per person, and that could be from rising fee levels. To test this idea, we looked at average hourly rates over the last four years. Since 2015, these rates for partners and directors are 8% higher, for architects with 5+ years' experience they are 7% higher, and for Part 2 assistants they are 9% higher. Over the same period inflation has notched up 6% – so there has been some, limited, real growth in the average hourly rates that practices charge.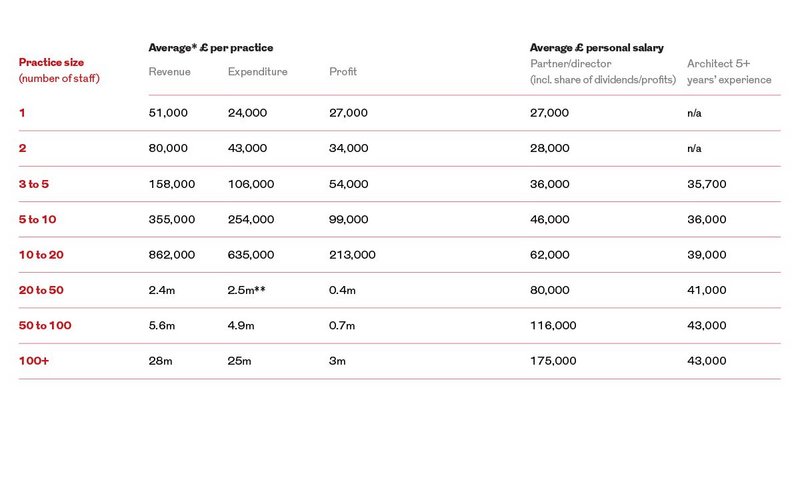 Average hourly rates increased by more than salaries overall since 2015, although the opposite was true in the most recent survey year. Average earnings paid to partners and directors – which includes their dividends or partnership profits – rose by 6% in 2018. Salaries paid to associates and architects have increased by 3 per cent, for technologists the rise is 6%. The granular detail by practice size varies from this overall picture; average salaries for staff in smaller practices have increased, but in the larger practices salaries for associates, architects, Part 2 and Part 1 assistants are very similar to earnings recorded in 2017. Average earnings for partners and directors are higher in 2018 in nearly all practice size groups.
Costs are growing too
While the profession's total revenue is higher, so too is expenditure. It's quite a surprise to see that total expenditure has increased by 23% since 2015 – an amount greater than the rise in total revenue. The rise in 2018 was higher than previously, at 7%. Some of this is due to higher wage bills as more staff have been recruited. But rise in staff numbers, and average salaries is less than the rise in the total payroll. This suggests that practices may have recruited more staff on higher grades than lower ones, or retained staff by moving them up a grade. Perhaps the most likely reason of all is the introduction of auto enrolment to pension schemes. Staff expenditure accounts for precisely 50% of practice revenue; substantially higher than the consistent 45% in each of the previous three years.
Expenditure seems to have increased across the board – premises, telecoms, travel, business running, investment in new technology systems. As expenditure has increased by more than revenue, profit has fallen. Average profit as a percentage of revenue has dipped this year in all but one practice size group (that exception is practices with between 10 and 20 staff).
Recent impressive productivity gains and increases in revenue are being offset by rising costs. And it looks like pressure on remuneration could well be growing. As the profession nears full employment, and Brexit is set to make recruiting architects from Europe substantially more difficult, short-term wage growth is a strong possibility.
Aziz Mirza is director of The Fees Bureau, which analyses and reports on the annual Benchmarking Survey for the RIBA
---
Find out more
RIBA chartered practices can access the full report and the online Benchmarker by logging on to the RIBA Business Benchmarking website.
The RIBA Benchmarker is designed to show how changes to work, client or service types might affect a practice's revenue, profits and other business indicators, making a useful tool for helping with business planning. It always shows your own practice's figures alongside the average for the chosen selection.
The 2019 Benchmarking Survey opens at the start of May. Please participate to keep this vital business knowledge up to date