You don't need to watch Godzilla vs Kong for monster drama – housing's building revolution has it all. Whose robot is leading the race for speed, strength and affordability? We compare four of the leading construction robots
Vulcan printed the lower storey walls for the 3 Strands development in Texas.
Monster movie Godzilla vs Kong helped revive cinemas emptied by lockdown. But over in house building, we have our own, equally tense, real-life face-off between massive construction robots, which could give the global industry a shot in the arm at a time of unprecedented demand.
Construction's notorious reputation for inefficiency and waste was brought into stark focus by the pandemic, as a long-term and persistent undersupply of housing, in England and other nations, faced new challenges around materials deliveries, social distancing and labour shortages.
Rather than modify onsite processes, or turn to offsite manufacture to help speed delivery, a growing contingent of builders, developers and tech start-ups are seeing innovative large scale construction robots as the best way to push out more units to a consistent quality and for lower cost.
Recent months have seen major technical and commercial advances around two distinct robotic approaches to building entire structures for homes on site: machines that handle traditional bricks, blocks and mortar, and 3D printers that extrude specialised concrete in layers.
Brick and block-laying robots work much faster than their human counterparts, and – because they use materials familiar to developers, certification bodies and home insurers – supporters claim they provide a more practical solution that's faster to implement.
Meanwhile, additive manufacturing robots print high-strength walls and floors without formwork in just days and generate shapes that are impossible or too expensive to manufacture otherwise. Structures can be optimised to use only the specific volume of material required, minimising waste.
This is a controversial area of innovation. Widespread deployment of autonomous machines would lead to huge job losses. There are questions about the safety and technical performance of autonomously-built structures, and their integration with other building systems and services is still to be resolved.
Nevertheless, for the sake of argument, and as a welcome distraction from our Covid-confined lives, let's pit four construction titans against each other to see which will win this technological battle. Seconds out, round one...FIGHT!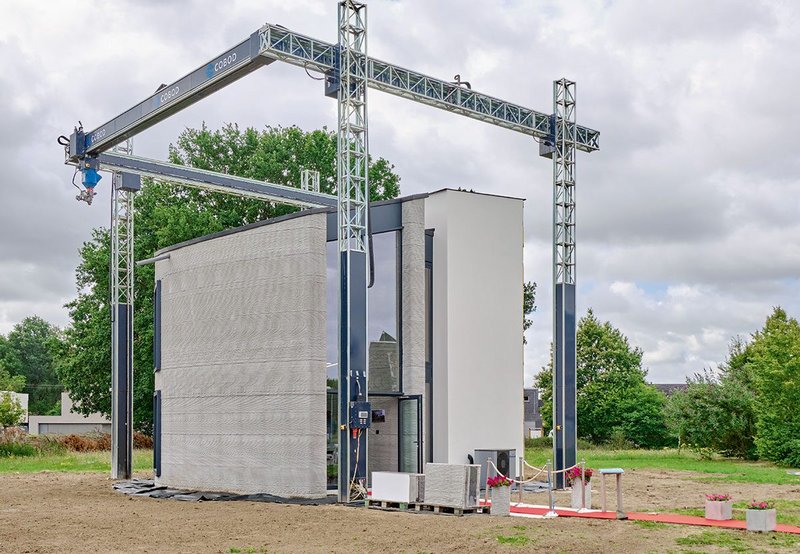 Curved walls produced by BOD2 are three times stronger than conventional brickwork, says the developer.
Location: Denmark
Speed: 28 hours to print a 50m2 house
Degree of autonomy: Two people run the printer, one monitors the print, one monitors material mixing, pumping, and refills etc
Design flexibility: Curved walls made without formwork
Waste: Around 60% less material than a traditional build
Structural performance: Walls are three times stronger than conventional brickwork
Time to market: COBOD has sold more than 20 printers to global customers for both on-site printing and factory prefabrication purposes
BOD2 is like a giant version of a classic office 3D printer designed to produce the entire envelope for a home in one monolithic chunk, including the foundations. An extrusion head mounted on a gantry and connected to a hose moves in three different directions, with a print range of 10m by 10m by 10m, squirting out concrete in consecutive layers.
Printers are modular and can be built in different sizes. A prototype two-storey 90m2 home, built at the construction innovation centre Kamp C in Denmark in 2020, utilised a 10m 3 printer, the largest built to date was 12.5 x 27 x 12.5 m.
Metal fibres mixed into the concrete prevent shrinkage and the risk of cracking when curing, which reduces the need for wire-mesh reinforcement and eliminates formwork. Spaces for services were not included in the Kamp C building but integration with BIM software makes this a straightforward addition.
COBOD printers are open source, allowing customers to print using their material of choice. The company is working with Lafargeholcim in France, Cemex in Mexico and Laticrete in the US to innovate new materials.
---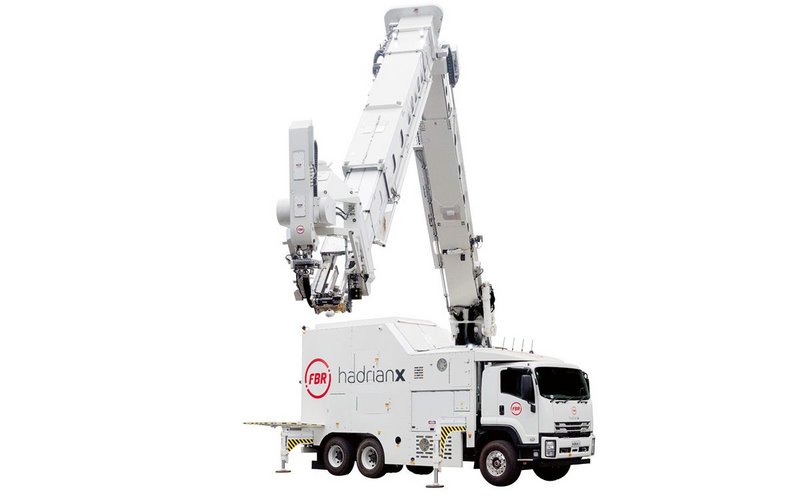 FBR's Hadrian­‑X robot is mounted on a truck that manoeuvres around a site to build a home.
Location: Australia
Speed: Average laying speed 174 blocks, or 800 standard brick equivalents per hour (human bricklayers typically lay up to 500 bricks per day)
Degree of autonomy: Humans are required to load pallets of blocks and install brick ties, a human operator monitors the build and deals with issues such as quality control
Design flexibility: Handles a number of different block types; telescopic arm can build flat or curved walls
Waste: Block optimisation software models the build and ensures offcuts are stored in the machine for use later in the build rather than thrown away
Structural performance: 'Comfortably exceeds' requirements in targeted markets following extensive testing with academic and scientific institutions
Time to market: Display home on the market shortly, commercial centre already occupied
Looking like something from a Transformers movie, the Hadrian X is truck mounted with a 98-foot robotic arm, through which customised blocks are fed ready for placement. The claw at the end of the arm is guided by motion sensors and can auto-correct its position 1,000 times a second. A nozzle squirts out specialised adhesive.
'Deployment of our robot is a matter of driving to site, calibrating our equipment to the slab and executing the build from the datafile,' says Kiel Chivers, manager of corporate services at FBR. 'It also means the structure we build is highly accurate, allowing for the parallel manufacture of components like roof trusses, window frames and door frames, and even the installation of prefabricated kitchens.'
The structure for the display home in Perth was completed in just three shifts, laying up to 200 bricks an hour. A two-storey home, completed in October, added steel-reinforced concrete columns and a concrete floor slab for the first floor.FBR was formed after the original company, Fastbrick Australia, disbanded, and now plans to target American and ­European house building markets. 'We just announced another pilot programme with a major European block manufacturer, Xella, to complement our continuing strong relationship with ­Wienerberger, the world's largest clay block manufacturer,' says Chivers. 'We are continuing testing programmes with North American builders, as well as with interested parties in the Arabian Gulf.'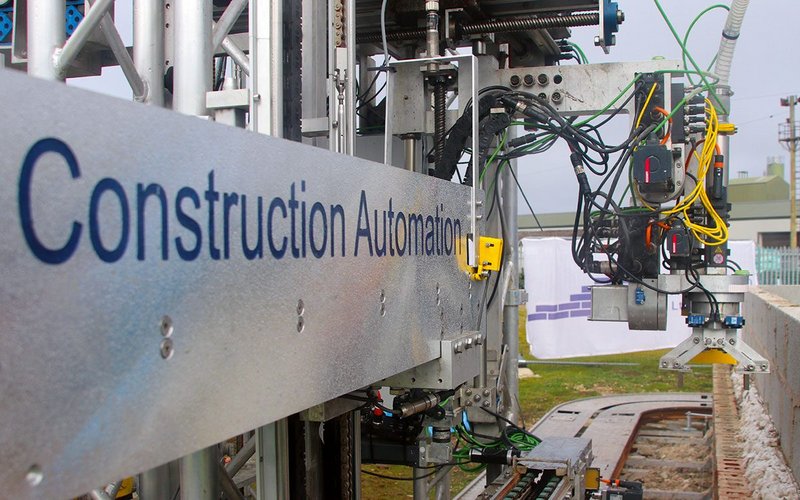 The latest version of Construction Automation's machine features better sensors and a more robust track.
Automatic Brick Laying Robot (ABLR), by Construction Automation
Location: UK
Speed: Three-bed house with 9,000 bricks and 3500 blocks completed in 2 weeks (predicted)
Degree of autonomy: Requires two people to load materials and install features such as tie bars, lintels and insulation
Design flexibility: Builds traditional homes using traditional materials
Waste: Less than a traditional build due to better management control of materials
Structural performance: Equivalent to a regular brick and block house
Time to market: First homes available to purchase by the end of 2021.
The first robot of its type to build around corners, the ABLR was developed to construct an entire house without stopping, using regular bricks, blocks and mortar.
The machine is mounted on a 9m-high vertical lift frame that runs along a track around the perimeter of the building. A software control system reads architects' plans and determines where every individual brick and block should be placed.
Two humans are required to complete each house: a labourer loads cassettes with bricks and mortar, a skilled tradesman 'rides lift' on the tower, monitoring progress on a tablet and installing tie bars, damp courses and lintels, and doing pointing. This eliminates the need for access scaffolding.
Construction of a prototype 3-bed house in Everingham, Yorkshire, got close to completion last year but had to be abandoned due to technical issues. These have now been resolved, reports co-founder David Longbottom: 'We have developed a new track, which is lighter and can take more tolerance in ground movement and we've improved the sensors on the machine. Electric motors drive all four wheels now so if there's debris on the track it can cope with it.'
According to Longbottom, the use of ­familiar house building materials is expected to speed time to market by avoiding issues connected with certification, insurance and mortgage valuations.
'You've got something that is tried and tested, thermally efficient, and highly suited to the UK environment,' he says. 'That's the beauty – a valuer will be looking at something comparable to a house down the road built by a bricklayer, but this will be more ­accurate. We guarantee quality and we make it consistent.'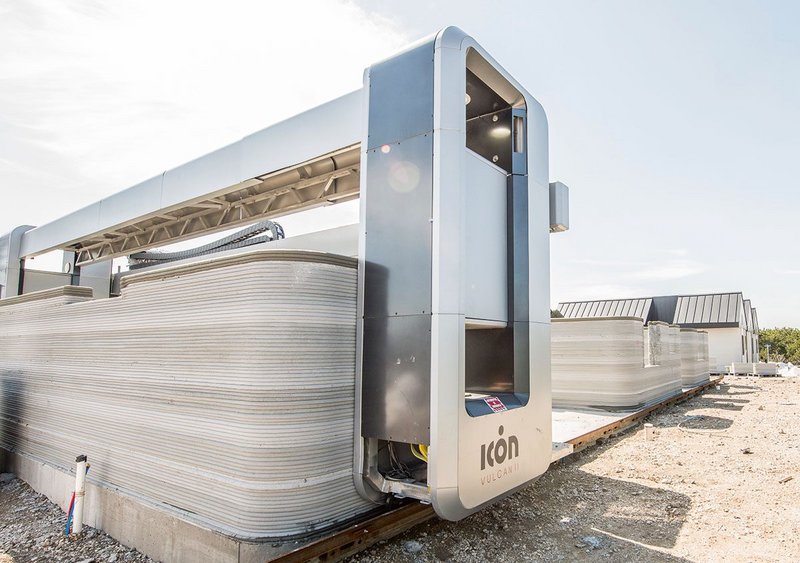 Vulcan takes 24 hours to print 400-500ft2 of wall, spread across several days.
Location: USA
Speed: 24 hours of print time per 400-500ft2, spread across several days
Degree of autonomy: Three to four people are required on the job site during printing, the machine is transported in a custom trailer with no assembly required
Design flexibility: Multiple geometries, currently limited to a single storey
Waste: Almost zero for the 3D printing aspect
Structural performance: 'Lavacrete' extruded concrete is inherently strong and has a PSI of 6,000 compared to 1,500 for a concrete block
Time to market: Homes already available for sale in the US
ICON has built two dozen 3D-printed homes across the US and Mexico and last month the start-up delivered North America's first ever neighbourhood of 3D printed homes for sale, in Austin, Texas.
The tablet-operated robot runs on a gantry system and can print single-story buildings of up to 2000ft². Printing widths are ­adjustable to accommodate different slab sizes. Improvements in automation, mechatronics and software mean that all operations can be controlled by anyone with basic training.
The 1000-2000ft² homes in Austin, built for developer 3Strands, are energy efficient and feature large covered front porches and front yards, covered parking and open concept floor plans. Each is designed to withstand fire, flood, wind and other natural disasters better than conventionally built homes.
Alex Le Roux, co-founder and chief technical officer at ICON says: 'The gantry-style architecture of our printer has the fastest, most reliable, and easiest to control approach to 3D printing one and two storey buildings. Our proprietary, advanced material Lavacrete has passed every structural test we have put it through so far. This means our homes will be safe for people to live in and resilient to the varieties of conditions where we may deploy this technology.'