House extensions and renovations have become a test bed for innovative design concepts and advanced construction. Alison Brooks, a pioneer of the radical domestic makeover, describes her approach to Richard Wilcock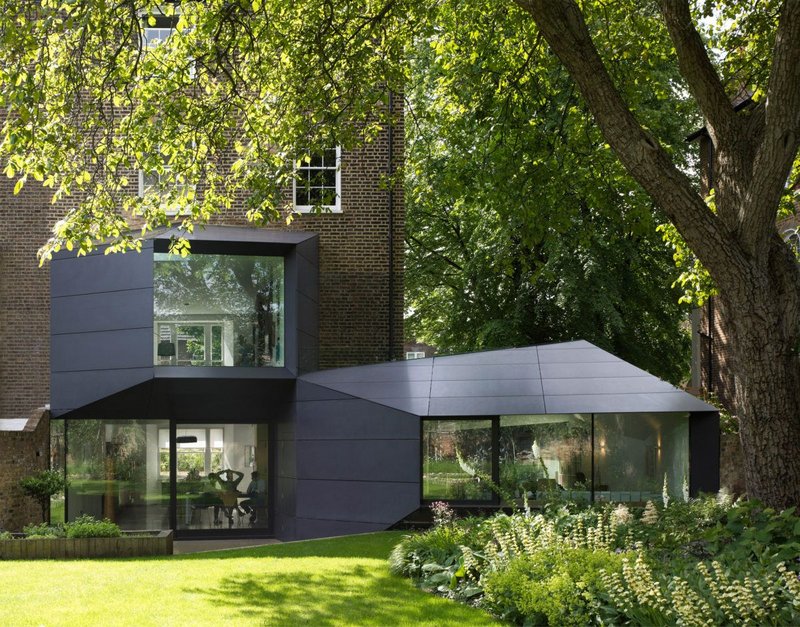 Alison Brooks Architects' Lens House explores Corian as an external layer.

Credit: Paul Riddle
Private practice often starts with a new house or a domestic renovation project for a family member, a friend, or business associate with many architects seeing this type of work as a stepping stone to larger and potentially more profitable projects. Like many architects before her, Alison Brooks worked on a number of domestic extension projects as a means of setting up an independent practice. Her initial win of a hotel commission in Germany was followed by a succession of highly influential, award-winning domestic extensions that were each an experiment in form, material and structure; as they progressed, the projects became increasingly sculptural.
Client/architect partnership
Alison Brooks Architects does not actively seek clients for one-off domestic projects but it does like to ensure one domestic project is always running, as a form of applied research. Today, the firm's work speaks for itself and clients will make the first approach. In contacting ABA they are looking for 'architecture, not just building'.
Brooks manages the design process so that clients 'allow themselves to step into unfamiliar territory' and are 'prepared to buy into the creative process'. But it is rather more magical than that. Brooks says: 'There's a moment in every project where a client will realise that they are commissioning a work of art tailored to the rituals of their daily life. Designing the space of a client's daily life and attempting to make every moment of that life beautiful, surprising, uplifting, is probably the most difficult work of an architect, but the most rewarding.'
During the early design stages, Brooks produces a series of strategic concepts and ways of organising spaces to ensure that clients have the best possible input and feel comfortable with the direction the scheme is taking.
'Some clients can be conservative. I work with them to move towards a more ambitious design solution, working from the simple to the complex,' she says. 'We nudge them forward, and offer the opportunity to stop while revealing the potential of taking another step forward. The design process may start with a very simple box-like proposition that we use as an organisational diagram. Once the limitations of this approach are understood, we can evolve the form of the project and develop a series of spaces which are more tailored to the specific landscape, more experiential, more unexpected.'
Designing the space of a client's daily life and attempting to make every moment of that life beautiful, surprising, uplifting, is probably the most difficult work of an architect, but the most rewarding
Brooks' aim is to 'increase the expressive potential' of the new intervention, to realise fully its spatial qualities and, in the process, to enhance and revitalise the existing structure at the core of the project. Clients are encouraged to join in the process to 'take part in an experimental and interesting journey'.
'It is important that we arrive at a shared vision early,' Brooks stresses, 'as it may take a long time to realise that vision.' During the potentially lengthy construction period, it will not be possible for the client to make any substantial alterations, particularly where planning permission has been hard to win. Windward House (see below) took nine years, for example.
The planning process may be prolonged for a non-traditional extension, although Brooks has found local planners in London and elsewhere supportive of her more innovative schemes which are felt to make a positive contribution to their contexts through contrast and innovation. ABA has rarely had to take a domestic project to a planning appeal, the one exception being Windward House in Gloucester where such a radical and large extension in a sensitive rural context was considered to be challenging.
Cost of quality?
The high level of finish ABA seeks cannot be achieved without a dedicated client and the most competent building consultants, main contractor, subcontractor and suppliers. Architects working on less ambitious domestic renovations may think ABA is working for wealthy clients where cost is not an issue. However, Brooks suggests that her sculpted additions are no more costly than the ubiquitous glass box extension – 'the use of structural glass is an expensive method of construction'. What does cost more is the time spent on each individual project by the design team and this is not always reflected in percentage fees charged.
'As a general rule, we work to a rough guide of £3,000/m2 for domestic extensions,' says Brooks. 'The biggest risk in a domestic project is time. The most effective route to cost certainty in these projects is a reasonable contingency and eliminating any provisional sums at tender. The most important factor is the contractor's commitment to quality, and the cost of quality can be prolongation of construction on site.'
The projects are rarely profitable in terms of fees charged. 'Historically our private residential projects have been break-even propositions, compensated for by the opportunity to experiment with design and construction, to satisfy the client's aspirations and build expertise in the practice,' Brooks explains. 'Our projects have also tended to win awards, publicising our work – crucial exposure for an emerging practice – and smaller projects for private clients have proved to be influential in securing much larger schemes. They are a testament to an architect's design ingenuity and mastery of the construction process.'
Experiments in construction – piles
As well as relying on the expertise of a tried and tested construction team, Brooks experiments with a number of advanced construction techniques, not normally used on small domestic extensions, with the aim of pushing the limits of building design. In the process, she has put together a kit of parts for this type of project. One of the most important components which, literally, underpins many of the new additions is the use of mini-piled foundations. This system was first used by ABA at Salt House where there were difficult ground conditions due to the project's coastal location. At Wrap House a series of metal screw piles support a ground-bearing slab to avoid strip foundations and the requirement to underpin adjacent buildings.
Access will be required for the pile driver, which can be difficult on a landlocked urban rear garden. Equipment can, however, be delivered to the site by crane along with other building materials. The screw piles are screwed into the ground up to 6m deep until maximum resistance is reached. The main advantage of the system is that it avoids the traditional excavation of trenches, deep-poured concrete footings and the removal of a large amount of material which then has to be transported out of town and disposed of, increasing the carbon footprint of the project. A structure on mini-piles has limited impact on the ground, particularly if it supports a raised suspended floor. Disturbance to the foundations of the existing house and neighbouring properties is minimised and the roots of protected trees can be preserved.
Brooks likes the flexibility that a structural steel frame offers in the design of the envelope of her free-form new additions. Three-dimensional computer modelling means that the complex forms can be designed by a team of architect, engineer and steel fabricators, enabling the rigorous checking required to achieve a fully coordinated structure.
Engineering practices David Akera and Michael Baigent Orla Keily both take on the challenge of working on projects with a high design content. The construction drawings are inevitably complex – at Lens House, for example, all of the connections of the structural steel frame were designed by the engineer, not the fabricator. At Lens House, the contractor, Steve Epstein, made 1:100 models of the structural frame so that he could understand and plan the sequencing of construction and the tolerances required. Close and regular supervision is required on site during the building work and, on this project, site services required one ABA project architect full-time. As Brooks explains, 'We have to model the projects three times as there is an inner form, the structural form and the outer envelope, all of which are slight offsets of a folding surface geometry. Coordinating all these elements takes three times longer than traditional construction.'
Experiments in construction – cladding
The angular forms of ABA's additions are clad in a widely varying range of materials; there is no standard solution. 'VXO House was conceived as a series of autonomous elements true to the modernist tradition of the original house: floating cubic volume, V-column, hanging stair, art wall,' Brooks explains. The facade is an L-shaped folded element of hardwood Ipe rainscreen cladding, supplied by timber importer Woodtrend, a contact of the client. Ipe is claimed to have the strength of concrete and a life of up to 200 years. This was the beginning of a long relationship between ABA and Woodtrend.
For Fold House the extension was conceived as a single sheet of 3mm brass rainscreen, cut and folded to create columns, roof, rooflight, sunshades and bench.
In the Herringbone Houses, Ipe is used as a decorative feature for the first time. 'Here we played with the concept of a floor pattern migrating to the exterior of the house. The scaling of the chevron pattern created an optical illusion of accordion-like folds,' says Brooks.
Lens House is the first project to be built in the UK using Corian as cladding. Grace Ice & Water shield has been used to create a water-impermeable roofing membrane on which cladding 'top hats' have been fixed and the Corian panels subsequently bonded. As a flat, large-format, dimensionally stable material, Corian 'achieves the monolithic character and precision difficult to achieve in any other material,' says Brooks. Windward House features ABA's first use of another product, Eternit fibre cement panels, to create 'an effect of shifting vertical lines echoing the trees and darkness of the Forest of Dean. Three-dimensional polygonal geometries govern the plan and roof forms.'
The copper shingles of ABA's latest domestic project, Mesh House in Belsize Lane, Hampstead, north London, are a direct reference to the hung terracotta tiles of area's arts & crafts houses. 'Metal roofing is an ancient cladding technique that accommodates complex geometry. It's a kind of metalwork origami that goes back hundreds of years; I'm interested in the way contemporary form meets a timeless building craft,' Brooks says.
The design concepts that ABA trials in the one-off domestic projects feed ideas into the larger urban and education projects – and there are plenty of these in ABA's portfolio and on the drawing board.
Richard Wilcock is author of Renovations, 32 case studies on domestic renovations with contemporary extensions.
---