Ian Simpson gets quick returns in his home town of Manchester but plays a gentler game in the capital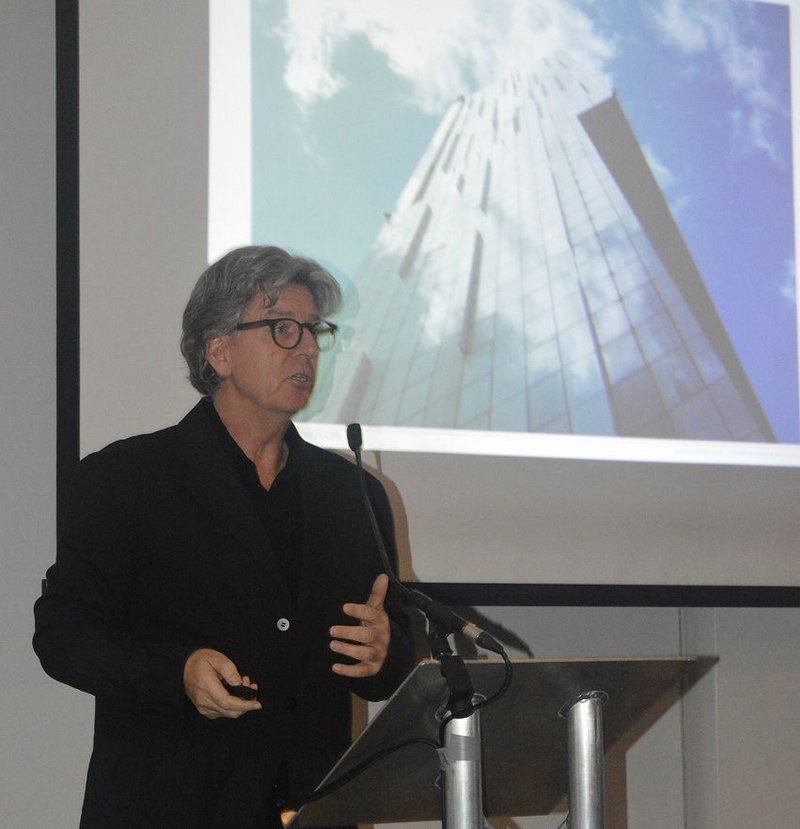 Simpson speaking in the hotel that is located, like his home, in his Beetham Tower.
Ian Simpson grew up in Heywood, a former mill town and overspill estate, eight miles north of Manchester. His mum ran a café; his dad was a demolition contractor. Simpson can see Heywood from his home on the 47th floor of Beetham Tower, the building he completed in 2006. Ian Simpson had – as future biographers might say – humble beginnings.
He founded his practice, with partner Rachel Haugh, in 1987. They employ 110 people, in Manchester and London, two cities he loves. At his VMZinc-hosted talk at the Hilton Hotel, 45 floors below his sitting room, he set about contrasting the two cities and his experience of building in them.
Simpson began by admitting that his building makes a racket in high winds – not that this is a secret to those who read the papers. His Manchester landmark has a finial that rises 20m above the south elevation, and wails mournfully in anything above a stiff breeze. On really stormy nights he's had to move to a hotel across town to try to escape the row. The noise-suppressing contractors will complete their work next year, and Manchester will have had its Hound of the Baskervilles moment.
Later he talked about the small, irregular moments in which significant buildings can be made. These are longer in London, he said, and can even take 15 years to achieve a tall building. He's referring to his scheme at 1 Blackfriars on London's South Bank, which is now finally under way.
You get the feeling Simpson quite likes hard noses and thick skins; that he enjoys mining the thin sociopath seam that sometimes lurks in the minds of super-developers
Ian Simpson is most switched on – and as close to fully functioning as he gets in public – when he reveals his business side. He talks of building the Beetham Hilton at £130 per square foot, of 'working the edge'. He talks of process, design and value, and declares, in a way that hints at the Heywood in him: 'Design is what the architect does. Programme and cost is down to everyone else.'
You get the feeling Simpson quite likes hard noses and thick skins; that he enjoys mining the thin sociopath seam that sometimes lurks in the minds of super-developers. He has a big white grin that wraps around the inherent nature of a demolition man. As well as Heywood there's a lot of Manchester man in Ian Simpson: a touch of Liam Gallagher; something of Bernard Sumner.
But then he says 'elegant', and you see another side as he rhapsodises about the form of a piece of Danish glass (Simpson likes glass: 'It keeps rain out and lets light in'. Simple.) He's showing the evolution of 1 Blackfriars, the extended planning delays on which were clearly not to his liking. Nor does he favour a tall buildings policy for London. He's a 'let's get on with it' sort of bloke. He makes, and needs, quick responses. He's realistic about the recession and conscious that another one might lurk round the next corner, even for London, for Grosvenor Estates, for Sovereign Wealth Funds, Saudi Royals and Russian football fans. You get the feeling that Battersea Power Station needs him (which is doubtless what he told them when the stalled scheme swapped developers).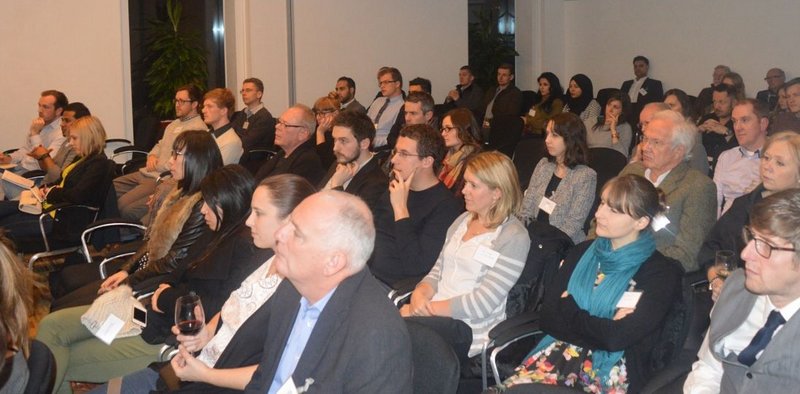 Simpson told his audience of the differences he finds between London and Manchester.
Back in Manchester, another stalled scheme – though not Simpson's – the basement steel and concrete frame of which has been being graffitied since 2007, is to make way for his 42-storey 'Baby' Beetham (with no visible fin). This will sit close to tricorn Parkway Gate, Simpson's three towers of student accommodation completed in 2008. He's beginning to get a cluster – what he was aiming for before the global economy thwarted him.
The practice is proud of the work it completed this year, refurbishing the Manchester Town Hall Extension, by E Vincent Harris alongside Ryder's transformed Central Library (also by Harris). These recession-busting commissions of two major civic buildings by Manchester City Council represent the bold can-do attitude that Simpson so clearly upholds. He makes no secret of his support for the Manchester administration and makes no enemy of these city planners. Manchester City Centre is his bailiwick, and he keeps it close.
It's no surprise then, that he presents his library link building as though it raises no controversy whatsoever. In fact, his double height sculpted glass and polished steel vestibule troubled the National Planning Inspectorate for three long late-summer days, and it has yet to deliver its deliberation. The part-built stalled structure, that also links the two Harris buildings at basement, may yet fall foul of a denied Public Path Stopping Up order, and be instructed to be removed. No Simpson building has spurred such widespread opprobrium among the architecturally tuned. And yet he sails on, as though no one could possibly doubt the quality and appropriateness of his solution. And anyhow, he has another sizeable chunk of city to build, directly across St Peter's Square.
For Simpson, London and Manchester are different worlds. Therefore, he plays two different, though complementary, games. In London, he knows his place, and moves forward carefully, observing and gaining experience. Back in his Manchester office, he and his team score goals seemingly at will. There was a football manager in this city like that not so long ago and you can probably guess where the boy from Heywood watches his football.
---
Manchester, by Phil Griffin and photographer Jan Chlebik, is available at www.mancunianbooks.com