Architects can find themselves fighting to maintain quality on everyday homes, particularly on design and build contracts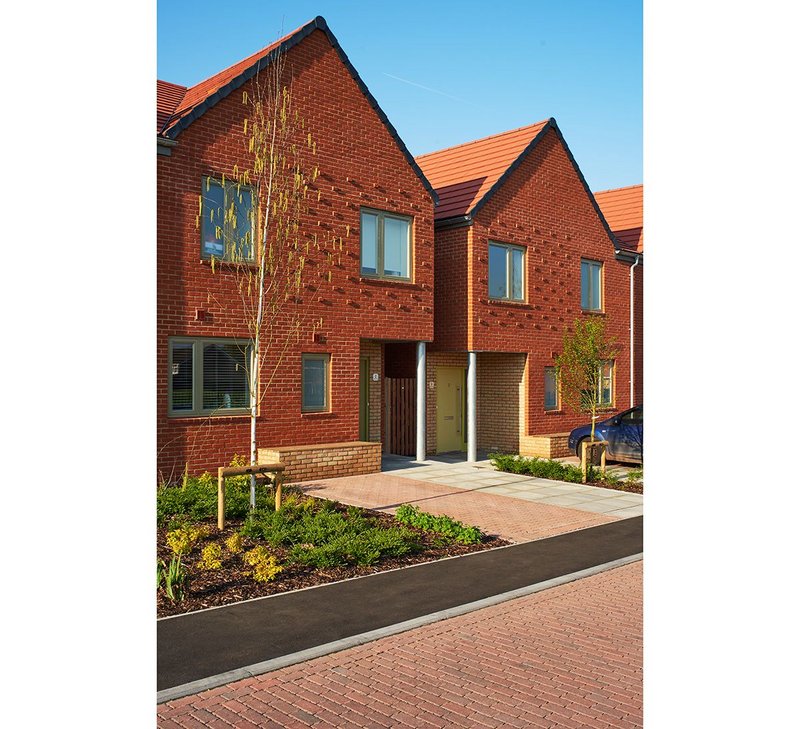 The basic brick backdrop of Umpire View by Sarah Wigglesworth Architects is added to by a projecting brick pattern on the gables.
An optimistic spirit drives those of us working in public housing. It's especially needed when working on small projects, where clients, planners and contractors are less invested because they have bigger fish to fry. In these circumstances the architect acts as the guardian of quality, the one agency interested in building with care. Yet D&B contracts secure almost no authority for the architect, and we often have to fall back on small tactical manoeuvres when the strategic powers offered by the planning system and client support lets us down.
Building within cost yardsticks is particularly challenging in London, as the story of Umpire View, our recently completed housing scheme in Harrow, illustrates. Its context is classic Metroland, where, in the early 20th century, fields were covered by semis that are still a dream home for many people. Its ubiquitous nature undervalues this environment, but take away the accretions of time – the tacky extensions, DIY alterations and concreted front gardens, and underneath there's a simple formula: a basic brick structure with added ornamentation. It's familiar and offers scope for endless reinvention.
We were appointed to carry out detailed design after an outline planning permission had been achieved through a long-drawn-out public enquiry. The development fringes a large open space formerly belonging to the Church of England. This became the focus of a simple landscape proposal, a village green for the surrounding homes and a park for the wider community. Thinking about the details of everyday life, we made sure that kitchens overlooked this green space, and we paired adjacent entrances, providing them with simple bench seats that allow neighbours to sit together outside, take off muddy boots and dump their shopping on the way in.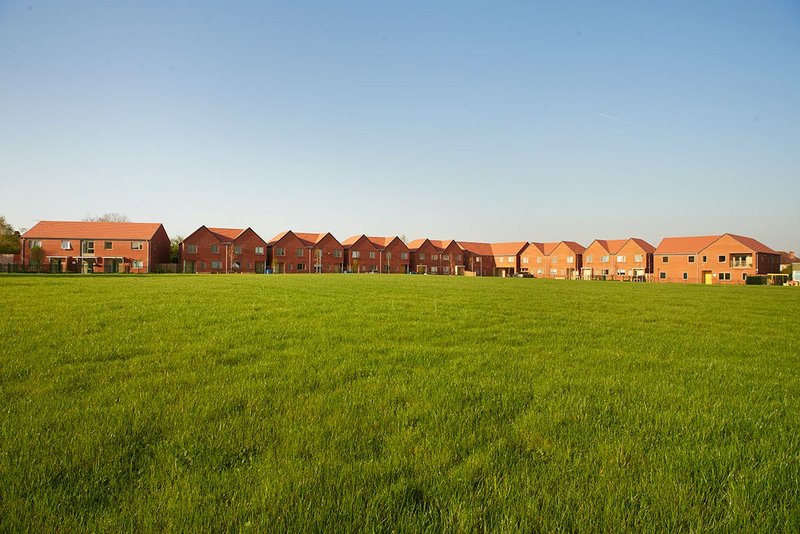 Kitchens overlooked the green space. Umpire View by Sarah Wigglesworth Architects.

Credit: Tim Smyth
Our aim as a practice has always been to celebrate the ordinary by lifting it beyond the banal. We contextualise our work by observing local characteristics and, by making small adjustments, we aim to put a contemporary spin on the vernacular. So here we developed a repeating module of house types (book-ended by apartment buildings) to provide visual unity to the development, with a range of unit sizes and tenures that cater for a variety of local needs.
On our basic brick backdrop we incorporated simple gestures that would lift the development beyond the conventional and create a sense of place. Our client felt that half-timbering would be an unimaginative pastiche. Instead we suggested a projecting brick pattern on the gables, an unfussy and low-cost decorative feature that animates the facades through the play of light and shadow as the sun tracks around the site. The green and yellow doors were inspired by the flash of a woodpecker that brought joy on an early site visit. Despite the contractor's scepticism (the site manager nicknamed them the 'burglar steps'), we detailed projecting brick sills which were carried out in accordance with our drawings. Here our luck ran out.
We fought a long and painful battle with the contractor when they demanded that we change our approved planning drawings to include cheaper uPVC windows. uPVC is harmful to the environment, and when we repeatedly refused to carry out this instruction we were threatened with removal from the project. Fortunately the planning department stood their ground and rejected the cheaper substitution. Later on, and overriding our objections (on environmental grounds) and our drawings, timber bargeboards, soffits and trims were replaced in plastic by the contractor because they were both cheaper and more familiar to them. No amount of appeals, to contractor, client or planners, held sway. We can only hope that greater awareness of plastic's harmful impact will bring about regulatory change that restricts its use.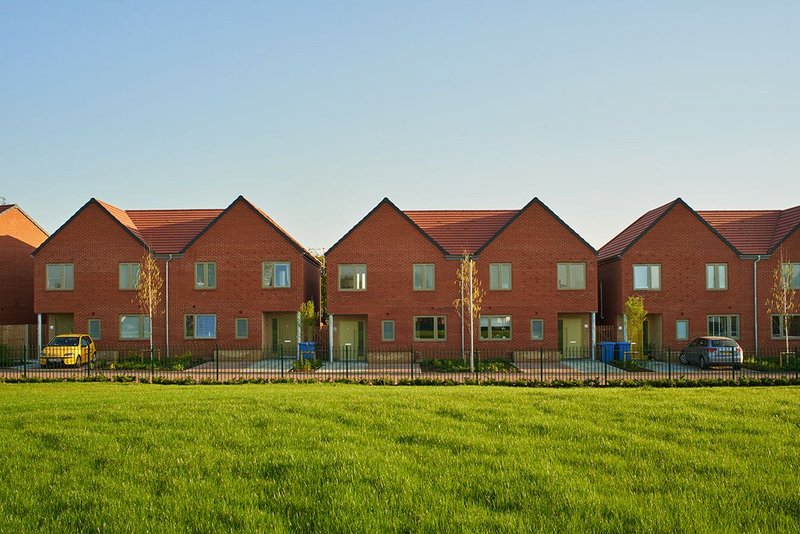 Green and yellow doors were inspired by the flash of a woodpecker. Umpire View by Sarah Wigglesworth Architects.

Credit: Tim Smyth
As architects we are often marginalised when cost information is withheld because it forms an essential component of the design brief. At Umpire View this was the case – an uncomfortable and infantalising situation that goes against collaborative ways of working that are at the heart of our ethos. While given freedom to select a facing brick within a price bracket, we are left asking: how can architects make a sound decision on specification without the full information? And why are we not trusted with relevant information so that we are effectively working blindfold? Unless the client shares the design vision, champions quality and supports the architect, the end product will inevitably be compromised.
The architect's struggle to bring lasting value through design quality is a permanent battle. It needn't beat us, but it takes determination, persistence and a few simple tricks to overcome the structural problems that restrict the architect's powers, and – in the words of Yvonne Farrell of Grafton Architects – to 'lift something over the threshold, from being something that is okay to being something of value'.
---