From thermal comfort, sustainable drainage systems and even adding financial value, learn more about how trees can play a crucial role in the design process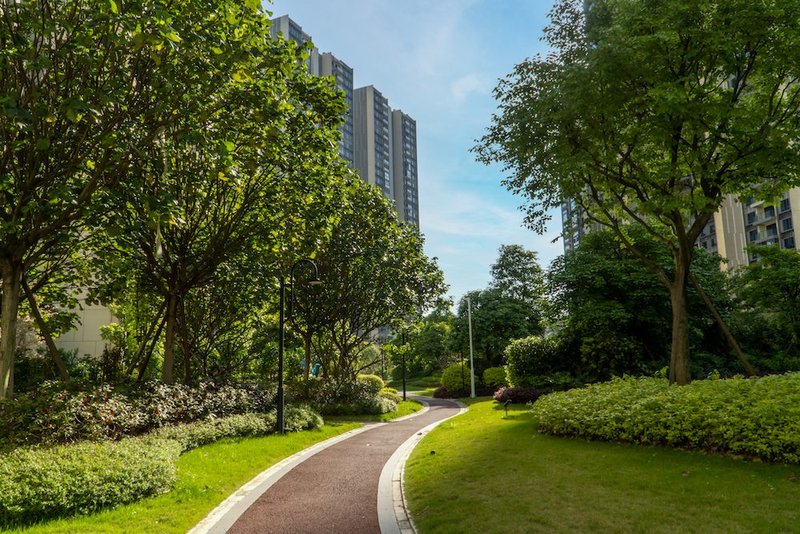 Retention of existing trees and hedges, and associated soil resources, is an effective strategy for biodiversity preservation and enhancement.

Credit: iStock Photo
As the UK stifles through another heatwave, the climate has and will continue to change. While there is no one solution to fix this, trees are one key measure to help reduce these impacts.
The National Planning Policy Framework (NPPF) was updated in 2021 with a requirement that planning policies and decisions should ensure that all new streets should be tree-lined, that existing trees should be retained wherever possible and that opportunities should be taken to incorporate trees elsewhere in developments.
Two years on, and with these requirements expected to be retained in the forthcoming iteration of the NPPF, things haven't proved to be as simple as they should have been.
Sue James, architect and Convenor of the multi-disciplinary Trees and Design Action Group (TDAG), explains growing numbers of local planning authorities are drawing up urban tree strategies. Additionally, some of the larger house-builders have come on board with their own tree-promoting policies. All good news, you might think. However, far too many developers still need to be persuaded that planting trees is not overly problematic and is worth the effort.
Why should architects be involved in promoting the benefits of trees?
James believes architects should be taking more of a lead in promoting the benefits of trees to developers and bringing nature into their development plans. This will mean explaining to clients how trees add perceived value – including financial value - to projects and, of course, how it should make it easier to get planning permission.
Along with a major two-part TDAG report, Trees, Planning and Development: A Guide for Delivery, for which RIBA is a primary partner, James details the financial, environmental and social value of a solid tree strategy. This includes a trio of key value propositions for tree planting and retention that can be presented to clients.
1 Enhancing thermal comfort.
Trees can affect all four environmental factors impacting human comfort: air temperature, radiant temperature, air velocity and humidity. Demand for cooling strategies is expected to increase, with The London Plan already calling for major development proposals to demonstrate how they will reduce the potential for overheating and reliance on air conditioning systems.
2 Dealing with storm water sustainably and complementing mandatory SuDS requirements from 2024.
Trees can contribute to surface water management through canopy interception, evapotranspiration, infiltration and bioretention, while appropriately-designed tree rooting environments also provide water retention and pollutant removal. They have a role to play in terms of minimising surface run-off during periods of heavy rainfall. Creative solutions will be increasingly important in helping to prevent possible damage to buildings and infrastructure from flooding in the future.
Trees can also be incorporated into Sustainable Drainage Systems (SuDS). Mandatory SuDS for new developments are expected to be implemented next year (2024), with Wales already introducing mandatory SuDS.
3 Complementing biodiversity net gain requirements.
Retention of existing trees and hedges, and associated soil resources, is an effective strategy for biodiversity preservation and enhancement. Biodiversity net gain of 10% will become a planning requirement in October 2023 (April 2024 for small sites).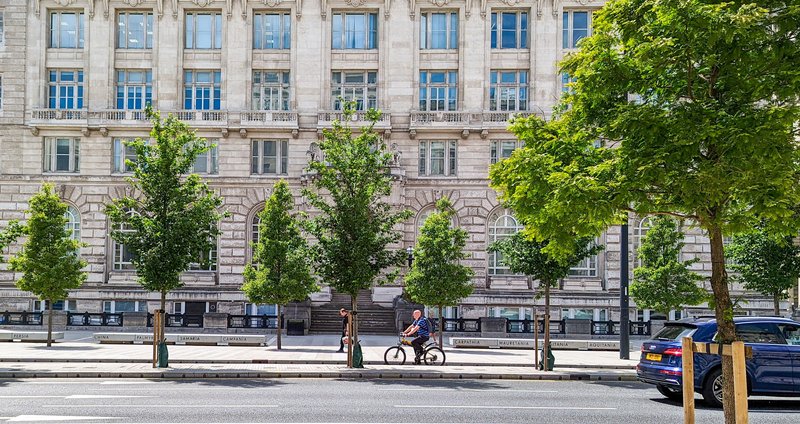 Creating spaces for trees can help provide safe and sustainable active travel with segregated cycle lanes. The Strand, Liverpool shows how restructuring existing highways has allowed space for over 150 trees; all planted within structural crate systems and permeable paving. Liverpool City Council have invested in the future of these trees to help meet climate change targets.

Credit: BCA Landscape
What are the other benefits of incorporating trees into designs?
Research has shown that strategic use of greening enhances denser residential areas, with trees being identified as the most valued green infrastructure intervention. The TDAG guide contains a series of case studies showing how trees were employed as critical green infrastructure in schemes ranging from Proctor & Matthews Architects' low-density housing in Great Kneighton to AHMM's highest-density Barking Central Phase Two regeneration project.
Amenity trees can also be treated as capital assets and assigned a monetary value, which developers can be encouraged to incorporate into their financial development models.
When it comes to architects during the design stage, they do not need to become arboriculturists to get trees into plans, says James. Rather, architects can get ahead of the curve and investing design time in demonstrating how it can be done, when the prevailing attitude might be that it can't.
It is then a question of knowing what sort of specialist advice will be needed and bringing it in at an early enough stage to achieve good integration with landscaping, water management and planning for utilities.
'The key to any strategy, whether for adding or retaining trees, is to set out the purpose behind it, what it is that you are trying to do,' James continues. 'Trees will be only one element in a climate-based masterplan, but you can make a clear case to a client for their value.'
James would like to see more local adopted tree strategies as planning policy in the future, including area-wide, evidence-based tree canopy cover assessments and targets. This would give developers a level playing field, she argues, and would put an end to excuses that small sites are too small to make a meaningful contribution to tree strategies.
Conversations about how we can adapt to climate change are starting to become more commonplace across the built environment. Trees are just one way to embed additional climate resilience, and it is right we reap their benefits – from helping to limit flooding, improving air quality and providing green spaces. Architects have a vital role to play in embedding sustainability into places and finding creative solutions to the climate challenge. Trees can be part of creative design, keeping these benefits in mind.
Until then, architects should be learning how to make the case for trees to their clients, James concludes, so they can see the sense in it for themselves.
Thanks to Sue James, Chartered Architect and Convenor of the Trees and Design Action Group (TDAG).
RIBA Core curriculum topic: Sustainable architecture.
As part of the flexible RIBA CPD programme, professional features count as microlearning. See further information on the updated RIBA CPD core curriculum and on fulfilling your CPD requirements as an RIBA Chartered Member.