A complete guide to the RIBA's new Overlay, which aims to assist architects and clients who want to raise the bar when it comes to sustainability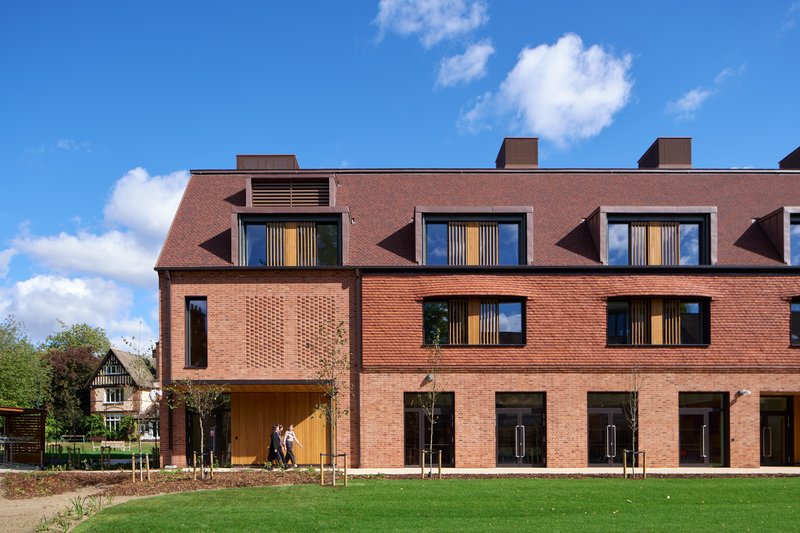 The Passivhaus Overlay provides clarity on the order of effective decision making and design exercises to achieve streamlined certification. Passivhaus student accommodation designed by RHP for Lucy Cavendish College, University of Cambridge.

Credit: Lucy Cavendish/Nick Gutteridge
The RIBA in partnership with the Passivhaus Trust has launched a Passivhaus Overlay to the Plan of Work in order to help project teams and their clients make informed design decisions at the right time so that their project may achieve Passivhaus standards.
According to author, architect and certified Passivhaus designer, Mark Siddall, the Passivhaus Overlay provides a useful starting point for any project team thinking about raising the sustainability bar on their projects and working towards the Passivhaus standard.
The document gives valuable insights into the actions, considerations and processes relevant at each RIBA Stage, outlining the sequences and workflows that successful Passivhaus projects follow. It is not intended to be a standalone guide to achieving the Passivhaus standard, rather it provides clarity on the order of effective decision making and design exercises to achieve streamlined certification. Additional guidance and resources are signposted for project teams wishing to undertake further reading.
What are the key pillars of Passivhaus design?
The Overlay was informed by the findings of a survey carried out with the RIBA North East Sustainable Futures Forum, which illustrated that Passivhaus designers perform certain duties and design activities at an earlier stage than conventional design approaches. Key considerations consistently brought forward are: energy use, thermal comfort, summer comfort (avoiding overheating), air tightness and addressing thermal bridges, which form the key pillars of Passivhaus design.
'We found that practices designing to the Passivhaus standard have been developing their own overlays over the years. With the Passivhaus standard now being applied to larger building types of increasing complexity, it seemed like the right time to bring all of this practical experience together in one place,' says Siddall.
'The emphasis is on making design changes at early stages and getting genuine value engineering techniques in place that support the delivery of cost effective Passivhaus buildings. The earlier you make decisions which explore the implications of designing to the Passivhaus standard the more opportunity there is to deliver the project cost effectively.'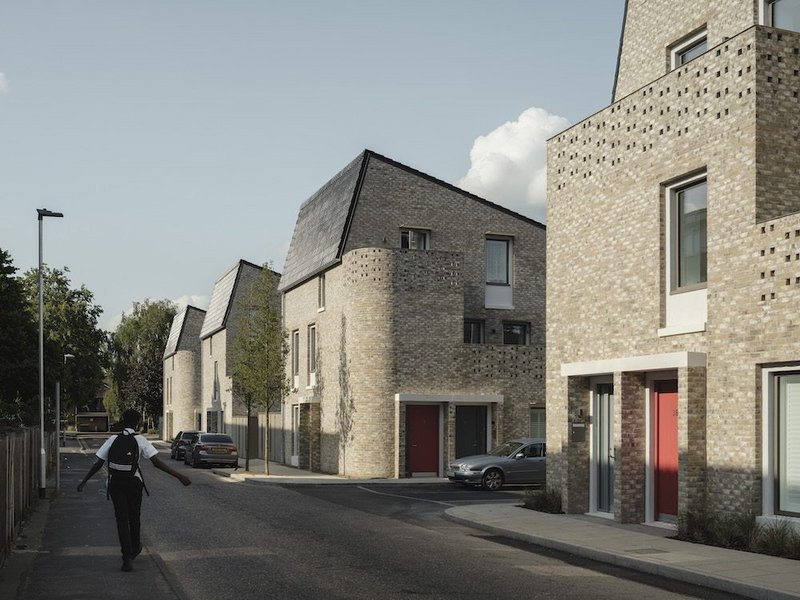 Passivhaus housing Goldsmith Street in Norwich, designed by Mikhail Riches, which won the RIBA Stirling Prize in 2019.

Credit: Tim Crocker
How Passivhaus designers use early modelling
Passivhaus designers employ prototyping and options analysis, using the Passivhaus Planning Package (PHPP) often before an architectural design has been developed to deepen their understanding of site and project specific parameters.
This early modelling gives each building type and site an optimal range of useful design metrics, such as form factor, glazing ratio and ventilation rate. These procedures take place between RIBA Stage 1 and 2. This approach is contrary to traditional practices.
The Passivhaus Overlay itself is broken down into three workflows across the RIBA work stages: Delivery Strategy, Core Quality Assurance Tasks and Procurement Tasks.
In parallel with the Overlay is a separate Roles and Responsibilities Matrix that indicates who should be doing what and when at each RIBA work stage. This is useful for all members of the design team and will help clients to understand where their own decision making is needed.
Siddall says both the Overlay and its matrix will work for all procurement options, just as the Plan of Work does, and will work at all scales, for all building types, as well as for retrofits that are targeting the Passivhaus EnerPHit standard.
Passivhaus can reduce embodied carbon
The Overlay also presents opportunities for designers to reduce embodied carbon alongside the usual Passivhaus focus on operational energy.
The Passivhaus standard does not talk specifically about embodied carbon, but Siddall adds that good Passivhaus strategies are sympathetic to reducing embodied carbon.
For example, getting a building's form factor right, which usually means simplifying the shape to reduce heat loss, avoid thermal bridging, improve airtightness and support buildability, will also reduce surface area and so reduce the amount of materials needed even before any discussions have taken place about which materials to use.
Even though the RIBA 2030 Climate Challenge is an as-built standard and Passivhaus is a design standard, Siddall points out, there is a lot of congruity between the two.
The monitoring of over 2000 Passivhaus dwellings shows that they achieve and maintain their design targets and homes do not suffer from the so called 'performance gap'. Therefore, designing to the Passivhaus Standard offers a credible route towards of providing the as-built performance required by the RIBA 2030 Challenge.
As a case in point Siddall has demonstrated that Passivhaus new build and Passivhaus retrofit projects (EnerPHit) he has worked on satisfy the requirements of the RIBA 2030 Challenge.
For instance, after showing that Shepherds Barn EnerPHit Plus, the North East's first certified Passivhaus retrofit, achieved a 30% improvement upon the RIBA 2030 in-use operational energy and embodied carbon targets, the project went on to win RIBA Northeast Building of the Year 2022, as well as scooping the 2022 RIBA Sustainability Award. The forward thinking clients gained recognition by receiving the RIBA Client of the Year 2022 award. Sidall reports similar results for Larch Corner Passivhaus, which is believe to be the UK's most airtight building.
'The beauty of the Passivhaus standard is that it has been shown to close performance gaps. If you are designing to the RIBA 2030 Challenge and you don't want embarrassing performance gaps, then you want really to be designing to the Passivhaus standard.'
He concludes: 'The Passivhaus Overlay to the RIBA Plan of Work helps clients and project teams make informed, intelligent decisions so that they can have a positive impact upon the project outcomes. In essence it takes something that has been implicit within the design process for Passivhaus buildings and now makes it explicit so that anyone can use it and adopt it.'
This is the first in a series of specialist overlays that will be released through 2023.
Thanks to Mark Siddall, Director of Architecture and Research at LEAP.
RIBA Core curriculum topic: Sustainable architecture.
As part of the flexible RIBA CPD programme, professional features count as microlearning. See further information on the updated RIBA CPD core curriculum and on fulfilling your CPD requirements as an RIBA Chartered Member.