The pandemic may have affected which markets are flourishing, but given UK architects' talent there will still be plenty of overseas work, particularly in Asia and sub-Saharan Africa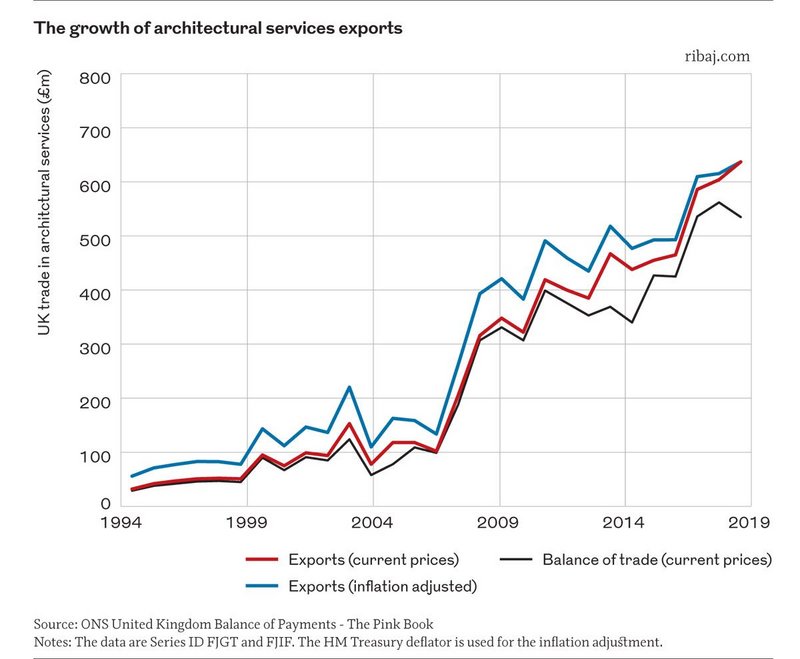 Chart 1.
Selling their skills internationally has become a key slice of the market for UK architectural practices over the past 15 or so years, as Chart 1 (above) shows.
Many factors will have played into the shift overseas, notably the rapid development in Asia which provided opportunities, and the expansion in the UK of larger international practices and multidisciplinary consultancies, which helped provide the scale to take on the work.
Irrespective of the causes, this growth proved extremely conveniently timed, supporting the sector through the dark days of the recession that followed the global financial crisis.
In recent years, exports have tended to account for around 15 per cent of the overall architectural services activity generated in the UK.
Numbers will vary depending on definitions. The Department for Digital, Culture, Media and Sport (DCMS), which takes a slightly narrower view of architecture, reckons that in 2019 exports by architects amounted to about £470 million, down from a peak in 2016 of £635 million. That from a sector estimated to annually generate £3.5 billion of economic activity.
Whichever way we look at it, international markets now provide a healthy slice of the overall workload for architects, especially in larger practices. Now, with both Brexit and the pandemic disrupting the pattern of overseas business, plenty of architects will inevitably be worrying about the potential medium and long-term impacts.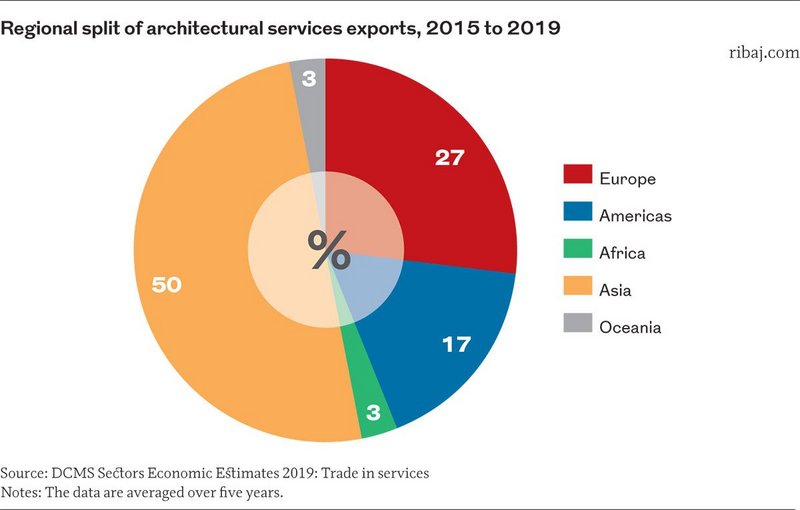 Chart 2.
A good starting place to assess the impact is to look at the main markets for UK architects. Chart 2, using DCMS data for the years 2015 to 2019, illustrates the broad spread of activity in overseas markets. Unsurprisingly, Asia dominates, given it covers the Gulf States, which on their own accounted for 28 per cent of exports over the five years, along with China (8 per cent), India (3 per cent), Hong Kong (1 per cent), and Japan (1 per cent).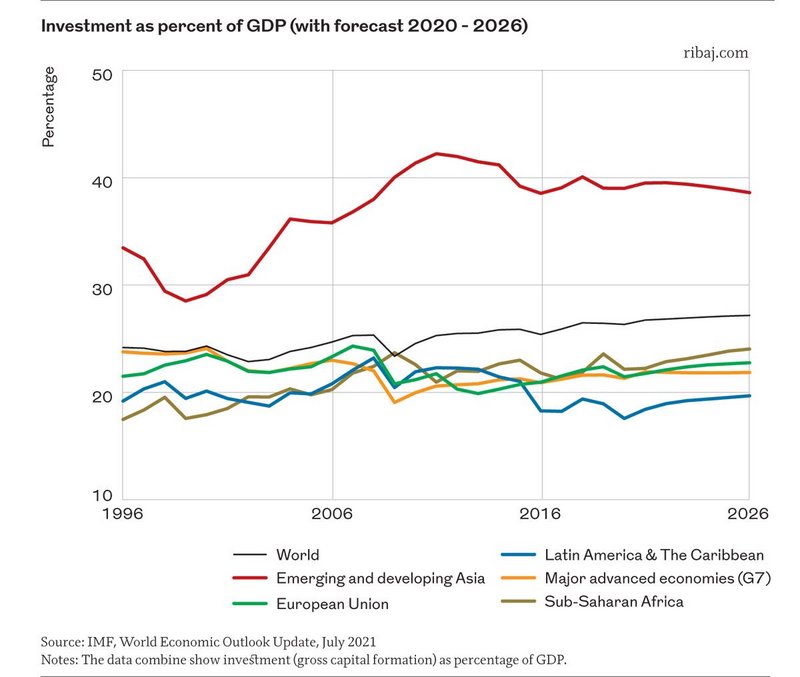 Chart 3.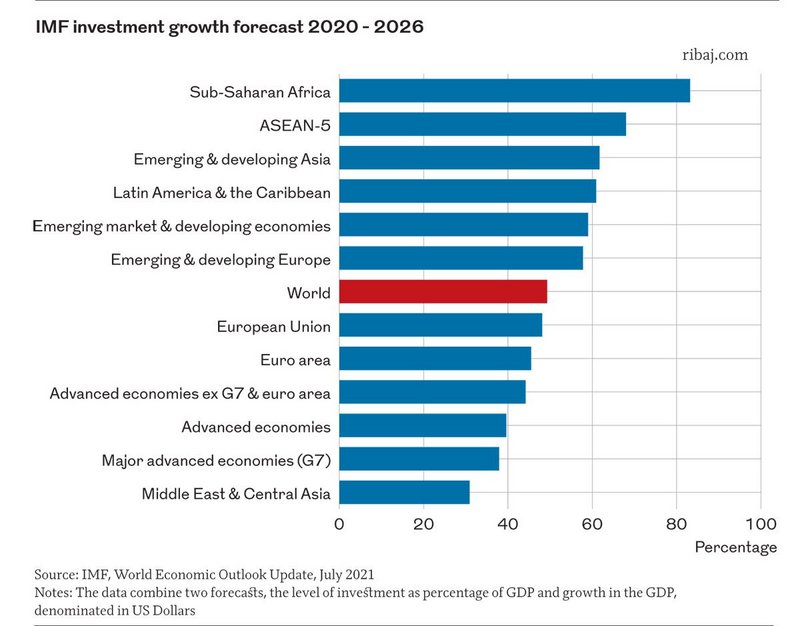 Chart 4.
Chart 3 and Chart 4 show the level of investment as a percentage of GDP for various nation groups and expected growth rates. While investment covers more than just the built environment, buildings and structures represent a large slice of the investment pot, particularly in the early stages of development.
Two things are evident from Chart 3. Firstly, there was an acceleration in investment at the turn of the century, in large part down to China. Secondly, in emerging and developing Asian nations, investment is far higher relative to other international regions. Again, much is down to China.
Chart 4, based on International Monetary Fund (IMF) forecasts, suggests that growth in investment will remain strong in Asia. This will be increasingly driven by the ASEAN-5 countries: Indonesia, Malaysia, Philippines, Thailand, and Vietnam. The oil-rich Middle East and Central Asia will see investment increase modestly, despite a gentle dip in the share of investment within their economies. This suggests they may prove less dynamic for growth in construction activity.
The major advanced economies, meanwhile, look set to tilt their economies towards slightly more investment. Sub-Saharan Africa emerges as the region with most potential for growth.
Bringing the data together, it makes sense that UK architectural practices, and other construction-related professionals, have been most successful in Asian markets over the past two decades. Many Asian nations, including those in the Middle East, have been developing rapidly and continue to do so, eager to create infrastructure on which to build better futures. This is seen in the sharp increase in investment as a share of GDP at the turn of the century. However, the pace and nature of their development has outstripped their national pools of talent. This has provided opportunities for businesses in more mature economies.
Fortunately, distance is less of an economic barrier to trade in knowledge-based services such as architecture, compared with trade in goods or the more person-to-person services. Meanwhile, information technology continues to lower the barriers of distance.
This provides partial clues to the likely impact of Brexit on architects' workloads. Their overseas earnings are clearly less vulnerable than many other sectors if workloads fall in the EU. The EU has accounted for about a fifth of UK architects' overseas work, with Ireland representing about a quarter of that. Even before leaving the EU, architects had already been focusing on markets well beyond Europe. For practices without a very strong unique selling point, the EU inevitably provides a tougher challenge with more intense competition from local operations.
That said, the EU might have become more of a home market over time had the UK remained. In that way, it may be regarded as an opportunity lost. However, the more immediate challenge created by Brexit is likely to be less about the loss of direct business opportunities and more about access to a free flow of talent and working freer from friction in developing close relationships with EU partner businesses in international markets. That, obviously, is conjecture.
Turning to the impact of the pandemic, it's still early days for forming a clear picture, but there are signals. Lockdowns, travel restrictions and a focus on getting through will have as made it harder to maintain existing commercial contacts and foster new ones. Projects will have stalled and some will have been abandoned. But the effects of Covid-19 are likely to leave a more lasting mark on the international market for architects.
What is intriguing is how many of the quirkier effects of the pandemic observed in the UK are mirrored around the globe, particularly in similar more economically advanced nations. Despite fears of a nasty economic hit and potential job losses globally, house prices rose in 2020 and rose sharply in many advanced economies. In many nations, a combination of supportive government policies and households' apparent reappraisal of the value of a home has fuelled house price inflation.
Although the pandemic prompted many common outcomes, the impacts were not evenly distributed either within countries or between them. The similarities and differences are well documented in the International Construction Market Survey 2021, recently released by Turner & Townsend. This provides a useful guide to the pandemic's impact on construction across the globe and suggestions of how it might have reshaped the challenges and opportunities.
It looks at the top-performing sectors across various global markets and how they have changed. Here the impact of the pandemic is clear. Data centres rose to the top from eighth in 2020, while manufacturing and distribution rose to third from sixth. Education and health were also risers. These all fit with the effects of the pandemic and impacts of lockdown. The reliance on information technology spiked with the arrival of Covid-19, as did online retail. Top sectors that dipped slightly were transport (road, rail, and ports), housing, and office fit-outs. These too will have been seen as priorities in response to the pandemic.
The big fallers worldwide were commercial office development, which dropped from fourth to 15th in a list of 17, and airports which dropped from ninth to bottom. Sports, leisure and hospitality also fell in the rankings. Questions will linger for some while over whether this is a blip or whether it represents deep-seated changes in preferences.
The answer is not straightforward as these shifts are in some ways an acceleration of slower-moving underlying shifts. The report also brings out the growing urgency over tackling climate change. A change with profound implications for global construction happened during the pandemic with the change of US president. This has reversed the mood on climate change within the US, bringing it into closer alignment with the other major political powerhouses: the EU and China. It suggests that the global construction sector will have to increasingly embrace the green agenda.
Here there is a deficit of talent globally and a very immature supply chain. Both will need to be addressed if rapid progress is to be made on meeting net zero targets.
This stress on the system comes at a time when pockets of skills shortages are already increasing across the world. Turner & Townsend's report shows skilled labour shortages to be the biggest challenge to construction after Covid-19. Investors and constructors globally are also battling with significant market uncertainty and rising costs, which have shot up the list of major concerns. This is in part due to supply chains being badly shaken by the restrictions imposed and uncertainty over the past 18 months.
What is encouraging is the expectation that many markets will bounce back in reasonably short order, although about 10 per cent are expected to take more than two years to recover, according to the survey.
Pulling all this information together, there is a sense that UK-based architects, along with their global competitors, will face a tough time rebuilding relationships in overseas markets. That is the nature of disruption. It is a challenge ahead for many if not most businesses trying to establish or re-establish themselves in foreign markets in the wake of Covid-19.
But looking at how things are aligning in construction around the globe and the talent latent in UK architectural practices, the tide is flowing in a very favourable direction if they wish to grab opportunities and build a future in overseas markets.