Conviction that the recession is over is prompting Northern Irish practices to spread their wings
Northern Ireland is a minute ecosystem of architectural practice, exhibiting various modes of operation from big city cut and thrust to rural calmness, exquisite craft to smart commercialism. Many now refer to the construction industry's dip in fortunes as historical – a view supported by Mike Moore of Belfast-based Hayes Recruitment, who has witnessed a steady increase in recent months of successful placements, and a trickle of returning architectural exiles.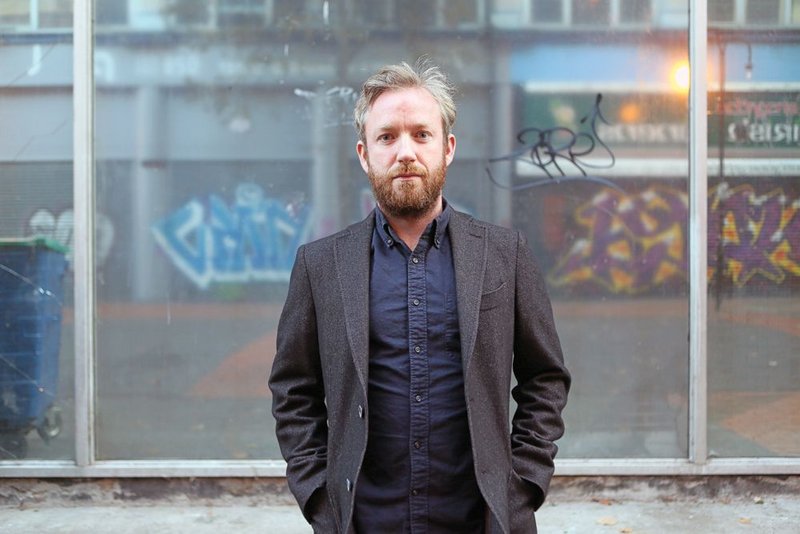 London Met's Michael Corr has returned, bringing back skills and building confidence in the local economy.

Credit: Alan Jones
Both present and future are encouraging. Come April 2015, local government reform will allow the new, larger, amalgamated councils to compose development and community plans. Architects with a wider set of urban design and negotiating skills will find a niche supporting the councils in their new roles. There could be an influx of such skilled architects, encouraged by the new situation. Local schools of architecture and their students will also find that traditional core skills can be supplemented for the new situation. One such architect is Michael Corr, of London Met (CASS) and Pie Architecture, who has recently taken up the role of creative director of Place, the built environment centre for Northern Ireland . Corr cites his desire to use the skills he developed during his time at East Architecture and as an advisor for the GLA's Design for London as his motivation to improve the situation in his home Northern Ireland. His pairing up with the locally-based American Dr Sarah Lappin to form the 'Community + Politics' group within the Queen's University MArch Part 2 is a third way of using his skills and experience to contribute positively.
Award winning culture
Practices that could, and do, operate in bigger pools choose to keep their home base in Northern Ireland because, as Ian McKnight of Hall McKnight says, 'it is who we are', and they are part of an increasingly award winning local culture. Together, Alastair Hall and Ian McKnight are at the vanguard of a reach out from Northern Ireland, (Vartov Square Copenhagen, Ipswich Cornhill, Kings College London), a trend recognised and supported by local agency Invest NI. The 2014 Royal Society of Ulster Architects Design Awards was a dazzling sell out, with Invest NI introducing a new award for exporting architectural services, acknowledging the growth in architects, engineers and contractors taking their expertise to new markets.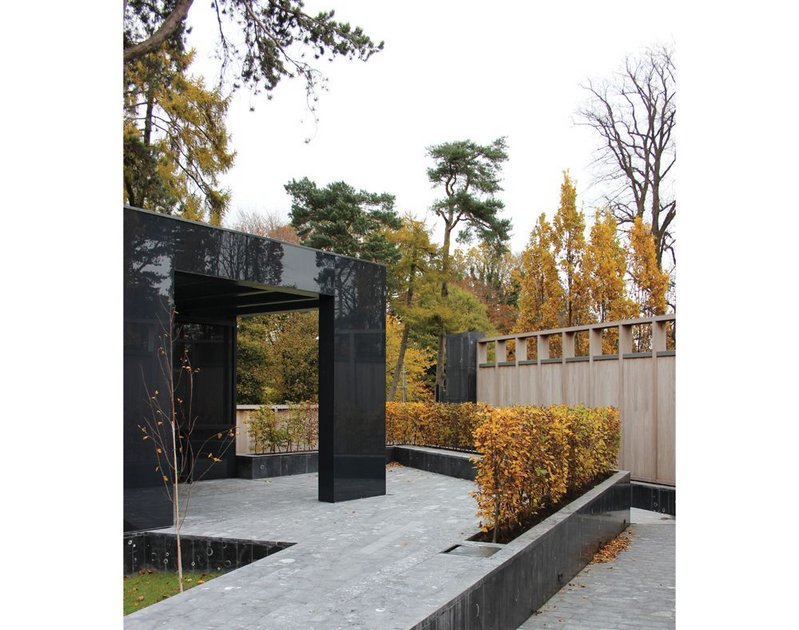 Hall McKnight's Police Service of Northern Ireland Memorial gardens. The firm builds in the UK and internationally.

Credit: Ros Kavanagh
Supporting market research and partner identification, Eleanor Butterwick of Invest NI emphasises that new markets can be challenging. The organisation offers support to practices to undertake reconnaissance to understand the market before committing hard earned resources. Expanding markets include the Republic of Ireland and London, and Hall McKnight is taking the plunge with a new office in central London, while citing identity, low costs and high quality staff as reasons to maintain its original main office in East Belfast. It holds Bath-based Feilden Clegg Bradley as an example of practice that can have a home firmly embedded in a one location and a strong presence in another.
But Hall McKnight is also looking at local commissions – it has recently been appointed by Belfast-based Clanmil for a reasonably large project in Londonderry. The development office of this housing association has been encouraging a rise in its aspirations for design quality. Andrew Corkill, an enthusiastic advocate for quality within Clanmil, describes it as being focused on an open ­process that delivers sustainable communities through purpose designed projects which acknowledge specific site characteristics. This infiltration to the client side, of recognising that investment in the pre-construction phase of a project brings long term benefits, is gradually finding traction in other organisations.
The venerable John Cole, previously deputy secretary of health estates in Northern Ireland and now an honorary professor at Queen's University, may have worried that his well-recognised efforts to raise the quality of healthcare procurement would founder when he retired. Luckily, the local healthcare estates framework introduced this year would seem, despite some initial difficulties, to be continuing the drive for quality and fair fee levels – and those involved should be applauded for maintaining Cole's momentum.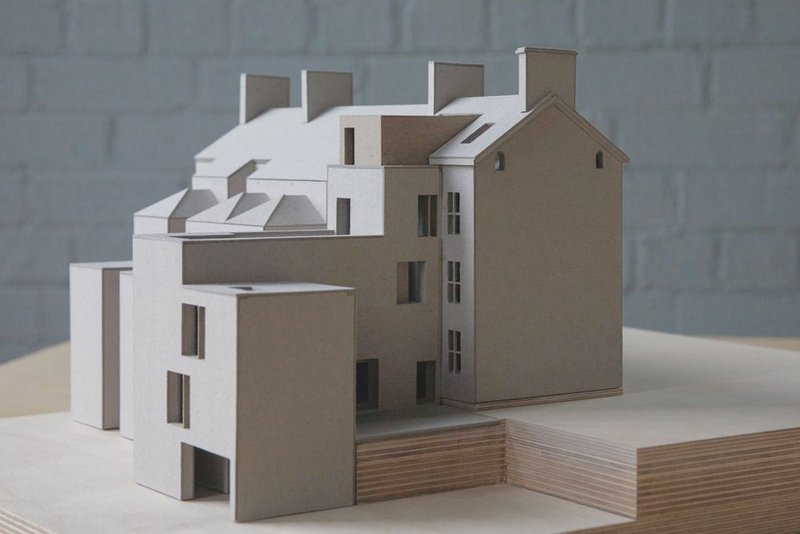 MGMG's CLIC Sargent Home from Home 2, Belfast. The considered design sees local charities as well as the public sector investing in home-grown talent.

Credit: Michelle Reuter
The torch of quality is being carried highest in the local charity sector by CLIC Sargent, a cancer charity for children and young people. With one RIBA award for 'Paul's House', a respite home where families may spend time with children undergoing chemotherapy, in 2013 (RIBAJ, June 2014), McGonigle McGrath's (MGMG) second project for it is about to start construction. Cecilia Milburn, of CLIC Sargent, describes the experiences of the practice in starting its local building stock at the upper end of the quality spectrum.
'We want families to feel as comfortable and relaxed as possible during a very difficult time in their lives. MGMG listened to our hopes, and designed with families in mind. They spent time with staff, families and young people, to understand everyone's aspirations. We needed a practical space, yet they also brought innovative and creative ideas that lift it from an ordinary house to something with a special feeling of light and warmth.'
High quality
Kieran McGonigle of MGMG reveals how the firm's crafting of architecture cross fertilises a series of design-led projects/typologies – restaurant interiors, an art gallery, small housing developments and its staple diet of bespoke one-off dwellings. McGonigle describes its mode of operation as ' a small team and charging proper fees. We don't make a fortune, just enough to deliver high quality.'
It seems to work, if a series of awards and satisfyingly resolved and consistent work are parameters for success. Interestingly, MGMG undertakes no publicly-funded work, and one could imagine they might consider the Clanmil initiative an attractive proposition, but registration for BIS's (Department for Business, Innovation and Skills) Construction Line and the fee structure could take them into unfamiliar terroritory. Perhaps it is a case of knowing what one does best – and sticking to it. The practice seems happy at this stage in its evolution to have one client project in London.
Beyond Belfast, Eamonn Monaghan of Keys Monaghan, Irvinestown, indicates that its team of five is busy on projects north and south of the border, though fee levels seem challenging. The current 'in limbo' state of the Health Estates Framework agreement seems to be frustrating – it would have generated a steady workflow over future years for a successful practice.
In two years' time, Martin Hare of McAdam Design anticipates more projects across a wider geographical area. Good relationships with leading Northern Irish contractors seem to have paid dividends, and it has five recently-completed education projects in England, topped off with a glowing letter of thanks from one of the headteachers. Happy to be labelled a 'commercially astute design practice', Hare appears to enjoy articulating the 'smart' value his mixed discipline practice brings to design and construction.
Although Northern Ireland has only 1.7 million people, its architects show a variety of strategies to encourage success, as defined in their terms. Over the coming months Queen's University is conducting a research project with final year undergraduate and postgraduate architecture students meeting selected practitioners to explore how architectural success is defined and what strategies will encourage its achievement. Reach, niche, infiltration and smart are only the beginning.
---
Alan Jones is director of architecture (education) at Queen's University Belfast and a past president of the Royal Society of Ulster Architects