Smaller practices are joining together in collectives – often based around common interests – to boost their visibility and pool resources and experience. It's a mutually rewarding way of working that could benefit other practices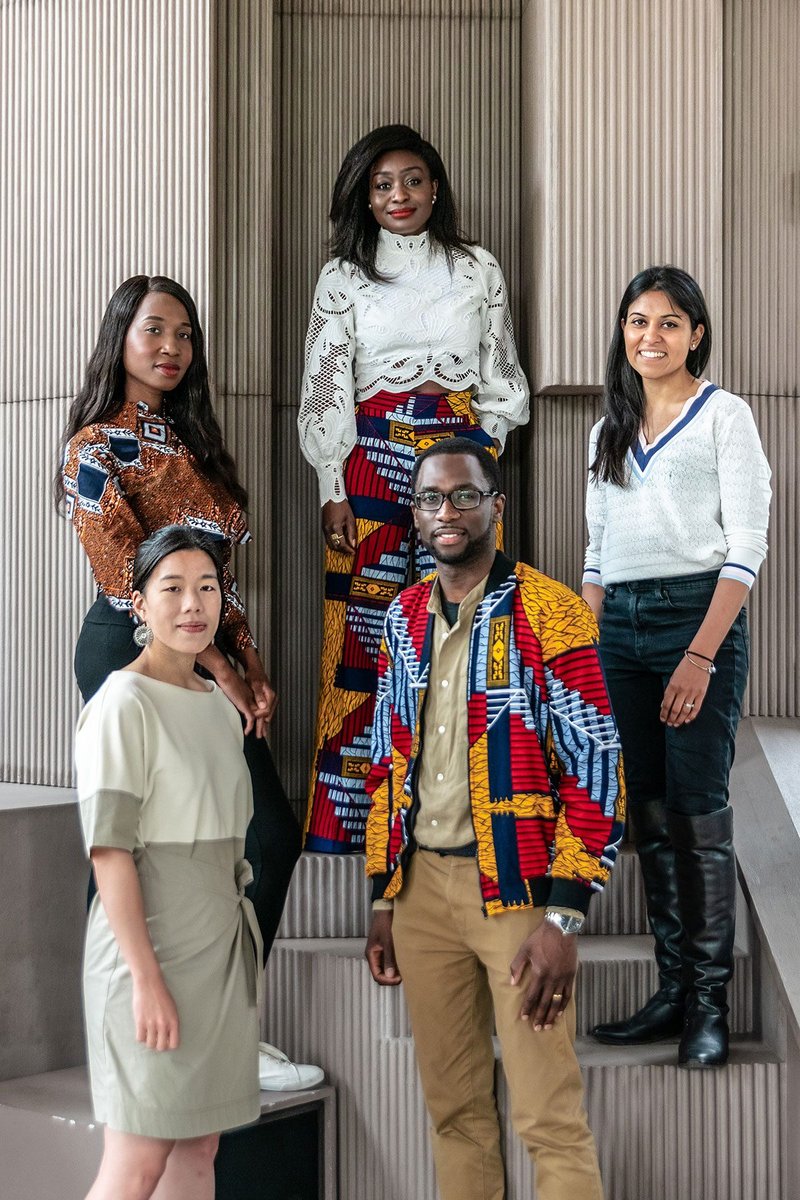 Left to right: Diana Yu, Yemi Aladerun, Tara Gbolade, Lanre Gbolade, Ushma Samani of the Paradigm Network
By joining forces, teams of architects can be greater than the sum of their parts. We've chosen the topic of 'collaboration' for the 2021 RIBA Guerrilla Tactics, because we think the future of the profession will be defined by our ability to draw on the added resource, knowledge and experience that comes from working together with shared ambitions and clear goals. Emerging digital technologies and changing attitudes are providing new methods of engagement, while external conditions are creating challenges that are best overcome through collective action.
2020 could arguably be described as the year of the collective. There has been a growing prevalence of architects working together to support each other over recent years, and the pandemic has acted as a catalyst for this and shone a light on what different organisations are trying to achieve. Online events and press coverage have raised the profile of architecture-based collectives striving to tackle large, systemic issues as broad as employment rights, diversity, and climate change. But it is not just activism that benefits from unified action; smaller practices are also joining forces to form loose-fit groups that can share resources and punch above their weight. This shared vision is helping to develop a focus for activity and offer a voice in a society where architects have had less and less influence over policy and the levers of change.
Three different collectives – The London Architecture Group, The Paradigm Network and Architects Climate Action Network – offer insights into why this is happening now and what it means for the future of architecture in the UK and beyond.
The London Architecture Group
The London Architecture Group started out organically through inter-practice socials, which then evolved into something more formal because of a need for support among practices of a similar size and age, primarily located in the south of the capital. One of the founders, Rhys Cannon of Gruff Architects, believes it started out as a way to reassure each other about shared problems before developing into an 'inclination to champion causes and have a voice'. The impact of collective action became clear when local planners started to take their advice seriously, and the group was consulted for the Lewisham Small Sites SPD created by RCKa and Ash Sakula.
Cannon admits that there are significant challenges when running a volunteer network, which can become a huge drain on time and resources. However, he says this is outweighed by the 'value and power of knowledge and shared experiences'. He recommends that practices contemplating building a similar support network think very carefully about their common purpose and write it down at an early stage. It is also important to note that you only 'get out of it what you put in', he says, and that sometimes not everyone can contribute the same amount of effort but that's ok.
The London Architecture Group hopes its work on policy will increase - speaking from the heart on issues that are important to its members enables them to offer insight and value to the areas they live and work in, and know well.
The Paradigm Network
The Paradigm Network was formed to address deep structural issues within the profession. Committee members Tara Gbolade, Lanre Gbolade and Yemi Aladerun explained that there is 'simply not enough representation for black, Asian and minority ethnic people in the construction industry.' They recognised a need to build capacity and confidence for underrepresented groups, and saw that they could play a role by providing general support across all stages of people's careers – stretching from university students to more established figures.
They started out with a series of networking events in 2017 for practitioners who often reported feeling alone within their companies or organisations, demonstrating that it was possible to achieve positions of leadership. Small gatherings quickly grew in size, and the founders decided to start focusing on themes and skills, with short presentations followed by plenty of time to discuss and debate. The Paradigm WhatsApp group has proved invaluable as a forum for knowledge sharing, which can be seen as a digital 'safe space' for younger members to ask questions of much more experienced peers.
As the collective has grown, it has become more labour intensive say the founders, but 'the benefit and impact in a short amount of time can't be undervalued' and they are now looking at more formal structures and funding to increase the scope of what they do, as well as strengthening the committee. As members move around the world, its reach is becoming international.
Local authorities, national institutions and even some developers are starting to connect with the Paradigm Network and the founders are all too aware that they must not lose the momentum that has been built up over the last few years. The team is heartened by the successes enjoyed by members who have been mentored or supported by the wider group.
Architects Climate Action Network
Architects Climate Action Network needs little introduction. This collective was formed out of the optimism of the 2019 Extinction Rebellion protests and has been a regular feature in articles and events about the climate emergency ever since. The group is deliberately non-hierarchical. The founders were not at director level in their various practices but nonetheless felt compelled to make a difference as individuals.
What started out as a handful of people has grown into a network of thousands, all predicated on passion and energy outside full-time employment, communicating through WhatsApp or Zoom meetings. The group has never used a formal membership system, which allows it to avoid unwanted administration and instead focus on meetings and thematically-arranged groups. Each of these groups has two or three co-ordinators who often rotate to share the responsibilities.
Like the other collectives in this article, it is going through a process to formalise some aspects of the organisation, recently filing an application to become a Community Benefit Society, which will allow it to seek funding for campaigns, administration and projects. The group says it's excited to witness international expansion, with 'chapters of ACAN in regional territories like Scotland and Northern Ireland, but also in countries like Portugal, Finland and even interest in India.' It knows its goals are a long way off but power in numbers means that real change is possible.
Talking to these three organisations really drives home the impact that different groups can have though collective action. By working together to tackle big societal issues, win work, and level up skills, architects can deliver meaningful change, and put our profession on the front foot in adding value for clients and society.
To hear more discussion about how small and emerging practices have a great potential to adapt, remain resilient and harness the opportunities of an entrepreneurial spirit, then do join us for the Guerrilla Tactics conference in November.