A culture that encourages and rewards individuals to take responsibility has paid dividends for Make Architects' James Chase, who is working on a major new slice of central London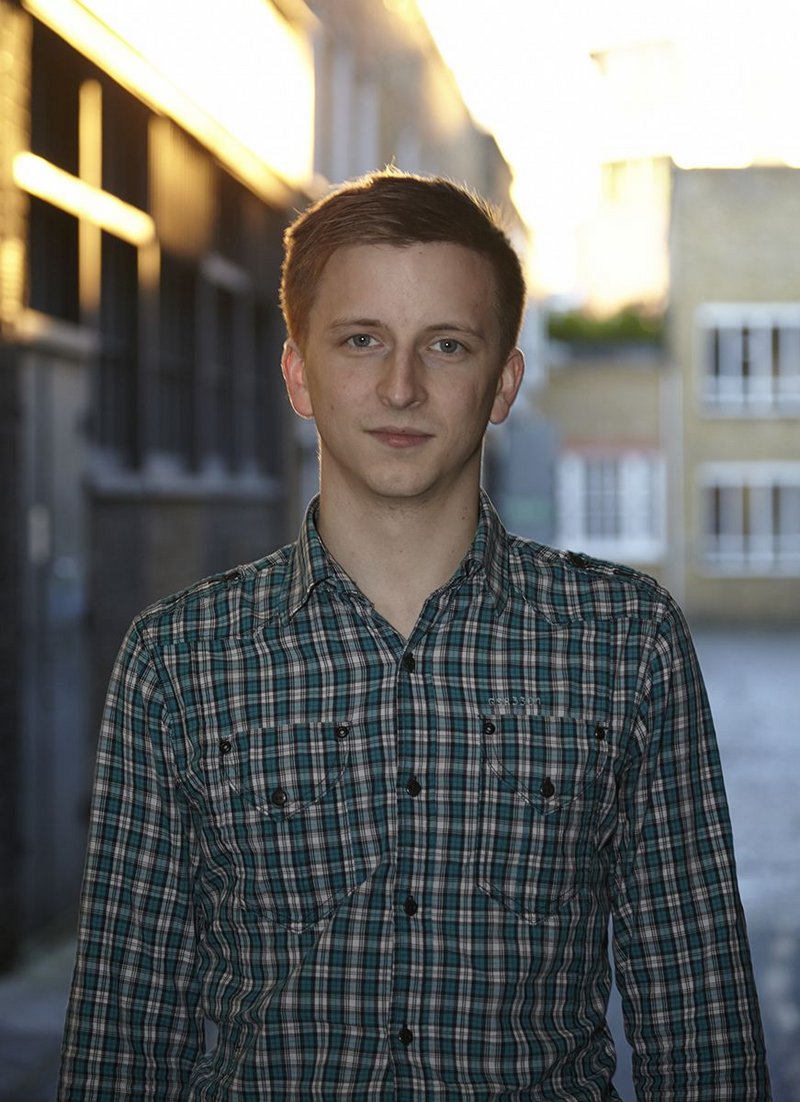 James Chase of Make Architects
My appointment to interview James Chase was not at Make's studio, but at Great Portland Estates' (GPE) project office for Rathbone Square on the eastern end of Oxford Street. We met in the calm of the marketing suite on the ninth floor, which could not contrast more with the unprecedented frenzy outside. The building of the new Crossrail terminal at Tottenham Court Road has catapulted the area around Centre Point into a construction site – almost every building is covered in scaffolding and topped with a crane. By late morning, activity reaches a frantic pitch. Rathbone Square behind Oxford Street is one of the most significant schemes. It is GPE's redevelopment of what was previously the West End Royal Mail sorting and delivery office into a public space enclosed by two L-shaped blocks: one residential and the other dedicated to office space and has been pre-let to Facebook. On the ground floor will be retail spaces for cafés, a restaurant and shops. The square is intended to create a local hub for social activity, while providing an alternative pedestrian route behind Oxford Street. Completing in summer 2017, it will be one of the first new public squares in London for over a century. Such large-scale placemaking in the West End only happens once in a lifetime, and can prove pivotal for an architect's career.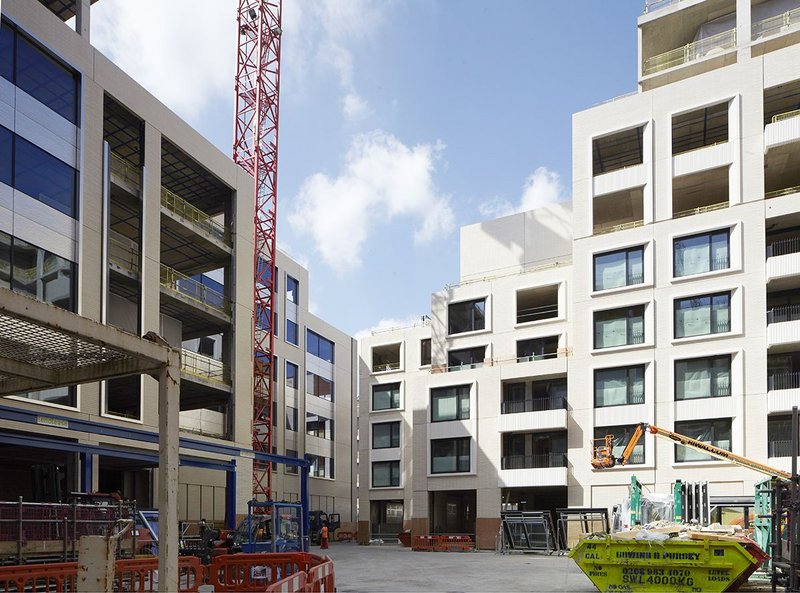 Make Architects' Rathbone Square, London. Chase has been working on this new public square in the heart of London's West End for five years
James Chase has been working on Rathbone Square for five years, almost since the scheme's inception. Make won the competition in October 2011 and James joined the practice in January 2012 as the project was being commissioned and team appointed. At this early stage, Make had a small team on the project, based at its London studio. As the project went through planning, it became clear who take on specific areas and responsibilities. Though a lot of architects are talented at design, not all team members are as adept at managing people. James's role evolved with the project. Having initially worked on massing with the client, his focus then shifted to detailed design and liaising with contractor Lend Lease to ensure compliant delivery. To cope with the incredible amount of paperwork James relocated to the site office. Consequently, he has sat alongside Lend Lease for over two years, which he says has enabled 'rapport to be built up daily – at a personal level'. The quality of the relationships he has developed – both as a representative of Make, and as an individual – with the client and others, internally and externally, comes down to trust. The novation to Lend Lease has given him particular insights into development and construction processes and shifted his view of architecture. As he states: 'As a role changes, your attachment to the design has to change. You can't be sentimental, you have to be rational and pragmatic.'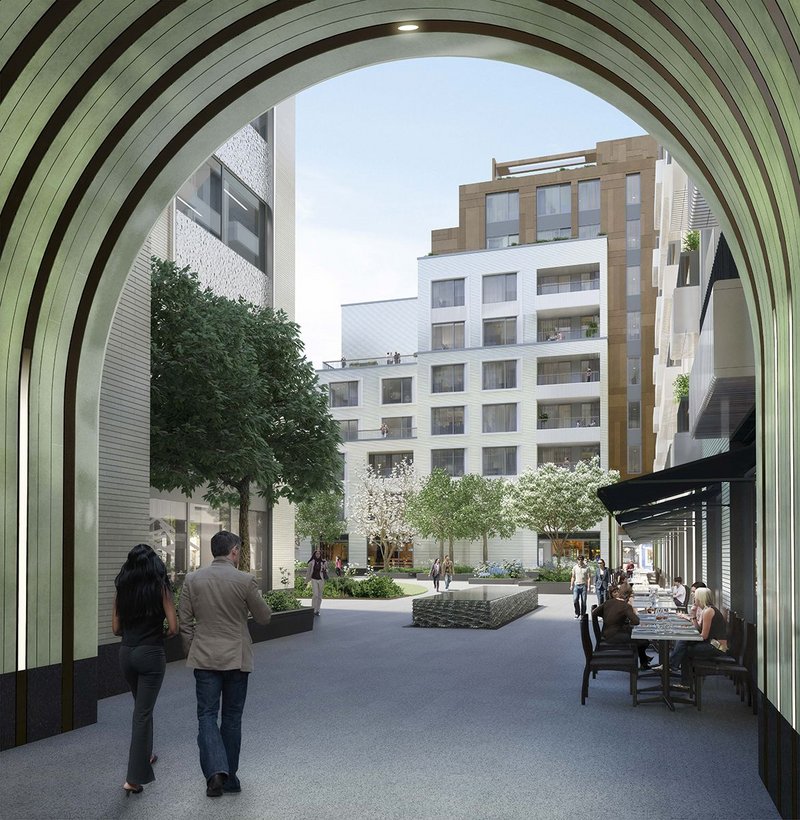 Visualisation of the entrance to Rathbone Square. Make Architects

Credit: Miller Hare
Having initially studied for his Part 1 at the University of Sheffield, where there was an emphasis on community and the environment, James was keen to broaden his personal interests and applied to work at LAB architecture studio in Melbourne, under directors Peter Davidson and Donald Bates, best known for the award-winning Federation Square. LAB was process driven with an emphasis on software.
After a year in Australia, James returned to the UK in the summer of 2009 to take his Part 2 at Oxford Brookes University, which has more of an environmental software focus. He was attracted to work at Make because it 'is a technology-driven practice; though it is not displayed in its architecture, processes remain key'. The emphasis that the practice puts on inclusivity was also central to its appeal. Make 'expects everyone to contribute'; everyone's ideas are heard and everyone can feed into designs.
During his first two years at Make, James undertook his Part 3 at the University of Westminster. This provided an opportunity to see theory put into practice. As they were moving into the contractual stage of Rathbone Square, he was studying contracts in class – it was like a live lecture. It gave him a stronger understanding of the processes, and made it more black and white with the contractor.
The special understanding that James has gleaned of construction from this project has put him in a good position to pass his knowledge on. He has been asked to work with Part 1 students at Westminster to demonstrate how a construction site works. He has also helped out with Part 3 studies. As he observes: 'At Part 3, a lot of people have a design focus. It helps to bring people on site and make it an active process.' Other colleagues from Make also regularly undertake site visits to Rathbone Square. Lessons from the project are also fed back in practice through internal presentations. One specific example of this is concrete finishes and the importance of specifying early. This proved an important aspect of the project as it was the design feature that particularly attracted Facebook, the main commercial tenant.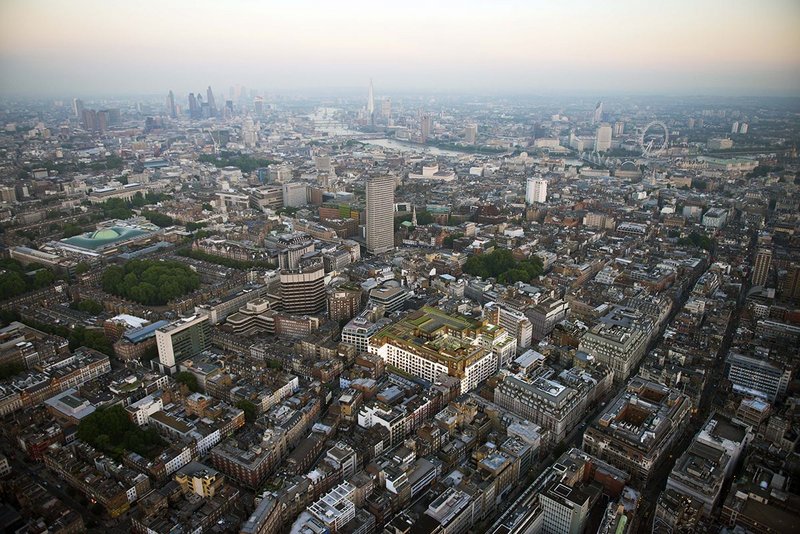 Rathbone Square as part of London's West End

Credit: Miller Hare
What is clear is that James has thrived in a culture that not only encourages, but expects individuals at every level to take responsibility and contribute. As Graham Longman, project architect for Rathbone Square, says: 'At Make we encourage leaders to lead by example. James does this intuitively.'
At school, James participated in team sports: 'This came with the realisation of how much more you get from individuals working together at their full potential as a team.' This ethos is very much at the core of Make, which is deceptively informal with a flat structure giving junior staff members access to Ken Shuttleworth and other directors, but has high expectations of staff in return. The development structure is misleadingly loose; Make's induction method introduces new staff to key people in different functions in the first few days – whether it is in finance, marketing or model making. Individuals are also initially twinned up with someone in practice to show them the ropes. The Make Forum also offers opportunities for individuals to join in practice discussions, suggest ideas for the firm across all platforms and to have breakfast together. The approach puts a strong emphasis on active learning and being inquisitive, but also values cross communication and socialising. Boundaries soften on Friday afternoons when there are catch ups, drinks and external speakers are invited in.
Longman sums up how much James has blossomed at Make and through his active participation in Rathbone Square: 'James inspires those around him by his work commitment, courage to take on responsibility, endurance, and integrity. He is a person people want to follow. It is these qualities that have marked James out among his contemporaries.'
---
Helen Castle is consultant editor of Architectural Design (AD) and head of professional programmes at the RIBA
Read more about Future Leaders
Read profile of Mark Williams-Jones
Read profile of Delia Harmston